DOC NYC Immersive: The Art of Archival
Wed, October 7 from 2-3:30 pm ET
October 07, 2020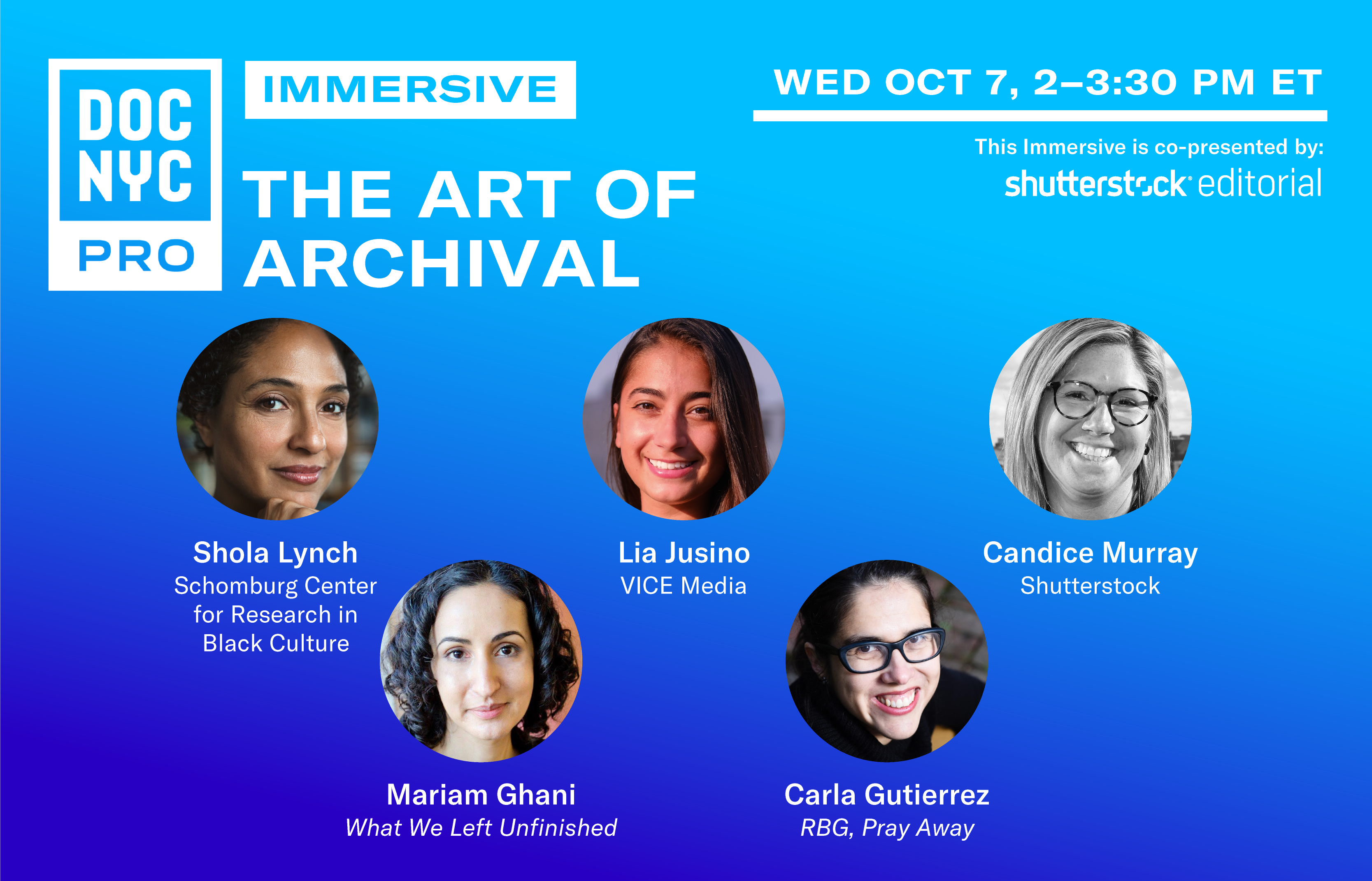 This event was recorded live on Wednesday, October 7, 2020.
Individual tickets on sale for $15; or buy an All Access Pass to attend all DOC NYC PRO events for $150.
Join DOC NYC PRO for a 90-minute panel exploring the use of archival footage in documentary filmmaking. The panel discussion will include Shola Lynch, independent filmmaker and curator of the New York Public Library's Schomburg Center for Research in Black Culture; Lia Jusino, director of archival research at VICE Media; Candice Murray, Vice President of Editorial at Shutterstock; filmmaker and artist Mariam Ghani(What We Left Unfinished), and editor Carla Gutierrez (RBG, Pray Away).
Independent director Mariam Ghani will discuss the crucial role of archival footage in shaping the story arc of her recent feature-length work, What We Left Unfinished. She is followed by Candice Murray of Shutterstock, a long-established photo archive that's expanding into film and video footage; and Lia Jusino, who researches and licenses material for VICE Media's nightly news program, Vice News Tonight and must mine archives across a wide breadth of topics and with an intensely quick turnaround. We also hear from the Schomburg Center's Shola Lynch, who oversees that archive's collection of films, videos, music, and spoken-arts recordings, which document the experiences of people of African descent. And Carla Gutierrez weighs in on the editor's perspective. Her work on the Ruth Bader Ginsberg doc RBG–and currently, a forthcoming Julia Child project–relies on archival footage to bring depth and color to portraits of two women who have lived much of their lives in the public eye. (Please note: Penny Lane, originally scheduled to participate in the event, is no longer able to take part.) Co-presented by Shutterstock Editorial.
Tickets are $15; registrants will receive access to the recorded session, a written transcript and a copy of the slide presentation after the livestream. Tickets are non-refundable. If you have questions about registration, please email caitlin@docnyc.net.
For questions about accommodations and accessibility, please email accessibility@docnyc.net.