DOC NYC PRO Day: The First-Time Filmmaker
Wed, August 5 from 11am-3pm ET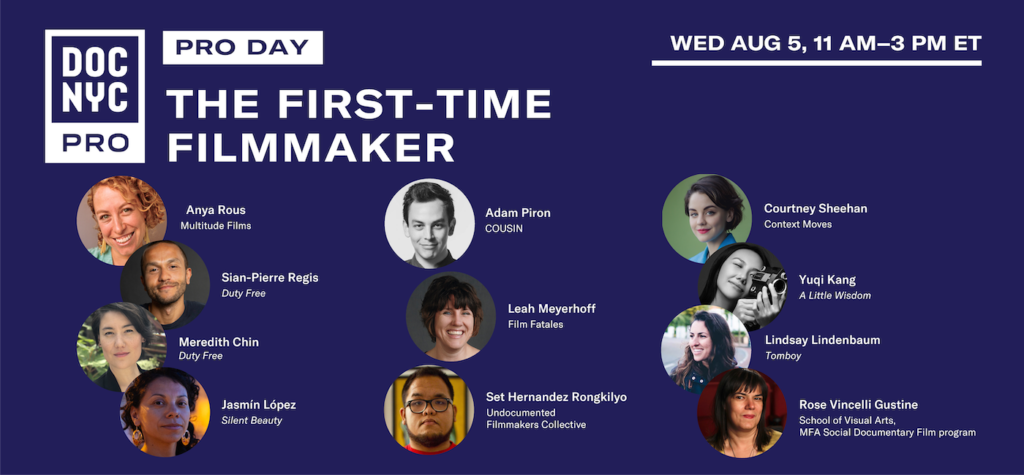 Individual tickets on sale for $40; or buy an All Access Pass to attend all DOC NYC PRO events for $150.
DOC NYC PRO presents a day of practical guidance for the first-time filmmaker, including panels on developing a story, building a team, finding a supportive professional community and securing funds and distribution. The daylong course will feature first-time filmmakers who have successfully finished and released feature docs; filmmaker collectives that provide professional and peer networks to emerging filmmakers, as well as an interactive Q&A breakout session and social hour.
Session One: 11-11:45 am ET
Developing an idea and building a team
In our first session, Multitude Film's Anya Rous (Always in Season, Pray Away) moderates a conversation with Sian-Pierre Regis and Meredith Chin (Duty Free) and Jasmín López (Silent Beauty), about launching a first documentary production. The conversation will address the process of turning personal stories into a feature documentary narrative; identifying filmmaking partners to advance a creative vision; and securing the funds necessary to lock a finished film and bring it to market.
Session Two: 12-12:45 pm ET
Creating a community of support
In session two, we will hear from organizations that offer support, mentorship and community to emerging and established filmmakers. We are joined by Adam Piron, assistant film curator at the Los Angeles County Museum of Art and co-founder of COUSIN, a collective supporting Indigenous artists; Leah Meyerhoff, film director and founder of Film Fatales, which advocates for parity in the film industry and supports hundreds of women feature film and television directors around the world; and Set Hernandez Rongkilyo, co-founder of the Undocumented Filmmakers Collective and Impact Videos Producer for the California Immigrant Policy Center. They will address how filmmakers can tap into collective resources and peer networks to seek professional support and career sustainability. Moderated by Courtney Sheehan, founder of Context Moves and former director of the Northwest Film Forum.
Session Three: 1-1:45 pm ET
Filmmaker case study
In our final session, Yuqi Kang shares the story of her first feature, A Little Wisdom, which debuted in 2018 at SXSW and went on to garner awards at festivals internationally, including at DOC NYC. She is joined by Lindsay Lindenbaum, whose first feature, Tomboy, was slated to premiere at SXSW in March, and whose three previous short films have won student and new filmmaker awards at festivals nationally. Both speak with moderator Rose Vincelli Gustine of the SVA MFA program about bringing their first films to fruition, including envisioning the story, thinking through structure, finding funding and navigating release.
Breakout Sessions and Social Hour: 2-3 pm ET
Following our panel programming, live participants will be paired with presenters in small-group settings for virtual breakout question-and-answer sessions.
If you have questions about accommodations and accessibility for this event, please email accessibility@docnyc.net.
Tickets to this event are $40 and offer access to participate in the livestreamed panel sessions and to have unlimited access to session recordings after the livestream. All registrants will receive written resource materials, including a transcript of the live sessions and a copy of the slide presentation.
To purchase a pass to DOC NYC PRO's entire line-up,  register here; passes are $150 and include live access to upcoming PRO programs and access to recordings and transcripts for all past events.