2019 VISIONARIES TRIBUTE HONOREES ANNOUNCED!
September 03, 2019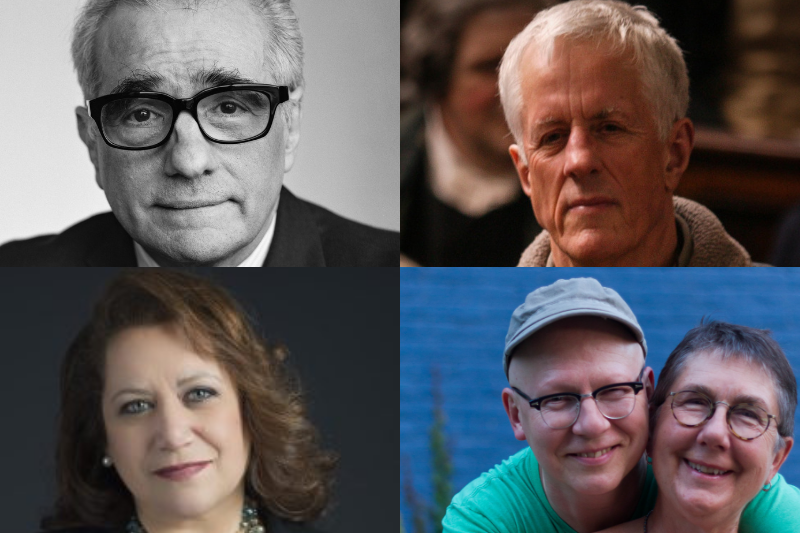 Our sixth annual Visionaries Tribute will take place on November 7 at Manhattan's Gotham Hall. Veteran filmmakers Martin Scorsese and Michael Apted will receive Lifetime Achievement recognition. The Robert and Anne Drew Award for Documentary Excellence will go to Steven Bognar and Julia Reichert (American Factory; A Lion in the House) and the Leading Light Award will go to Cynthia Lopez, Executive Director of New York Women in Film & Television.
"For DOC NYC's 10th anniversary, we're honored to host Martin Scorsese and Michael Apted whose dedication to nonfiction filmmaking has been constant throughout their careers," said DOC NYC's Artistic Director Thom Powers. "As we move into the splendid venue of Gotham Hall, this will be a memorable day for the documentary film community."
For information about attending the Visionaries Tribute Luncheon, please contact Jen Kim: jen@docnyc.net
LIFETIME ACHIEVEMENT AWARD
The Lifetime Achievement Award honors individuals with a substantial body of film work. Past recipients are Wim Wenders, Orlando Bagwell, Sheila Nevins, Errol Morris, Stanley Nelson, Jonathan Demme, Barbara Kopple, Jon Alpert, Frederick Wiseman, D.A. Pennebaker, Chris Hegedus and Albert Maysles.
The 2019 Lifetime Achievement Award goes to:
Martin Scorsese has interwoven documentary making throughout his distinguished career. His latest nonfiction work is Rolling Thunder Revue: A Bob Dylan Story. Among his other acclaimed nonfiction films are The 50 Year Argument; George Harrison: Living in the Material World; No Direction Home: Bob Dylan; The Blues; My Voyage to Italy; The Last Waltz; A Personal Journey with Martin Scorsese Through American Movies; Public Speaking; and Italianamerican. His latest project is the narrative feature The Irishman.
Michael Apted is the director of the ground-breaking 7 Up series, a study of the British class system that brings forth a new film every seven years. The latest film in his series, 63 Up, presented by BritBox, will be released in fall 2019. His other documentaries include Married in America; Me & Isaac Newton; Moving the Mountain; Inspirations; Incident at Oglala; and Bring on the Night.
ROBERT AND ANNE DREW AWARD FOR DOCUMENTARY EXCELLENCE
The Robert and Anne Drew Award for Documentary Excellence is named for the pioneering husband and wife filmmaking team. The award includes a $5,000 cash prize to the filmmakers contributed by Drew Associates, under the helm of Jill Drew. The award honors a mid-career filmmaker or partnership that excels in observational filmmaking. Past recipients include Elizabeth Chai Vasarhelyi and Jimmy Chin, Heidi Ewing and Rachel Grady, Dawn Porter, Kim Longinotto, and Laura Poitras.
The 2019 Robert and Anne Drew Award goes to:
Steven Bognar and Julia Reichert are the filmmaking team behind this year's American Factory; the Oscar-nominated short The Last Truck: Closing of a GM Plant; and the feature A Lion in the House. Reichert was Oscar-nominated for her documentary feature films Union Maids and Seeing Red: Stories of American Communists. Her first film was Growing Up Female, which is on the National Film Registry. Bognar's solo films are Personal Belongings, Picture Day and Gravel.
LEADING LIGHT AWARD
The Leading Light Award honors an individual making a critical contribution to documentary in a role other than as a filmmaker. The past recipients are Tabitha Jackson, Cara Mertes, Molly Thompson, Tom Quinn and Dan Cogan.
The 2019 Leading Light Award goes to:
Cynthia Lopez is the Executive Director of New York Women in Film & Television. She is the former Commissioner of the New York City's Mayor's Office of Media and Entertainment. Prior to working as Commissioner she was Executive Vice President and co-Executive Producer of the award-winning PBS documentary series American Documentary | POV, and was involved in the organization's strategic growth and creative development for 14 years.
Support for the Visionaries Tribute comes from Netflix. Additional support comes from Supporting Sponsor National Geographic Documentary Films and Signature Sponsors Bloomberg Philanthropies and NEON.
The 2019 Visionaries host committee: Jon Alpert*, Orlando Bagwell*, Joslyn Barnes, Geof Bartz, Amy Berg, Joe Berlinger, Nancy Buirski, Maro Chermayeff, Christine Choy, Marshall Curry, Kate Davis, Carl Deal, Deborah Dickson, Nick Doob, Ezra Edelman, Bob Eisenhardt, Heidi Ewing*, Susan Froemke, Geeta Gandbhir, Liz Garbus, Alex Gibney, Sabrina Schmidt Gordon, Rachel Grady*, Thomas Allen Harris, Chris Hegedus*, Amy Hobby, Gary Hustwit, Kristi Jacobson, Chiemi Karasawa, Ross Kauffman, Barbara Kopple*, Susan Lacy, Tia Lessin, Marc Levin, Stephen Maing, Stanley Nelson*, Marilyn Ness, Sheila Nevins*, Frazer Pennebaker, Bob Richman, Robert Richter, Richard Rowley, Deborah Shaffer, Toby Shimin, Marcia Smith, Ricki Stern, Robert Stone, JT Takagi, Elizabeth Chai Vasarhelyi*, Lana Wilson, Pamela Yates, Farihah Zaman
*denotes previous Visionaries Tribute Honorees
For information about attending the Visionaries Tribute Luncheon, please contact Jen Kim: jen@docnyc.net