DOC NYC PRO Immersive: Advancing Equity and Inclusion in the Documentary Field
Join us on July 21!
July 10, 2020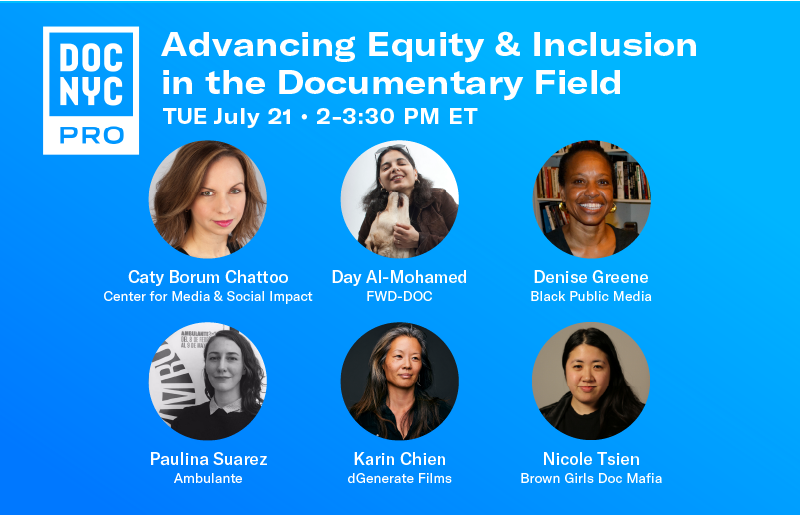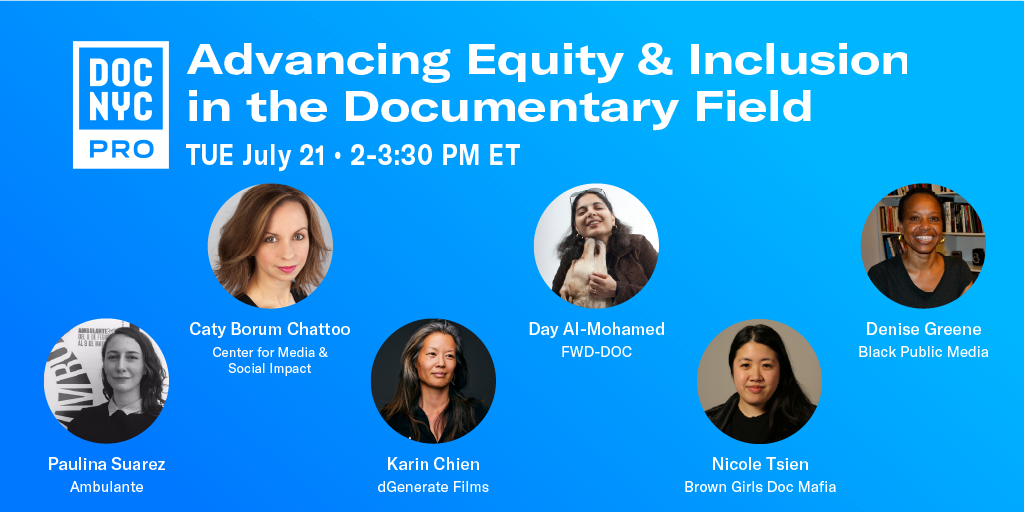 Join DOC NYC PRO for a deep-dive conversation about advancing social equity and inclusion in the documentary field. Guests include Nicole Tsien, board member of Brown Girls Doc Mafia; Denise Greene of Black Public Media; Day Al-Mohamed, independent filmmaker and founding member of FWD-DOC, Karin Chien, independent producer and President of distributor dGenerate Films; Caty Borum Chattoo of The Center for Media & Impact at American University; and Paulina Suarez, Executive Director of Ambulante, Mexico's traveling documentary film festival.
In this 90-minute livestreamed session, we'll explore crucial questions about social equity in the documentary industry: What has the history of exclusion and marginalization looked like, and what progress has been made over the last decade? What is the necessary work ahead of us in dismantling power structures as they exist, and expanding access to resources for underrepresented filmmakers? What role can affinity-based and identity-based filmmaker communities play in effectively advocating for access to funding, distribution and exhibition for their members—and how can allies support that work? How can festivals bring creators and audiences from historically marginalized communities to the center? And what can the field's existing power brokers—including funders, distributors, programmers, and critics—do to insist on and push forward more equitable and inclusive practices at every level?
Tickets are $15; registrants may participate in the live session, and will also receive access to the recorded session and a written transcript after the livestream. Tickets are non-refundable.
All proceeds from this event will go to the NAACP Legal Defense Fund.
If you have questions about registration, please email caitlin@docnyc.net. For questions about accommodations and accessibility, please email accessibility@docnyc.net.