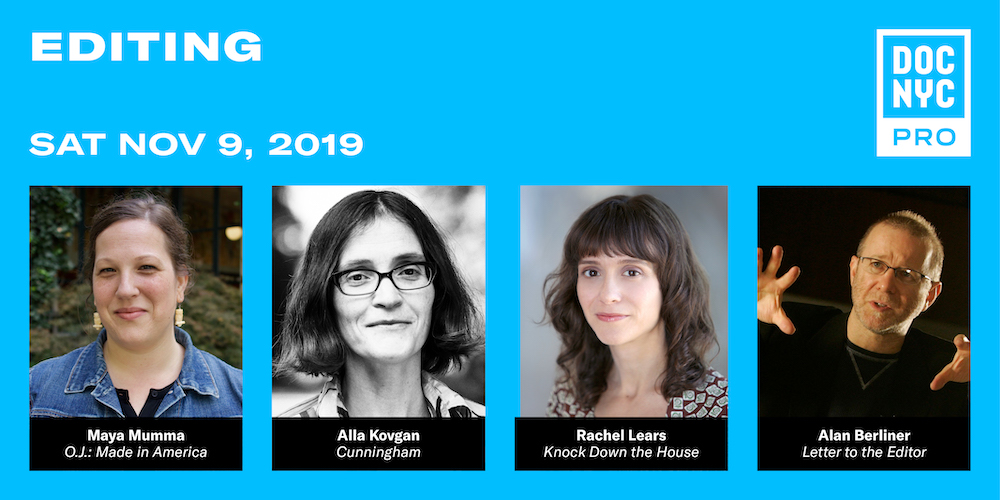 To experience the DOC NYC PRO lineup, purchase an individual PRO Themed Pass to hone in on a specific subject, or benefit from discounted pricing when you purchase Multi-Pass Packs to an assortment of topic strands. Or, buy an All Access Pass, which also includes admission to all festival screenings. Purchase passes here.
DOC NYC PRO is co-presented by Kanopy.
Immerse yourself in a day of editors working at the top of the field as they discuss creativity and making a career.
9:00 AM – 10:00 AM Breakfast
10:00 AM – 11:10 AM In-depth with Alan Berliner
Director Alan Berliner has always edited his own films including his family portraits Nobody's Business and First Cousin Once Removed (2013 DOC NYC Short List). His latest essay film Letter to the Editor, playing at this year's festival, is an editing tour de force, drawing upon thousands of newspaper photographs he's collected over 40 years. Berliner will discuss his approach and his close attention to sound editing.
11:30 AM – 12:40 PM The Relationship Between Editor and Director 
How do editors navigate their relationships with directors? When do they push forward and when do they hold back? Esteemed editors Carla Gutierrez (RBG) and Amy Foote (Hail, Satan?) share their wisdom and experience in forming collaborative relationships with directors, moderated by Maya Mumma, ACE (O.J.: Made in America).
1:30 PM – 2:40 PM Editing to Develop Characters
Per K. Kirkegaard (The Cave, The Kingmaker) Alla Kovgan (Cunningham) and Toby Shimin (Ernie & Joe: Crisis Cops) reveal their tactics in developing characters with Garret Savage (Karen Schmeer Editing Fellowship).
3:00 PM – 4:10 PM Anatomy of a Scene: Knock Down the House
Knock Down the House, playing on the DOC NYC Short List, follows Alexandria Ocasio-Cortez and three other candidates on the 2018 campaign trail. Director Rachel Lears and editor Robin Blotnick guide us through the creation of key scenes in this gripping observational film. Discussion moderated by Francisco Bello, ACE, writer and editor of Desert One screening at DOC NYC 2019.
4:30 PM – 5:30 PM Happy Hour co-presented by The New Yorker Documentary
Join us in the PRO Lounge to gather with fellow attendees and panelists to discuss the day.
See the full schedule of 2019 PRO programs or
Purchase passes here.