At Westbeth, Art is Ageless
Art Lives On in an Affordable Housing Project in the West Village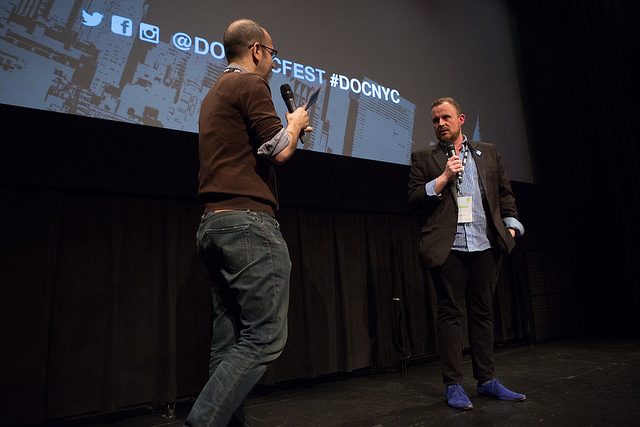 Written by Rebecca DeRosa
Winter at Westbeth premiered at DOC NYC Wednesday night and proves that the soul of an artist doesn't age and doesn't die. Australian director Rohan Spong tells the stories of Edith Stephen, Dudley Williams, and Ilsa Gilbert—three New Yorkers who have resided for decades at Westbeth, an affordable housing project for artists. Opened in 1970, it is the oldest of its kind.
The vibrant and colorful residents at Westbeth hail from another New York, one that hasn't disappeared completely, although it may be slightly obscured by chain stores and characterless high rises.
"It is a bastion for bohemians," Gilbert, a poet and playwright, said in the film.
The building boasts a gallery, communal spaces, and studios for everything from dance to sculpture. Art adorns the doors of nearly every apartment and music drifts into the hallways. "It's a wonderful place for dreaming and imagining. There are so many lights," Stephen, a filmmaker and dancer in her 90s, said as she looked out the window at the sun setting over the Hudson. "I can have psychedelic experiences."
All three of the subjects said they are not ready to retire, as aging is not a deterrent for them in creating art. Dudley Williams, a legend of contemporary dance who performed with Martha Graham's and Alvin Ailey's companies for years, said his manager asked him to retire at age 65. "I felt I had many years of ahead of me. I'm 75 and I'm still dancing," he said directly to the camera. Fredrick Earl Mosley, a choreographer who worked with Williams, said, "You could say he's had it all. But he hasn't. And that inspires me to keep going." Both Gilbert and Stephen said new experiences keep them going. "I'm not ready to say goodbye. I'm ready to say hello," Gilbert said.
Their enthusiasm and commitment to their crafts rubbed off on the director. After the screening he said that even though he was only 35, he sometimes wanted to hang it up and "go work at a shop or something…I don't feel that way anymore. I feel like it's my privilege to create art," Spong said.
Rebecca DeRosa is a writer, musician, and yoga teacher living in Brooklyn. When she's not writing reviews for Tom Tom Magazine, she is playing drums in the band Fisty.