Burning Down Barriers
The inspirational story of New York City's first openly transgender firefighter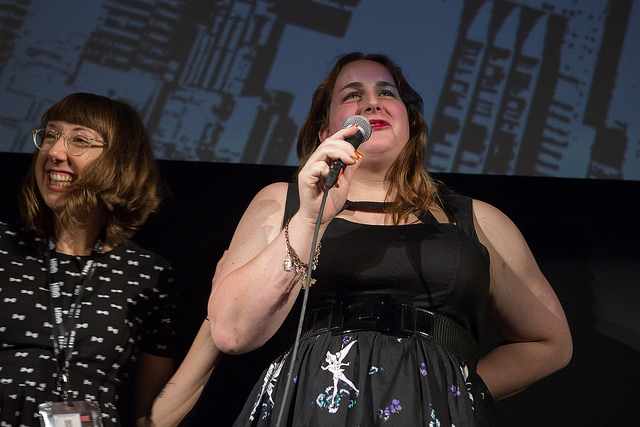 Written by Rebecca DeRosa
In a time when 88 percent of the FDNY was white and male, one woman broke the mold to become the very first openly transgender firefighter of New York City.
First Lady of NYC, Chirlane McCray, appeared at the world premiere screening of  Woman on Fire, directed by Julie Sokolow, at DOC NYC Tuesday night. She introduced the film thanking Brooke Guinan, star of the film, for being such an inspiration to women and the LGBTQ community. She pointed out that the demographics of the fire department are changing. Record numbers of women and people of color are becoming New York's Bravest. She said this reflects the positive changes and progress the city is undergoing.
Brooke Guinan followed her father and grandfather into the FDNY—but not the way they would have expected. After two years on the job, she could no longer live a lie. She announced that she was transitioning from a man to a woman. It wasn't easy. Her coworkers were confused about how to treat her, and as a result, she was often ostracized. She was transferred from a fire house to the Recruitment and Diversity department because no one knew how hormone treatment would affect her at first.
Luckily, she had a few friends in the department and enjoyed reaching out to women and people in the LGBTQ community for recruitment. The support of her father in the FDNY helped. He admitted that at first, due to his traditional family values, he was devastated when Brooke came out as a gay man and then as a trans woman. But with some reflection, he said that he believes his daughter is as God made her and it's not his place to judge.
When Guinan posed for the V.O.I.C.E. campaign in her firefighter suit and T-shirt that says "So Trans So What," it went viral. She became a vocal advocate for the rights of trans people to live their truths and be themselves. She said she gets a lot of her inspiration from super heroes. "They defy all the odds. For me, being a woman means being very strong," Guinan said in the film. After the screening, she said she hopes in the future that stories like hers will be commonplace. But transwomen will have to keep burning down barriers first.
Rebecca DeRosa is a writer, musician, and yoga teacher living in Brooklyn. When she's not writing reviews for Tom Tom Magazine, she is playing drums in the band Fisty.