DOC NYC '14 To Open With US Premiere of DO I SOUND GAY?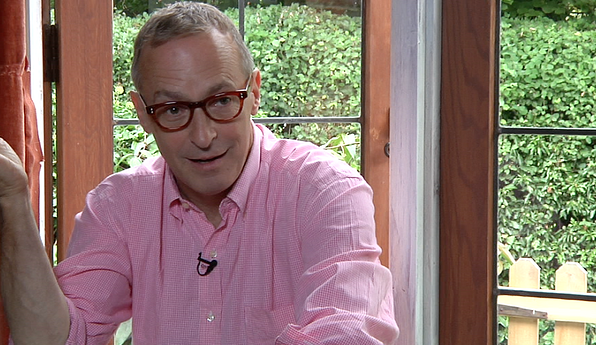 We are proud to announce that the 5th edition of DOC NYC will kick off with the US debut of DO I SOUND GAY?, a  humorous, insightful and intimate exploration of sexuality and speaking styles from New York filmmaker David Thorpe, fresh from its world premiere at the Toronto International Film Festival. Featuring Margaret Cho, Tim Gunn, Dan Savage, David Sedaris, George Takei and others, the film was produced by Thorpe and Howard Gertler (HOW TO SURVIVE A PLAGUE, SHORTBUS) and executive produced by Dan Cogan and Jenny Raskin of Impact Partners.
"We're delighted to have DO I SOUND GAY? for our opening night," said DOC NYC Artistic Director Thom Powers. "It's a smart and funny crowd-pleaser that tells a universal story about finding your own voice." Stated director David Thorpe, "It's a dream come true that DO I SOUND GAY? will be opening DOC NYC. The movie is a personal documentary, and I've lived here for 17 years. It's essentially about my New York life! It's also a big honor for a first-time filmmaker. I appreciate the fact that DOC NYC is sending a signal about how much it values new voices."
The full program will be announced on October 15.
HBO Documentary Films returns as a key supporter of DOC NYC, this year as headlining Leadership Sponsor. Additional returning support includes Media Sponsors WNET and New York magazine and Major Sponsors A&E IndieFilms and History Films. The festival is produced by IFC Center.
________________________________________________________________
In addition to a larger film line-up, Doc-A-Thon, DOC NYC's popular annual panel and workshop series, also grows by two additional days to provide emerging filmmakers with six days of access to leading documentary creatives and industry experts, and practical tools to bring their films to life.
The fifth edition of DOC NYC also boasts an expanded "Short List" section, showcasing the most notable nonfiction films of 2014. As the awards season comes into sight, the festival will turn its spotlight on some 15 frontrunners for top honors and best-of lists, providing audiences a chance to revisit—or discover—the most acclaimed documentaries of the year. Last year, nine of the festival's "Short List" selections appeared on the shortlist for the Academy Award for Documentary Feature.
By popular demand, DOC NYC also introduces new festival passes for audiences eager to enhance their DOC NYC experience:
A new All-Access Pass is offered this year, giving audiences a chance to explore the full range of the festival's expansive offerings, including all festival films, panels and events. Binge on everything at DOC NYC for $500, with a special early-bird discount price of $450 until October 15.
A Doc-A-Thon Pass, giving access to the six-day lineup of panels and masterclasses with leading industry figures, plus weekday matinees at IFC Center and four additional screenings, is also on offer this year for $125, with an early-bird discount of $99 until October 15.
And the festival's popular Insider Pass, giving audiences the full range of the extended Doc-A-Thon programs, weekday matinees at IFC Center, and four additional screenings, plus the the full lineup of films in the newly-expanded Short List section, will be available for $199, with a special early-bird discount price of $150 until October 15.
All three types of passes can be purchased online by clicking here or in person at the IFC Center box office. Individual tickets will go on sale October 15, when the program is announced. DOC NYC runs from November 13 – 20 at the IFC Center, SVA Theater and Chelsea Bow Tie Cinemas.