Life Lessons On and Off the Court
NBA All-Star Kenny Anderson bares all in Mr. Chibbs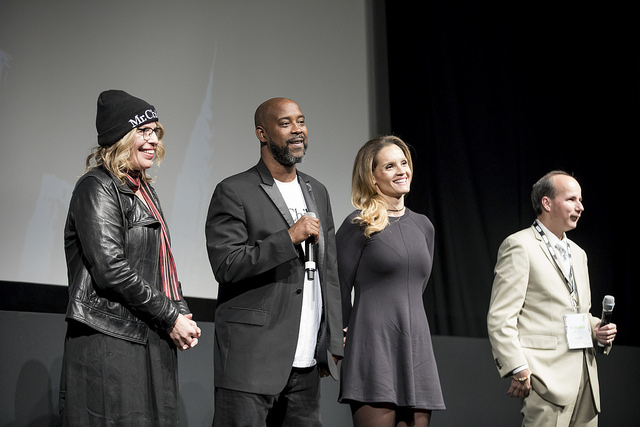 Written by Megan Scanlon
In a world of "what's next" the DOC NYC experience connects filmmakers and audiences, tethering them to a specific moment in time, a shared experience and marker in life that affirms presence, that makes it enough to say, "I was there." The world premiere of Mr. Chibbs was one of those nights. A full house with a rush line that bordered 23rd street included beloved basketball figures like legendary Scout Tom Konchalski, basketball greats Larry Johnson and Dennis Scott, and of course, film subject Kenny Anderson.
Directed by Jill Campbell, Mr. Chibbs follows NBA All-Star Kenny Anderson, circling around relationships and events that shaped his life; a close relationship with his mother, a difficult upbringing, unparalleled athleticism, a 200mph change in lifestyle from college to the pros, and a midlife DUI that lost him a coaching job he loved. Mr. Chibbs travels through his response to those life threads that knit authenticity, humor, resilience, and determination into his character, as well those that threatened to unravel all he held dear.
Interviews with family members, friends, and colleagues reveal a man who does not hold back. In a scene where Anderson talks with one of his sons, he asked, 'Did you have sex yet? I want you to use a condom." Catching a curveball and throwing it back, his son responded, "Yeah Dad, you've got like, 12 kids." Anderson sets the record straight ("I've got 8," he said) and the hilarity of the moment is a door into the rest of the film as the audience meets his children and the women in his life, including his wife Natasha. Fierce and vulnerable, compassionate and tough, while her name is not in the title, Natasha is just as much a central figure in the film as her husband.
During the post-screening conversation, the audience support and appreciation for sharing the Mr. Chibbs story was palpable. The audience thanked Kenny and Natasha for their honesty in discussing Kenny's difficult and traumatic upbringing, one that revolved around molestation and assault that, for a long time, he blacked out, and for sharing the difficulties in their relationship and how the couple highlighted the need for honest communication.
On the best players sometimes having the most difficult problems to deal with, a local high school coach asked Anderson's advice as a coach for those players. "All you can do as a high school coach is be there. Be passionate, know your players. Don't just know them in practice, talk to them, bring them in the office after school, see what's going on. Care about them. Some of the kids are in a really tough situation because of the environment that they're living in, and having to go home  is really difficult, but all you can do is be a coach in life and in the gym."
Megan Scanlon works at the American University of Beirut. She has written for the DOC NYC blog, the Stranger Than Fiction documentary series, and the Journal of Community Engagement and Scholarship. Megan was a prescreener for the Margaret Mead Film Festival, and is a volunteer at the Bronx Documentary Center and DOC NYC. Follow her on instagram and twitter @meganscanlon5