On Finding the Style for the Story at DOC NYC Pro
Directors Brett Morgen, Ceyda Torun and Errol Morris talk about how each of their films arrived at its distinctive style.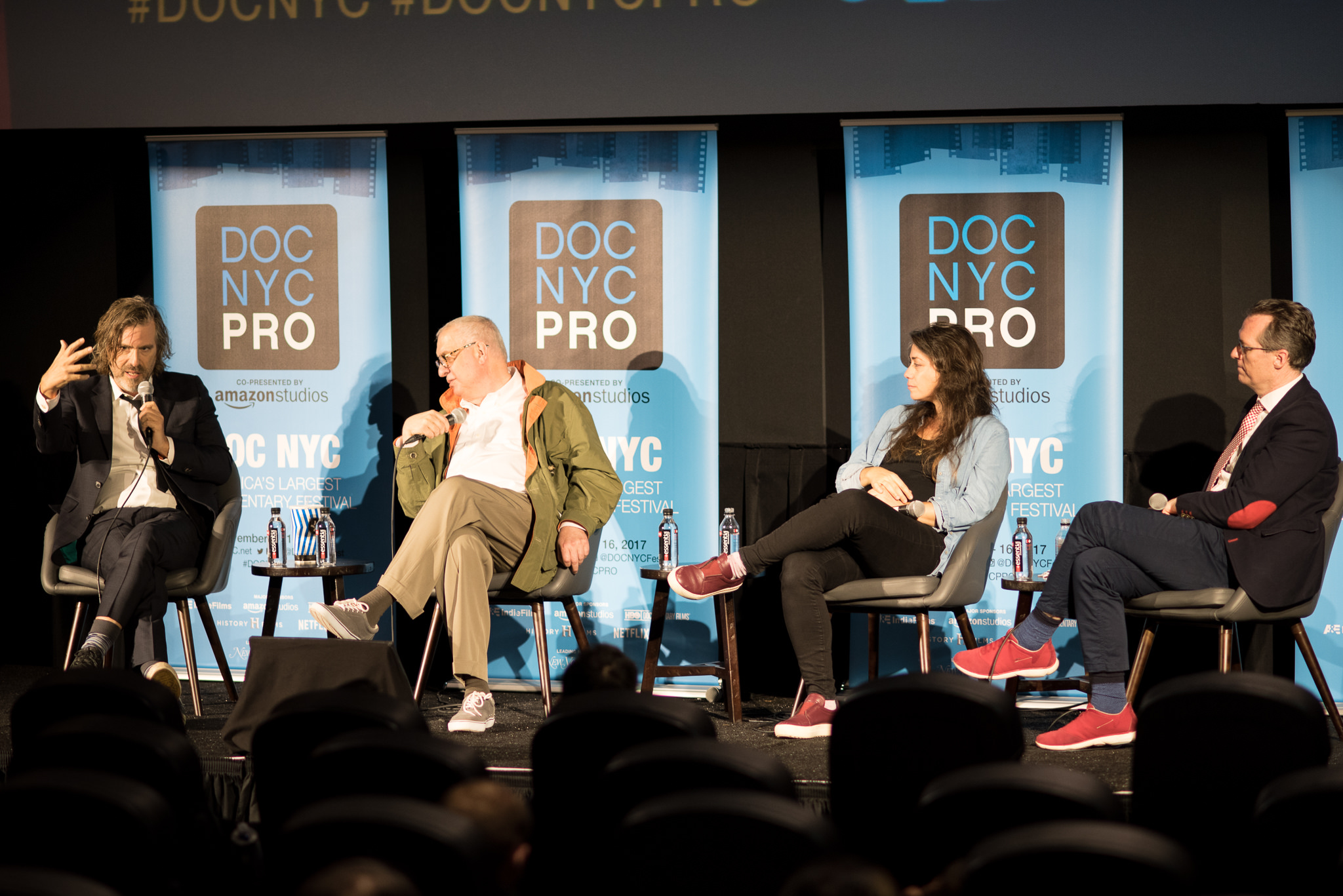 Written by Lisa Kovitz
This DOC NYC PRO panel, moderated by the festival's artistic director Thom Powers, featured two iconic documentary filmmakers, Bret Morgen of Jane and Errol Morris of The B-Side: Elsa Dorfman's Portrait Photography and Wormwood.  They were joined by newcomer Ceyda Torun, whose debut film Kedi, which follows nine Istanbul street cats and the humans who love them, was a surprise theatrical success.
Punctuated by the lively banter between Morgen and Morris, Powers focused the panel on how they determined what "style" to bring to their films and how they achieved it.
Errol Morris decided to break all the conventional documentary rules, like only using available light and handheld cameras when he started making films, instead prefering unheard of-for-the-time reenactments in the Thin Blue Line, and creating his well-known camera rig, "The Interrotron," that essentially forces interview subjects to make direct eye contact with the camera.
But in his upcoming Netflix mini-series Wormwood, the Interrotron is gone, and he even uses scripted dialogue for actor Peter Sarsgaard, who stars in the series. When it comes to "style" of a film, Morris said he always asks "does it serve the interest of the movie? The style for the story must be in service to the story."
Brett Morgen never repeats a style-driven technique, like the photo animation he used in his 2002 film The Kid Stays in the Picture.  While now widely used in documentaries and feature films, Morgen designed it to suit Robert Evans, the shape-shifting central character of the film, who was all about style. Morgen also obsess over music and sound quality in his films, working with composer Philip Glass for Jane as Morris did for the Thin Blue Line.
For Kedi,  Torun said she envisioned her film as a "March of the Penguins for cats, where the people who love and care for them don't have names, but the cats do," explaining that she "tried to be as honest and authentic as possible" by bringing her own love of cats to the filmmaking process.  She first approached the project by literally getting down on the ground to film from a cat's point-of-view, but the back-breaking work lead her DP to design an ankle-high camera rig that would get the ground-level job done.
At one point, Torun said they strapped cameras to high-end remote-control toy trucks, but they scared the cats.  Next, they made little vests with tiny cameras to put on the cats, but soon realized if the cat ran away, they'd be taking the cameras with them.
Music was important to Torun in establishing a style for her film too, but instead of clichéd exotic Turkish music, she hired a classically trained composer to write a score that was as "light footed" as the cats.  She also licensed Turkish popular music from the 1940s through the 1980s to appeal to her Turkish and European audiences.
See more photos from DOC NYC Pro on Flickr
Lisa Kovitz works in the Brand group at Edelman Public Relations in New York as an earned media strategist.  Follow her @lisakovitz