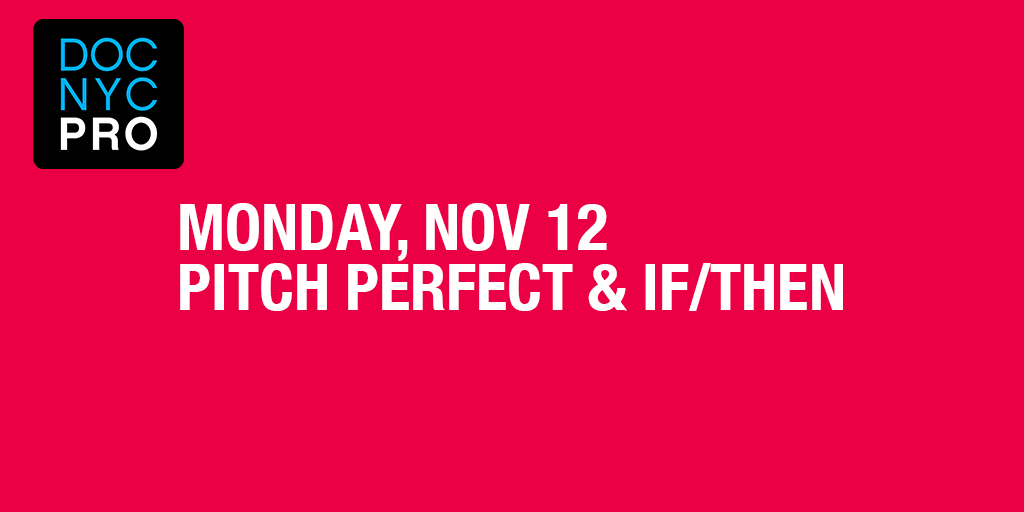 DOC NYC PRO: PITCH PERFECT & IF/THEN SHORTS AMERICAN NORTHEAST
Available for selection by these badge holders: All Access, DOC NYC PRO Gold Pass, DOC NYC PRO Silver Pass, DOC NYC PRO Bronze Pass. To buy a pass click here.
Each day of the 2018 festival features two distinct, subject-themed programming tracks for DOC NYC PRO. Each programming track has its own set of panels. To reserve a spot to any panel in advance, passholders must click the title of the individual panel below and make their redemption selection.
Morning Manifestos are not ticketed and are open to all DOC NYC passholders on a first-come, first-served basis.
IF/Then and Pitch Perfect will take place at IFC Center.
DOC NYC PRO is co-presented by Amazon Studios
Twelve projects give their pitches to industry experts at this special daylong event at IFC CENTER.
Pitch Perfect co-presented by A&E IndieFilms
IF/Then Shorts American Northeast co-presented by Tribeca Film Institute
BREAKFAST (CINEPOLIS) 9:00AM – 10:00AM Open to all badge holders.
MORNING MANIFESTO (IFC CENTER 1) 10:00AM – 10:25AM
Jannat Gargi – Vulcan Productions' Head of Documentary Films gives her thoughts and advice on how best to pitch your documentary projects. Open to all badge holders on first-come basis.
IF/THEN SHORTS AMERICAN NORTHEAST 10:30AM – 12:30PM
Six filmmaking teams pitch their short doc projects focusing on stories of the American Northeast. One project will be selected by an industry jury to receive up to $20,000 in completion funding, free post production services (provided by Sim NY), and the opportunity to participate in Tribeca Film Institute's IF/Then Shorts distribution initiative. POV (American Documentary) will give an additional cash prize.** Moderated by Mridu Chandra. Co-presented by Tribeca Film Institute
Flatbush! Flatbush!
Directed by Alex Mallis
Mizuko (Water Child)
Directed by Kira Dane, Katelyn Rebelo
South Philly Meatball Documentary
Directed by Cheryl Hess
The Seeker
Directed by Lance Edmands
Produced by Kyle Martin
The Space Between the Letters
Directed by Eva von Schweinitz
Folía
Directed by Luther Clement
Produced by Ashley Brandon
PITCH PERFECT 1:30 PM – 4:15 PM
Moderator Elise McCave (Kickstarter) lays out the rules and best practices as six filmmaking teams pitch their work-in-progress doc features to a panel of industry experts – representing distributors, producers, sales agents, publicists and more – for valuable feedback. Co-presented by A&E IndieFilms.
Pitch Perfect 2018
The industry participants for Pitch Perfect include Molly Thompson (A&E IndieFilms), Greg Rhem (HBO Documentary Films), Dan O'Meara (Neon), Patricia Finneran (Doc Society), Hayley Pappas (RYOT), Kelsey Koenig (Impact Partners).  Pitch Perfect is co-presented by A&E IndieFilms. The winner of the pitch will receive marketing consultation for their film and finishing support on behalf of Wheelhouse Creative. 

Civil War (or, Who Do We Think We Are)
When we say "we the people" who do we mean by we? Civil War explores how America remembers the
Civil War and what the stories we tell reveal about who we are. A stunning portrait of contemporary
society and our persistent conflicts within.
Directed by Rachel Boynton
Produced by Rachel Boynton, Erika Dilday
Exposure
An all-women polar expedition, with team members from across the West and the Middle East, ski across
the rapidly dwindling sea ice of the Arctic Ocean in this story of faith, resilience and global citizenry.
Directed by Holly Morris
Produced by Holly Morris, Michael Kovnat, Eleanor Wilson
Hart Island
On a desolate island ten miles North of Manhattan, inmates from Riker's Island Jail bury the unclaimed and unidentified dead of New York City. Now, the families of the descendants are demanding greater access to this prison for the dead.
Directed by Erik Spink
Produced by Erik Spink, Amitabh Joshi
Kids Can Spit
A Brooklyn teen finds his voice through crafting hip-hop verses made exclusively of elements from the
periodic table. But the greatest pressure comes from home with his mom who has high expectations for
him in a science-rap competition, and in life.
Directed by Chelsi Bullard
Produced by Chelsi Bullard, Hima B.
Los Hermanos/The Brothers
Long separated by geopolitics, two brothers, virtuoso Cuban-born musicians, long to collaborate. After 30
years, a historic diplomatic shift jumpstarts their first U.S. tour, but Trump's election and Castro's death
soon threaten their dreams.
Directed & produced by Marcia Jarmel, Ken Schneider

The Pink Waves
The Pink Waves follows six New Jersey women and one man, Democrats, Republicans, and Greens
outraged by Trump's election, and compelled to run for office. None of them has done this before​; ​all are
determined to make a difference.
Directed by Jill Campbell
Produced by Jill Campbell, Gregory Gerhard and Suzanne Bultmeyer
HAPPY HOUR 5:00PM – 6:00PM* Co-presented by Tribeca Film Institute
*Happy hour takes place at Cinepolis Chelsea.
**The winners of the IF/Then Shorts American Northeast Pitch will be announced at this time.

The full schedule of 2018 PRO programs can be found here.

Available for selection by these badge holders: All Access, DOC NYC PRO Gold Pass, DOC NYC PRO Silver Pass, DOC NYC PRO Bronze Pass. To buy a pass click here.
Section:
DOC NYC PRO