DOC NYC PRO Day: Documentary Cinematography
Wed, Aug 12 from 11am - 3pm
July 12, 2020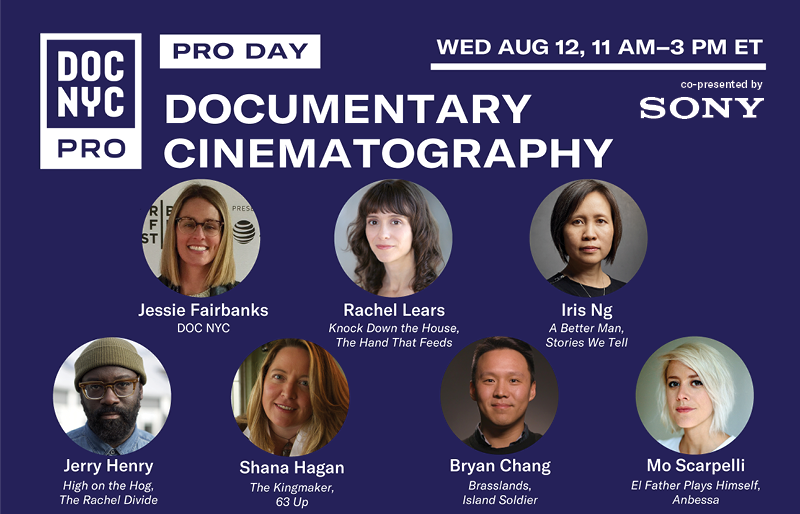 Individual tickets on sale for $40; or buy an All Access Pass to attend all DOC NYC PRO events for $150.
DOC NYC PRO presents a day of exploration in documentary cinematography in the current moment, including sessions on filming in sensitive environments; the practicalities and responsibilities of shooting during a pandemic; and a case study on the relationship between cinematographer and subject. The daylong course will also feature an interactive Q&A breakout session and social hour.
Session One: 11-11:45 am ET
Filming in sensitive environments
In our first session, DOC NYC's features programmer Jessie Fairbanks moderates a conversation with Director/DP Rachel Lears (Knock Down the House, The Hand that Feeds) and cinematographer Iris Ng (A Better Man, Stories We Tell), cinematography in fast-paced, emotionally charged, and unpredictable environments, including on the campaign trail and among survivors of domestic violence. The session will discuss best practices in establishing rapport between cinematographer and subject; preparing and selecting equipment; and shifting gears in dynamic scenarios.

Session Two: 12-12:45 pm ET
Pandemic cinematography: shooting during COVID
In session two, we discuss filming during the Covid-19 pandemic. What precautions must be put in place? How can a DP create safety protocols for their whole crew? How can DPs work with directors and producers who are working remotely and not on-set? How are DPs navigating issues of PPE, equipment sterilization and insurance? Veteran cinematographer Jerry Henry (Netflix's forthcoming High on the Hog, The Rachel Divide, Exit Through the Gift Shop), who is currently shooting on three separate doc projects, joins from Los Angeles, as does DP Shana Hagan (The Kingmaker; 63 Up; Generation Wealth), and DP Bryan Chang (Brasslands, Island Soldier, Into the Streets) joins from Brooklyn. All discuss planning for shoots; pivoting in high-risk environments; safety protocols; and the importance of trust between director and DP.

Session Three: 1-1:45 pm ET
Filmmaker case study
In our final session, Mo Scarpelli (Anbessa, Frame by Frame) joins from Rome to discuss directing and lensing her latest documentary feature, El Father Plays Himself, which premiered at Visions du Réel in April 2020. Set in the Amazon, the film follows the production of a narrative film, whose director has cast his own father in the lead role. Variety called the film part of "a tradition of nonfiction films about the blood, sweat and tears of feature production," in which Scarpelli "delves provocatively into how and why we tell stories, and at what cost." In conversation with DOC NYC Features Programmer Jessie Fairbanks.
Breakout Sessions and Social Hour: 2-3 pm ET
Following our panel programming, live attendees will be paired with presenters in small-group settings for virtual breakout question-and-answer sessions.
If you have questions about accommodations and accessibility for this event, please email accessibility@docnyc.net.
Tickets to this event are $40 and offer access to participate in the livestreamed panel sessions and to have unlimited access to session recordings after the livestream. All registrants will receive written resource materials, including a transcript of the live sessions and a copy of the slide presentation.
To purchase a pass to DOC NYC PRO's entire line-up, register here; passes are $150 and include live access to upcoming PRO programs and access to recordings and transcripts for all past events.