DOC NYC PRO Day: Documentary Editing
Wed, September 2 from 11am - 3pm ET
July 28, 2020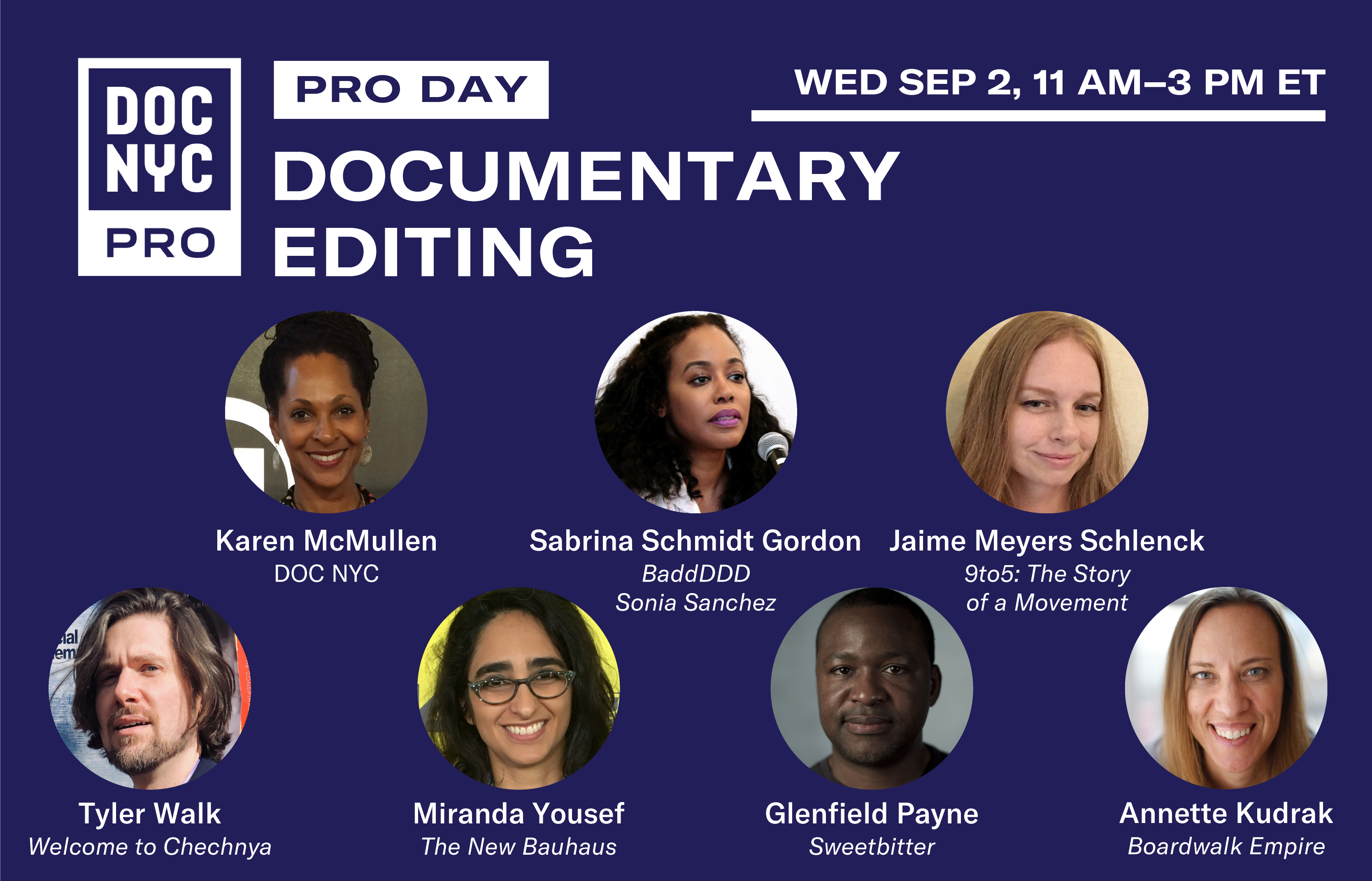 Individual tickets on sale for $40; or buy an All Access Pass to attend all DOC NYC PRO events for $150.
DOC NYC PRO presents a day dedicated to documentary editing and post-production, including sessions on storytelling and narrative; developing the director-editor relationship, especially while working remotely; and sound and music editing. After our panel sessions, attendees can also join us for an interactive Q&A breakout session and social hour.
Session One: 11-11:45 am ET
Editing for story
In session one, we're joined by Sabrina Schmidt Gordon (BaddDDD Sonia Sanchez, Documented, Hip-Hop: Beyond Beats and Rhymes) and Jaime Meyers Schlenck (9to5: The Story of a Movement), who join moderator (and DOC NYC feature programmer) Karen McMullen to talk about the editor's role in shaping the narrative arc of a film–its pacing, its moments of tension and climax, the evolution of its characters, and other topics. How does the documentary editor's role contribute to the film's storytelling? What emerges in the edit room that might not have been evident during production? And in this moment: how might the limitations of producing during a pandemic–including the ubiquitous use of Zoom calls and the increase in subject-gathered footage–influence the editor's role in the months to come?
Session Two: 12-12:45 pm ET
The director-editor collaboration
In our second session, DOC NYC's Director of Industry & Education, Caitlin Boyle, moderates a conversation with editors Tyler Walk (Welcome to Chechnya, Where to Invade Next, How to Survive a Plague) and Miranda Yousef (The New Bauhaus, Daughters of the Sexual Revolution, Inequality for All) as they discuss the intimate collaboration between editor and director; the trust and shared language that develops over the course of post-production; and the opportunities and challenges of working collaboratively when editor and director can't share space in an edit room.
Session Three: 1-1:45 pm ET
Sound and music
In our final session, Karen McMullen moderates a conversation with Emmy-nominated sound editor Glenfield Payne (Sweetbitter, Master of None); music editor Annette Kudrak (Boardwalk Empire, Drive, Chicago); and producer Nicole London (Miles Davis: Birth of the Cool) join to talk about the role of sound and music in documentary storytelling. Bringing their experience in both nonfiction and fiction content, our panelists discuss the impact of music and sound editing on the development of a film's tone and narrative thrust, and where tactics for docs and fiction converge and diverge.
Breakout Sessions and Social Hour: 2-3 pm ET
Following our panel programming, live attendees will be paired with presenters in small-group settings for virtual breakout question-and-answer sessions.
If you have questions about accommodations and accessibility for this event, please email accessibility@docnyc.net.
Tickets to this event are $40 and offer access to participate in the livestreamed panel sessions and to have unlimited access to session recordings after the livestream. All registrants will receive written resource materials, including a transcript of the live sessions and a copy of the slide presentation.
To purchase a pass to DOC NYC PRO's entire line-up,  register here; passes are $150 and include live access to upcoming PRO programs and access to recordings and transcripts for all past events.