DOC NYC PRO Immersive: Safe and Secure Production
June 05, 2020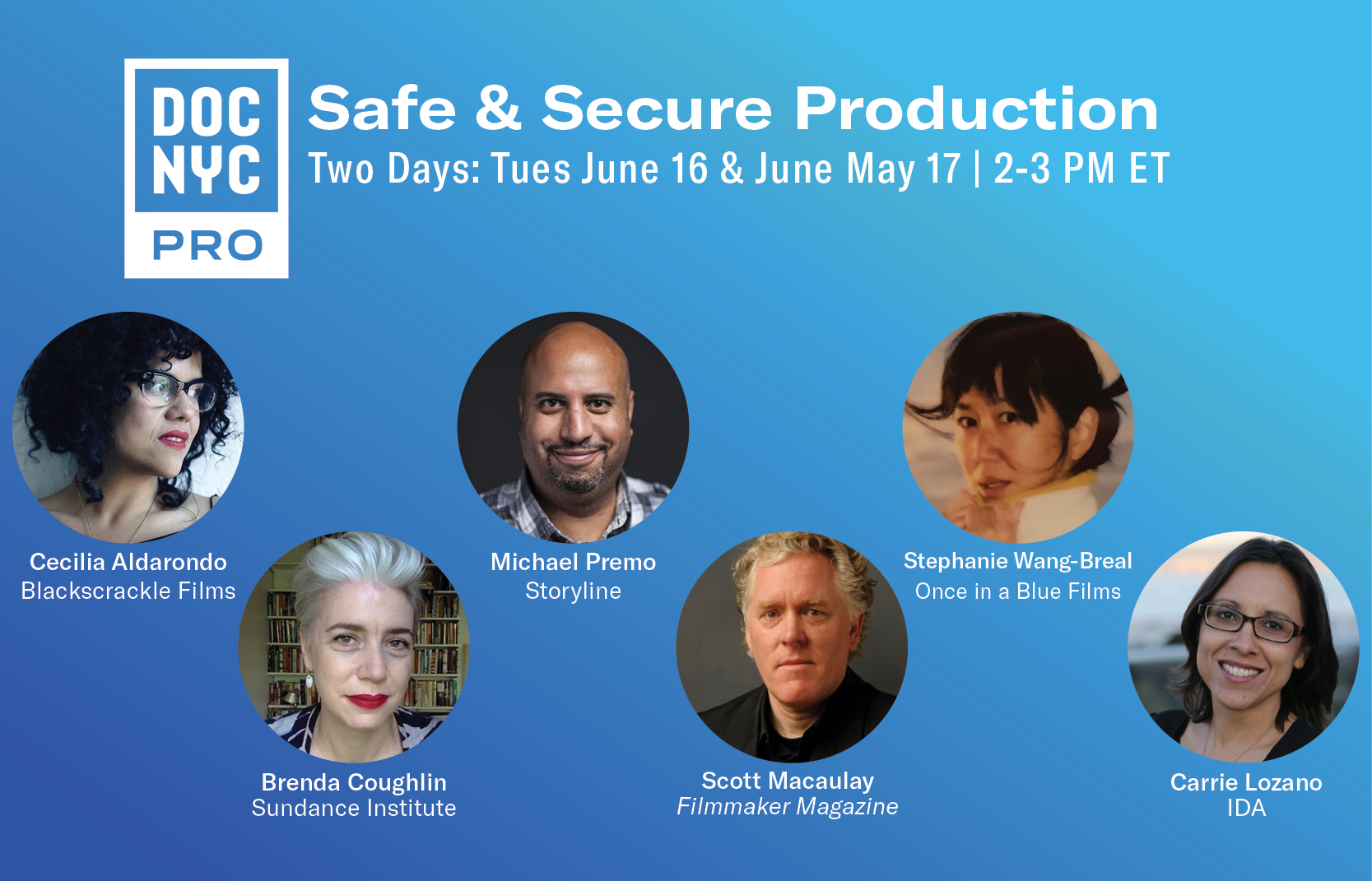 This event was recorded live on June 16 & 17, 2020.
Join DOC NYC PRO for its next Immersive webinar program, a two-session deep dive into the ethics, risks and practicalities of production in sensitive production environments, including during the Covid-19 pandemic, during social protests, after natural disasters, and with vulnerable subjects. As the world of doc production and distribution shifts, how can film teams reexamine their responsibilities to their crews and subjects, now and in the future? How might our current assessment of production risks reshape industry standards for filmmaking in the public interest and in marginalized communities? And how can the documentary field carry the lessons learned in this moment forward into other contexts?
On Day 1, we welcome Brenda Coughlin from Sundance Institute, part of the international team behind an evolving documentary filmmaking risk-assessment guide for the field, titled "Independent Documentary Filmmaking in the Time of Corona." She will discuss the legal, journalistic, and ethical considerations that are crucial to film teams' decision-making, during Covid-19 and beyond. She's joined by filmmakers Michael Premo, Stephanie Wang-Breal, and Cecilia Aldarondo, whose work in vulnerable communities and with subjects in special need of protection and safety offers insights into how doc makers can navigate weighty decisions in sensitive production environments.
On Day 2, we'll hear from Filmmaker Magazine co-founder and Editor-in-Chief Scott Macaulay, who has been following the evolving realities of production insurance during the pandemic. He'll share the latest updates from insurance brokers, and will summarize how professional guilds, insurance companies, big distributors and individual film teams are having to rethink  issues of liability and worker protection–perhaps forever. He'll be joined by Carrie Lozano, producer, journalist and director of the International Documentary Association's Enterprise Documentary and Pare Lorentz funds. She'll discuss her recent piece, "The Ethics of Production in a Pandemic", which breaks down the "life-and-death ethical and moral dilemmas" that current production activities pose, and situates those dilemmas within the history of best practices in ethical journalism and filmmaking.
Tickets are $15 and include both sessions; registrants have access to the recorded session and a written transcript after the livestream. Tickets are non-refundable.
Moderated by DOC NYC Director of Industry and Education, Caitlin Boyle.
If you have questions about registration, please email caitlin@docnyc.net. For questions about accommodations and accessibility, please email accessibility@docnyc.net.