DOC NYC PRO Immersive: Creating Highly Clickable Content
April 28, 2020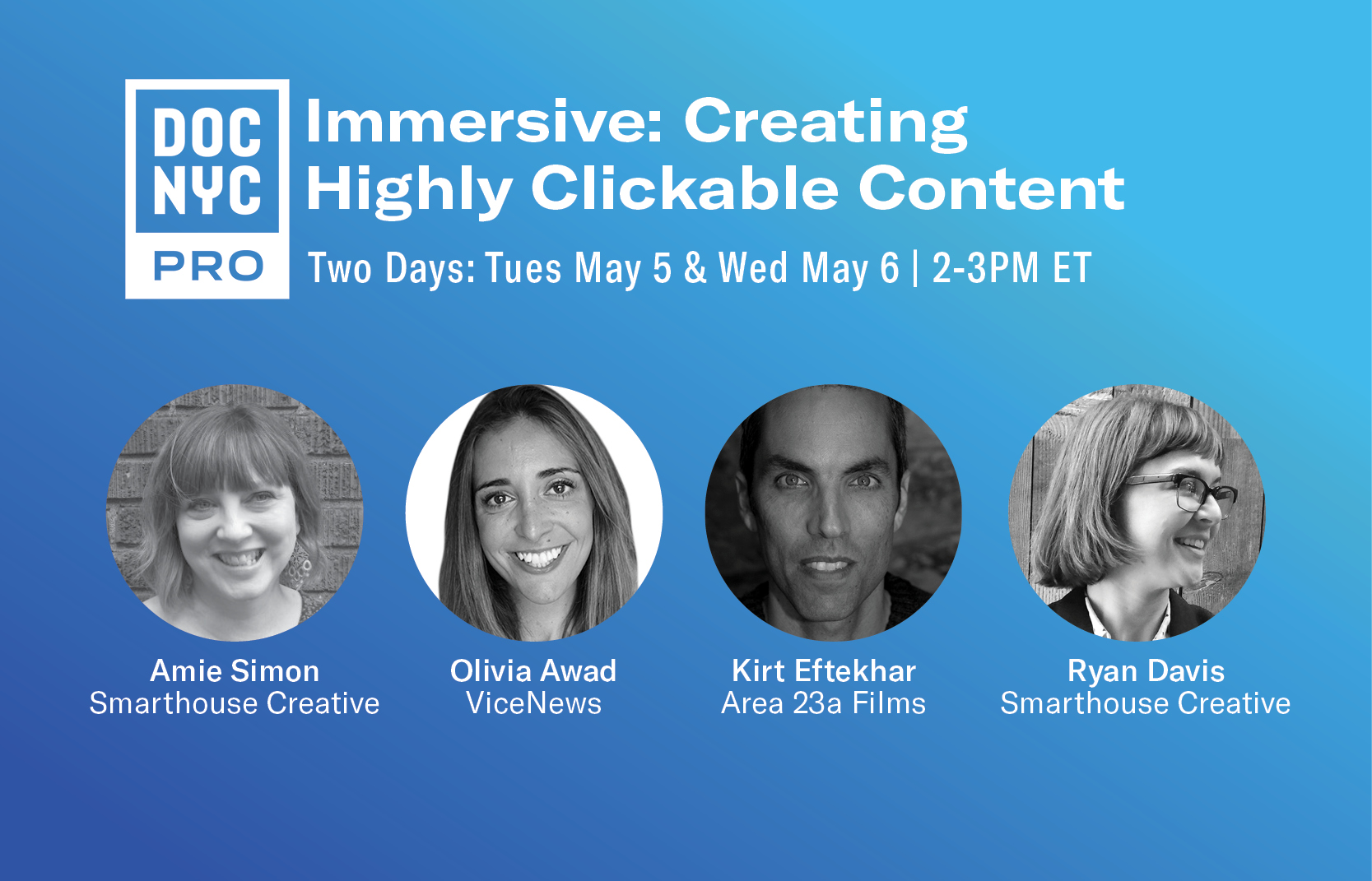 This event was recorded live on May 5 & 6, 2020.
Join DOC NYC PRO for its first two-day Immersive webinar program, a two-session deep dive into the nuts and bolts of creating highly shareable online content, especially now, when nearly all social and business interaction has to take place virtually. Guests include representatives from digital marketing firm Smarthouse Creative; ViceNews; and the cult doc hit Fantastic Funghi. 
On Day 1, we'll hear from Seattle's Smarthouse Creative, a marketing and PR firm specializing in indie film and creative projects. Co-Founder Ryan Davis and Director of Marketing Amie Simon unpack the must-have criteria every film and film team need to attract a robust online audience, and the customizations that are necessary to create a unique online imprint for your film. They'll also offer advice on what's changed in this pandemic moment: who's online, how our social media behavior is shifting as we enter a second month of remote work, and how digital messaging needs to respond to the Covid-19 crisis–or not. Come prepared with specific questions about your own project and priorities, and we'll respond to real-life questions from filmmakers navigating the current moment.
On Day 2, come back for more guidance from VICE News's video publishing specialist,Olivia Awad, who shares details about VICE's patented approach to creating highly shareable and clickable video content for audiences with lots of choices. Olivia is joined byKirt Eftekhar, the distributor behind Louie Schwartzberg's feature doc Fantastic Fungi, whose grassroots and influencer marketing efforts, both online and off, have helped garner what the The New York Times called, "a level of social-media fame scientists can only dream of." Kirt offers a case study of what's worked for Fantastic Fungi and why, and how the community behind the film has been unstoppable–even in a time of social distancing. Olivia and Kirt will answer audience questions at the end of the session.
Moderated by DOC NYC Director of Industry and Education Caitlin Boyle. 
Tickets are $10 for both sessions; your ticket price gives you access to participate in both sessions live and to have unlimited access to the recorded session after the livestream.