DOC NYC PRO: Funding Your Documentary
Wednesday, July 8
June 24, 2020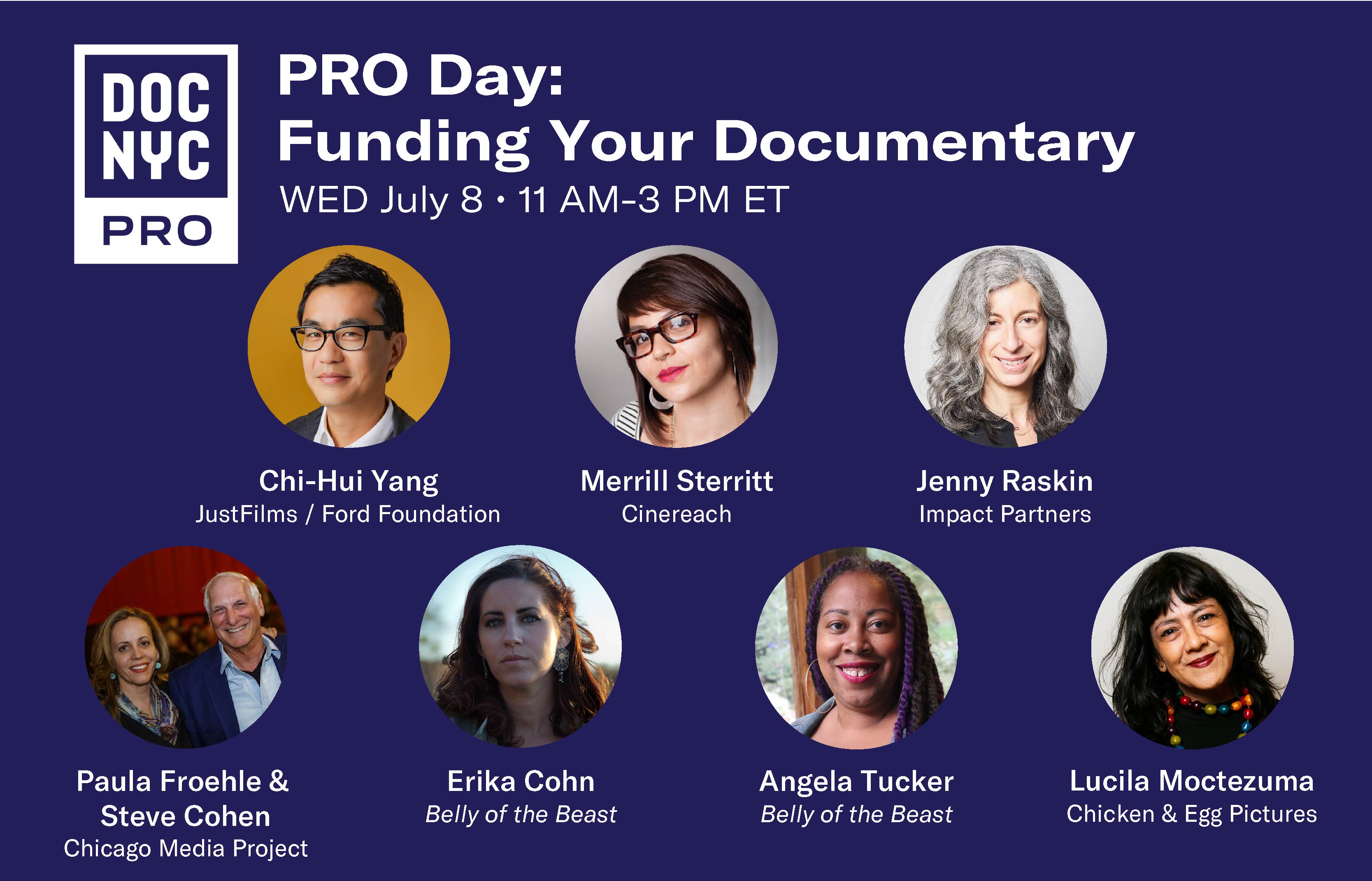 This event was recorded live on July 8, 2020.
Join us for a daylong online workshop on Funding Your Documentary, featuring institutional grantmakers, equity investors, and other sources of support for documentary filmmakers, their projects, and the documentary organizations that incubate and exhibit their work.
Session One
Broadening the pipeline for documentary funding
In our first session, Ford Foundation's Chi-hui Yang joins to talk about JustFilms, which provides grants to filmmakers for social justice storytelling, and funds the 21st-century arts infrastructure that supports it. And Merrill Sterritt from Cinereach discusses the Cinereach Foundation's organizational programming grants, including to groups like Indie Memphis and Detroit Narrative Agency, whose regional support of nonfiction storytellers amplifies the work of documentary media makers across the United States.
---
Session Two
Unique models in philanthropic giving
In session two, Jenny Raskin shares Impact Partners' unique equity investment funding model, in which filmmakers and investors work together to reach mass audiences, generate revenue and showcase important social-issue storytelling. She's joined by Steve Cohen of Chicago Media Project, who describes its community philanthropy structure, in which its individual donor-members pool their charitable giving to support filmmakers through grantmaking.
---
Session Three
Filmmaker case study
In our final session, Erika Cohn and Angela Tucker talk about funding their 2020 feature documentary, Belly of the Beast, and its impact and distribution activities. They chart their diversity of funding sources, including institutional grant support, private donations, and a broadcast co-production partnership. Lucila Moctezuma, Program Director at Chicken & Egg Pictures and one of Belly of the Beast's funders, joins to talk about Chicken & Egg's support of the film's outreach work—and its broader mission to support women nonfiction filmmakers whose films catalyze social change.
---
Tickets are $35 and offer access to unlimited access to this session recording. All registrants will receive written resource materials, including a transcript of the live sessions and referenced links and materials.
If you have questions about accommodations and accessibility for this event, please email accessibility@docnyc.net.