On Filmmakers Becoming Part of the Story at DOC NYC Pro
Directors Bryan Fogel, Yance Ford and Jeff Orlowski relate how they became characters in their own films.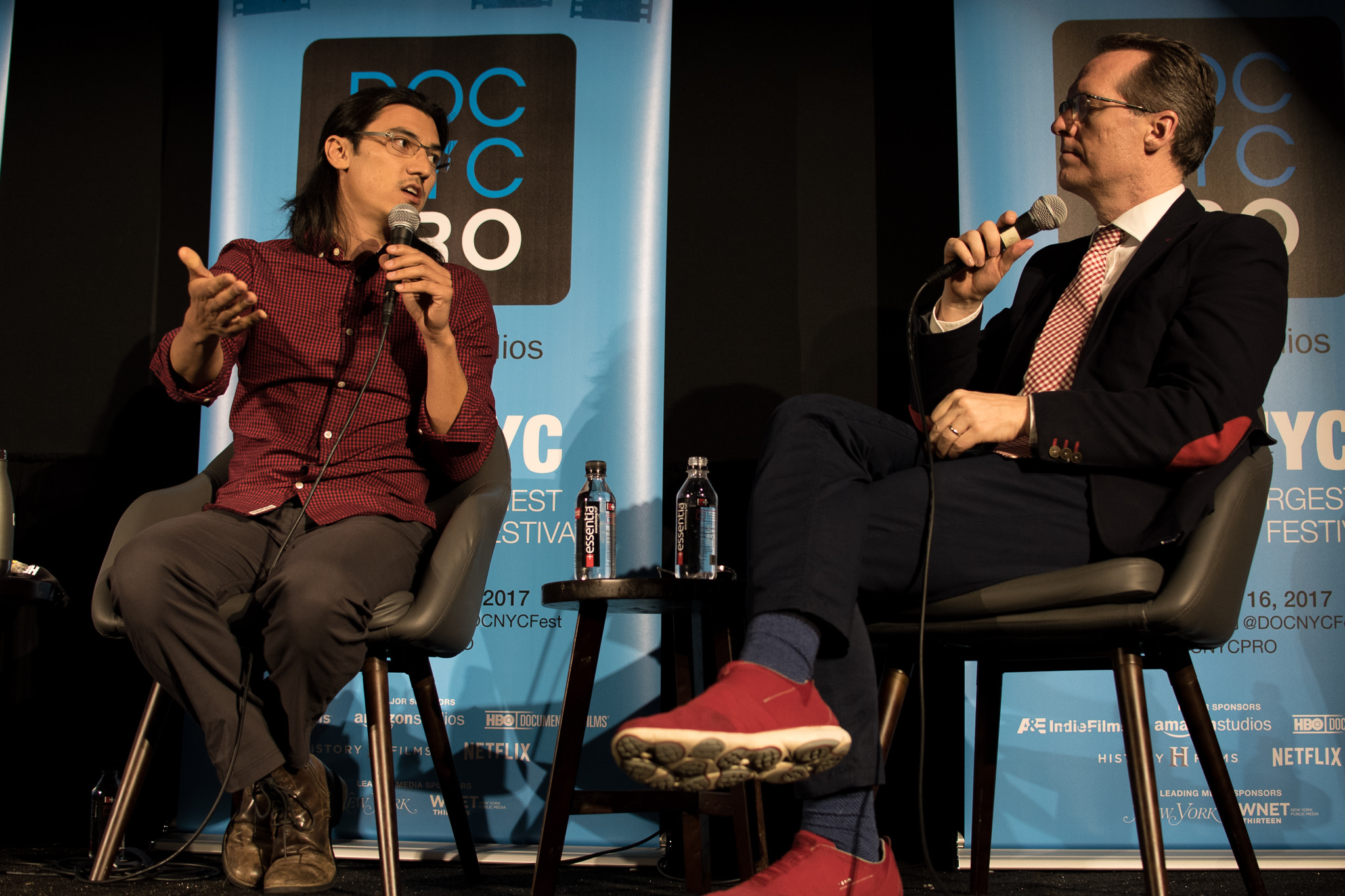 Written by Lisa Kovitz
Three directors – Bryan Fogel of Icarus, Yance Ford of Strong Island, and Jeff Orlowski of Chasing Coral – told a DOC NYC PRO audience they did not originally intend to be a character in their films, but a variety of circumstances put each front and center.
The panel, moderated by DOC NYC artistic director Thom Powers, explored the newsworthy and high-impact topics of each film, including real evidence of climate change, widespread Russian doping in amateur and professional sports, the criminal justice system and racial issues, along with the logistical and ethical challenges each director faced during the filming process.
How the Directors Became Characters in Their Films
When Yance Ford began working on Strong Island he said "I wrote a list of ten rules…. Yance will never appear on camera was rule #1."  But after shooting interviews with his mother, two of his brother's friends, and others, it became clear his voice was needed to "provide connective tissue between the characters," and to advance the narrative and make connections to contemporary issues of race and the justice system.
For Chasing Coral, Orlowski determined that proof of the oceans warming would be best demonstrated by real-time footage of the bleaching effect high temperatures have on coral reefs.  Orlowski's earlier film Chasing Ice used the same time-lapse approach to demonstrate the impact of climate change on Arctic glaciers.  This time, Orlowski's team had to build and test the actual time lapse cameras at the depths where coral is found. The compelling backstory of building these cameras and Orlowski's experience with the cameras and conditions forced him into the film.
Becoming a human guinea pig to prove the widespread use of doping in sports what not Fogel's original concept for Icarus.  He explained, "my original idea was that I was going to find a 'clean' pro athlete currently racing and convince him that, for the greater good, he would dope, he would get through the system, and we'd expose it to show that the system was failure."
But that approach proved to be impossible, so Fogel ended up conducting the same experiment on himself, opening the door to the world of Russian doping via their lead scientist, who later defects.  With the Russian doping scandal making news even in the last 24-48 hours in the New York Times as the scandal widens, going all the way up to President Vladimir Putin, Icarus has had real impact.
SKYPE Calls, Chasing the District Attorney and More:  Filmmaking Ingenuity to Capture the Story
As characters in their own films, each director designed ways to capture their participation without being contrived.  For Fogel, he needed to communicate with Dr. Grigory Rodchenkov, who lead Russian's anti-doping lab for Olympic athletes. So Fogel filmed dozens and dozens of SKYPE calls that pulled the narrative through, despite being a tedious challenge in the editing room.
Yance Ford and his DP filmed hours of Ford placing calls and leaving messages to the assistant district attorney assigned to his brother's case and then waiting hours for call backs to help illustrate the agonizing process adn the incredible frustration many people feel when dealing with the criminal justice system. Orlowski realized that to place the time lapse cameras, he would need help from both an underwater crew (where he often placed himself) and a topside crew.  His team also pulled data from NASA satellites to pinpoint warming oceans where corals might bleach, so they could find the best locations to place cameras.  While it didn't always work, they got enough footage for verite or montage sequences, adding to the film's dramatic look.
See more photos from DOC NYC Pro on Flickr
Lisa Kovitz works in the Brand group at Edelman Public Relations in New York as an earned media strategist.  Follow her @lisakovitz.