Big Star: Celebrating a Rock 'n Roll Underdog
This post was written by DOC NYC blogger Carrie Nelson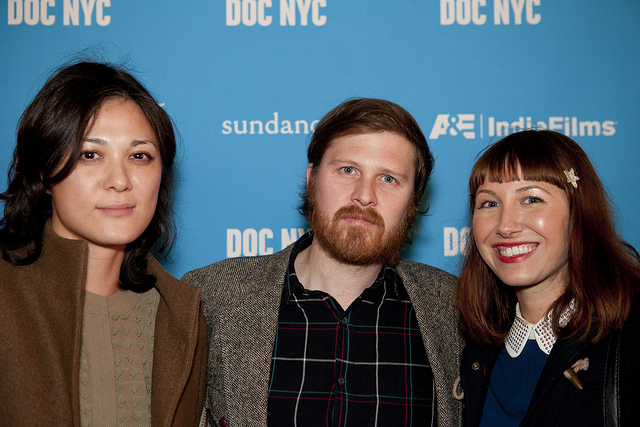 From left, directors Olivia Mori and Drew DeNicola, and producer Danielle McCarthy.
The New York premiere of BIG STAR: NOTHING CAN HURT ME made DOC NYC history: it was the first film screening at the festival that sold out the School of Visual Arts Theatre's 479-seat house. Given Big Star's current cult status, the popularity of Drew DeNicola and Olivia Mori's film is hardly a surprise. And judging by moments of knowing laughter from the audience during the film and the thunderous applause that erupted when the credits began to roll, the fans in attendance were not disappointed.
BIG STAR: NOTHING CAN HURT ME chronicles Big Star's full history: their early days as a band always on the cusp of success, the projects in which band members participated after Big Star's break up, and the unexpected cult following that inspired the band's reunion in the 1990s. The personal lives of lead singer Alex Chilton and guitarist Chris Bell are also explored, shedding light on the troubled experiences that shaped the band's emotional sound.
The Q&A took a bittersweet turn. Jody Stephens, Big Star's drummer, expressed his gratitude to the filmmakers for beginning the process of making the film six years earlier. "I'm glad you had the foresight to do this," he told them, alluding to the difficult changes that the band faced during production, such as Chilton's death in 2010. John Fry, Big Star's record producer, echoed Stephens' sentiments, taking time to reflect on those who did not live to see the completed documentary.
Soon, the mood shifted back to a celebratory one; as the brief Q&A wrapped up, DeNicola invited the audience to a nearby bar, in case anyone wished to continue the conversation. It was a night that embodied Big Star's legacy: acknowledging pain and setbacks while recognizing the joy and community that the band's music has brought to so many people.
Carrie Nelson is a writer and filmmaker, committed to using media to advocate for social justice. Follow her work at www.carolyn-nelson.com.