Birth Story: Ina May Gaskin & The Farm Midwives
This post was written by DOC NYC blogger Tamer Hassan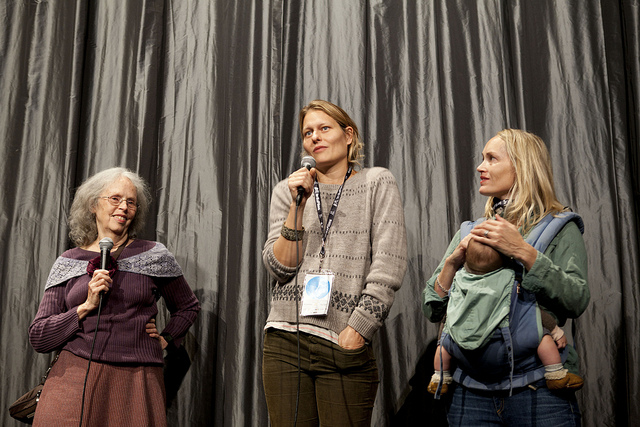 From left, Ina May Gaskin and directors Sara Lamm and Mary Wigmore at DOC NYC.
In her introduction to BIRTH STORY: INA MAY GASKIN & THE FARM MIDWIVES by directors Sara Lamm and Mary Wigmore, DOC NYC Executive Director Raphaela Neihausen confirmed suspicions that this was not a typical audience. "This is the most excited audience we've had at the festival," she said, noting the potential that midwifery has for creating a passionate community. The enthusiasm in the theater hinted that as a society we're on our way towards experiencing a conviviality similar to that felt in the early years of The Farm, the "intentional community" founded in Summertown, Tennessee, as an experiment in communal living.
The film's 1970's archival footage of births at The Farm shows the trust and intimacy prevalent among its early members. Soon-to-be mothers experience the pain of childbirth in a room filled with loving friends. This early footage was shot by members of the community, with the reels documenting all aspects of the revolutionary project. The result is that the audience experiences the camera as another body in the birthing room–unacknowledged, yet welcomed in the community into which new life is born. In contrast, the presence of the camera in the contemporary footage is conspicuous, and its subjects self-conscious and distant. This doesn't say so much about the filmmakers' respective talents, but rather the changing culture of The Farm over the years, where midwifery is no longer practiced in the same communal atmosphere.
Lamm and Wigmore are perhaps aware of the difference in these two eras, juxtaposing archival and contemporary footage in revealing ways. Take, for example, the shots of a 1970's group birth intercut with footage of an individual Farm member crossing a stream in a golf cart. Or the irony of Ina May and Stephen Gaskin watching black and white footage of births on their flat screen television while sitting on the bed in their private residence.
Though The Farm may no longer be in its Golden Age, the influence of midwifery has spread far beyond its borders. Ina May Gaskin has become a lead figure for the movement, and with U.S. maternal mortality at a record high, her knowledge couldn't come at a more pressing time. The importance of the film should not be understated; many more uninterrupted births may result from its release.
BIRTH STORY takes the example of The Farm and challenges us to seek what they discovered to be possible, to experience spiritual midwifery, and to form communities and cultures in which to place ourselves so that the intimacy felt in a 1970's commune can be experienced everywhere.