Mea Maxima Culpa: Uncovering Abuse in the Church
This post was written by DOC NYC blogger Maggie Glass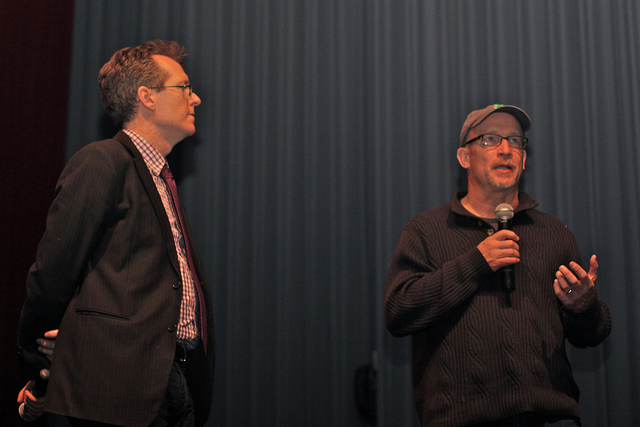 Director Alex Gibney, right, fielded questions at the DOC NYC screening of his film.
With MEA MAXIMA CULPA: SILENCE IN THE HOUSE OF GOD, acclaimed director Alex Gibney takes a subject known to most people–the widespread sexual abuse of children by Catholic priests–and puts a new and powerful face on it. While the documentary ultimately makes its case against Catholic leaders around the world, most of the story focuses on a small parochial school in Milwaukee, Wisconsin. It was in this school that a priest by the name of Lawrence Murphy took advantage of a population more vulnerable than most: Deaf children. In the 1950's and 60's, many of these children were not skilled at written English and grew up with hearing parents who did not use sign language.
Father Murphy preyed on these students specifically, confident that they did not have the tools to communicate the abuse to their family members. His tactics worked and during his tenure at the school, he molested approximately 200 young boys. Yet, as the years passed, a group of young Deaf men whose lives had been irreparably damaged by Father Murphy took a stand. When asked about what drew Gibney to the story in the first place, he said he found himself moved by a newspaper article about these students and their actions. "I was very drawn to the idea of these voiceless men having their voices heard," he said.
Gibney's film chronicles the fight to bring Father Murphy to justice–from distributing hand-drawn flyers around the community to launching a well-publicized lawsuit with repercussions leading all the way up to the Vatican. The men use American Sign Language to tell their stories, and after the film, an audience member expressed how powerful it was to see them sign. Gibney explained that his team spent hours working out the best way to capture these men in their language, ultimately finding that using multiple cameras and variable shutter speed (a technique used to capture fast motion) was the best way to draw attention to the men's hands as they shared their experiences.
Given that the film openly threatens the hierarchy of the Catholic church and a culture of silence and denial that has lasted decades, DOC NYC Artistic Director Thom Powers asked Gibney about the response MEA MAXIMA CULPA received at a recent screening in Milwaukee. Gibney said the Catholic leadership accused him of ripping off old wounds in a community that had been badly damaged by the sexual abuse scandal, but Gibney disagrees. "For the survivors, I think it was the exact opposite. It was an elevating experience for them to be heard and to be recognized."
Maggie Glass is a New York-based writer and Senior Educator at Museum of the Moving Image.