Men at Lunch: A New Look at a Classic Photograph
This post was written by DOC NYC blogger Carrie Nelson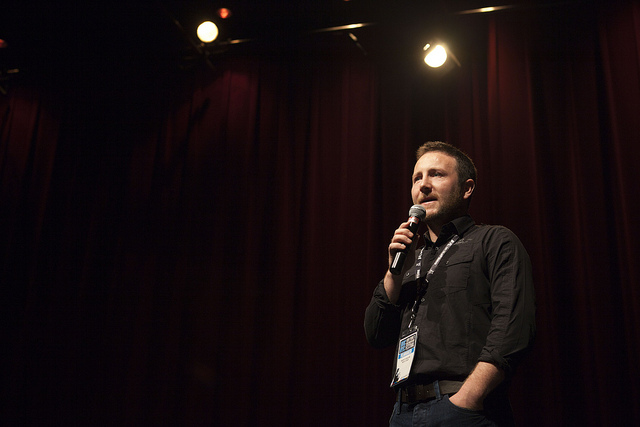 Director  Seán Ó Cualáín at the DOC NYC screening of his film.
At first glance, it may seem odd that Irish filmmaker Seán Ó Cualáín chose to make such a quintessentially New York City film. But MEN AT LUNCH isn't simply about New York – it's about the immigrants who built the city at the start of the 20th century, and "Lunch atop a Skyscraper," the famed photograph that immortalized those laborers.
In an effort to uncover the mystery surrounding the photograph, MEN AT LUNCH dissects the image from every possible angle. A visit to the Corbis archives, where the photo's original negative is stored, reveals whether the image is real or merely the result of trick camerawork and editing. Interviews with researchers at the Rockefeller Center's own archives raises questions not only about the men featured in the photograph, but also about the true identity of the photographer. The aesthetics of the image are also analyzed, and carefully crafted CGI replications allow the viewer to see the image from new, detailed perspectives.
MEN AT LUNCH reveals that the true magic of the photograph comes from its universality. The ironworkers who built 30 Rock did not have work papers, so there is no record of the identities of the men pictured. As a result, many who view the photo project their own histories onto it, certain that their father or grandfather or uncle is among the group. Eamonn Ó Cualáin, the film's producer and Seán's brother, explained that he and his brother are always hearing theories about the men's identities. "Everyone feels a connection to it," he said. "There's a different chapter every time you speak to somebody."
One such theory provided the O Cualáíns with the inspiration to produce MEN AT LUNCH. Seán and Eamonn hail from Galway, and one day, when visiting the town of Shanaglish, they noticed "Lunch atop a Skyscraper" hung prominently in Whelans Pub. It is believed that Shanaglish locals Sonny Glynn and Matty O'Shaughnessy are two of the men in the photograph. MEN AT LUNCH explores this possibility, and though definitive proof may never be available, this – and the other theories the film proposes – makes the legacy of "Lunch atop a Skyscraper" even more intriguing.
Carrie Nelson is a writer and filmmaker, committed to using media to advocate for social justice. Follow her work at www.carolyn-nelson.com.