Musicwood: A Coalition of Musicians Works to Save Guitars
This post was written by DOC NYC blogger Sandy Roupioz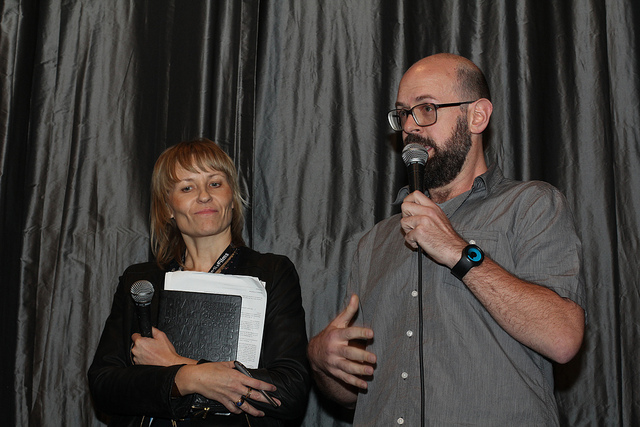 From left, director/producer Maxine Trump and producer Josh Granger at the screening of their film.
This year DOC NYC hosted the world premiere of MUSICWOOD, directed by Maxine Trump and produced by Josh Granger, a documentary that needs to be seen not just by anyone who cares about guitar music, but also those who cherish the environment or American heritage.
MUSICWOOD follows a band of famous guitar-makers–Bob Taylor, Chris Martin and Dave Berryman of Gibson–who travel into a primeval forest of Alaska. Their mission: to negotiate with Native American loggers from Sealaska to save pristine tonewood, and thereby the way guitars have been made for hundred of years.
The film brings viewers into the heart of the battle between three stakeholders—the guitar industry, an environmental organization, and the logging industry—all of whom are struggling to manage their resources.
This open-ended story lets viewers discover the roots of the guitar industry, with wood and the qualities needed for acoustic beauty serving as the film's the main character and driving force. The search for the perfect tonewood, generally made of rosewood, cedar, spruce, mahogany, maple and ebony, allows viewers to understand the logging industry, with the film focusing particularly on the logging of spruce in Alaska that is owned by corporations controlled by Native Americans. Viewers become witnesses to miles and miles of devastated forest, the sad result of clear-cutting practices led by the same corporations over the last five years.
We also enter the world of Native Americans to gain an understanding of their rites, their pride for their cultural heritage and their internal divisions as a community divided between landowners and other Alaskans.
The use of the guitar to raise awareness on major issues remains the essence of this documentary, as producer Granger said in the Q&A following the screening.