Plimpton!: A Literary Legend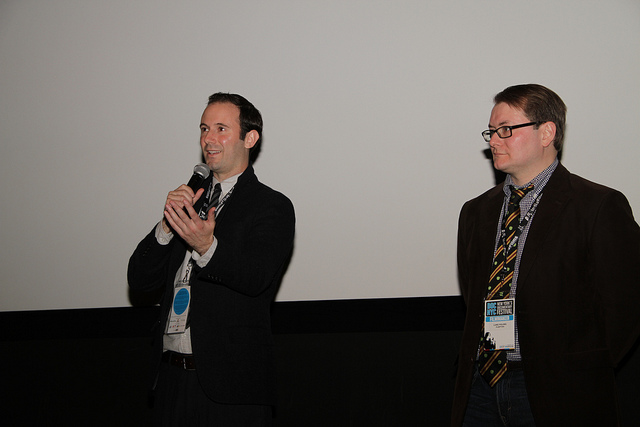 PLIMPTON! directors Tom Bean and Luke Poling speak at the screening of their film.
The literary figure and raconteur George Plimpton during his career tapped into the zeitgeist of the everyman, living out fantasies that even James Thurber's famous fictional character Walter Mitty would be hard pressed to come up with. The title of Luke Poling and Tom Bean's biographical doc–PLIMPTON! STARRING GEORGE PLIMPTON AS HIMSELF–is a clever nod to Plimpton's need to be in the thick of any story he was telling.
"One thing we decided to do right from the get-go was to have George tell his own story," said Bean. "We thought he did it so articulately and wonderfully, we just wanted to stay out of his way."
Considered one of the progenitors of the New Journalism movement of the 1970s, Plimpton didn't buy into the idea that journalists needed objective distance in order to faithfully record history's first draft. In fact, he took the opposite tack, attempting to learn about his subjects by completely immersing himself in them.
Plimpton's participatory journalism projects often bent towards the populist and heavily favored sports. His most famous work, Paper Lion, recorded his attempt to integrate himself into the Detroit Lions and run a few plays as the team's quarterback in a real game.
But Poling and Bean's film goes beyond such familiar stories to present a well-rounded picture of Plimpton, examining his relationship with his family, as well as with a literary establishment that sometimes considered him a dilettante. The directors also tap into a rich mine of archival material–there's even a recording of Plimpton speaking about his presence at the 1968 assassination of Robert F. Kennedy, who was a personal friend.
What the film reveals best is Plimpton's love for the literary journal he founded, The Paris Review, which has published some of the greatest fiction writers of the past 60 years. Plimpton was the living embodiment of the publication, and was willing to sacrifice and shill in order to keep the journal solvent.
It's perhaps ironic that Plimpton was so dedicated to the craft and art of fiction writing while sharing with the world some of the best nonfiction work it had ever seen. But fans of literature are no doubt thankful that Plimpton has left such a strong legacy in both.