VII Uncommissioned: Shorts From Award-Winning Photojournalists
This post was written by DOC NYC blogger Dalila-Johari Paul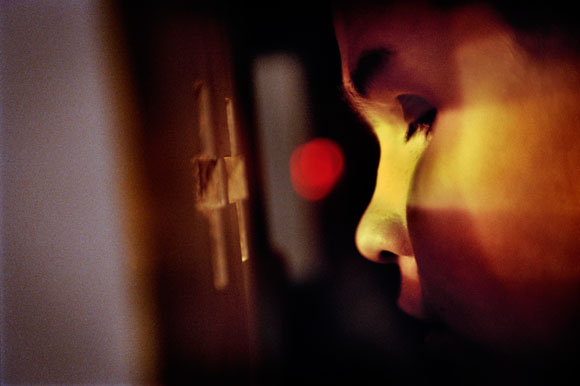 Since 2001, the VII Photo Agency has represented photographers whose work is clearly born out of passion and telling prolific narratives through images. The VII UNCOMMISSIONED film program featured short films from eight world-renowned photographers from the agency. At the screening, DOC NYC's artistic director Thom Powers explained how VII UNCOMMISSIONED had enriched this year's line-up of the festival's repertoire of documentaries focusing on photography.
The showcase opened with Ashley Gilbertson's ON THE LINE, which captured the emotional turmoil of both call responders and war veterans at a help hotline in upstate New York.  The still image piece uses audio recordings to enhance the drama that unfolds when a vet calls and the responder's task is to talk him back from the edge of suicide or other forms of violence. Another responder asks a caller, "What are you doing with all those guns?"
Ed Kashi's short PHOTOJOURNALISMS showcased the unique aesthetic of a still photographer delving into multimedia. Presented as a photo journal, Kashi explores the concept of "home" from the viewpoint of a conflict zone photographer dealing with being away from his family often. At one point in the film Kashi reflects, "I am dealing with image and experience fatigue."
Throughout VII UNCOMMISSIONED, the photographers take the audience on a range of experiences. Stefano De Luigi explores blindness in BLANCO.  De Luigi set out to raise awareness about the lives of blind people around the world, but also to depict blindness as a complex experience that isn't a uniform disability.
With films ranging from Seamus Murphy's SYRIAN SPRING, which offers a peek into the beginning of the country's escalating violence, to the narcissism and pressure of Scandinavian bodybuilders in Joachim Ladefoged's black and white MIRROR, VII UNCOMMISSIONED captured the broad spectrum of documentary photography.
Dalila-Johari Paul is a freelance writer and editor currently working with New York-based  news website Women's eNews.