Recapping the Documentary Preservation Summit
April 22, 2015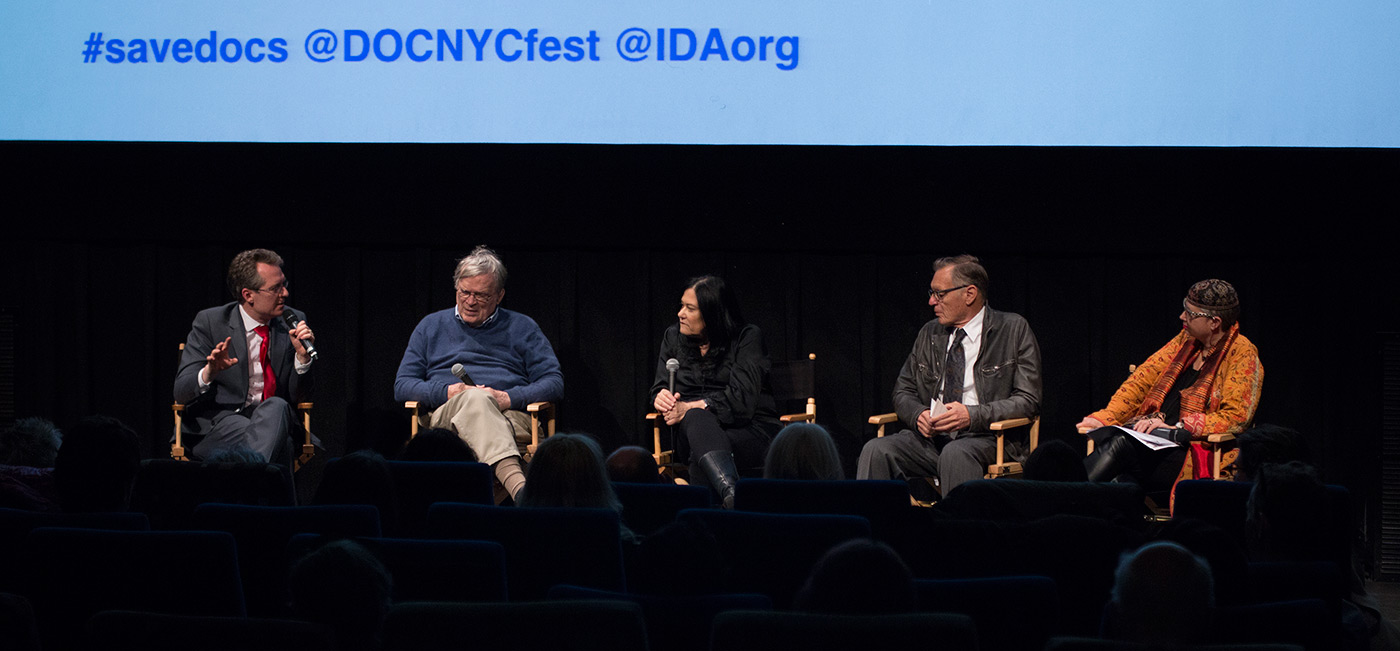 The first DOC NYC and the International Documentary Association (IDA) "Documentary Preservation Summit" took place March 31 and April 1 at IFC Center in New York. The event gathered filmmakers, preservation experts and others to address the risks of important documentary films being lost and strategies for ensuring their future. For those who missed the summit, here are a few panels are now viewable online.
KEYNOTE PANEL: A CALL TO ACTION FOR DOCUMENTARY PRESERVATION
Speakers: Michael Donaldson (fair use attorney), Barbara Kopple (filmmaker), D.A. Pennebaker (filmmaker), Sandra Schulberg (IndieCollect), moderated by Thom Powers (DOC NYC).
Documentary films capture vital moments of history and culture that are at great risk of being lost if we don't pay greater attention to their preservation. This keynote panel is aimed at film lovers who want to better understand why classic documentaries become unavailable and what's being done to address the crisis in preservation. We'll unveil new details of the IndieCollect film documentation and preservation campaign funded by the Ford Foundation that seeks to be part of a positive change in independent film preservation.
EARNING NEW REVENUE FROM OLD FILMS
Speakers: Jeremy Boxer (Vimeo), Adam Klaff (VHX), Linda Pan (Doc Club), George Schmalz (Kickstarter).
Is there any money to be made from old documentaries? That's a key question that arises when discussing preservation. This panel brings together representatives of digital streaming platforms to discuss opportunities for selling back catalog films, including case studies of the Drew Associates library and Hands on a Hard Body.
CONFRONTING CLEARANCE & LEGAL ISSUES
Speakers: Margaret Bodde (The Film Foundation), Dennis Doros (Milestone Films), Rena Kosersky (Music Supervisor, Eyes on the Prize), Morgan Neville (filmmaker).
Older documentaries often face legal impediments in order to be re-released. Those challenges include unclear contracts with producers and distributors; or murky clearance agreements for footage and music. This panel brings together specialists who have addressed these issues. One recent success story is Marcel Ophuls' The Memory of Justice (1976), recently restored in an effort led by Martin Scorsese's non-profit preservation organization, The Film Foundation. The project was an outlier for The Film Foundation that previously hadn't faced clearance issues on any other restoration project during its 25-year history. Executive director Margaret Bodde will share what she learned alongside other case studies.
HOW DOES YOUR FILM BECOME PRESERVED & DISCOVERABLE?
Speakers: Israel Ehrisman (IndieCollect), Elena Rossi-Snook (New York Public Library), Katie Trainor (MoMA) and guest speaker Warren Huddington.
Filmmakers need to understand what film archives do and how to partner with them. But preserving your film for posterity is just the first step. IndieCollect and some of its archive collaborators illustrate how they preserve work and render it accessible — to film programmers, online distributors, cinephiles, and the general public — so that filmmakers can monetize it.
BEST PRACTICES: DON'T LOSE YOUR FOOTAGE IN THE DIGITAL AGE
Speakers: Allison Berg (director, The Dog), Rufus de Rham (Activist Archivists), Clara Fon-Sing (NBCUniversal Archives), David Leitner (filmmaker).
For today's working filmmaker, finished works as well as raw footage, increasingly wind up on hard drives for digital storage. The challenge of how to cope with digital formats is new to everyone. It requires even greater diligence than was required for older formats of celluloid and tape. On this panel, filmmakers discuss cautionary tales and strategies for not losing precious footage.
The two-day summit was a start to the conversation on why and how documentaries need focused attention in the area of preservation. We look forward to continuing the conversation with you through the hashtag #savedocs.