Raphaela Neihausen
DOC NYC Executive Director
Raphaela Neihausen is Executive Director of Stranger Than Fiction, a weekly series at IFC Center now its 10th year, described as "indispensable" (New York magazine) and voted "NY's best documentary programing" (Time Out New York). From 2011 – 2014, she also launched the Montclair Film Festival, as Executive Director.  Prior to that, she worked for seven years at Mercer Management Consulting (now Oliver Wyman), advising Fortune 100 companies on strategic growth.  Neihausen also produced the documentary "Miss Gulag" (recipient of grants from the Ford Foundation and Sundance Documentary Fund) that premiered at the Berlin Film Festival and went on to be broadcast all over the world. She recently produced the award-winning short film "Joe's Violin" and co-hosts WNYC's "Doc of the Week" on Friday's Morning Edition.  She holds a BSFS/MA from Georgetown University's School of Foreign Service.
---

---

John Vanco
Senior Vice President and General Manager, IFC Center
Through his leadership roles in film distribution and exhibition over the last 15 years, John Vanco has strived to connect great works of cinema with appreciative audiences. Greenwich Village's IFC Center, led by Vanco since its 2005 opening, is the bricks and mortar home of IFC Entertainment and serves as a focal point for the independent film community. As one of the founders of Cowboy Pictures, Vanco led the distribution efforts on behalf of dozens of foreign language, documentary and American fiction features, including works by Lynne Ramsay, David Gordon Green, Catherine Breillat and Shohei Imamura. Cowboy also programmed an innovative film calendar at a Manhattan cinema and managed the theatrical libraries of Janus Films and Pennebaker/Hegedus films. Previously, Vanco served in various capacities at Miramax, New Yorker Films and Fine Line Features.
---

Harris Dew
Vice President, Programs and Promotions, IFC Center
Harris Dew has worked in film programming and publicity for over 15 years, holding positions at New Yorker Films, the San Francisco International Film Festival, the Museum of Modern Art and Film Forum. He has a BA in Comparative Literature from Columbia University and an MA in Film History from NYU.
---

Basil Tsiokos
DOC NYC Director of Programming
Basil Tsiokos has worked at DOC NYC for two years as a programmer. He also serves as Documentary Programming Associate for the Sundance Film Festival; and Film Program Director for the Nantucket Film Festival, among other roles. He holds a Masters degree from New York University in Cinema Studies and completed his undergraduate work at Stanford University.
---

Deborah Rudolph
DOC NYC Director of Sponsorships and DOC NYC PRO Producer
Deborah Rudolph has been with DOC NYC for the past three years as Director of Sponsorship and Producer of DOC NYC PRO. She is also Assistant Programmer at the Tribeca Film Festival and Programming Coordinator at the Montclair Film Festival. She served as Producer of Points North at the Camden International Film Festival, and for many years as Manager of Corporate Social Responsibility at HBO. She is a large-scale event producer for both for-profit and non-profit organizations, as well as a film evaluator for POV, Catapult Film Fund, and Chicken & Egg Pictures. She holds a BFA in Film & Photography from NYU, and a Master of Science in Communication from Columbia University.
---

Dana Krieger
DOC NYC Program Manager & Director of Operations
Dana Krieger has been with DOC NYC since it all began in 2010. She has spent the past 15 years producing and creating large scale, high profile events, ranging from major film festivals to the Olympics. Dana completed her undergraduate studies at Georgetown University and earned a Masters in Public Administration from Columbia University.
---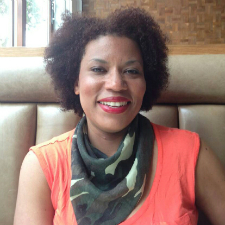 Opal H. Bennett
DOC NYC Shorts Programmer
After several years in legal practice, Opal has spent the past three years working in various capacities for several film festivals.  Beginning as a volunteer for the first Sundance London Film Festival, she has served as a screener for Tribeca and Hamptons Film Festivals and a programmer for the Queens World Film Festival.  She also programs for the Montclair Film Festival   A Columbia Law grad, Opal holds a Masters in Media Studies from the LSE, and received her B.A. from New York University.
---

Ruth Somalo
Associate Programmer
Ruth is a spanish filmmaker, curator and PhD Candidate at Universidad Autónoma de Madrid. With 13 years of experience in the audiovisual field in Spain, UK and the USA; her work has been shown theatrically, and recognized at international film festivals and museums.  As a programer she has collaborated with film festivals and screening series in Madrid, London and New York.
---

Sarah Modo
Communications Coordinator
A fan of arts and expression, Sarah has found great joy working in the film festival world. Besides coordinating communications for DOC NYC, Modo is also a producer on Pure Nonfiction and runs operations for Stranger than Fiction. Previously, she worked at the Montclair Film Festival and Argot Pictures. She holds a BA from Montclair State University in Television and Digital Media.