OSCAR® NOMINEES ANNOUNCED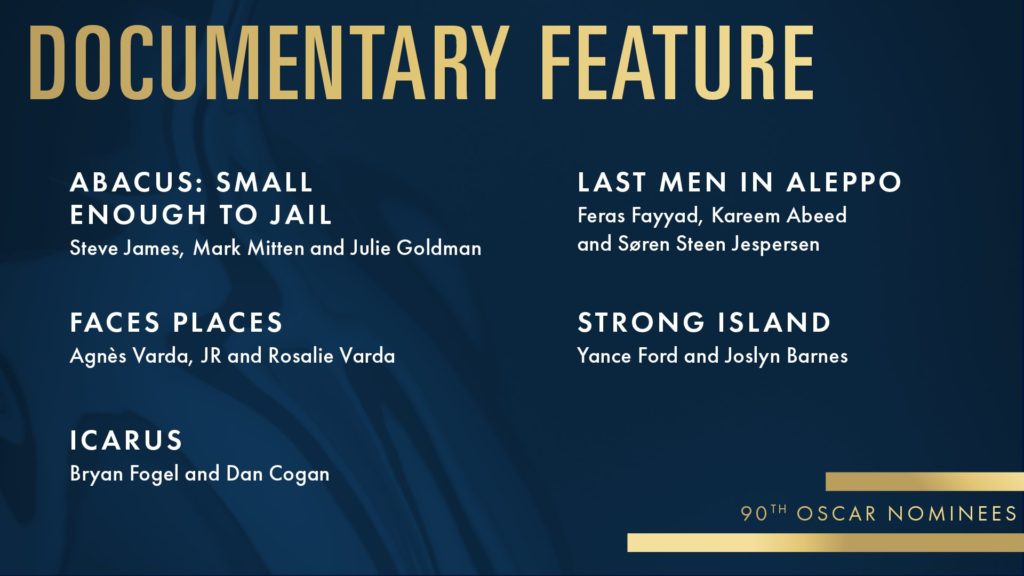 Congrats to all feature and short documentary films nominated for an Oscar® at the 90th Academy Awards. Of the 5 feature documentaries nominated, 4 screened at DOC NYC 2017 in our Short List section:
*"Abacus: Small Enough to Jail," Mitten Media, Motto Pictures, Kartemquin Educational Films and WGBH/FRONTLINE
Q&A from DOC NYC 2017 with the Sung family and members of the filmmaking team available here.

*"Faces Places," Ciné Tamaris
Q&A from DOC NYC 2017 with director and subject Agnés Varda available here.

*"Icarus," Netflix Documentary in association with Impact Partners, Diamond Docs, Chicago Media Project and Alex Productions

"Last Men in Aleppo," Larm Film

*"Strong Island," Yanceville Films and Louverture Films
Introduction from DOC NYC 2017 with director Yance Ford available here.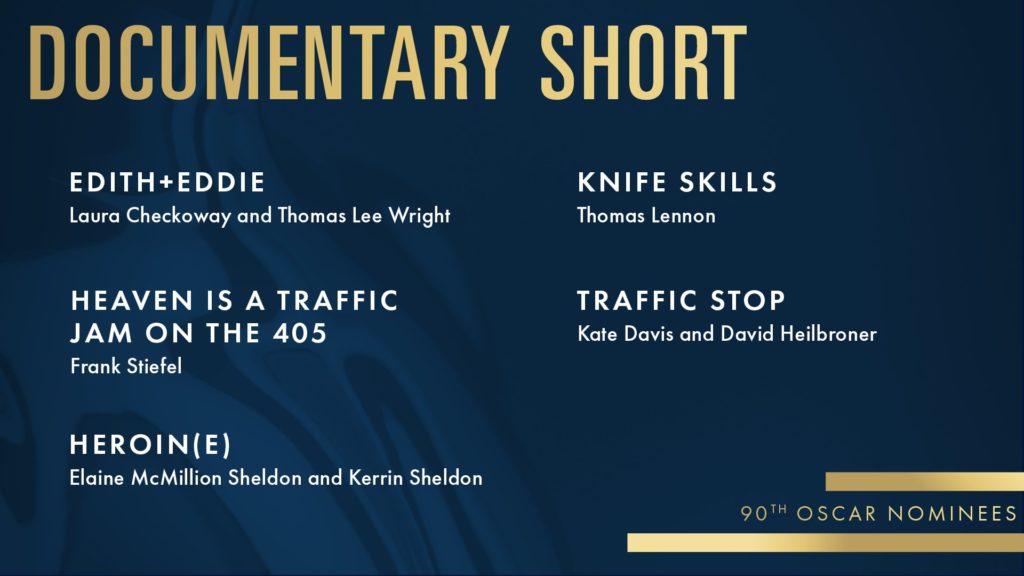 In the short documentary section, 3 of the 5 nominated films screened at DOC NYC 2017:
"Heaven Is a Traffic Jam on the 405," Stiefel & Co.
"Heroin(e)," A Netflix Original Documentary in association with The Center for Investigative Reporting, A Requisite Media Production
*"Knife Skills," TFL Films
*"Traffic Stop," Q-Ball Productions
A special congrationluations to all DOC NYC alums nominated. The 90th Academy Awards® will take place on March 4th, 2018.
Images provided by The Academy®.