Greenwich Village: Music That Defined a Generation
This post was written by DOC NYC blogger Parul Wadhwa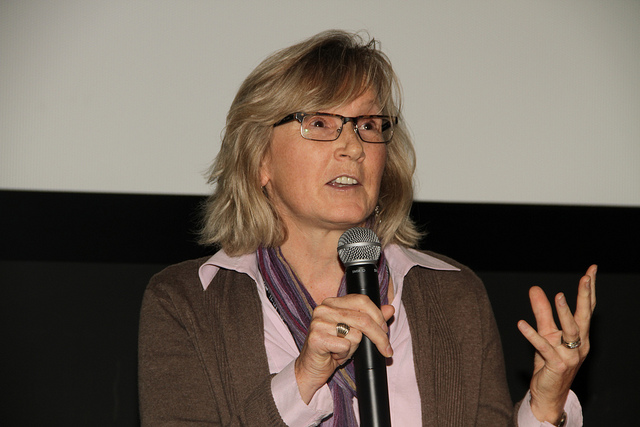 Director Laura Archibald spoke at the screening of her film at DOC NYC.
If you ever wondered where all the different kinds of music in the 60's and the early 70's was coming from, you need look no farther than GREENWICH VILLAGE: MUSIC THAT DEFINED A GENERATION. The Laura Archibald-helmed film is about the Greenwich Village music scene from that time period, and how it led to everlasting political, social and cultural changes in New York City. The film highlights some of the finest singer/songwriters of the day.
The film carefully maps the Renaissance of folk music and protest songs in New York of those times.  Employing a form that employs both talking heads and extensive but rare archival footage, the film traces the path of an incredible number of artists who lived through the era. Archibald's quirky use of animation to break the monotony of talking heads keeps the audience's attention rapt.
But the filmmaker also managed to line up an impressive litany of performers from the era, among them Pete Seeger, Carly Simon, Judy Collins, Kris Kristofferson and Arlo Guthrie. (Archibald said she made a conscious decision not to interview Bob Dylan, citing the glut of films already out there about the musician.)
The film's narrative arc keeps the film well-paced. It's poetic, lyrical and makes one nostalgic for the era when folk music consisted of all these great and talented singer/songwriters. The film's subjects were just doing what they loved the most–making music–and ended up getting blacklisted for it by the government. GREENWICH VILLAGE is a film to watch for the history, community, courage exemplified by the artists of a specific time and place. And–most importantly–for the fearless and rebellious music that challenged the status quo.