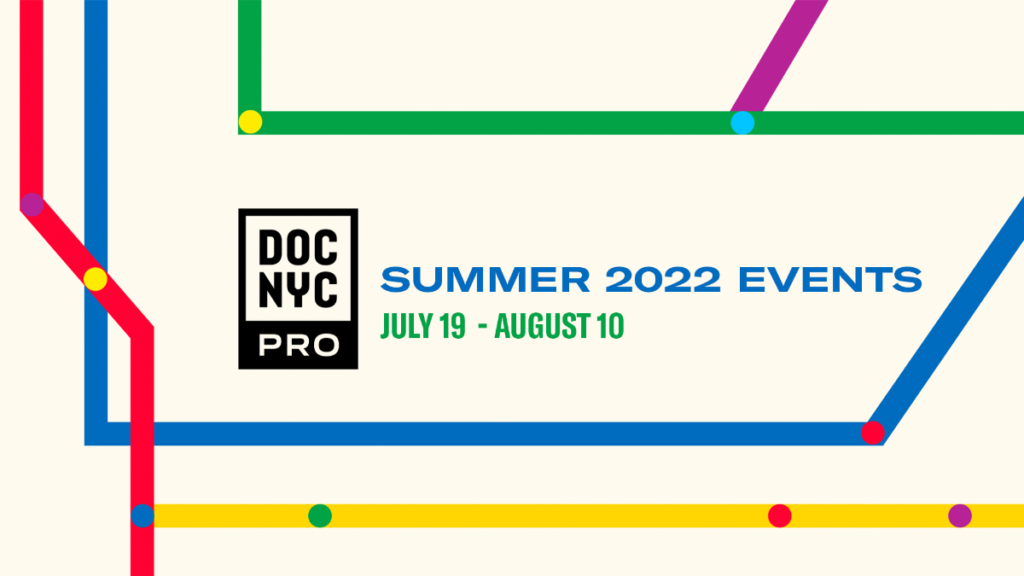 Summer is here, and so are we — with three DOC NYC PRO Summer events, including our first in-person workshop of the year!
This summer, we're excited to launch DOC NYC PRO's first in-person event of the year with a two-part workshop on scheduling and budgeting, July 19 & 20 at IFC Center in New York. Online programming continues with sessions offering an inside look at a key nonfiction funder, ITVS, and remote collaborations between editors and directors.
Two Part In-Person Workshop: $100
Individual Online Classes: $19
This step-by-step seminar, taught by Columbia University professor and veteran documentary producer Maureen A. Ryan (Man on Wire), focuses on what you need to know to create a script breakdown and schedule for documentary feature films. Using a case study film, we will discuss general scheduling principles and break down a written treatment to create an overall schedule using a simple Excel spreadsheet.
Join our fishbowl conversation between Jannette Napoli, Manager, Content and Initiatives at ITVS, and two independent filmmakers, Ursula Liang and Kevin Shaw. Ursula and Kevin were both awarded funding from ITVS and the conversation will focus on the hard work that goes into developing an idea, the grind of pitching and applying for funding, how ITVS identifies potential at different stages, and what working with a funding partner may look like.
Your footage is in the can and you're ready to dive into the edit, but wait – the director and editor aren't in the same room. How do you begin to map out the story without index cards on a corkboard? Now more than ever, documentary teams are shifting to virtual tools for a successful collaboration.
If you have questions about registration, please email ticketing@docnyc.net. For questions about accommodations and accessibility, including requests for live ASL interpretation, please email accessibility@docnyc.net.
DOC NYC PRO Summer 2022 Lineup
Scheduling and Budgeting for Documentary
Tuesday, July 19 and Wednesday, July 20 from 2:00 – 4:30pm at the IFC Center
Grants and Funding: The Inside Track at ITVS
Recorded Wednesday, July 27 (online)
Cutting Apart: Remote Collaboration for Editor/Director Teams
Recorded Wednesday, August 10 (online)
Accessibility
Live ASL interpretation is available upon request. To inquire about accessibility for any DOC NYC events, please email accessibility@docnyc.net. Captions and live transcript are available at every online session (no request necessary).
Past Events
Recordings of past seasons' DOC NYC PRO classes are available as individual event recordings.
DOC NYC PRO is co-presented by