Monday Memo: Carrie Lozano Joins Sundance Institute, BFI London Unveils Program & MIT Doc Lab Announces Fall Lecture Series
September 14, 2020

Despite everything, we are now in the midst of fall film festival season. TIFF is in full swing, Docaviv revealed its award winners, BFI London announced its program and still, Sundance has unveiled that Carrie Lozano will be filling the former shoes of Tabitha Jackson as the director of the festival's documentary film program. Plus, MIT Open Doc Lab shared their fall lecture series, the Academy has finally established representation and inclusion standards for Oscars eligibility, and for the filmmakers out there, No Film Schoolshared a massive list of fall 2020 grants to keep an eye on. Until next week, stay safe!
– Jordan M. Smith
---
HEADLINES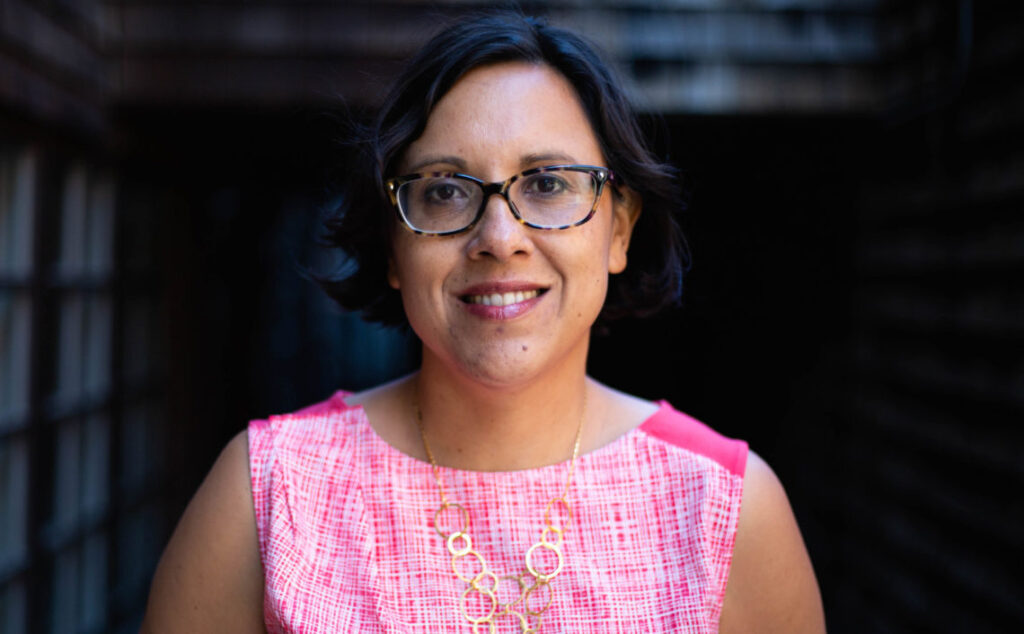 Announced via press release: "Sundance Institute today announced that Carrie Lozano will helm its Documentary Film Program, succeeding interim Director Kristin Feeley and prior Director Tabitha Jackson. As Documentary Film Program Director, Lozano will elevate and support nonfiction filmmakers worldwide at all stages of creating and distributing new cinematic work. She will also work to advance and elevate the health of the independent nonfiction field, ensuring that diverse forms, viewpoints, and participants continue to be central to all Institute programs, which include Labs, global and national partnerships and film funds. She will also lead the Documentary Film Program's team, including Labs Director Kristin Feeley and Film Fund Director Hajnal Molnar-Szakacs. She will report to the Institute's Executive Director, Keri Putnam."
Announced via press release: "The MIT Open Documentary Lab brings storytellers, technologists, and scholars together to explore documentary forms and processes with a particular focus on collaborative, interactive, and immersive storytelling using emerging technologies. Join the conversation at our weekly online lecture series on Tuesdays at 12pm! For detailed descriptions of each talk and other events, please follow the weekly announcements by email, on our website, and/or on social media."
Announced via press release: "Today, the Academy of Motion Picture Arts and Sciences announced new representation and inclusion standards for Oscars eligibility in the Best Picture category, as part of its Academy Aperture 2025 initiative. The standards are designed to encourage equitable representation on and off screen in order to better reflect the diversity of the movie-going audience. Academy governors DeVon Franklin and Jim Gianopulos headed a task force to develop the standards that were created from a template inspired by the British Film Institute (BFI) Diversity Standards used for certain funding eligibility in the UK and eligibility in some categories of the British Academy of Film and Television (BAFTA) Awards, but were adapted to serve the specific needs of the Academy. The Academy also consulted with the Producers Guild of America (PGA), as it presently does for Oscars eligibility. 'The aperture must widen to reflect our diverse global population in both the creation of motion pictures and in the audiences who connect with them. The Academy is committed to playing a vital role in helping make this a reality,' said Academy President David Rubin and Academy CEO Dawn Hudson. 'We believe these inclusion standards will be a catalyst for long-lasting, essential change in our industry.' For the 94th Oscars (2022) and 95th Oscars (2023), submitting a confidential Academy Inclusion Standards form will be required for Best Picture consideration, however meeting inclusion thresholds will not be required for eligibility in the Best Picture category until the 96th Oscars (2024)."
Andrew R. Chow contemplates the new Oscar diversity rules at Time: "Perhaps predictably, the announcement received backlash on social media, particularly from right-wing circles. Many, inside and out of these circles, accused the Academy of stifling creativity or promoting tokenization. 'Honestly, I never want to be hired for these reasons. Ever,' the actor and director Justine Bateman wrote on Twitter. Kirstie Alley called it a 'disgrace to artists everywhere,' though she later deleted the tweet, saying she is '100% behind diversity inclusion & tolerance' but opposed the Academy's methods. However, many others say that the rules are far less onerous than they're perceived to be—and that most films won't have to change their approach at all. Meanwhile, the rollout of the British inclusion initiative that inspired this one offers some clues about what the next few years in Hollywood could look like. TIME talked to several industry insiders, who were split on the impact the new rules might have; they talked about the ways in which the film industry might change, or stay the same, going forward."
---
ON THE FESTIVAL CIRCUIT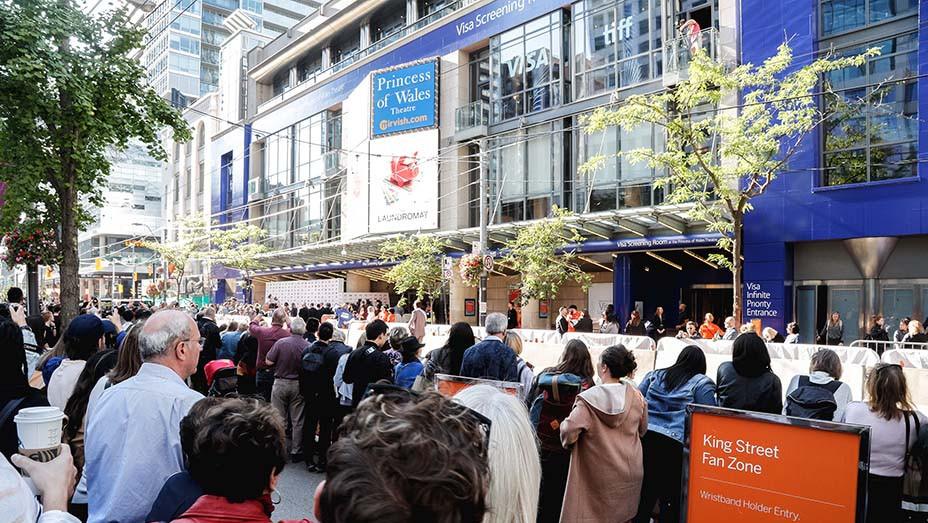 Toronto International Film Festival Doc Coverage Roundup
Over the last four days, new documentaries have been making their world premieres at TIFF. The festival's Opening Night selection was the performance documentary David Byrne's American Utopia that was hailed as "an exhilarating hymn to community and connection" (THR) and "a life-affirming, euphoria-producing, soul-energizing sing-along protest film" (IndieWire). Here are highlights of other documentary world premieres at the festival: Sonia Kennebeck's Enemies of the State, executive produced by Errol Morris, looks "at one family in the government's crosshairs offers twists and unpredictability at every step" (The Wrap). Inconvenient Indian is "a meditation on circular Indigenous storytelling" (THR). MLK/FBI is "a damning look at J. Edgar Hoover's attempts to destroy a civil rights hero" (IndieWire). Lift Like a Girl is "an intimate observational portrait of a young girl's empowerment" (IndieWire)
Vladan Petkovic reported the news at Cineuropa: "The 22nd edition of the Tel Aviv International Documentary Film Festival Docaviv, which is taking place online and in the Israeli capital 3-12 September, announced its awards on Wednesday night. Love It Was Not by Maya Sarfaty, which had its world premiere at the festival, was awarded the festival's top award, the Frank Lowy Award for the Best Israeli Film, worth €17,400 (ILS 70,000). On top of that, because Docaviv is an Academy Award-qualifying festival, the film will also receive a marketing grant of €24,900 for its Oscar campaign. The Yossi Kaufmann Award for Best Director, worth €6,200 and provided by the Makor Foundation for Israeli Films, went to Efim Graboy for The War of Raya Sinitsina, as well as the Best Cinematography Award of €1,500 from KAN – Israeli Public Broadcast Corporation, which Graboy shares with co-cinematographer Daniel Binsted. The Special Jury Award, worth €2,500 and coming from the Harel Insurance Investments and Financial Services, was given to Arthur Abramov for No Hard Feelings."
Daniele Alcinii put together the collection at Realscreen: "As the 45th Toronto International Film Festival kicks off, Realscreen has compiled the available trailers and clips offering a preview of this year's documentary lineup. The festival's picks comprise 18 non-fiction works covering artistic achievement, journalism, immigration and global politics, among other themes. The selection of trailers includes Michael Dweck and Gregory Kersha's The Truffle Hunters, in which a handful of men hunt for the rare and expensive white Alba truffle deep in the forests of Piedmont, Italy; Frederick Wiseman's City Hall, which documents the efforts by the Boston city government to provide myriad services to a diverse population; and Dieudo Hamadi's Downstream to Kinshasa (En route pour le milliard), in which the Association of Victims of the Six-Day War fight for recognition of a bloody conflict that took place in the city of Kisangani between two Congolese rebel groups in June 2000."
Announced via press release: "The 64th BFI London Film Festival (LFF) in partnership with American Express today announced the full programme of its reimagined and innovative new 2020 offering that will be delivered both virtually and via physical screenings. Over the twelve days from 7 – 18th October, the Festival will be its most accessible ever, presenting over 50 Virtual Premieres and a selection of highly-anticipated new feature film previews at BFI Southbank as well as in cinemas across the UK, offering audiences a unique chance to engage with the Festival in different ways. With work from more than 40 countries, the programme includes fiction, documentary, animation, artists' moving image, short film, restored classics from the world's archives as well as previews of several episodic/series-based works made for the small screen."
Sophie Monks Kaufman looked at the issue at Variety: "As the first major film festival to take place in the pandemic era, there's a gravity to the 77th Venice Biennale simply by virtue of the show going on under such fraught global conditions. Yet 2020 has also sparked an unprecedented awareness of racial discourse, and as such, it's essential to note that there hasn't been a Black member of the competition jury since 2004, when Spike Lee was part of a jury led by British director John Boorman. People of color have fared mildly better across the same 16-year period, with a recurring theme of one East Asian creative per 7-9 person jury. This year, the jury that will decide a winner from the Official Selection is entirely white."
---
DOC BOOKS
Beyond the Essay Film: Subjectivity, Textuality and Technology
Edited By Julia Vassilieva & Deane Williams "By raising the issue of 'beyond the essay film', this collection seeks not only to acknowledge the influential predecessors of this — in the view of many critics, the most interesting type of contemporary filmmaking — but also to speculate about its possible transformation as we move forward into the uncharted waters of the 21st — digital — century. Beyond the Essay Film focusses on three specific axes that underpin and shape the articulation of the essay film as a specific cultural form — subjectivity, textuality, and technology — to explore how changes along and across these dimensions affect historical shifts within the essay-film practice and its relation to other types of cinema and neighboring art forms." Now Available via Amsterdam University Press
---
MISCELLANOUS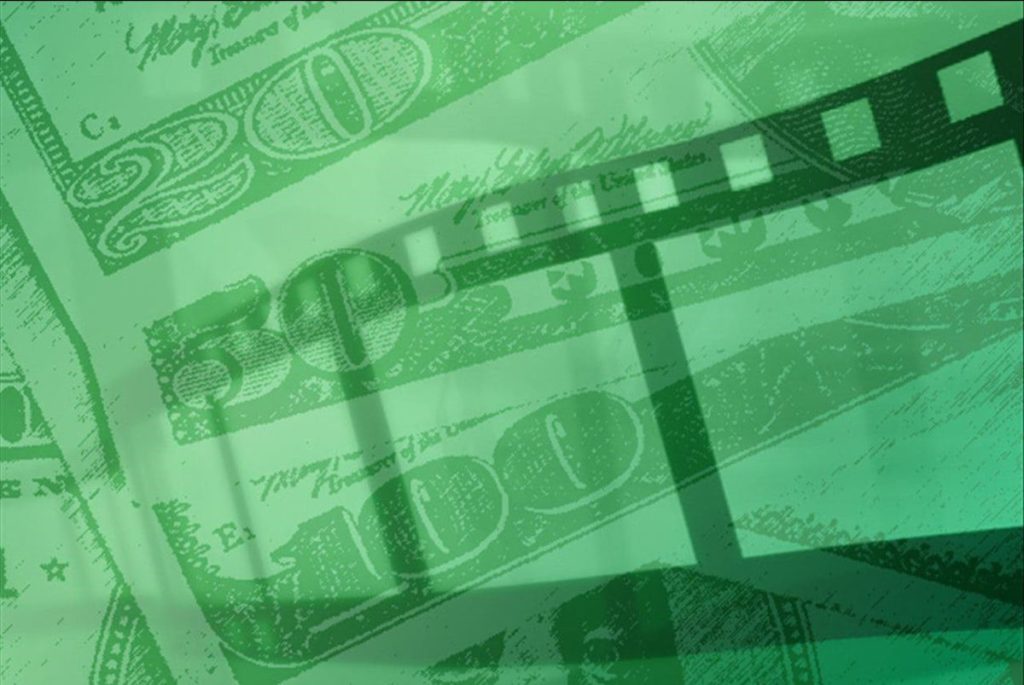 Oakley Anderson-Moore shared the extensive resource at No Film School: "The whole world is in a standstill. Cool, but what grants are still open? Surprisingly a lot! It's a weird-ass time of year. Think of the future, and return to the normalcy of hoping you can score some cash for your projects by furiously applying to upcoming grants. As always, the following opportunities are organized by deadline—from September through early December—and by category: documentaries, narratives, screenwriting, and new media. If you're looking for a head-start on a different granting season, check out our most recent spring grants, summer grants, and winter grants roundups. Note: An asterisk next to the grant title means there is an equivalent grant for both doc and narrative. As always, use your best judgment when deciding to apply."
Variety's Clayton Davis reports: "Variety has learned the Grammy-winning singer's latest 'See What You've Done' from the documentary "Belly of the Beast" will be submitted for the best original song for the 93rd Academy Awards set for next April. You can hear parts of the song in the new trailer for the movie, directed by Erika Cohn, which offers an unflinching look at women who have been abused in the criminal justice system. 'I was moved by Erika Cohn's important documentary Belly of the Beast," Blige says in an email to Variety. 'I immediately knew I wanted to be involved and was inspired to write a song that would amplify the voices of women in prison. 'See What You've Done' is a testimony, a call to be strong, and an anthem for a movement.' Filmed over a seven-year period, the film uncovers illegal sterilizations in women's prisons in the Department of Corrections in California. The film will also be submitted in the best documentary feature category."
---
NEW RELEASES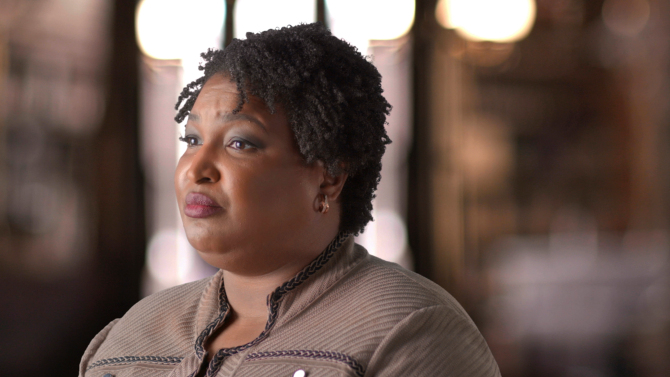 All In: The Fight for Democracy
Available in Cinemas Now and Amazon Prime September 18th
The Social Dilemma
Black Boys
Jimmy Carter: Rock & Roll President
This Is Paris
---
DOC NYC ALUMNI

Eva Mulvad's Love Child 2019 DOC NYC Viewfinders Will be broadcast as part of PBS's POV series tonight.
Pailin Wedel's Hope Frozen 2019 DOC NYC Winner's Circle Will be released via Netflix on September 15th.
Scott Crawford's Creem: America's Only Rock 'n' Roll Magazine 2019 DOC NYC Sonic Cinema Will be released on DVD via Greenwich Entertainment on September 15th.
---
FEATURED STREAMING DOC SHORT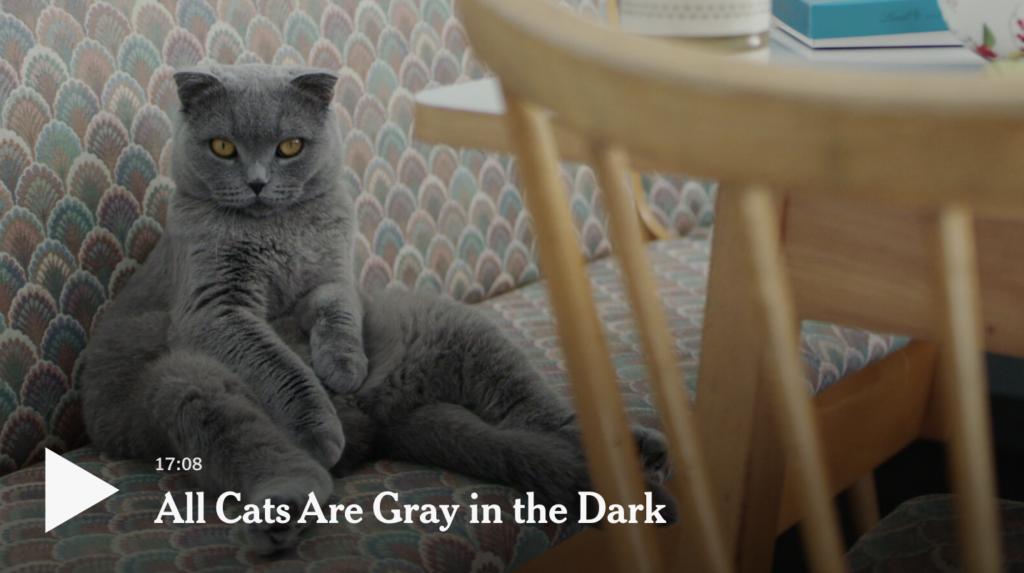 "Lasse Linder walked into a bar in Widnau, Switzerland, and saw a man sitting by the window. Though the man appeared to be alone, he was actually flanked by two gray Scottish fold cats. Truth is often stranger than fiction, and Linder's All Cats Are Gray in the Dark is an immersion into the singular world of Christian Amann and his cats Marmelade and Katyusha. It's an intimate portrait of love and loneliness that shows us how devotion to pets can provide a sense of connection to the world around us. Families are whatever we make them out to be, and in Christian's, cats
outnumber humans."
---
FUND THIS PROJECT
Crowdfunding has become an integral means of raising capital for documentary filmmakers around the globe. Each week we feature a promising new project that needs your help to cross that critical crowdfunding finish line.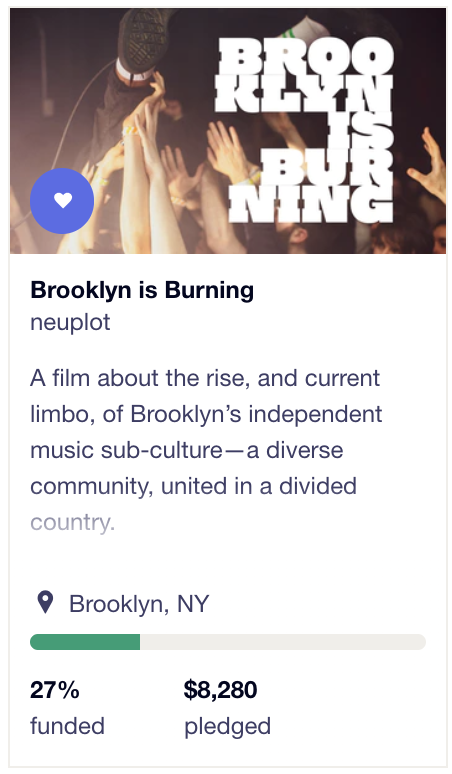 This week's project:
Brooklyn Is BurningDirected by Darcy McKinnon
Goal: $30,000