Monday Memo: Hajooj Kuka Jailed in Khartoum, Documentary Producers Alliance Release Guidelines, 'Inconvenient Indian' Wins TIFF Doc Audience Award
September 21, 2020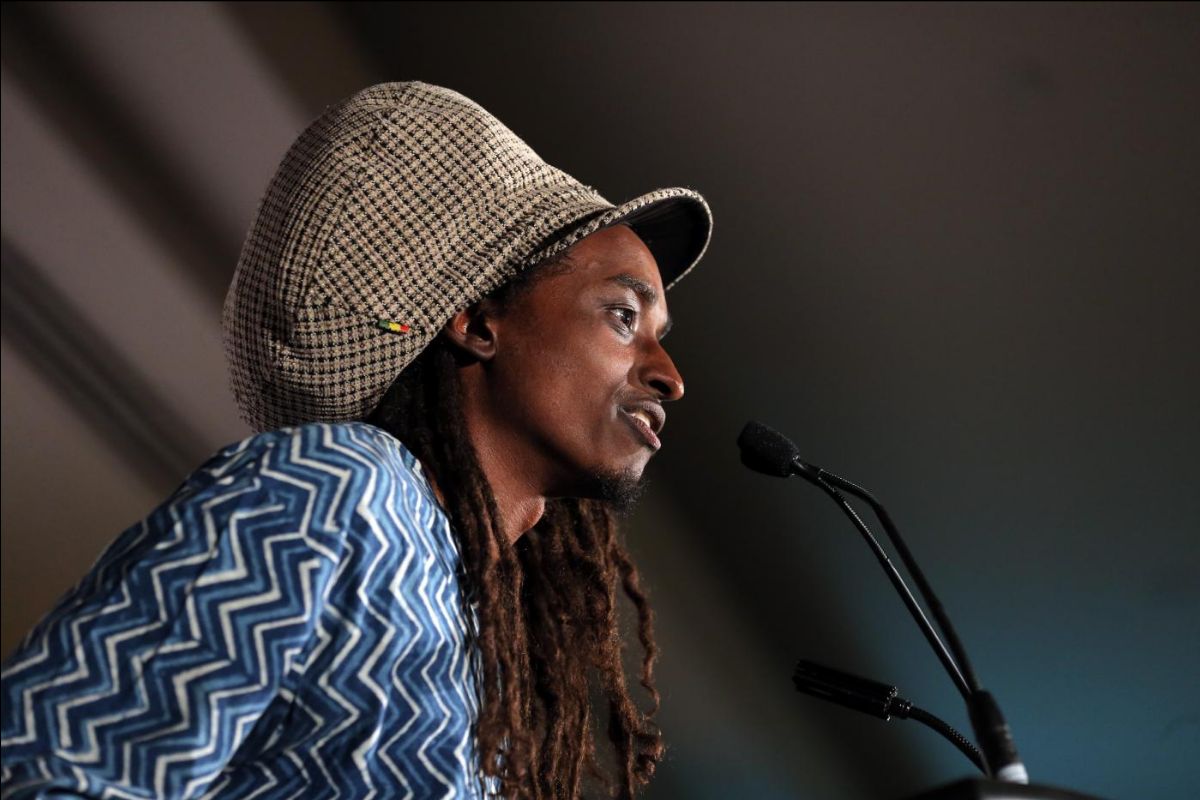 Unsurprising in the midst of Venice, TIFF and NYFF, we are swamped with doc news this week (and that's not a complaint). We begin with reports of the wrongful jailing of Sudanese filmmaker Hajooj Kuka, who won the TIFF People's Choice Documentary Award back in 2014 for his film Beats of the Antonov. In a landmark announcement, the Documentary Producers Alliance released a document outlining guidelines in an effort to set standards for documentary financing. Meanwhile, the 2020 Creative Arts Emmy Awards were given out, a bunch of funding and mentorship programs announced fellows and selected projects, Michelle Latimer's Inconvenient Indian was honored with the TIFF 2020 People's Choice Documentary Award. Plus, Letterboxd got a huge shoutout at The Ringer and Mark Cousins turned up on the latest episode of Pure Nonfiction to talk about his 14-part series Women Make Film. And that's not all. Enjoy!
– Jordan M. Smith
---
HEADLINES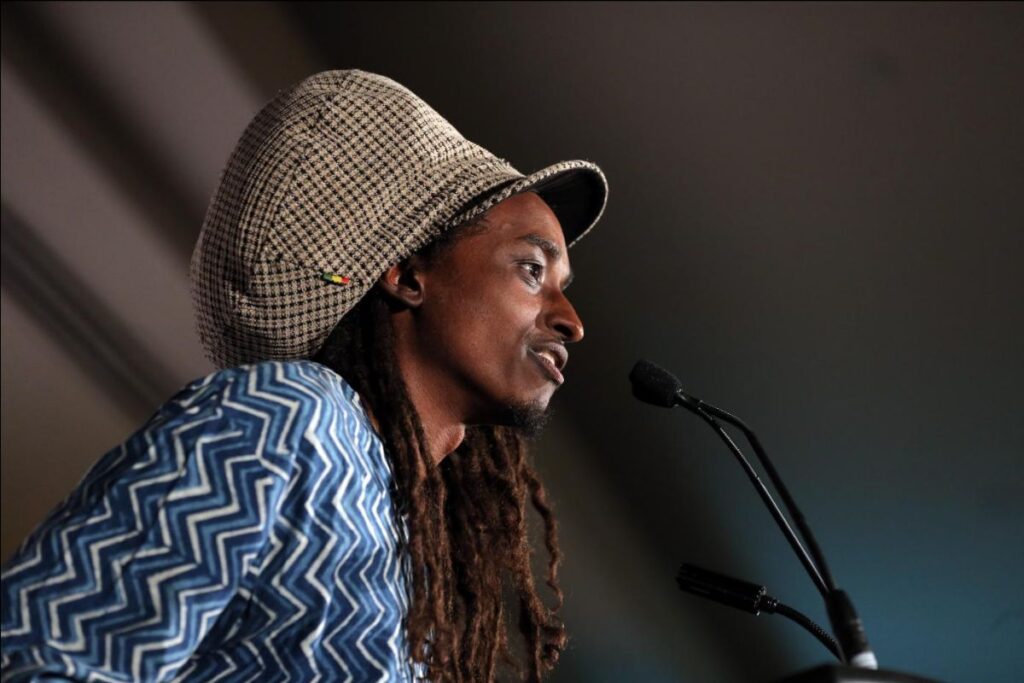 Rayhan Uddin reported the news Middle East Eye: "Five Sudanese artists, including an internationally acclaimed filmmaker, have been jailed for two months and fined on charges of causing a public nuisance, in what some observers have described as a crackdown on art and activism. Hajooj Kuka, a member of the Academy of Motion Picture Arts and Sciences, which awards the Oscars, was among a group of artists handed two-month sentences and fines of 5,000 Sudanese pounds ($90) on Thursday for 'threatening peace' and 'breaching public safety'. Last month, Sudanese authorities raided a cultural centre in the Al-Zuhour neighbourhood of the capital Khartoum, where several artists were rehearsing a play, after receiving a noise complaint from local residents. According to Kuka, they were physically attacked by 'Islamist instigators', while the police watched on without intervening." The International Coalition of Filmmakers at Risk has released an Urgent Call for the release of Hajooj Kuka as both a press release and a shareable Facebook post here. His case has been taken up on Twitter by the international film community under #ReleaseTheArtistsSudan.
Announced via press release: "Following more than three years of research and collaboration with industry stakeholders, the Documentary Producers Alliance (DPA) today published new landmark guidelines for financing in documentary film in a document entitled "Guidelines For The Documentary Waterfall" at documentaryproducersalliance.org. The organization's goal in releasing the Guidelines is to create a set of standards for financing in documentary film including investments, recoupable grants, and other financing tools intended to serve filmmakers, investors, and donors in financial discussions and negotiations. Director/Producer Marilyn Ness of Big Mouth Productions and Co-Chair of the DPA Waterfall Committee: 'Our philosophy was always, 'A rising tide lifts all boats.' The field would only be served if everyone had the benefit of better deals, better credits, better networks.'"
Announced via press release: "The Television Academy tonight hosted the first of its five 2020 Creative Arts Emmy Awards ceremonies honoring outstanding artistic and technical achievement in television on Emmys.com. The ceremony awarded many talented artists and craftspeople in the categories of Reality and Nonfiction."
Chris Lindahl shared the announcement via IndieWire: "The documentary filmmaker mentorship and funding program IF/Then Shorts on Monday announced the finalists for its inaugural North Shorts Program: Six teams of diverse storytellers from the Northeast and Puerto Rico. This marks the first major development for IF/Then since it moved under the umbrella of the nonprofit Field of Vision in July; it was previously a part of Tribeca Film Institute, which is in the process of winding down operations. The fellowship and funding program is a partnership between IF/Then, Points North Institute, LEF Foundation, and ScreeningRoom. Many of IF/Then's programs are open to filmmakers residing in or making films about particular regions. The North Shorts program is aiding storytellers from the Northeast and Puerto Rico to explore a range of socially, politically, or culturally relevant topics rooted in those areas."
Announced via press release: "Each year, ODL hosts a limited number of distinguished artists, creative technologists, journalists, and scholars who want to engage deeply with new documentary storytelling techniques and technologies in a collaborative and interdisciplinary environment. We are excited to welcome the following 17 new and returning Fellows for the 2020-2021 academic year."
Announced via press release: "The nonprofit ​Sundance Institute​ and ​Sandbox Films​, a new mission-driven documentary studio, selected and announced their latest cohort of filmmakers and projects supported by the ​Sundance Institute | Sandbox Fund​, an initiative that elevates the voices of independent artists working at the intersection of science and nonfiction storytelling as they produce and promote work and discourse that highlights the overlap of science and art. The ten selected project teams will receive non-recoupable grants and access to Sundance Institute's year-round continuum of support, which can help address creative, financial and production issues. In addition to this tailored project support, the grantees will receive opportunities for engagement events where they can connect with Sundance's network of alumni and creative advisors and Sandbox Films 's roster of renowned scientists, as well as enthusiastic audiences."
Patrick Hipes of Deadline spoke with the filmmakers: "Betsy West and Julie Cohen, who directed RBG, the feature-length documentary about Supreme Court Justice Ruth Bader Ginsburg, reacted Friday to Ginsburg's death Friday at age 87. 'Like so many Americans, we are crushed by the death of Justice Ruth Bader Ginsburg,' West and Cohen said in a joint statement. 'Even had she not become a Supreme Court Justice, Ginsburg earned a place in history for what she did to win equality for American women. When we asked her several years ago how she wanted to be remembered, she said with characteristic modesty, 'Just as someone who did whatever she could, with whatever limited talent she had, to move society along in the direction I would like it to be for my children and grandchildren.'"
IndieWire's Anne Thompson reported on the latest Academy Dialogues series: "Check out the latest Academy Dialogues series, "Documentaries Through Our Own Lens," in which four Oscar-contending documentarians pull no punches — Lisa Cortés (co-director, Amazon Studios' "All in: The Fight for Democracy"), James LeBrecht (co-director, Netflix's "Crip Camp"), Bao Nguyen (ESPN's "Be Water"), Dawn Porter (Magnolia's "John Lewis: Good Trouble") — along with moderator and Academy governor Roger Ross Williams (Emmy-winning "The Apollo"), as they lay out just what inclusion and diversity really means. It might seem that during the golden age of documentaries, the nonfiction community is among the most diverse in the entertainment industry, with a seeming flood of opportunities to tell their stories. But as Williams pointed out at the start, there are plenty of challenges. 'We all know that we have traditionally been defined by other people's lens,' he said. 'The documentary community is seen as progressive and ahead of the game. In the entertainment business the dirty little secret is the documentary community is not that ahead of the game. We have a lot of work to do.'"
---
ON THE FESTIVAL CIRCUIT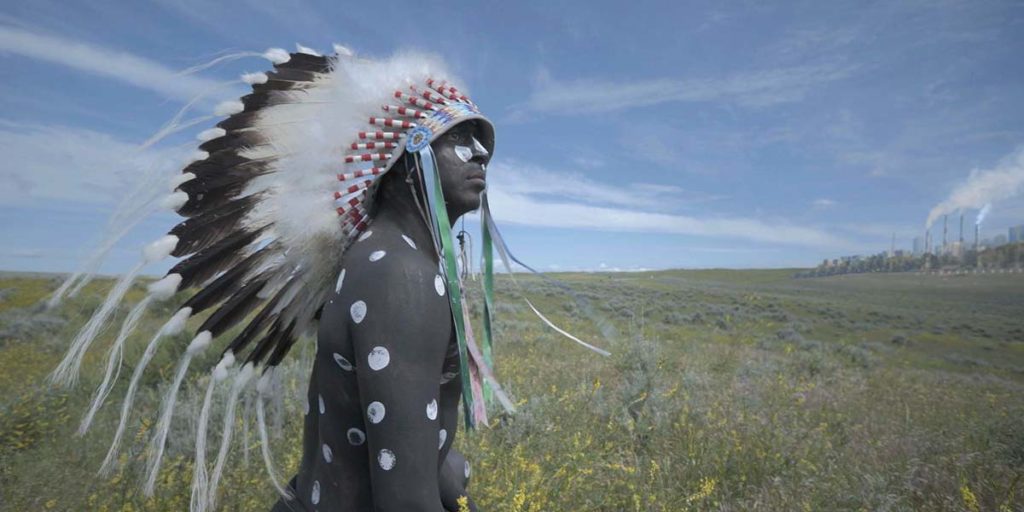 Ryan Lattanzio broke the news at IndieWire: "Chloé Zhao's beloved road odyssey Nomadland took home the coveted Toronto International Film Festival 2020 People's Choice Award on Sunday, often a precursor to an eventual Best Picture Academy Award nomination…All this year's winners were directed by women. The first runner up was One Night in Miami, directed by Regina King. The second runner up was Beans, directed by Tracey Deer. The TIFF 2020 People's Choice Documentary Award winner is Inconvenient Indian, directed by Michelle Latimer. The TIFF 2020 People's Choice Midnight Madness Award winner is Shadow in the Cloud, directed by Roseanne Liang."
Announced via press release: "We are so pleased to welcome 36 new projects looking for co-production, financing and distribution partners to participate in the 16th DOK Co-Pro Market, but the first digital edition since its establishment. Two jam-packed days of meetings, Open Programme, mingles and other networking possibilities are planned. Have a look at our project overview and producers interested in making meetings with the selected projects can still register their interest until September 25. Happy browsing and congratulations to the teams."
A.A. Dowd outlined the doc offerings at this year's online edition of TIFF for A.V. Club: "It's been a good year for documentaries at TIFF, especially if you count Spike Lee's David Byrne concert film (and maybe the new Werner Herzog, which Katie Rife will cover soon). On paper, there was no reason to get especially excited for a doc about the business of Italian truffle harvesters, who dig up the fungal delicacy in the woods of Piedmont and sell their findings to restaurants and fine-diners with expensive tastes. But though that sounds like the toniest of blue-hair bait, The Truffle Hunters is more eccentric and lyrical than its logline might suggest. The film's subjects are all interesting characters: ornery, competitive, elderly experts in their field that dote on the dogs that help them do the job while hoarding their knowledge of fertile areas from each other, even when certain they don't have much time left to devote to the profession or anything else. What's more, directors Michael Dweck and Gregory Kershaw apply an actual visual identity to their footage, via impressively composed wide shots of the men against the splendor of nature (the opening image is a bird's-eye doozy) and witty compositions, like the one that places a hunter and a buyer under a shadowy overpass, as if they were conducting an exchange of deadly secrets or hard drugs. All of which is to say, I understand now why the film has become one of the year's festival favorites, selected not just by Toronto but also Sundance, New York, and the cancelled Cannes."
Conversations from the New York Film Festival
Film at Lincoln Center has posted a handful of in depth video and audio conversations with doc filmmakers and subjectsd, including Stacey Abrams, Whoopi Goldberg, Liz Garbus & Lisa Cortés on All In: The Fight for Democracy, Garrett Bradley on her film, Time, and Victor Kossakovsky on his latest project, Gunda.
Announced via press release: "The Woodstock Film Festival announced today the official lineup for its 21st outing, taking place September 30th – October 4th, 2020 with in-person screenings at the Greenville Drive-In in Greenville, NY, Overlook Drive-In in Poughkeepsie, NY, and a pop up drive-in at Andy Lee Field in Woodstock, NY. For the first time ever, the Festival will be hosting an online program of feature length and short films through a virtual event platform, giving patrons the opportunity to participate from the comfort of home. 'In a year mired by a global pandemic, civil unrest and political upheavals, it gives me a special pleasure to welcome the 2020 filmmakers and audiences to the Woodstock Film Festival,' stated the festival's Co-Founder & Executive Director Meira Blaustein. 'With a nod to the nostalgic past via the use of the drive-ins, and with an embrace of contemporary technology via virtual programming, this year's Woodstock Film Festival is set to steadily straddle both worlds as it brings to audiences some of today's most compelling independent cinema.'"
Announced via press release: "Environmental Film Festival (PHEFF) is excited to bring the wonders of the planet straight to your living room with its virtual film festival September 23-27. The 2020 Festival aims to use the power of exceptional environmental films to entertain, inform and inspire personal action. 'We are honored to bring the beloved Philadelphia Environmental Film Festival directly to Philadelphians via our state-of-the-art online platform,' said Executive Director Debra Wolf Goldstein. 'This year's Festival showcases critical environmental issues and will captivate audiences with films showing the beauty and fragility of our planet.' The line-up includes 13 programs offering 39 shorts and 11 feature films that explore a wide variety of environmental challenges and solutions – plus filmmaker Q&As, panel discussions, award announcements, and other great extras."
---
MISCELLANOUS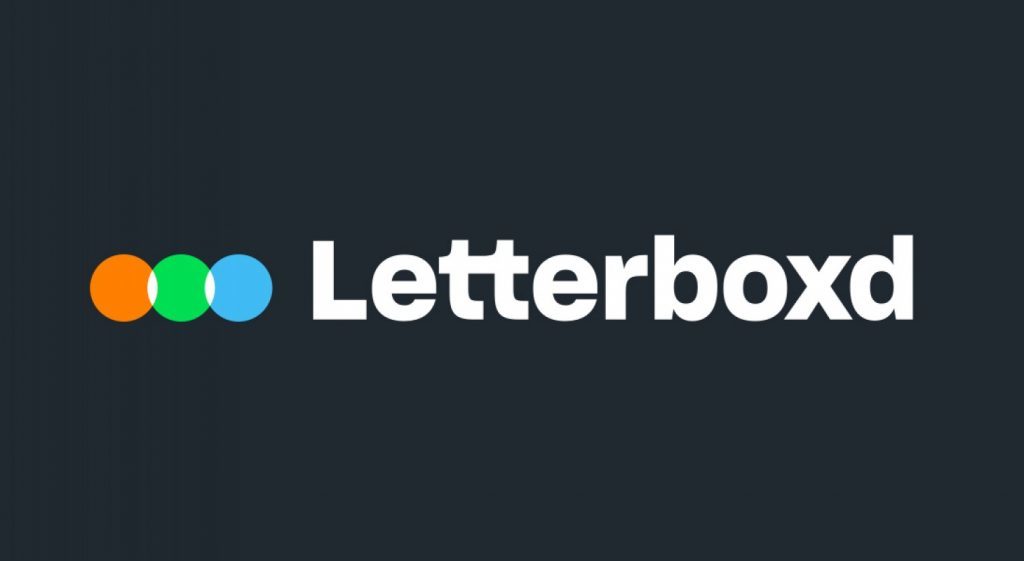 Scott Tobias wrote at length on the usage and influence of Letterboxd at The Ringer: "For as long as users have trickled onto it, Letterboxd has seemed less like a dot-com than a utility—something that is simply on the internet, changing so incrementally that it never appears to have changed at all. There was never a time when its presence was trumpeted to the world, no event or scandal that suddenly drew attention to it or led to an eye-catching spike in membership. Most people either stumbled upon it themselves or had it recommended to them by a friend, and its growth to 2.5 million users (1 million of them active) over the past eight years has been slow and organic. Modesty is a defining aspect of Letterboxd: It's the rare social media site that could be described as self-effacing. Still, even though a site like Letterboxd could never have "a moment," the winds of film culture are shifting in ways that are favorable to it. The pandemic has hastened the migration from theaters to home viewing, as well as the migration of film criticism from vocation to hobby. Fewer people are watching movies at the same time, and the traditional windows that used to separate theaters, home video, and cable television were already eroding before they collapsed entirely during the COVID shutdown. Whatever non-virtual ways we used to talk about films before—in college clubs or post-screening dinners or run-ins with fellow obsessives—are all but canceled for the time being. Letterboxd is suddenly positioned to be that place."
Announced via press release: "Directed by Miguel Novelo, 'La Marea' (The Tide) gives us a glimpse of the Mexican dream, transporting us to Jorge's world and immersing us in the tropical landscape of Seybaplaya, Campeche (Mexico). 'La Marea' has screened internationally at festivals including Sheffield Doc/Fest in the UK and Morelia International Film Festival in Mexico. The documentary has been adapted for an interactive online experience —titled 'La Marea: La Corriente'—including an immersive 360° screening of the film, viewable on mobile, desktop, or VR headset. Visitors to the page are invited to explore the landscape of Seybaplaya, clicking on different areas of the town to uncover hidden fragments of Jorge's world. Miguel Novelo is an experimental media artist, filmmaker, and cultural event creator based in the Bay Area. He is currently part of Stanford University's MFA program where he is researching live streaming and media sculptures. His work has been exhibited in cities such as Paris, Madrid, San Francisco, and Mexico City. Watch 'La Marea' now at www.cineo.la/la-marea"
Announced via press release: "Filmshop is pleased to present Filmshop Exhibition, a curation of films created by our members. Join us weekly on Thursdays, Fridays, and Saturdays starting September 10 for this online exhibition of exciting films created by our New York, New Orleans, and Los Angeles-based filmmakers. Every Day is a Holiday is Theresa Loong's documentary described by film critic Thelma Adams as: 'about an ordinary man who survived extraordinary circumstances with his heart intact.' The 56 min film is also screening with two shorts – Michael Woolridge's taut, suspenseful short Options, and Flo Young's 1970s set coming-of-age drama Kool." Presented at 8:00 pm on Friday, September 25, 2020 – free with donations accepted.
---
NEW RELEASES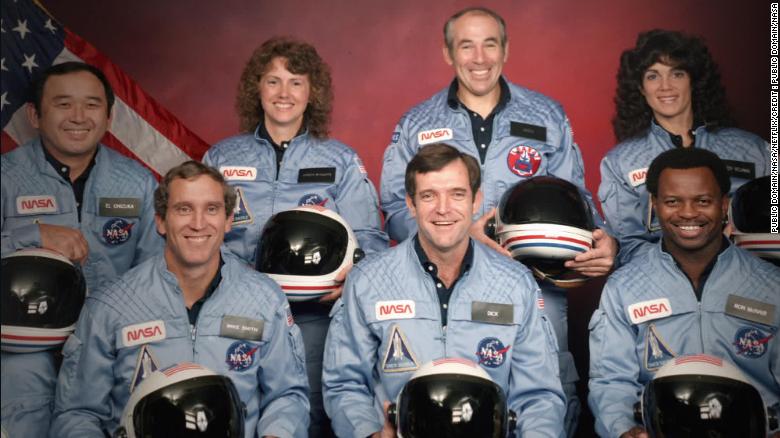 Challenger: The Final Flight
The Way I See It
Softie
A Chef's Voyage
---
FEATURED STREAMING DOC SHORT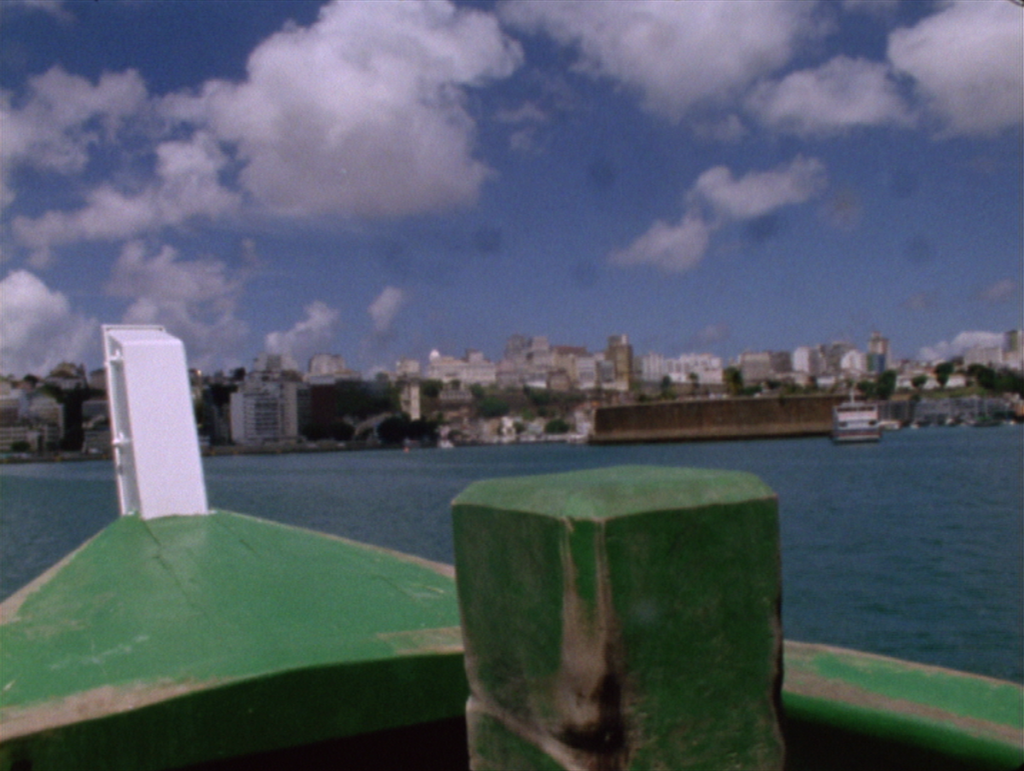 Directed by Ephraim Asili
"American experimental filmmaker Ephraim Asili draws parallels between summer afternoons on the streets of Salvador, Brazil, and Harlem, New York, in this impressionistic 16mm short from his "Diaspora Suite", featuring a saxophone score by free jazz icon Joe McPhee. We screen it in celebration of the opening of the New York Film Festival and its new Currents section focused on innovative forms and voices, which begins today with Asili's feature debut The Inheritance, a hybrid, ensemble work about the Philadelphia-based Black liberation group MOVE."
---
FUND THIS PROJECT
Crowdfunding has become an integral means of raising capital for documentary filmmakers around the globe. Each week we feature a promising new project that needs your help to cross that critical crowdfunding finish line.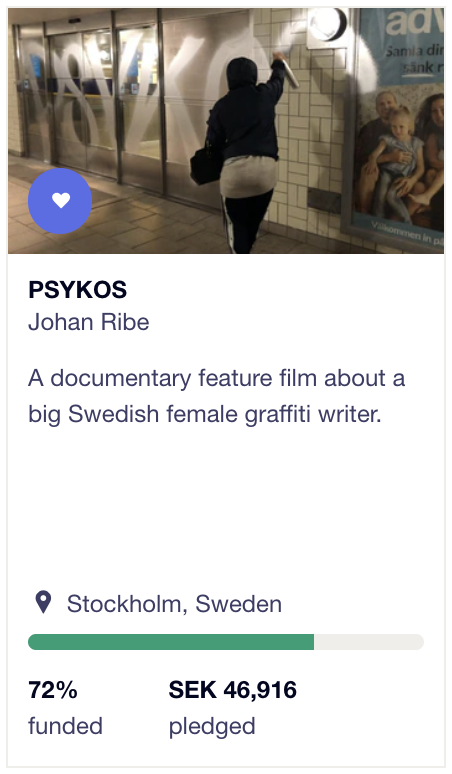 This week's project:
Directed by Johan Ribe
Goal: $7,432