Monday Memo: Quibi Shutters After 6 Months, True Story Launches, IDA Enterprise Production Grant Recipients Announced
October 26, 2020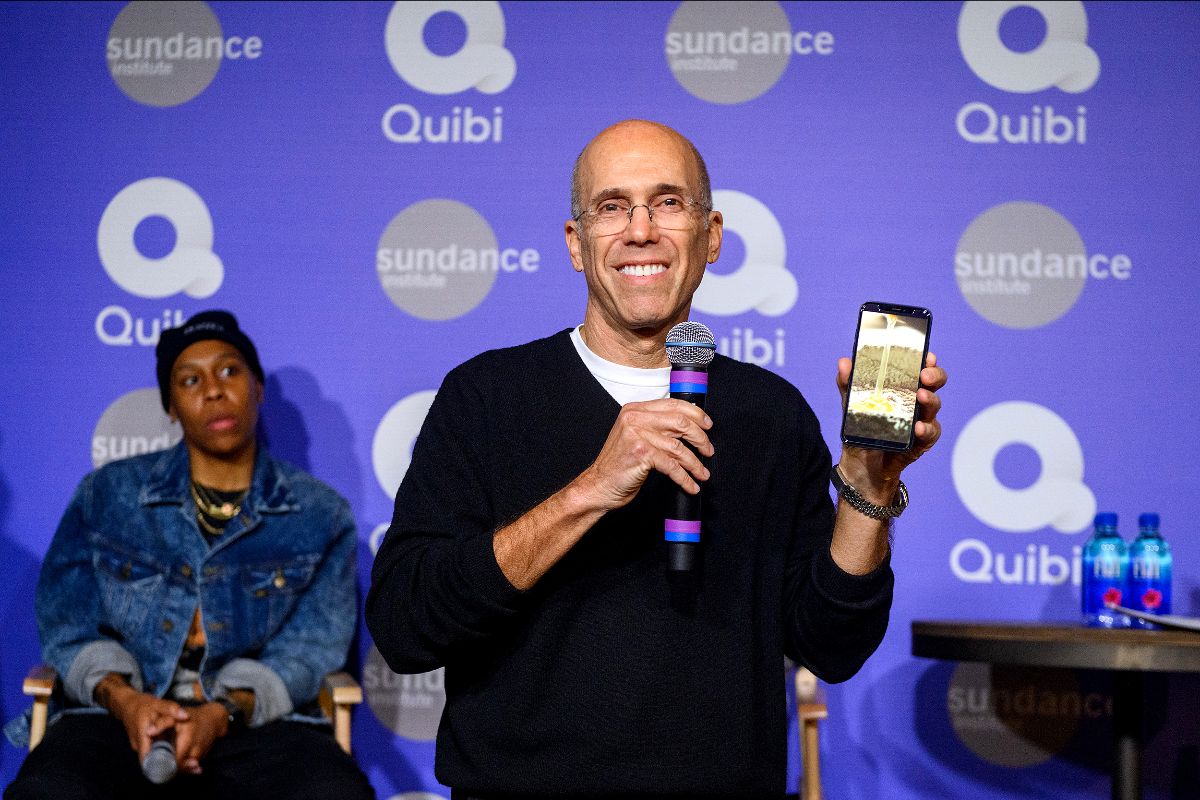 With Quibi already shutting down after just 6 months, filmmakers and consumers have lost a potentially fruitful place to release and find short form nonfiction. On the flipside, a new nonfiction streaming platform called True Story has launched with some interesting offerings right off the bat, including a partnership with Open City Documentary Fest and a collection of the celebrated Austrian filmmaker Nikolaus Geyrhalter's films. Additionally, IDA unveiled its Enterprise Production Grant recipients, this year's Library of Congress Lavine/Ken Burns Prize winner was announced, and the program for KVIFF 54½ was revealed. And of course, that's just the half of it. Read on!
– Jordan M. Smith
HEADLINES
Quibi Is Shutting Down Barely Six Months After Going Live
Benjamin Mullin, Joe Flint and Maureen Farrell reported in The Wall Street Journal: "Quibi Holdings LLC is shutting down a mere six months after launching its streaming service, a crash landing for a once highly touted startup that attracted some of the biggest names in Hollywood and had looked to revolutionize how people consume entertainment. The streaming service, which served up shows in 5- to 10-minute 'chapters' formatted to fit a smartphone screen, has been plagued with problems since its April debut, facing lower-than-expected viewership and a lawsuit from a well-capitalized foe. 'Our failure was not for lack of trying,' founder Jeffrey Katzenberg and Chief Executive Meg Whitman said in an open letter to employees and investors. 'We've considered and exhausted every option available to us.' Mr. Katzenberg and Ms. Whitman decided to shut down the company in an effort to return as much capital to investors as possible instead of trying to prolong the life of the company and risk losing more money, according to people familiar with the matter. Employees will be laid off and will be paid a severance, the people said, and Quibi will explore selling the rights to some of its content to other media and technology companies."
New Documentary Platform, True Story Launches
Announced via press release: "True Story is a streaming platform dedicated to documentaries, available to audiences worldwide. Via monthly subscription audiences from anywhere in the world can watch curated collections and programmed strands of the best and most interesting non-fiction. True Story films enlighten and inform; provoke an urgent call to action; enrich and entertain; inspire and lead to new discoveries. 'I've spent many years travelling to film festivals and programming documentary films into cinemas, but there are always so many wonderful films that don't get beyond the festival circuit to the wider audience they richly deserve. True Story is an attempt to address that, by creating a new space where audiences can discover the best that non-fiction filmmaking has to offer, wherever they may be.' – Chris, True Story."
International Documentary Association Unveils Enterprise Production Grants
Dave McNary had the exclusive at Variety: "The International Documentary Association has unveiled 13 films receiving $850,000 in funds as part of its Enterprise Documentary Fund production grants. The titles, announced Monday at the Double Exposure Investigative Film Festival in Washington, D.C. are "After Sherman," "Aftershock," "Body Parts," "Driver," "Free Renty: Lanier v. Harvard," "Hossain," "Magic & Monsters," "Razing Liberty Square," "Riotsville, USA," "Testament," "Untitled Amazon Documentary," "Untitled Free Speech Project" and "Untitled Stasi." Nausheen Dadabhoy and Jialing Zhang were named as recipients of the Logan Elevate Grants of $25,000 each. Supported by The Jonathan Logan Family Foundation, the Logan Elevate Grants support emerging women filmmakers of color. 'With unique vision and voice, these grantees confront us with complicated truths about our pasts, presents and futures, recalling for me Maya Angelou's famous quote: Do the best you can until you know better. Then when you know better, do better,' said Carrie Lozano, who was director of the IDA Enterprise Documentary Fund and recently joined Sundance as director of the Sundance Documentary Film Program."
Documentary 'Hold Your Fire' Wins Library of Congress Lavine/Ken Burns Prize
Jill Goldsmith reported in Deadline: "Documentary Hold Your Fire directed by Stefan Forbes (Boogie Man, The Lee Atwater Story) has nabbed the second annual Library of Congress Lavine/Ken Burns Prize for Film, a $200,000 finishing grant for a filmmaker who uses original research and compelling narrative to tell stories that touch on an aspect of American history. Produced by Amir Soltani and Tia Wou, the feature-length doc explores the longest hostage siege in NYPD history in1973 at a Brooklyn sporting goods store and how Harvey Schlossberg, an officer with a doctorate in psychology, averted a bloodbath. In the incident, four young Black men stealing guns for self-defense were cornered by police. A violent gun battle ensued and soon a police officer lay dead in the freezing rain. Hundreds of officers poured into Williamsburg intent on carrying out then standard NYPD operating procedure: issue an ultimatum, then assault the store with deadly force despite hostages being trapped inside."
How Award-Winning Filmmakers Make Dangerous Docs That No Major Distributor Will Touch
Anne Thompson reported at IndieWire: "When documentary filmmaker Ryan White made "Assassins," he needed his adopted grandmother Dr. Ruth's support to tell the harrowing and jaw-dropping story of the two sex workers who were on trial in Malaysia for assassinating Kim Jong-un's half-brother. 'She hated that I was doing it, worried for me the entire time,' said White, who received a 2017 Emmy nomination for his film about the death of a beloved Catholic nun in "The Keepers." 'She knew by the end I was compelled to get out the truth about these two women.' Bryan Fogel won an 2018 Best Documentary Oscar for "Icarus," which led the Olympic Committee to ban Russia from the 2018 Winter Olympic Games. For "The Dissident," he took on the assassination of Saudi Arabian journalist Jamal Khashoggi and obtained Turkish intelligence transcripts and audio of Khashoggi's murder that reveal mind-numbing violence. "This is a fight for freedom of speech," he said. 'This is focused on human rights. This is what we're going through in our own country and fighting for democracy.'"
DOC NYC
DOC NYC ROAD TRIP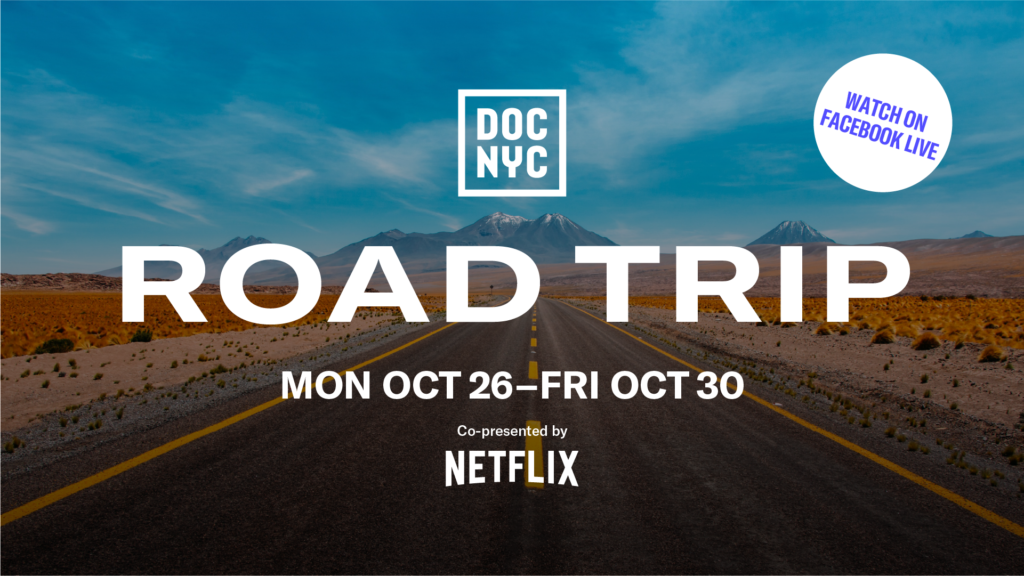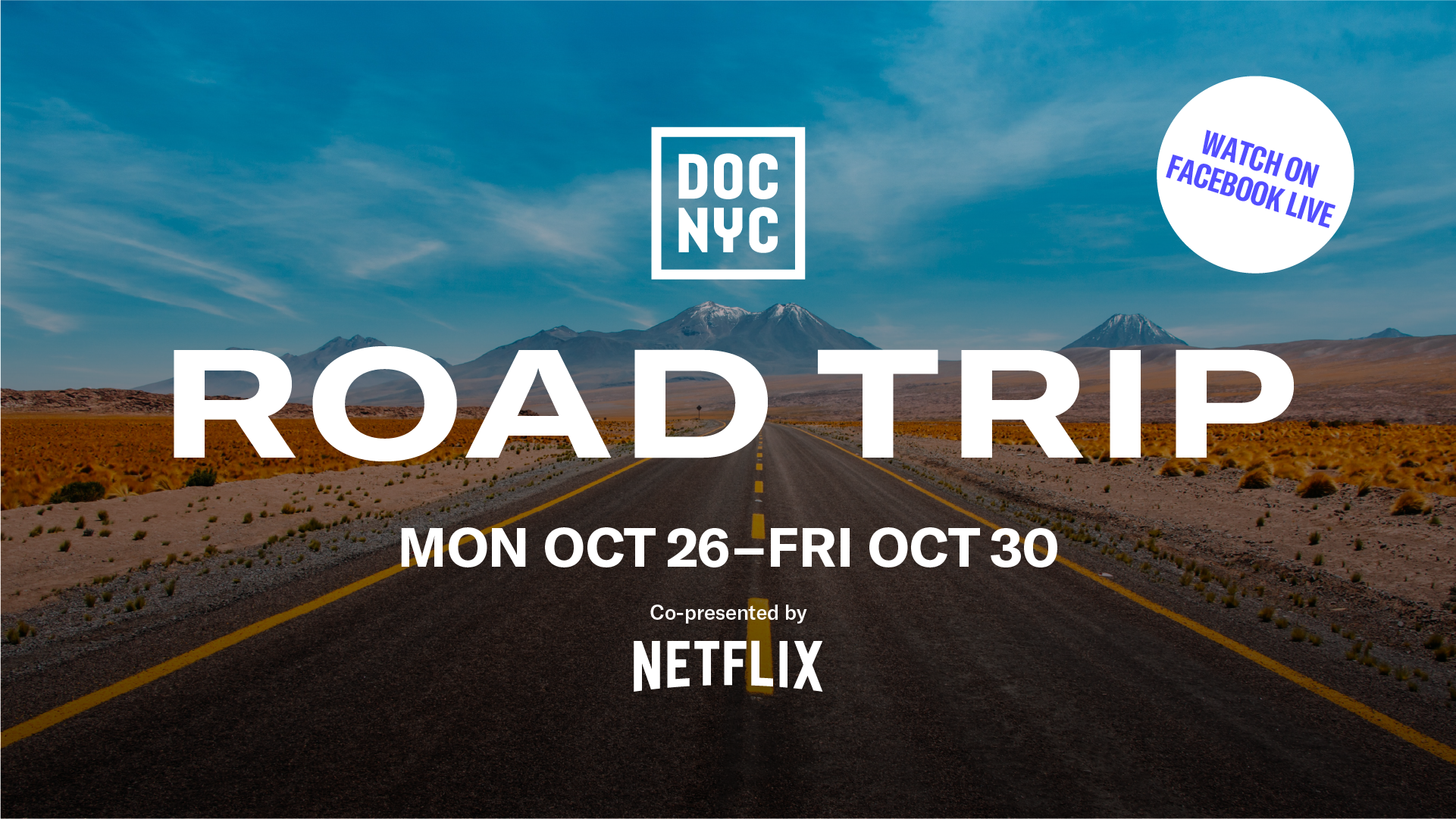 Join us on Facebook Live every afternoon from Monday, Oct. 26 to Friday, Oct. 30, as we set off on an online DOC NYC Road Trip to check in with filmmaking hubs across the country. Host Thom Powers will talk with filmmakers, programmers, and filmmaking advocates as they share documentary news and preview some of DOC NYC's 2020 slate. 

Plus, from now through Saturday, Oct. 31, get $3 off tickets for any of the festival films featured in Road Trip—more than two dozen titles! Just click on the film titles with an asterisk at the link, and use code ROADTRIP when checking out!

Tune in for free at Facebook.com/DOCNYCFest
ON THE FESTIVAL CIRCUIT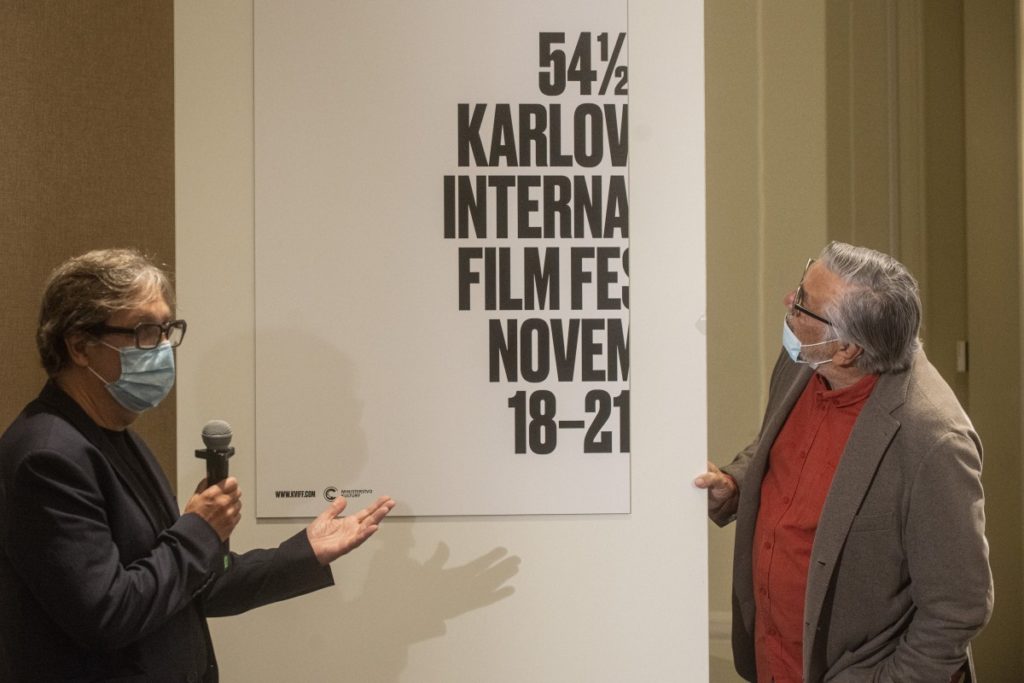 Karlovy Vary IFF Presents Titles Selected for Special 4-Day Event "KVIFF 54½"
Announced via press release: "The carefully assembled selection features noted movies not only from Utah's celebration of independent cinema but also from the Berlinale, Venice, San Sebastian as well as several titles with the Cannes 2020 Label. Diverse in terms of theme, genre, and geography, the selection boasts the winner of the Venice festival Nomadland from director Chloé Zhao; Crock of Gold: A Few Rounds with Shane MacGowan, an emotionally charged documentary portrait of the legendary frontman from Ireland's cult band the Pogues; and the first part of Russian filmmaker Ilya Khrzhanovsky's fascinating project, DAU. Natasha…'In view of the government measures related to the spread of the coronavirus, we anticipate that the current situation will continue to change, and so we are tentatively cancelling the planned start of ticket sales originally scheduled for 21 October 2020. We will inform you about our next steps the moment we have further information as to how and under what conditions we will be able to hold our festival. By holding the Karlovy Vary IFF 54½, we hope to support cultural life in our country while thoroughly observing all health and safety measures,' the organizers stated."
Head of IDFA Industry & Industry Forum Managers on Online Initiatives
Cineuropa's Davide Abbatescianni spoke with Adriek van Nieuwenhuijzen, head of IDFA Industry, and Yorinde Segal, IDFA Industry Forum manager, to discuss how IDFA's online industry initiatives will help documentary filmmakers out in these difficult times: "Early in the summer, we made the decision to hold the markets online, and the festival and industry programme in a hybrid form. At the moment, much is unclear, but with the new, stricter measures in place, we have decided to move the industry programme online and host audience events in Amsterdam, if the situation will allow us to do so. We feel a huge responsibility towards the filmmakers because now, more than ever, we need to exchange ideas, share knowledge and debate our future. It has proven to be very difficult for them to keep up the momentum after pitches in an online environment. In particular, newcomers are having a hard time finding partners. For this reason, we decided to create a new category, and we will have more pre-scheduled meetings as part of the Docs for Sale programme. In this strand, we will showcase projects from major European and North American markets, but also others that were presented at smaller, regional events during the course of the year. We were also more active in promoting films through the Docs for Sale platform during the summer and early autumn. Furthermore, we will have an online version of the producers' network on 23 November with decision-makers interested in finding co-production partners."
Head of DOK Industry Doesn't "Want to Go Back to Where We Were in 2019."
Vladan Petkovic of Cineuropa talked to head of DOK Industry Brigid O'Shea to find out how she and her team have translated their activities to the online environment, and how the current crisis can provide opportunities for real change in the film industry: "I don't want go back to 2019 and a classist, homophobic, individualistic, environmentally destructive reality. I would like to take this watershed moment where really vulnerable people are expressing their dissatisfaction and use it as a chance to stop doing things a certain way just because we've always done them that way. We need to modernise and change. That's what I hope the DOK Industry programme will offer people: to open them up to the possibility for change."
MISCELLANOUS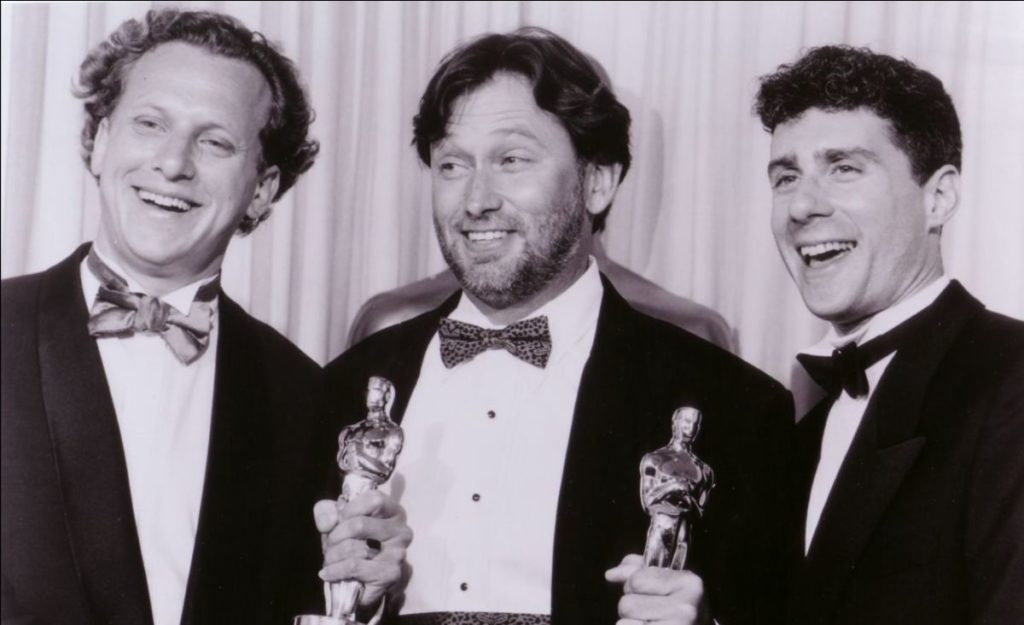 Meet the Filmmakers: Rob Epstein and Jeffrey Friedman
Announced via press release: "With a career spanning almost four decades, Oscar-winning filmmakers Rob Epstein and Jeffrey Friedman have been creating seminal documentaries that have changed the course of queer cinema. Armed with an empathetic lens and an acute awareness of cultural impact, Epstein and Friedman shine a light on pivotal LGBTQ+ moments in history and on the intimate experiences of the community at large. We're proud to present a nationwide virtual retrospective of their filmography, which has been described as 'dynamic and humane' by David Lewis at San Francisco Chronicle. The series begins this Friday and runs through November 5. Get tickets here and save with a discount bundle that features new restorations courtesy of Milestone Films. Explore their films below and join Epstein and Friedman for a free talk this Saturday, October 24 at 6pm ET! Register here."
MFA Social Documentary at SVA – Apply Now for Fall 2021
Announced via press release: "Art is back! SVA's graduate documentary film program sharpens your artistic voice, helps you succeed in amplifying bold, visual stories and inciting the desire to make a difference. SocDoc challenges you to take your craft to the next level. Gain mentorship from award-winning filmmaker faculty and make your own films as a part of New York City's prolific documentary community. Alumni find great success; winning Emmy and Student Academy Awards, and with their films in major festivals and broadcast around the world."
NEW RELEASES
White Noise
Eric Kohn at IndieWire
– White Noise Review: Alt-Right Showcase Is the Scariest Documentary of the Year
Ben Kenigsberg at The New York Times
– White Noise Review: Hearing Dog Whistles Loud and Clear

Alissa Wilkinson at Vox
– Why the alt-right's real power is in the narrative it sells
How To with John Wilson
Kathryn VanArendonk at Vulture
– The Great How to With John Wilson Defies Expectation
Alan Sepinwall at Rolling Stone
– How to With John Wilson: Where Digression Meets Delight
Nathan Taylor Pemberton at The New York Times
– John Wilson Reveals the Absurd Poetry of New York
DOC NYC ALUMNI
Viva Van Loock's Tightrope: Americans Reaching For Hope
2019 DOC NYC American Perspectives
Will be broadcast on WORLD Channel on October 26th.
FEATURED STREAMING DOC SHORT
This Is An Address
Directed by Sasha Wortzel

"In this meditation on community, gentrification, and erasure, Stonewall veteran and trans activist Sylvia Rivera takes up residency on the Hudson River piers with a group of HIV-positive New Yorkers, as cranes raze vacant buildings for a new skyline."
FUND THIS PROJECT
Crowdfunding has become an integral means of raising capital for documentary filmmakers around the globe. Each week we feature a promising new project that needs your help to cross that critical crowdfunding finish line.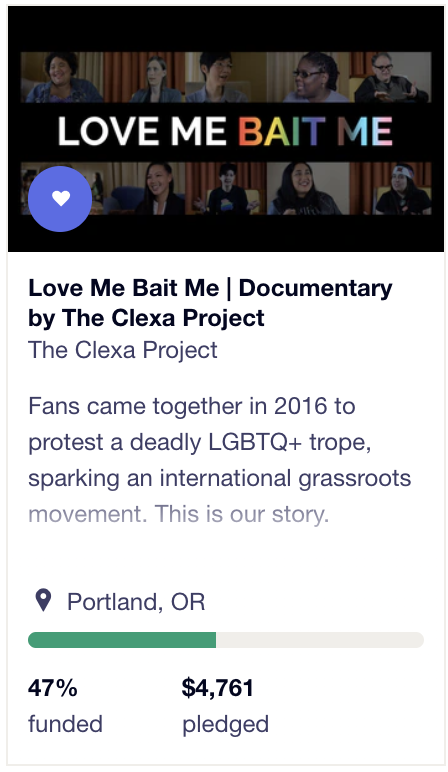 This week's project:
Love Me Bait Me
Directed by Rachel Ward
Goal: $10,000