Advice On Navigating Sensitive Relationships at DOC NYC PRO
Directors Amanda Lipitz, Dan Sickles, Heidi Ewing and Peter Nicks address portraying real-life characters under stressful situations.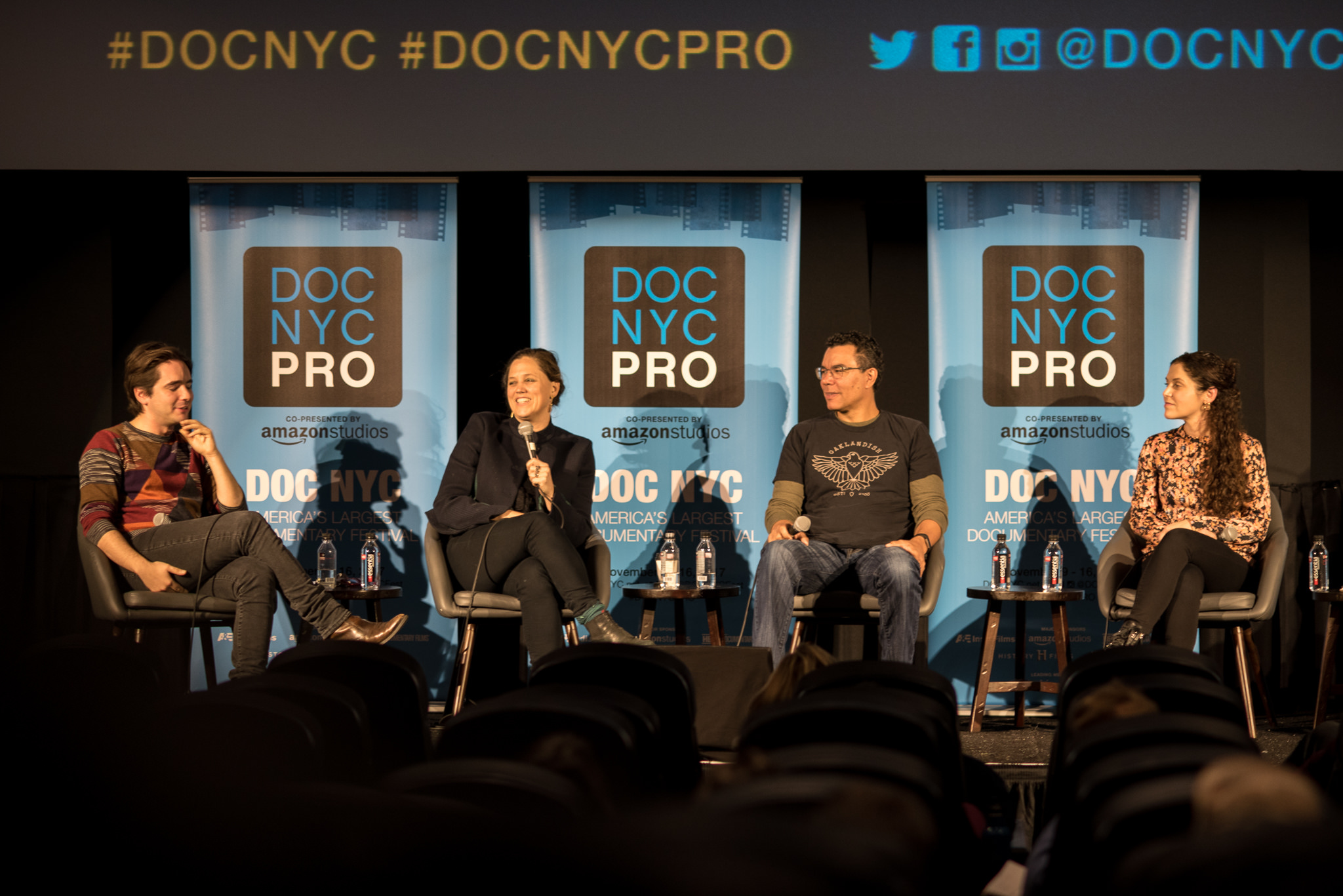 Written by Lisa Kovitz
While people facing significantly challenging life situations is the stuff of compelling documentary, filmmakers are required to take an even more careful approach to their subjects and stories.  Directors Amanda Lipitz of Step, Dan Sickles of Dina, Heidi Ewing of One of Us and Peter Nicks of The Force told a DOC NY PRO panel, moderated by DOC NYC artistic director Thom Powers, how they maintained their ethical obligations but also convinced their subjects to stay with their film.
Creating Safe and Respectful Storytelling with Intentional Style
The subjects of these films run the gamut:  shunned men and women who left their Hasidic Jewish sect; an autistic couple navigating their first intimate relationship; a scandal-plagued group of police officers and commanders, along with the untrusting community they serve; and gifted but disadvantaged young women in Baltimore pursuing academic success with the help of step dancing.
Each situation required the filmmaker to not only build trust with their subject but also to go many steps beyond.
The subjects  of Heidi Ewing's One of Us were young Hasidic men and women who she said hated to be filmed.  So she and the Director of Photography on the film started to capture their reflections in store windows or rear-view mirrors of cars of women shopping on the street, giving the film a distinct visual style and a sense of closeness while maintaining a respectful distance.
A native of Baltimore, Amanda Lipitz earned the trust of her Step girls and their mothers over many years of producing short films about first-time college goers and started the filming process when the girls were in the 9th grade.  Lipitz didn't even ask to the girls at home until they were in their junior year. Visually, she said she chose to "put the girls front and center" and in control.  In the dance rehearsals and competitions, she focused on the sound as "it's not just about what you see but what you hear," she said.
In Oakland, police officers are used to scrutiny by the media but now face being filmed by members of the community or even the people they are arresting.  The added layer of a documentary crew filming plus an on-going investigation into corruption of the department created additional tension.  Director Peter Nicks, who did most of the camera work, founded the balance of what is legally allowed to be filmed (on advice of First Amendment lawyers) and what was not.
For Dina, Dan Sickles chose an Impressionism-inspired, pastel-palette of colors based on the clothes of his central character to give the film a timeless quality. Sickles also knew Dina as a family friend for many years, as well as other members of her community.
When the World Meets Your Subject
All four filmmakers took great care to prepare their subjects for what life would be like once the films were released.  Before One of Us came out, Holly Ewing showed the finished film to the subjects privately and then tried to "prepare them for the intrusiveness of strangers, [because] they don't believe you and then it happens," she said.  She also gives her subjects advice on how to handle media inquiries, so they have more control in press interviews.
Amanda Lipitz took 19 girls to the Sundance Film Festival , along with chaperones which she said gave them a sense of independence and exposed them to the documentary film world that, because of the film, they are now a part of.  She also set up scholarship accounts for all 19 girls, which she said helped them learn how to fund their educations, and empowered them to handle their own finances.
See more photos from DOC NYC Pro on Flickr
Lisa Kovitz works in the Brand group at Edelman Public Relations in New York as an earned media strategist.  Follow her @lisakovitz.