Monday Memo: Behind the Editing Team Resignation, Black Girls Doc Mafia director Iyabo Boyd on Pure Nonfiction, NYFF & Open City Reveal 2020 Programs
August 18, 2020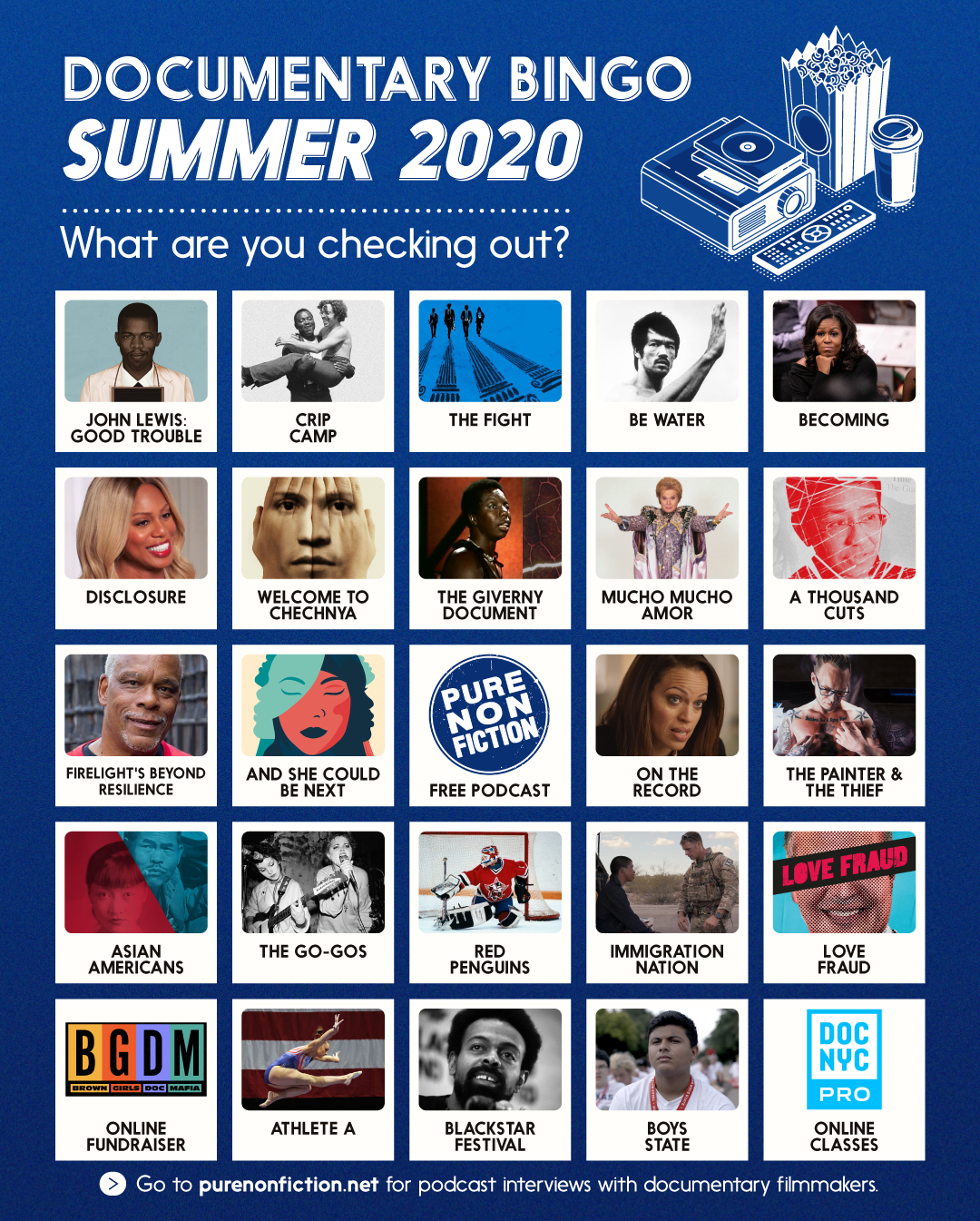 This past week has been an exceedingly busy one for both documentary news and nonfiction film releases. To help motivate you to catch up, we've put together a documentary summer bingo sheet (see below, download and share). Thanks to its debut on Apple+ over the weekend, I'm happy to finally get to cross off Boys State from my own bingo sheet. That said, I've got plenty of watching to do. On the news end of things, some controversy has surfaced around Surviving R. Kelly and the resignation of its original editing team, the Pure Nonfiction podcast returns with Iyabo Boyd of Brown Girls Doc Mafia (see also their new member directory), the program announcements of both the New York Film Festival and Open City Documentary Festival were released, an extensive profile on filmmaker Ja'Tovia Gary was published, and Werner Herzog took a personal look back at Grizzly Man for its 15th anniversary. And really, that's just scratching the surface this week, so get caffeinated and read on!
– Jordan M. Smith
---

HEADLINES
Katie Kilkenny's well researched story ran in The Hollywood Reporter: "Lifetime's bombshell docuseries premiered to acclaim in 2019, but behind the scenes, the original, nearly all-Black postproduction group protested the project's direction and walked out — only to see the show eventually fulfill its hopes. Peggy Tachdjian broke her two-year silence on social media in mid-June. 'Let's talk about performative allyship,' the TV editor (The Politician, 911) wrote on Instagram amid Black Lives Matter protests nationwide. Tachdjian went on to describe how, while she was working at Bunim/Murray in 2018, several colleagues were editing the production company's docuseries Surviving R. Kelly. As an editor on Bunim/Murray's Born This Way, she observed the primarily Black Surviving R. Kelly editing team take a stand over the direction of the docuseries and resign together over a creative disagreement regarding how to empower survivors. She believed the version of the show that aired, however, was an edited version of their original cut. The incident mattered now because the Emmy-nominated show had won a prestigious Peabody Award on June 10 and the original editing team hadn't been 'acknowledged,' Tachdjian added. The Surviving R. Kelly editors are 'not allowed to talk about it, and I know it's because they've all signed NDAs,' Tachdjian says of her post."
Dino-Ray Ramos had the exclusive break at Deadline: "The documentary advocacy group Brown Girls Doc Mafia (BGDM) is bolstering representation behind the camera with a robust, searchable directory featuring over 200 of its members. The directory launches today and will offer access to women and non-binary people of color in the documentary space. The platform is a destination for discovering talented women and non-binary filmmakers and executives of color. As part of the effort, the organization is calling upon the documentary industry to make a commitment to dismantling racism and sexism throughout the industry and increased hiring of BGDM members across all roles. 'Advocacy, community building, and creative and professional development is how Brown Girls Doc Mafia disrupts inequalities, shifts power in the field, and invests in Black, Indigenous, and People of Color (BIPOC) creatives,' said BGDM founder and director Iyabo Boyd. 'This platform is one of the tools by which we do that work. We believe women and non-binary people should be encouraged to pursue the careers they truly desire, receive support for their pursuits, and rise into positions of power in the film industry.'"
Realscreen staff noted the announcement: "The Rogers Group of Funds has invested CA$2.4 million across 29 Canadian documentary films, awarding assistance to upcoming Bell Media projects such as Buffy Sainte-Marie: Power in the Blood, Kings of Coke and The Grizzly Truth. Selected from a group of 70 applications, the funder's Rogers Documentary Fund has previously seen more than $42 million in grants pledged to Canadian producers and supported more than 900 documentary projects over the years, according to a press release. Grants for the fund go up to $100,000."
At Documentary Magazine, Tom White collected industry remembrances of the late doc editor: "The documentary community lost Jonathan Oppenheim last month, at 67, following a long bout with brain cancer. Jonathan was a giant among documentary editors. His prodigious canon dates back to Martin Bell and Mary Ellen Mark's Streetwise (1984), which received an Academy Award nomination. Its depiction of homeless teens and runaways in Seattle inspired Edet Ebelzberg to hire Jonathan to edit her first film, Children Underground (2001), which went on to win an IDA Documentary Award for Best Feature, as well as an Academy Award nomination. And in between those two films, there was Jennie Livingston's legendary Paris Is Burning (1990), and following Children Underground, there was Rebecca Cammisa and Rob Fruchtman's Sister Helen (2002), Laura Poitras' The Oath (2010), Stephen Maing's High Tech, Low Life (2013) and the last film he edited, Stephanie Wang-Breal's Blowin' Up (2018). He also served as consulting editor on numerous productions that have contributed immeasurably to the documentary conversation: How To Survive a Plague, Ai Wei Wei: Never Sorry, These Birds Walk, Cameraperson, (T)Error, One Child Nation and Cooked: Survival By Zipcode…By many accounts, Jonathan was a wise and kind soul, and it was those qualities, along with his painterly instincts, that made a difference in every documentary he brought to life. We reached out to a few filmmakers for their reflections on this vital artist."
Announced via press release: "As we reflect on the last five months and the deep period of transition our world is in, we are reminded how important it is to remain open to learning. At its best, nonfiction storytelling allows us to learn deeply, shift perspective, and break down barriers through empathy and exposing truths through captivating storytelling. We are grateful for the continued opportunity to support distinctive nonfiction filmmakers who bring powerful cinematic stories to life. Never has an open mind and the work of nonfiction storytelling been so critical to our national conversation. Amidst the uncertainties of a global pandemic and challenges to our democracy, we continue to receive as many applications as ever. We are in awe of the ingenuity and perseverance of the filmmakers who apply, and the beauty of the projects we receive. We are thrilled to announce our first group of 2020 grantees awarded to six remarkable films and filmmaking teams. We're honored by the opportunity to support these filmmakers. You can read more about the films and their makers below and on our website."
Announced via press release: "Working on a documentary short film currently in a rough cut stage? You're in luck! This year's DCTV Docu Work-In-Progress Lab will specifically be for short documentaries! The Lab supports 4-6 select filmmakers and their independent documentary short films currently in post-production, providing dedicated feedback and crit-building germane to the editing process. We'll be hosting it virtually this Fall so participants can join from anywhere, and it will be facilitated by Chloe Gbai of IF/Then Shorts! Application Deadline: Wed 9/9, 11:59pm ET."
Abby Olcese and Brock Wilbur in-depth report appeared in The Pitch: "It began, as these things so often do these days, as a Facebook thread. On July 2, Sam Cable, a former employee of the Alamo Drafthouse Mainstreet, posted on his page about a poor work experience at the Kansas City location of the Texas-based movie theatre chain. 'One of the things that blew my mind when I moved on from Alamo Drafthouse is just how terrible that job is (and by extension the company), but how you never notice it until you leave,' Cable's post read. 'It turns out the Alamo Way is to oppress, overwork, and harass workers to the point of mental instability.' Within minutes, comments on Cable's post went from 'Wait, really?' to 'Oh, you have no idea how bad it was.' By the end of the day, KC's film community could see how many of their favorite Mainstreet Drafthouse bartenders, staff members and servers had suffered during their employment at the metro's 'coolest' movie theater. Participants within the thread were quick to support those coming forward for the first time, even if they'd previously failed to support those co-workers in the moments it would have mattered most. Comments detailed nightmarish experiences: sexual harassment, grueling hours, no support dealing with sometimes violent patrons."
---
DOC NYC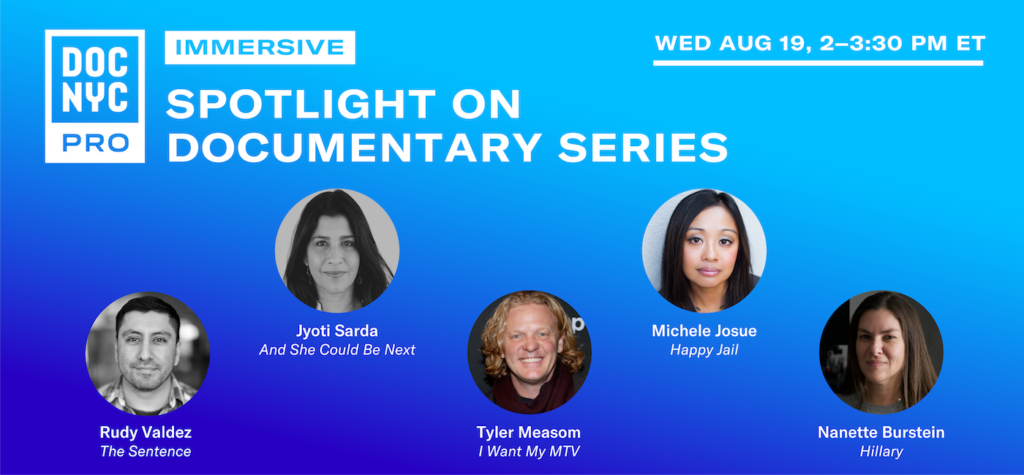 Join DOC NYC PRO as we turn our focus to the burgeoning field of documentary series. Our guests include Jyoti Sarda, producer of POV's first miniseries And She Could Be Next; Michele Josue (Matt Shepard Was a Friend of Mine), director of Netflix's five-episode docuseries Happy Jail; Rudy Valdez (The Sentence), director of a soon-to-be-released Netflix youth football series; Tyler Measom (I Want My MTV, An Honest Liar, Sons of Perdition) of the forthcoming true-crime series The Salamander, and Nanette Burstein, director of Hulu's Hillary miniseries.

"40 Under 40" celebrates emerging talent in the documentary world, including directors, producers, cinematographers, and editors. This program is co-presented by Topic Studios.
Honorees will participate in exclusive online networking meetings with key financiers, distributors, broadcasters and industry figures as part of the festival's "Only In New York" program, that is co-presented by SHOWTIME® Documentary Films. The group will also be highlighted on the festival website and social media, as well as participate in a special online 40 Under 40 group event that will be announced closer to the festival.
To qualify for consideration for the 2020 "40 Under 40" class, nominees must have been born in 1981 or later and be based in the U.S. or Canada. Nominees must have at least one credit in the position of director, producer, cinematographer or editor on a feature-length documentary with national distribution via theaters, television or a digital platform.
---

ON THE FESTIVAL CIRCUIT
Announced via press release: "Film at Lincoln Center announces the 25 films that comprise the Main Slate of the 58th New York Film Festival, September 17 – October 11. 'The disorientation and uncertainty of this tough year had the effect of returning us to core principles,' said Dennis Lim, Director of Programming for NYFF. 'To put it simply, the Main Slate is our collective response to one central question: which films matter to us right now? Movies are neither made nor experienced in a vacuum, and while the works in our program predate the current moment of crisis, it's striking to me just how many of them resonate with our unsettled present, or represent a means of transcending it. It has been a joy and a privilege to work with a brilliant, tireless programming team—the newly composed selection committee and our new team of advisors—and we are truly excited for audiences to discover and discuss these films.'"
Announced via press release: "The full programme for Open City Documentary Festival 2020 is now online and on-sale, with all events and sessions available to book through our website. Open City Documentary Festival's tenth edition will take place online from 9th to 15th September. The festival's first digital edition will also be the first available internationally, with affordable online screenings available across the UK, special events live-streaming worldwide, and an expansive industry programme that will be available free internationally. The festival will celebrate the art of non-fiction through 48 new films, 10 cross-media projects, and 3 audio documentaries, featuring new films from 28 different countries. Of the directors presenting new work in the film programme, 54% are women or non-binary filmmakers. Amongst 3 World Premieres, 3 International Premieres, 5 European premieres, and 29 UK Premieres in the new film programme are films such as: Mehrdad Oskouei's Sunless Shadows, Gu Xue's The Choice, Amel Alzakout & Khaled Abdulwahed's Purple Sea, David Osit's Mayor, and Valentina Pedicini's Faith, and Courtney Stephens and Pacho Velez's The American Sector."
Announced via press release: "AFI FEST 2020 presented by Audi is going virtual! This year people across the nation can be part of AFI's annual festival that features the best in world cinema. The festival will take place online Oct. 15-22. The virtual edition will have the same programming structure as previous years with sections highlighting new auteurs and world cinema, as well as filmmaker conversations and the AFI Summit, a festival favorite. Michael Lumpkin, Director of AFI Festivals, and his team already have one virtual festival under their belts: AFI DOCS. It was the first festival that shifted entirely online post-COVID, offering ticketed virtual screenings and events. Lumpkin recently spoke with The L.A. Times about the move to virtual for DOCS and what audiences can expect for FEST: 'The experience at the end of the day was very similar, a lot of the same things happened and we intentionally wanted it to be built like a virtual version of what we usually do on the ground…I think the important thing is that the essential piece of any festival, the films, the voices and the stories that really are the heart of the festival, isn't changing.' The full lineup of films and events will be revealed closer to the festival start date. Sign up for the AFI newsletter to get the latest updates. For those new to AFI FEST, check out photos and videos from last year's FEST."
Daniele Alcinii revealed the festival's announcement at Realscreen: "Gad Aisen's feature-length music documentary Rockfour: The Time Machine will kick off the 22nd annual Docaviv, the Tel Aviv International Documentary Film Festival, with its world premiere on Sept. 2. Due to the novel coronavirus pandemic, the 22nd edition of the festival takes place from Sept. 3 to 12 and will take on a hybrid format, with a combination of digital and physical screenings in compliance with social distancing guidelines. Docaviv '20 will feature 115 films from 38 countries that will screen through both online and drive-in screenings, as well as feature filmmaker talks and Q&A's, webinars, industry meet-ups and live performances streaming from the DocuLive studio, accessible through the festival's website."
Jillian Morgan covered the live panel at Realscrean: "Sheffield Doc/Fest's digital program returned Thursday (Aug. 6), bringing together a panel of international funders to reflect on the changing landscape of commissioning, distribution and audience. The session was produced and chaired by producer Elhum Shakerifar of UK-based Hakawati. Speakers included Adrian Kawaley-Lathan, creative director at the Bertha Foundation; Khalil Benkirane, head of grants at the Doha Film Institute; Jess Search, chief executive at Doc Society; Chu Hui Yang, senior program officer for JustFilms, Creativity and Free Expression at the Ford Foundation; and Charlotte Cook, co-creator and EP at Field of Vision. 'The film industry as a whole is an ecosystem,'  Shakerifar said, opening the discussion. 'Independent documentary is an endangered species, in a sense, or at least a rare bird. And I think we have the power to save it and to think about the best possible forms it can exist in.'"
Scott Macaulay noted the Sundance Institute's announcement in Filmmaker Magazine: "Sundance Institute announced today the 39 international media and arts organizations that will receive a total of $405,500 from its Respond and Reimagine Plan. Launched in April, the $1 million fund redistributes funds, according to a press release, to 'directly support the urgent needs of artists, as well as organizations from around the world leading the field in support of artists from historically marginalized communities disproportionately impacted by the pandemic.' The grants are non-recoupable and are flexible in intent; they may be used to support individual artists or to 'strengthen the organizations themselves in their ongoing work.' Earlier this summer Sundance distributed 60% of the fund to individual artists, including 103 Institute-curated artists participating in the spring and summer Sundance Institute Labs. From the press release: 'To select these grantees, we solicited nominations from a network of peer arts organizations, funders, and Sundance Institute alumni artists — a broad cross-section of expertises across media, arts, racial justice, theatre, humanities, philanthropic, social science, and human rights organizations. The need to support the arts around the world will be ongoing as these organizations weather the continuing challenges of the pandemic. It's our hope that the Sundance Institute Respond and Reimagine Plan will help support art and artists around the world.'"
Vassilis Economou covered the festival's announcements at Cineuropa: "Despite the limitations set by the pandemic, the 18th edition of Locarno Pro's Open Doors platform (6-11 August) has concluded its online version by announcing the winners for the Hub co-production platform and of its Lab producer training workshop. This was the second edition of the three-year focus on South-East Asia (Cambodia, Indonesia, Laos, Malaysia, Myanmar, the Philippines, Thailand, and Vietnam) and Mongolia, which will conclude during the 2021 edition. The awards ceremony was held on the festival's website and was broadcasted on YouTube. In the Open Doors Hub, eight projects, represented by a director and one attached producer, introduced themselves to European and international professionals. The jury has awarded the following projects to support their development and production."
David González reported for Cineuropa: "Eighteen projects from nine countries have been selected for the IX Europe-Latin America Co-Production Forum. Set within the San Sebastian International Film Festival's 68th edition, the activity will take place from 19 to 21 September, will run exclusively online due to the pandemic. The market has recorded a total of 235 submissions this year. As usual, thanks to the festival's collaboration with Ventana Sur, the Marché du Film and Argentina's INCAA (National Institute of Cinema and Audiovisual Arts), European projects selected for the forum have the opportunity to participate in Ventana Sur's Proyecta programme."
---
MISCELLANEOUS
Lovia Gyarkye featured Ja'Tovia Gary in The New York Times Style Magazine: "Ti'jhae Beecher is 7 years old when she happens upon the artist and filmmaker Ja'Tovia Gary on the corner of West 116th Street and Malcolm X Boulevard in Harlem in 2019. Gary, flanked by a camera crew and with a microphone in hand, had stopped her to ask a simple question: 'Do you feel safe?' Beecher, who is standing with her grandfather, answers yes and proceeds to tell Gary about how she feels prepared to leave the house every day, but that there are times when she is upset about having to wake up early for school. Gary agrees that waking up early is, in fact, the worst, and then asks Beecher if, for the most part, she feels good. Beecher replies plainly: 'I don't feel like I'm in danger.' 'That's good,' Gary says in response. 'I hope you never ever feel like you are in danger, that you always feel safe and strong.' Gary's interview with Beecher is one of many that she conducts with Black women and girls in Harlem that day, asking those passers-by — who differ in age, ethnicity and spiritual identification — if they feel safe in their bodies, and in the world. She includes their wide-ranging responses to her question in "The Giverny Document" (2019), an experimental film that explores what it means to exist in the world for Black women, and Black women only. The roughly 40-minute feature was part of a three-channel video installation presented at both Paula Cooper Gallery in New York and the Hammer Museum in Los Angeles this year (both shows closed early because of Covid-19), but has also been shown as a stand-alone project at film festivals, garnering Gary awards and critical acclaim."
Curator Cydnii Wilde Harris highlights some of her favorite works in the Black Lives Matter Video Essay Playlist: "I was putting the finishing touches on a video essay when I first heard the news about George Floyd. Titled "The Original Ending: The Last Acts of Black Horror Heroes," it is a multi-screen composition that juxtaposes the original and alternative endings of Jordan Peele's Get Out (2017) with the ending of George Romero's Night of the Living Dead (1968). Both films feature Black protagonists, but of the three endings, only one finds the hero evading capture or killing by the police. My work often concerns itself with the depiction of marginalized communities in mass media, specifically Black and brown people. I've never been able to separate my work from my Blackness, but I've been incredibly fortunate in finding support from the wider discipline of film studies. When fellow film scholars Will DiGravio and Kevin B. Lee approached me to collaborate on assembling a collection of videographic work about the Black Lives Matter movement with an emphasis on minority creators, I felt that my field was responding to mass calls for justice in kind. We hope that the Black Lives Matter Video Essay Playlist will uplift the work of minority creators and their allies, serve as a resource for those eager to learn about the impact of the movement, and demonstrate that change is not only possible but inevitable. In the time since we began aggregating the playlist, people have submitted video essays, videographic criticism, video art, journalistic pieces, YouTube videos, social media montages and memes, and so much more material about the BLM movement, the ongoing protests, and the institutions that led us to this current historic moment. Here are just a few that we find exemplary. We encourage everyone to engage not just with these essays, but also the rest of the database, and grasp the full diversity of talent investigating this topic. Black Lives Matter."
So Mayer reflects on Agnès Varda's long and loving relationship with documentary filmmaking techniques at Criterion's The Current: "It is partially through documenting love that Varda disrupts the donnée of romantic fantasy. Her poetic documentary short Elsa la rose (1966) catches at the heart through the lifelong love story of Parisian writers Elsa Triolet and Louis Aragon. While much of the film consists of readings of Aragon's poems, in conversation with Varda, Triolet says: 'It's not the poems that make me feel loved. Not the poetry. It's the rest. Life.' Aragon ends the film by saying it should be about the 'real' Elsa, not the figure in his poems or of the film, "this fairy tale with its artificial resolutions." As in Le bonheur, Varda uses the form of the romantic dyad to question it, here showing that mutual creativity and an ability to articulate the difference between fairy tale and life make for an undomestic, tough love situated by the film amid wars, revolutions, and strikes. 'The poet produces the beautiful by fixing his attention on something real. It is the same with the act of love,' Simone Weil wrote. Love is a political as well as personal necessity, a documentary poethics that enabled Aragon and Triolet to create, as it did Varda. Her gift for revealing the heart of her on-screen subjects was one that she also turned on herself in her late, great documentaries, where she reveals her own poethics at work, producing the beautiful by fixing her attention on something real. All her films begin in this attention as an act of love for those who spark her curiosity; those without whom she—and we—cannot create or exist. As Piccoli sings on the soundtrack of Elsa la rose: 'What would I be without you / But a heart turned to stone.'"
Eric Kohn celebrated the film's 15th anniversary at IndieWire by speaking with the film's director: "In 2003, Timothy Treadwell and his girlfriend, Amie Hugenard, were killed and eaten by a bear in Alaska's Katmai National Park. The naturalist's tragic end followed 13 years of living in the wilderness, where he studied animals through a quixotic style that traditional scientists deemed dangerous and irresponsible. It also brought Werner Herzog to the masses. When "Grizzly Man" came out 15 years ago, the eccentric filmmaker was familiar to the arthouse circuit as a member of the German New Wave. His best-known work was released decades earlier, but Herzog continued cranking out idiosyncratic documentaries, mining for poetry in the natural world and humankind alike. With Treadwell, Herzog found the ideal subject: a wild-eyed obsessive carving a unique path, fully aware that it could lead to self-destruction. The movie is a small wonder of non-fiction commentary, weaving Treadwell's revealing home videos along with the filmmaker's own entrancing observations about the chaos inherent to all existence. 'What haunts me is that in all the faces of all the bears Treadwell filmed, I discover no kinship, no understanding, no mercy,' Herzog drones in the film's final moments. 'I see only the overwhelming indifference of nature.'"
Paolo Mugnaini shared a variety of tips at No Film School: "Documentary filmmaking can be extremely rewarding because it has an ingenuity that fiction doesn't, but the challenge lies in figuring out the puzzle that is the story in front of us. Creating a compelling narrative stems from being able to extract the emotions from the on-camera interviews to move our audience. Being a documentary filmmaker is challenging. It requires knowledge about human nature, and to do it well, you must develop a sensibility for people, their energy, and their emotions. You do that by being around as many people as possible. You must be very observant and make emotional notes of your experiences. If you don't, your challenge becomes much bigger. Whether narrative or documentary, every story has characters, and stories are driven by those characters. At the core of documentary filmmaking are the testimonials or interviews that are the driving force of the story. The more captivating and emotional the characters are, the more the audience is engaged. Interviews are one of the most challenging tasks because you have to take the on-camera talent to a comfortable place where they will eventually open up and become vulnerable. More often than not, you are dealing with real people who might have little to no experience, or people who are not used to expressing themselves on camera. How do we reach our talent so that they return with a great performance?"
---

PURE NONFICTION
Brown Girls Doc Mafia started as an impromptu meet up in 2015 and has grown into an organization with a membership of more than 4000 women and non-binary people of color working in documentary. Pure Nonfiction host Thom Powers interviews the group's founder Iyabo Boyd. She talks about her work at the grant funder Chicken & Egg, as a producer of the documentary
For Ahkeem
, and how covid-19 and this summer's street protests over racial injustice have galvanized BGDM. The organization has just launched a new directory on its website and is currently crowdfunding for its growth. Please support them on
GoFundMe
. Beyond her documentary work, Iyabo also directed the short feminist comedy
Me Time
 and is working on her first fiction feature. More details at
iyaboboyd.com
.
---

NEW RELEASES
---

DOC NYC ALUMNI
Chris Hegedus & D.A. Pennebaker's Town Bloody Hall
2019 DOC NYC Masters
Will receive a Blu-ray/DVD release via The Criterion Collection on August 18th.
Julie Getz's Care to Laugh
2018 DOC NYC Centerstage
Will be released on VOD platforms on August 18th.
Barbara Kopple's Desert One
2019 DOC NYC Masters
Will be released in virtual cinemas on August 21st.
---
FEATURED STREAMING DOC SHORT
"Kirby Ferguson, who landed on Filmmaker's 25 New Faces list in 2011 following his Everything is a Remix web series, is back with a new work that explains the QAnon phenomenon and places it in larger political context. For anyone who found themselves Googling 'Marjorie Taylor Greene' this morning (Or was perhaps mystified by a colleague's late-night email screed), the video offers a bit of a primer on the internet phenomenon as well as analysis."
– Scott Macaulay, Filmmaker Magazine
---
FUND THIS PROJECT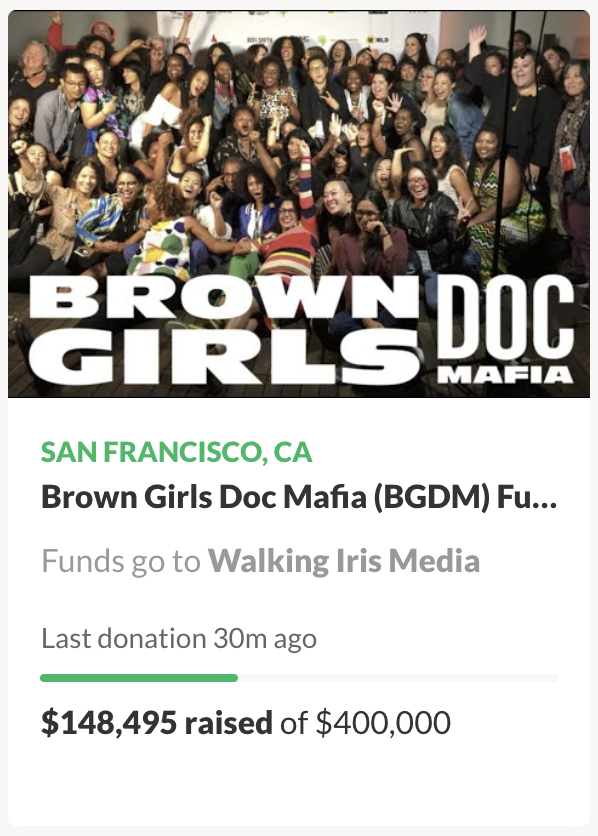 Crowdfunding has become an integral means of raising capital for documentary filmmakers around the globe. Each week we feature a promising new project that needs your help to cross that critical crowdfunding finish line.
This week's project:
Brown Girls Doc Mafia (BGDM) is an initiative advocating for over 4,000+ women and non-binary people of color working in the documentary film industry around the world. BGDM is hosting a fundraiser from August 3-31 to support much needed programs and staff through 2021.
Funding Goal: $400,000