Monday Memo: DOC NYC Reveals Short List, Distributors on Selling Through COVID-19, Peabody Awards Adds Arts Category
November 09, 2020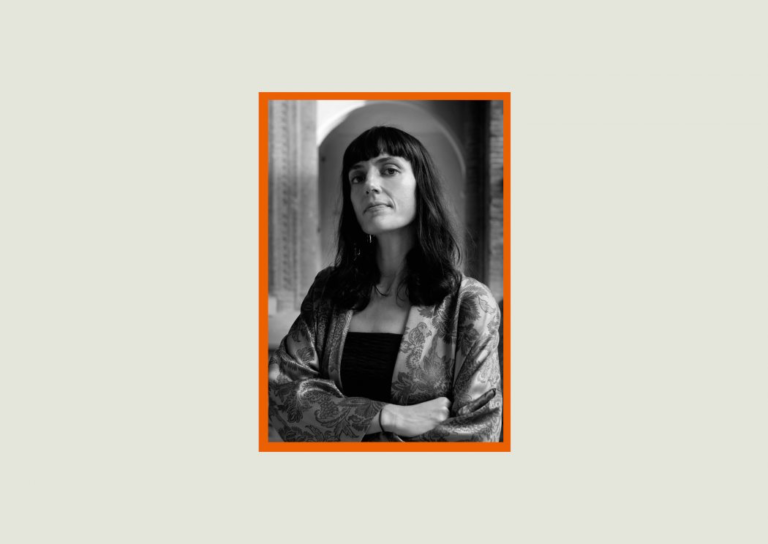 Click here to receive the weekly Monday Memo.

With all eyes on the elections, there hasn't been much happening in terms of doc releases or even nonfiction news coverage. Yet, festivals around the world made some moves with program announcements, staffing changes and more. Not to mention, DOC NYC 2020 kicks off this Wednesday! Read up, grab a pass and watch some docs this week.
– Jordan M. Smith
---
HEADLINES
DOC NYC Reveals Awards Short List, from 76 Days to Welcome to Chechnya
Anne Thompson noted the news at IndieWire: "Later than usual, the eleven-year-old DOC NYC, America's largest documentary festival, finally reveals its influential 15-film Short List. The festival will open in a new online format with a main lineup of 119 features and 100 short films (November 11-19) available to viewers across the US…Thom Powers, DOC NYC's artistic director as well as documentary programmer for TIFF, oversees curation of the Short List of films that may be in the running for the Academy Award for Best Documentary feature. This year's list of 15 features contains a balanced spectrum of subjects, Sundance debuts, fall festival hits, and less widely-viewed films, funders, and distributors, including three from prodigious non-fiction producer Netflix. The selections range from international breakouts like valentines to the power of journalism Collective (Magnolia) and A Thousand Cuts (PBS Distribution/FRONTLINE), to crowdpleasers like Kirsten Johnson's outrageous Dick Johnson is Dead (Netflix) and Jeff Orlowski's habit-changing The Social Dilemma, the most-viewed documentary ever on Netflix."
---
Sponsored Post
IN VIRTUAL CINEMAS STARTING FRIDAY 11.11.2020
AT NEW YORK'S METROGRAPH
THEN EXPANDS TO 50+ THEATERS NATIONWIDE

CODED BIAS
Director Shalini Kantayya

A groundbreaking documentary on bias in artificial intelligence, and the women data scientists fighting to expose its threat to civil rights.
'BEST OF SUNDANCE 2020' – The Denver Post
100% FRESH – Rotten Tomatoes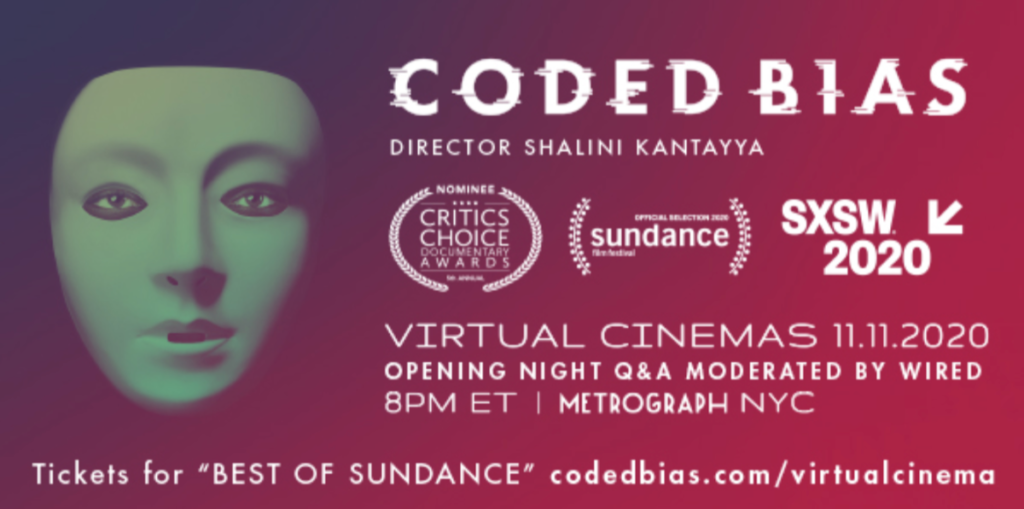 "CODED BIAS serves as both a wake-up call and a call to action."
– Valerie Complex, Variety
WATCH TRAILER NOW: codedbias.com/about
---
Back to business: ro*co, Cineflix Rights, Magnify Media on Selling Through COVID-19
Realscreen Staff spoke with a variety of industry folks about the state of doc distribution: "In March, as the world closed down, opportunities were opening up for distributors that allowed buyers hungry for content to fill up their schedules in the face of stalled productions and canceled sporting events. Now, eight months into the coronavirus pandemic, the appetite for programming remains high, and film and TV distributors are seizing new technologies and shedding outdated business practices — but challenges remain. Film distributors, especially, are reeling from the cancellation of in-person festivals, while distributors of TV content are navigating tighter linear budgets and the added costs of COVID-19 for producers. 'Q1 next year is going to be an interesting time to see what's going on in the market as it's probably the point where the shortfall in production from this year's lockdown will become visible,' Chris Bonney, London-based CEO of rights at Montreal-headquartered Cineflix Media, tells Realscreen. Still, for Bonney; Richard Life, head of acquisition at Cineflix Rights; Annie Roney, founder and CEO of California-based ro*co films; and Andrea Jackson, managing director of UK-based Magnify Media, the outlook isn't all gloomy. Below, the distributors talk about adopting new technologies, delivering content and meeting the demand for non-fiction."
Peabody Awards Adds Arts Category
Barry Walsh reported the story at Realscreen: "The annual Peabody Awards, honoring a diverse range of content from television and streaming media, radio and podcast, and online platforms, has added an arts category covering productions for television and for radio and/or podcasts. According to organizers, the category is designed for films, series, podcasts, radio programs, or one-time specials in the presentation, appreciation, or history of the arts, including but not limited to: documentary films or podcasts on music or art, musical theater, dance or ballet performances, plays, and concerts…Submissions for the 2020 Peabody Awards opened on October 1, with the arts category being added to the mix on October 26. The deadline for submissions is December 16. Other categories currently open for submissions include News, Entertainment, Documentary, Children's/Youth Programming, and Public Service produced for radio and podcasting, television and streaming, and online platforms."

---
DOC NYC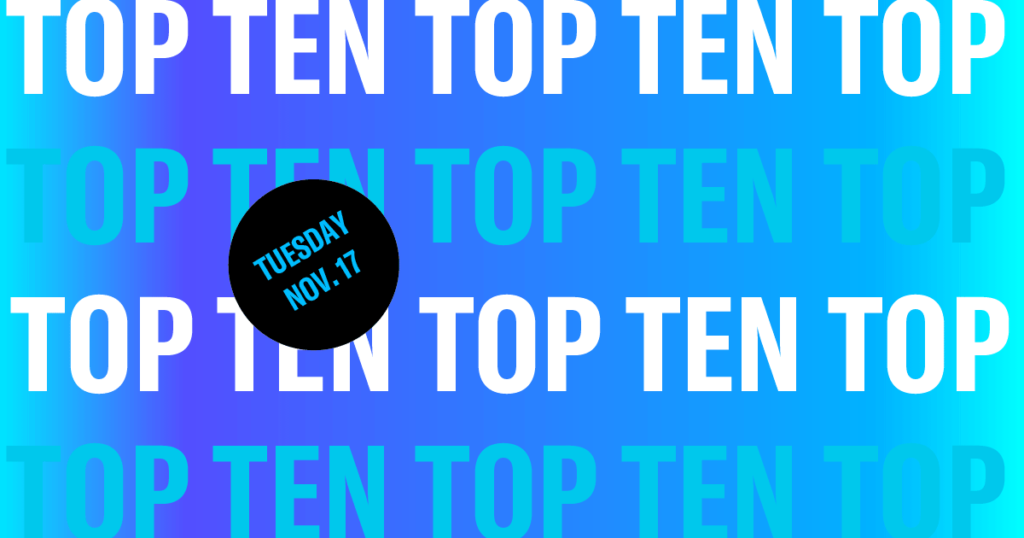 DOC NYC FLASH SALE
From Friday through Monday, some of our programmers' favorite films in this year's festival are on sale. Tickets will be available for $10– $2 off the regular price. Please note the sale only applies to new purchases and is only available during this limited window.
---
ON THE FESTIVAL CIRCUIT
The Porto / Post / Doc 2020 Program Announced
Announced via press release: "The schedule for the 2020 edition of the Porto / Post / Doc film festival is closed. In total, there will be more than 60 films for those who, between the 20th and the 29th of November, will visit Porto's theaters and the VoD platform that the event will launch, exclusively, for this period. With works from different corners of the world, the festival proposes a diverse calendar adapted to the needs of today with national premieres, conversations, interviews with directors, sessions for families and an academy designed to think about new ways of producing content carried out in partnership with Channel 180. Portugal, France, South Africa, Laos, Spain, Israel, Brazil, Mexico, Argentina and Iraq are some of the stops proposed by the selection of the International Competition that is announced today."
DOK Leipzig Reveal 2020 Award Winners
Announced via press release: "The award-winning films of our 63rd festival edition have been chosen. The Golden and Silver Doves were presented in a hybrid award ceremony in a cinema auditorium which the juries and filmmakers joined remotely. At the same time, we streamed the event live on our website. In case you missed the livestream, you will find a recording of the ceremony in our media library as of tomorrow. The film Downstream to Kinshasa by Dieudo Hamadi has received the Golden Dove in the International Competition Long Documentary and Animated Film. This co-production from the Democratic Republic of Congo, France and Belgium focuses on war-disabled people from Kisangani in the DR Congo. The 10,000-euro award is sponsored by Mitteldeutscher Rundfunk. The Silver Dove for best long documentary or animated film by an up-and-coming director in the International Competition Long Film has gone to the Argentinian production The Poets Visit Juana Bignozzi. The film was directed by writer and journalist Mercedes Halfon and by Laura Citarella, who is known internationally as the producer of "La Flor". The award was sponsored in conjunction with 6,000 euros from the broadcaster 3sat."
Ji.hlava Film Festival Nurtures Next Generation of Documentary Talent
Will Tizard reports for Variety: "It's always been about discovering the next generation of documentary filmmakers and getting them the tools and connections they'll need at the 24th Ji.hlava International Documentary Film Festival. So it's only fitting that the section on experimental films – another innovation that was a first, according to fest organizer Andrea Slovakova – is themed on gardens. 'Ji.hlava was the first place that gave some space for experimental films within its program,' she says, describing the pioneering platform that morphed into a dedicated section 12 years ago 'just to point them out.' Alongside forming a nursery for this genre, Ji.hlava offers a large share of programs dedicated to giving filmmakers their start across all its sections, says the fest's international relations director, Rene Kubasek. He cites the Emerging Producers program, which was developed years ago as a non-competitive place to recognize and encourage great work by those just getting started in this profession."
Giona A Nazzaro is the New Artistic Director of the Locarno Film Festival
Muriel Del Don shared the story at Cineuropa: "At the press conference on Thursday morning, held in the legendary Sala del Rex in Locarno, the tension was palpable. After a 2020 online edition marked by the Covid-19 pandemic, and even more so by the unexpected departure of its artistic director Lili Hinstin on 24 September (after only two editions), the Locarno Film Festival was longing to get back on its feet. Giona A Nazzaro, film critic of Italian origins born in Zurich in 1965, was unanimously chosen as the 'spokesperson' of this rebirth. General Delegate of the International Critics' Week at the Venice Film Festival since 2016, member of the artistic committee of IFFR – International Film Festival of Rotterdam (2020), as well as member of the selection committee of Visions du Réel between 2010 and 2020 and moderator of the Locarno Festival, Nazzaro is certainly no newbie. He has also collaborated with several film festivals such as the Turin Film Festival, the International Festival of Rome and the Festival dei Popoli of Florence."

How Festivals are Supporting Filmmakers Through the Pandemic
Adam Woodward thought through the issue in Little White Lies: "There's no two ways about it: this has been a devastating year for cinemas. At the time of writing, venues across the UK are shuttering for a second national lockdown, leaving workers, audiences and filmmakers out in the cold. Yet while the future of the industry remains uncertain, there have been glimmers of hope on the international festival circuit. In October the BFI London Film Festival hosted its most accessible and inclusive edition yet, pivoting to a digital-first event for the first time in its long history. Other festivals, from Sheffield to Memphis and Busan to Thessaloniki, have followed suit by forging ahead with virtual programmes and market places. While the survival of these cultural institutions is testament to the tireless work and perseverance of the organisers and programmers, the vital role they play within the wider film ecosystem has been brought into even sharper focus during this turbulent year. The Thessaloniki Film Festival for example, which runs from 5-15 November, has awarded 3,000 Euros to Greek filmmakers who have debuted their first or second feature at a major international festival such as Cannes, Venice, Berlin, Locarno, Rotterdam, New York, Tribeca and Toronto, with the support of the Ministry of Culture and Sports."
Three Insights into America's Predicament at the recent New York Film Festival
David Leitner reflected on this year's NYFF in Filmmaker Magazine: "The New York Film Festival concluded several weeks ago; the much-anticipated Presidential debates came and went. Today we face the outcome of an existential election, and I find myself still thinking about three exceptional films at NYFF 58, two documentaries and one drama, that throw certain features of our national political crisis into sharp relief, intentionally or not, as only great films can do."
---
MISCELLANEOUS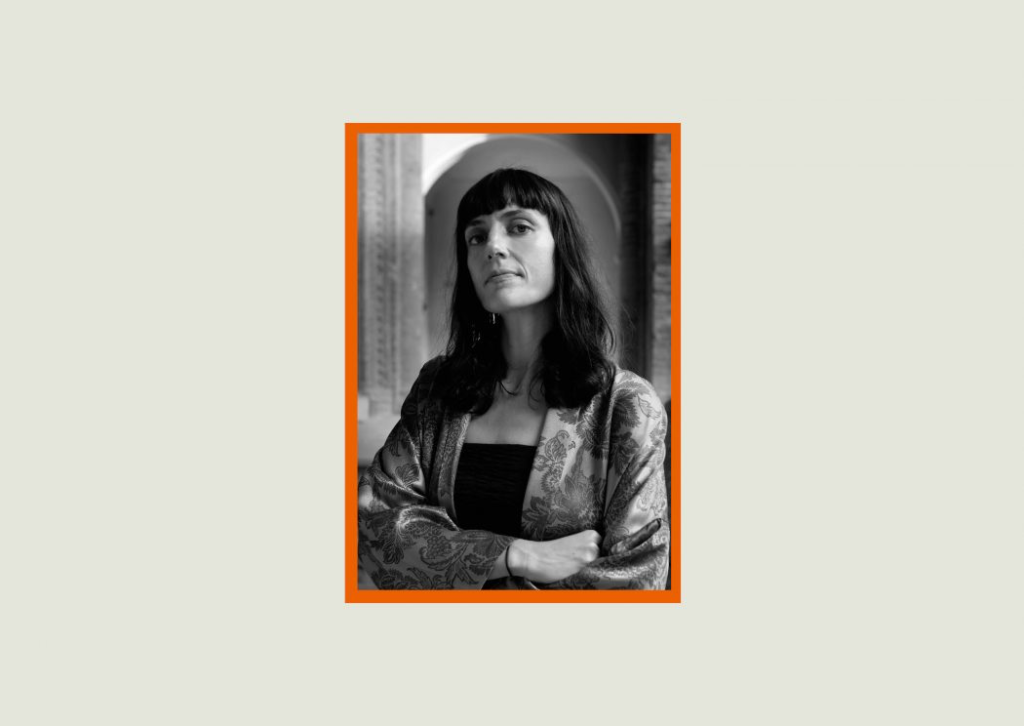 What Is Democracy?: A Conversation With Astra Taylor
Esmé Hogeveen spoke with the doc filmmaker in Another Gaze: "Astra Taylor is a Canadian-American activist, writer, musician, and documentary filmmaker. Her political organising has included participation in Occupy Wall Street (Taylor co-edited Occupy!: An OWS-Inspired Gazette, a broadsheet about the movement later anthologised by Verso Books) and co-founding the Debt Collective, a group which exposes and tackles predatory debt collecting practices. Taylor's feature-length documentaries, Žižek! (2005), Examined Life (2008), and What Is Democracy? (2018), revolve around philosophical topics and thinkers. In Taylor's films, viewers have the rare opportunity to see theorists think on their feet about contemporary economic, political, ecological, social, and cultural concerns. Esmé Hogeveen spoke to Taylor by phone in May 2019, on the eve of the launch of Taylor's latest book, Democracy May Not Exist, but We'll Miss It When It's Gone and during What Is Democracy?'s tour on the festival circuit."
---
NEW RELEASES

Chuck Leavell: The Tree Man
Chris Willman at Variety
– Documentary on Rolling Stones Pianist Chuck Leavell Explores His Work With Keys and Trees
---
DOC NYC ALUMNI

Deborah Shaffer & Rachel Reichman's Queen of Hearts: Audrey Flack
2019 DOC NYC Art + Design
Will be released via virtual cinemas on November 13th.

Scott Barber & Adam Sweeney's The Orange Years: The Nickelodeon Story
2018 DOC NYC Behind The Scenes
Will be released on Blu-ray & DVD via Gravitas Ventures on November 17th.

Ema Ryan Yamazaki's Koshien: Japan's Field of Dreams
2019 DOC NYC International Perspectives
Will be released via virtual cinemas on November 20th.

Hunter Robert Baker & Jordan Fein's The Blessing
2018 DOC NYC American Perspectives
Will be broadcast on The WORLD Channel on November 24th.

Scott Crawford's Creem: America's Only Rock 'n' Roll Magazine
2019 DOC NYC Sonic Cinema
Will be released on DVD via Greenwich Entertainment on November 24th.

Adam Bolt's Human Nature
2019 DOC NYC Investigations
Will be released on DVD via PBS on December 1st.
---
FEATURED STREAMING DOC SHORT
Daisy Chain
Directed by Sky Neal
"When the remote town of St Just, Cornwall, was locked down in March, the small community worried that its economy wouldn't survive. But one town councillor, Daisy Gibbs, rallied an army of volunteers to form 'the Daisy chain', an informal support network to ensure every household in the district had support. However, as a second wave of restrictions threatens, the town has to dig deep to find the resilience they need to ensure their future."
---
FUND THIS PROJECT
Crowdfunding has become an integral means of raising capital for documentary filmmakers around the globe. Each week we feature a promising new project that needs your help to cross that critical crowdfunding finish line.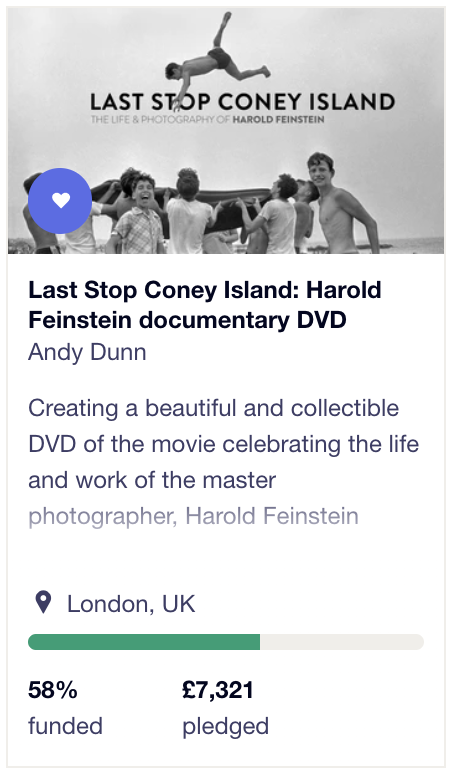 This week's project:
Last Stop Coney Island: The Life & Photography of Harold Feinstein
Directed by Andy Dunn
Goal: $16,407