Monday Memo: Kevin Rafferty Dead at 73, Academy Invites 819 New Members, and a Question: How Does Film Shape the Fight for Racial Justice?
July 06, 2020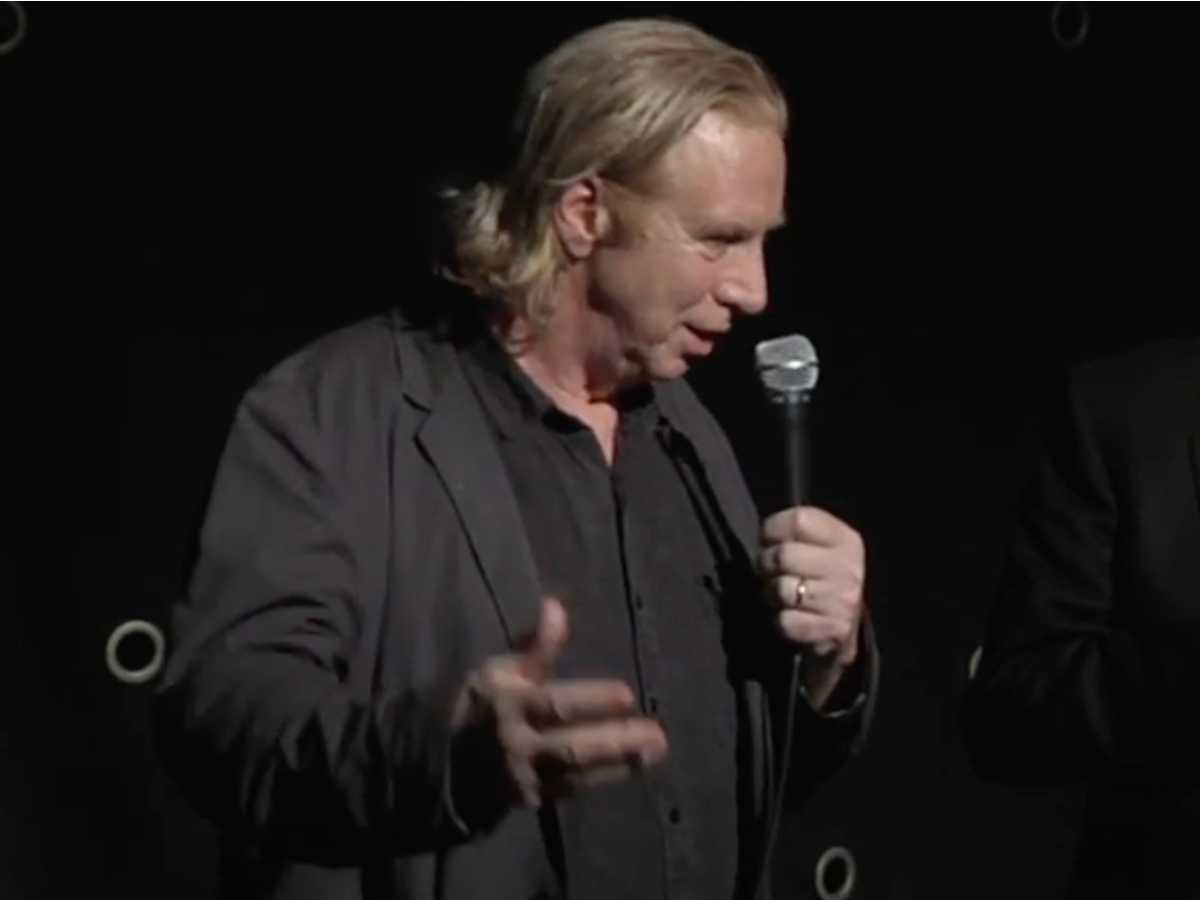 At this point, it's been 119 days since I've sat in a dark movie theater and taken in a film with a crowd of strangers, and I have serious doubts about when I will be willing and able to again. It's strange and sad, and yet there are much worse things to be worrying about. That said, thanks to many festivals going digital and distributors being forced to figure out new means of finding audiences without access to physical cinemas, I, like most folks across the country, actually have had more access to movies than ever before. This is a strange moment, so veteran distributor Ira Deutchman decided to look at how virtual cinemas could help arthouses secure their future over at IndieWire. It seems contradictory, but read forth. Additionally, this week saw Salamishah Tillet interviewing doc filmmakers about how film shapes the fight for racial justice in The New York Times, the Academy invited 819 new members (including a massive amount of nonfiction filmmakers), and David France made artful use of deepfake technology for his new doc Welcome to Chechnya, now available via HBO. And sadly, documentary filmmaker Kevin Rafferty has died at age 73. Back before the Pure Nonfiction screening series was a thing, Rafferty was a regular guest of Stranger Than Fiction for special presentations of classics like The Atomic Cafe (1982), which has been inducted into the National Film Registry of the Library of Congress, and Feed (1992), which follows the 1992 New Hampshire primary (watch the Q&A from that event here). Read on, wear a mask and stay safe.
– Jordan M. Smith
---
HEADLINES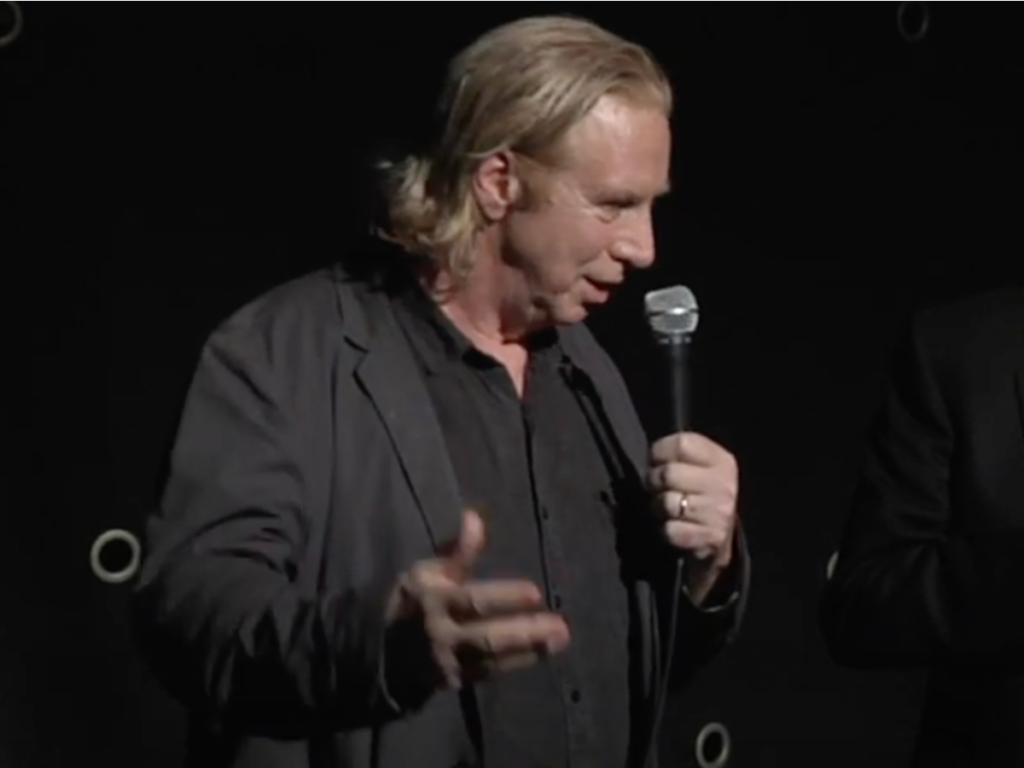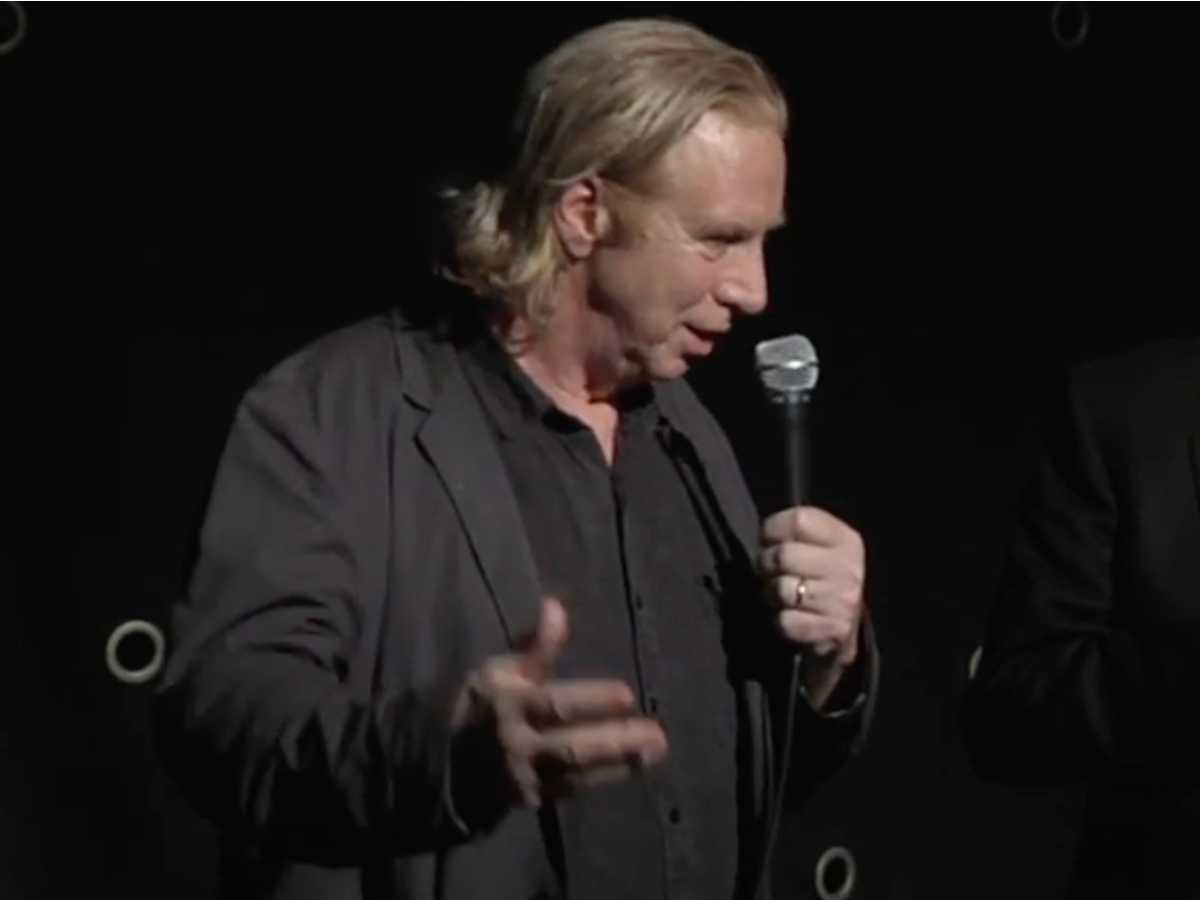 Larry McShane broke the news of Rafferty's passing via New York Daily News: "Documentary filmmaker Kevin Rafferty, known for the widely-hailed 'The Atomic Cafe' and the unlikely Ivy League football tale 'Harvard Beats Yale 29-29,' died Thursday at the age of 73. Rafferty, who was battling cancer, passed away surrounded by family, said his wife Paula Longendyke. Rafferty, a first cousin of President George W. Bush and the cinematographer for Michael Moore's debut documentary 'Roger and Me,' studied architecture at Harvard and painted motel rooms for a year before finding his calling as a movie maker. He went on to produce eight documentaries on a variety of topics, from cigarettes to politics to American hate groups from the K.K.K. to the American Nazi Party. Rafferty began his career in 1970, scoring his first major success in 1982 with The Atomic Cafe — an acclaimed look at the World War II nuclear attacks and the post-war nuclear era. The film was greeted with a rave review from New York Times film critic Vincent Canby, who declared the 88-minute documentary film — co-produced, edited and directed by Rafferty — 'deserves national attention.' Like all Rafferty's films, it debuted at the Film Forum in Greenwich Village. The Atomic Cafe was selected in 2016 for preservation in the prestigious National Film Registry."
Announced via press release: "The Academy of Motion Picture Arts and Sciences is extending invitations to join the organization to 819 artists and executives who have distinguished themselves by their contributions to theatrical motion pictures.  The 2020 class is 45% women, 36% underrepresented ethnic/racial communities, and 49% international from 68 countries.  There are 75 Oscar® nominees, including 15 winners, and five recipients of Scientific and Technical Awards.  Those who accept the invitations will be the only additions to the Academy's membership in 2020…In 2016, the Academy set specific inclusion goals as part of its A2020 initiative to double the number of women and underrepresented ethnic/racial communities by 2020.  Through dedicated and intentional work by the Board of Governors and members on the branch executive committees, the Academy has surpassed both these goals. The Academy recently announced the next phase of its equity and inclusion initiative, Academy Aperture 2025, which will further the organization's ongoing efforts to advance inclusion in the entertainment industry and increase representation within its membership and the greater film community.  The initial phase of Academy Aperture 2025 outlined specific goals for the Oscars® and Academy governance, membership, and workplace culture…Eight individuals (noted by an asterisk) have been invited to join the Academy by multiple branches.  These individuals must select one branch upon accepting membership. Additionally, the membership status of all Artists' Representatives (agents) will change from Associates to Members-at-Large.  As Members-at-Large, agents will now have Oscars voting privileges."
Salamishah Tillet of The New York Times spoke with Ava DuVernay, Stanley Nelson, Sabaah Folayan and Damon Davis about making movies that help explain our nation's current efforts to face hundreds of years of inequity: "When 17-year-old Darnella Frazier filmed the police killing of George Floyd on her phone in May, her video reignited the Black Lives Matter movement and nationwide protests, even prompting one supporter to name her 'the Rosa Parks of her generation.' In addition to setting off policy debates about police reform, the protests have also renewed interest in books, visual art and movies, especially documentaries about race and social justice…I met virtually with DuVernay in Los Angeles, Nelson in Martha's Vineyard, Folayan in Philadelphia, and Davis in St. Louis for a lively and powerful discussion on race, the African-American documentary tradition, and the power of film in our current moment. These filmmakers all knew one another and were fans of each other's work, so despite the weight of the topic and the tragedy that brought us together, this intergenerational dialogue was intimate and familiar, turning the flattened reality of a Zoom call into a family reunion on a warm, summer day."
Veteran distributor Ira Deutchman looked at the potential in the future of online exhibition at IndieWire: "As a believer and crusader for the theatrical experience, the closure of movie theaters all over the world was a punch in the gut. There was an immediate consensus among pundits of all stripes that this was the end of theatrical moviegoing. People would just get used to the idea that they could see what they want at home, so why would they ever go out to see a movie again? Yet in the art films world, a remarkable thing happened: Several independent distributors created something called 'virtual cinema.' Pioneered by Kino Lorber, Magnolia, Oscilloscope, and others, they made their stranded films available, online, in partnership with the independent theaters where the films were scheduled to play. Theaters used their patron lists to market the films; in return, they took a percentage of the gross as if they had presented the films in their physical theaters…But here's the thing: If done right, I believe that 'virtual cinema can become an ongoing profit stream for exhibitors and distributors. If done right, it can attract larger audiences to movies that might not otherwise have made a dent. If done right, it could actually help bring people to physical theaters rather than competing with them. And if done right, it could solve some of the systemic issues that caused pundits to write off the theatrical business in the pre-COVID world. Here's how."
Rebecca Heilweil of Vox explored how David France's Welcome to Chechnya used the controversial technology to help protect its subjects: "Caroline McGinnes might be one of the few people in the world who knows what it's like to lend someone a face. In a new HBO documentary, her eyes, nose, and mouth help cloak the identities of LGBTQ people in Chechnya, the predominantly Muslim republic in Russia. Essentially, McGinnes volunteered to become a deepfake, in a way few have seen before. In Chechnya, LGBTQ people have faced significant persecution, including unlawful detentions, torture, and other forms of abuse. Because survivors can rarely reveal their own identities safely, the team behind the film Welcome to Chechnya turned to the same sort of technology typically seen in deepfake videos. They're using artificial intelligence to overlay faces of volunteers on top of those of survivors. This application of deepfake-like technology can replace more traditional ways of keeping sources anonymous, like having them sit in a shadow or blurring their faces. The tech also helps better display the emotions of the survivors. 'Deepfake' has become a shorthand term for a variety of technological techniques, but it's generally understood as artificial intelligence used to alter video and audio, making it look as though someone is saying or doing something they actually haven't. The term comes from the name of a Reddit user who deployed machine learning to swap celebrities' faces into porn videos without their consent. But a broader industry has begun to promote similar forms of AI-assisted media manipulation — sometimes called synthetic media — that aren't necessarily as nefarious."
Etan Vlessing reported the announcement at The Hollywood Reporter: "Vice Studios has tapped veteran producer Jannat Gargi to fill the newly created role of vp, head of documentaries in the U.S. Based in Seattle, Gargi will report to Danny Gabai, executive vp and head of Vice Studios U.S., a division of Vice Media. Gargi previously served as head of documentary films for Vulcan Productions, where her credits included The Reason I Jump, the 2020 Sundance audience award winner, Ghost Fleet, Step and and the Oscar-nominated Body Team 12. At Vice Studios, Gargi, whose background straddles the film, TV and streaming spaces, will oversee documentary projects and lead programming strategy and content development, with a focus on docuseries, limited doc series and feature documentaries. 'I'm honored to be joining the talented, global team at Vice Studios especially when documentaries are more essential than ever to build a sense of a shared humanity,' said Gargi in a statement. Vice Studios launched a feature documentary division in 2017 and has since produced Fyre: The Greatest Party That Never Happened and 1994, both for Netflix, and FX's first documentary feature film, AKA Jane Roe. Vice Studios has over 70 projects in development and production in the U.S."
---
DOC NYC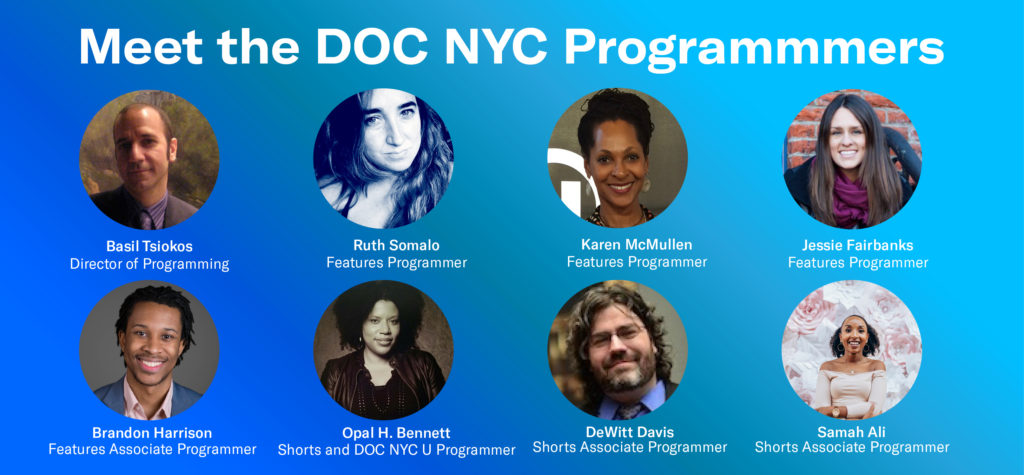 DOC NYC revealed early details for the shape of its 2020 festival taking place November 11-19. Now in its 11th year, the festival will continue to bring great documentaries to audiences by moving primarily to an online format for 2020 in response to the Covid-19 pandemic. As November draws closer, the festival team will re-evaluate the feasibility of holding additional events in person. The 2020 festival line-up will seek to maintain a similar size and scope as in recent editions, aiming to program approximately 100 feature documentaries, along with panels, seminars, and other initiatives. The festival's final submission deadline for features and shorts has been extended to July 8. Opal H. Bennett named DOC NYC's new Director of Filmmaker Development The festival named Opal H. Bennett to the newly-created position of Director of Filmmaker Development. The role is part of DOC NYC's core leadership team and will focus on expanding the festival's efforts to support documentary careers and widen diversity in the field through existing initiatives such as the Only In New York section for works-in-progress; the 40 Under 40 list for emerging talent; and the DOC NYC U section for student filmmakers, along with developing new initiatives in service of those goals. Bennett has served for five years as the festival's programmer for Shorts and DOC NYC U, responsibilities she will continue to hold in her new position.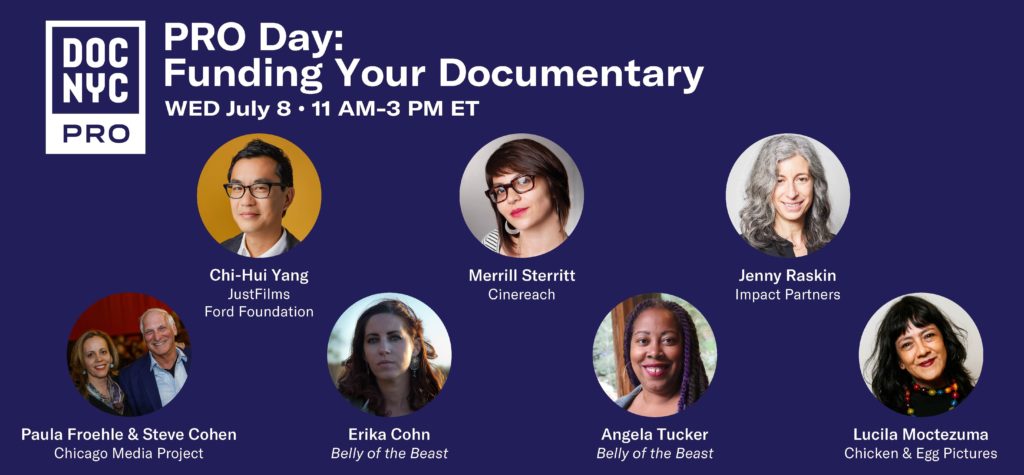 Wednesday, July 8th, 11 am–3 pm ET
Join us for a virtual DOC NYC PRO Day: a daylong online workshop and networking series offering intensive educational and professional development opportunities on themes important to the documentary field. On July 8, join us for three panel sessions on Funding Your Documentary, featuring institutional grantmakers, equity investors, and other sources of support for documentary filmmakers, their projects, and the documentary organizations that incubate and exhibit their work. For live participants craving more interactivity and community, we'll close out the day with a breakout Q&A session and social networking hour, where dialogue can continue outside the panel format. 
---
ON THE FESTIVAL CIRCUIT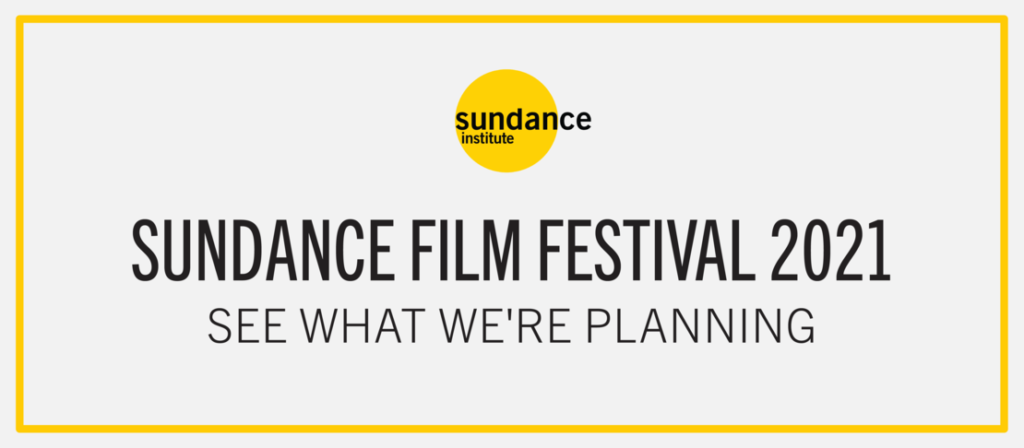 In an open letter, Tabitha Jackson outline the approach the Sundance team is taking to next year's edition: "Dear Friends, as we plan for our 2021 Festival — my first in the Director's chair — and with submissions now open, I wanted to give you an early insight into how we are thinking. This is not an announcement, but rather an invitation into the process of building something together this year. There are very few certainties in these uncertain times, but we are lucky to have as our North Star a well-defined and decades-long mission of championing the independent voice. That mission — driven by our values of inclusion, equity, and accessibility — becomes more urgent with every passing day. We also have a world of artists making bold powerful work that creatively expresses a lived experience, reveals its complexities, delights in its absurdities, and challenges its injustices. And we have you — this community — which over the years has empowered us to do something extraordinary every January in Utah. With these elements magic can surely happen. Although it is fair to say that I had not factored a global pandemic and an international reckoning around racial justice into my job application, I did know that as we write the next chapter in the incredible history of the Sundance Film Festival I would want to pose a slightly counterintuitive question: 'Where do we begin?' I began with our founder, Robert Redford, who imagined a different landscape for independent artists, one where the work they wished to make could be developed and supported outside of the studio system. He created a new space for imaginative possibility and creative community. We call that space Sundance."
Announced via press release: "Although the regularly scheduled 55th Karlovy Vary International Film Festival won't take place until 2021, fans of the largest film event in the Czech Republic can look forward to both the summer and the coming fall…from November 18-21, 2020, the City of Karlovy Vary will host Karlovy Vary IFF 54 ½. 'KVIFF at Your Cinema was our immediate response to the situation, one that allowed us to offer our viewers interesting movies that we'd chosen for the festival. But we still feel that the key to the Karlovy Vary fest is its atmosphere, where encounters readily happen and where together we can enjoy a shared movie experience: feelings of joy, fear, and being deeply touched. We believe that the time is soon coming when we can be together again,' says KVIFF president Jiří Bartoška. Although this special festival is set for a nontraditional autumn date, it will feature the usual event's atmosphere that guests and visitors have grown to love. KVIFF aims to provide the essential elements that moviegoers enjoy about the festival and that keep them coming back to Karlovy Vary again and again. The four-day noncompetitive fest will present 30 movies, each to be screened twice. The organizers are also planning several traditional events from the accompanying program. In cooperation with the City of Karlovy Vary and local hoteliers, the festival will be putting together special accommodation packages for our guests."
Announced via press release: "Established filmmakers including Sharunas Bartas, Naomi Kawase, François Ozon and Thomas Vinterberg will compete in the Official Selection at the San Sebastian Festival's 68th edition, which will also screen the work of new directors such as Dea Kulumbegashvili and Takuma Sato…In the coming weeks, the Festival will continue to reveal the remaining titles in the Official Selection of its 68th edition, which will open on September 18."
Fabien Lemercier reported on this year's projects selected for FIDMarseille's international co-production platform FIDLab: "The 31st FIDMarseille International Film Festival might be set to unfold in person from 22 to 26 July in the southern French city, but it's the online option which has won out for the 12th edition of its international co-production platform FIDLab, whose one to one meetings will take place digitally between 6 – 10 July. Out of nigh-on 400 candidates (up 23% on 2019), 15 projects have been selected this year (five in the scriptwriting stage, seven in development, one in production and two in post-production from 20 co-producing countries and 9 national filming locations), with the online presentation of these works having been available to access since 29 June (and remaining so until 10 July)."
---
MISCELLANEOUS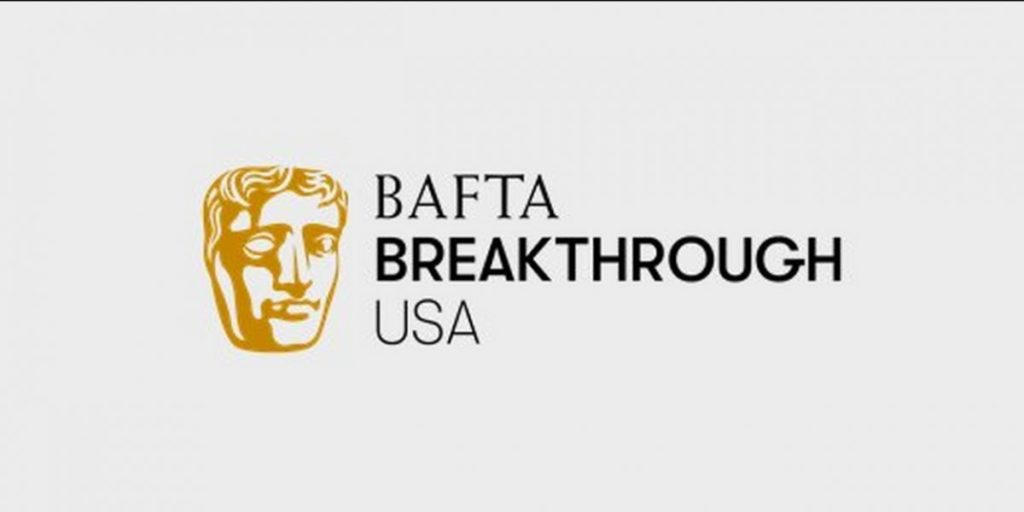 Announced via press release: "BAFTA is a global identifier and supporter of new talent and in 2020 the highly regarded BAFTA Breakthrough Initiative expands to the United States. BAFTA will identify, celebrate and support up to ten outstanding Breakthrough talents working in film, games or television in the United States. Those selected will receive a year-long program of support from BAFTA, enabling them to connect with the global creative industries, learn from top practitioners and share their expertise with their peers. They will be promoted as talents to watch for the future and, when it's safe to do so, will have the opportunity to travel to London for a bespoke series of meetings, events and introductions as part of the global BAFTA Breakthrough program. Successful candidates will have had one major 'Breakthrough' credit in the film, games and/or television industries. Full details, including entry criteria, can be found here. It is free to apply, and applications are submitted online. All applicants must fully complete the form before the deadline of 5pm (PDT) on Wednesday, July 22, 2020."
Ela Bittencourt outlined MUBI's current series on the New Brazilian Cinema at Notebook: "As I write about current Brazilian cinema, Brazilian Cinemateca, the preeminent institution for preservation of the country's film history, is in danger of collapsing. Its employees haven't been paid for months and the reels in its archives aren't properly protected. The country's film industry launches strikes and petitions against the government's plan to close the organization, which would damn the cultural heritage it shelters. How to consider the urgency of contemporary Brazilian film in this dire context? Perhaps by framing it as narratives of crises and resilience. No image inscribes itself as well into this allegory as one at the end of Landless, a documentary by Camila Freitas that premiered at Berlinale: Gusts of relentless wind punish arid earth, covering a settlement of scattered humble tents in a vicious swirl of red dust. This vision is so akin to the American Dust Bowl, it's hard not to correlate it with Steinbeck's Grapes of Wrath. As in Steinbeck, Freitas's film is told in forceful notes: Hunger, sweat, and blood of the landless; apathy and greed of large landowners and lawmakers. Freitas sets up a series of binaries: Dust turns to greenery, as some five hundred families are shown to occupy and till the land that belonged to a private factory. Freitas follows these families for four years, as they pull resources, organize, and confront right-wing's wrath: current president Jair Bolsonaro has made it easier for the 'Bible, cows and guns' lobby to violently confront the Landless Movement. And yet, the image of green stalks rising from parched earth, of machinery and backs bent in dedicated toil, where previously lay fallow land, is indelible. It's an image of hope so hardened we must look to Steinbeckian tropes to remember anything quite like it."
Jennifer Higgie looks at Mark Cousins' Women Make Film for Frieze: "Over the last few months, the idea of a road trip has been as outlandish as a haircut. But there are, as we've all discovered, ways of travelling that don't involve your body moving through space. The most extraordinary journey I've been on in recent weeks has been sitting on my sofa watching Mark Cousins's 14-hour documentary, Women Make Film: A Road Movie Through Cinema, which premiered to acclaim at Toronto International Film Festival and the Venice Film Festival and is now available to stream online. Narrated by Adjoa Andoh, Jane Fonda, Kerry Fox, Thandie Newton, Tilda Swinton, Sharmila Tagore and Debra Winger, this mind-boggling feat of research and editing comprises almost 1,000 extracts from movies directed by 183 filmmakers over 130 years and five continents. Divided into 40 chapters, it eschews biography in favour of non-chronological themes: 'Openings', 'Staging', 'Tone', 'Editing', 'Politics', 'Surrealism and Dreams', and so on. Riveting scenes are introduced from a car transporting the narrators across mountain passes and into the grit of cities, on highways and dirt roads, through villages and along the seashore, through the snow and in sunshine."
---
NEW RELEASES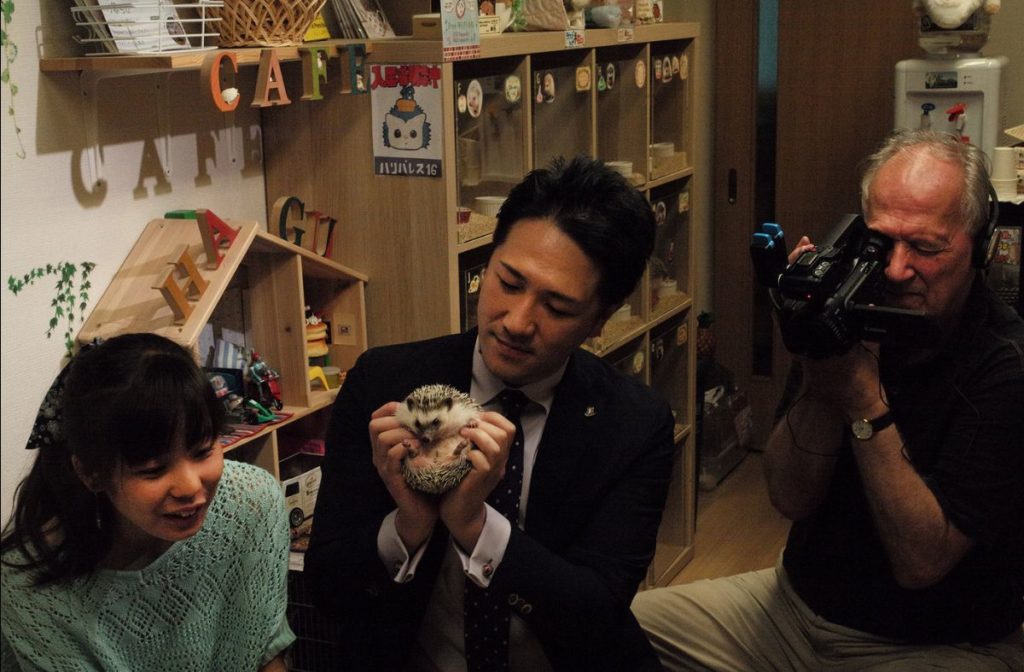 Family Romance, LLC
John Lewis: Good Trouble
Welcome to Chechnya
Suzi Q
Denise Ho: Becoming the Song
---
DOC NYC ALUMNI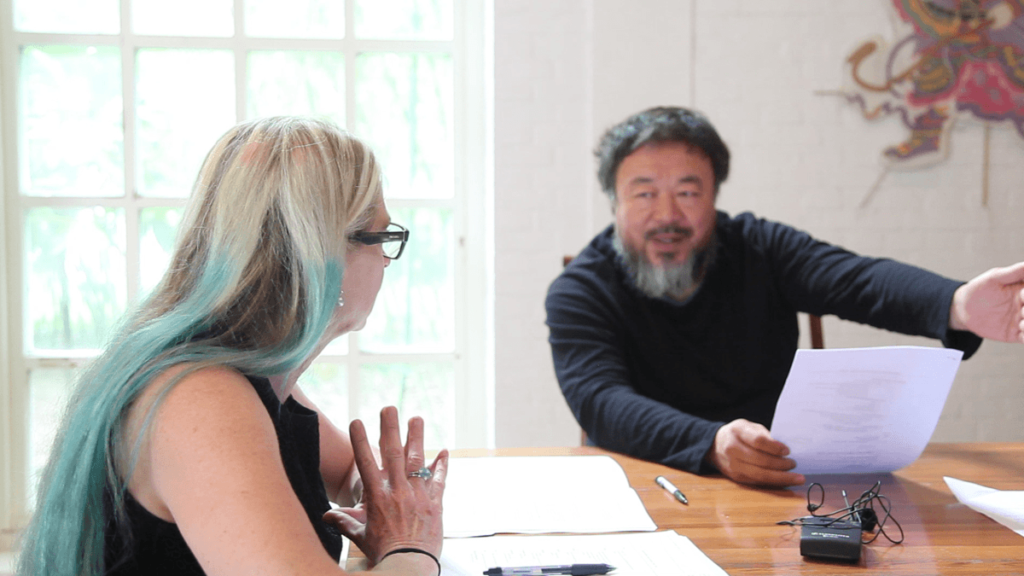 Cheryl Haines & Gina Leibrecht's Ai Weiwei: Yours Truly
2019 DOC NYC Art + Design
Will be released via virtual cinemas on July 8th.
Harry Mavromichalis' Olympia
2018 DOC NYC Centerstage
Will be released online on July 9th.
Vivian Vazquez & Gretchen Hildebran's Decade of Fire
2018 DOC NYC Metropolis
Will receive a DVD release via Passion River on July 14th.
Katie Green & Carlye Rubin's 1275 Days
2019 DOC NYC In The System
Will receive a Blu-ray/DVD release via FilmRise on July 14th.
Cara Jones' Blessed Child
2019 DOC NYC Modern Family
Will be release via VOD on July 17th.
---
DOC SHORT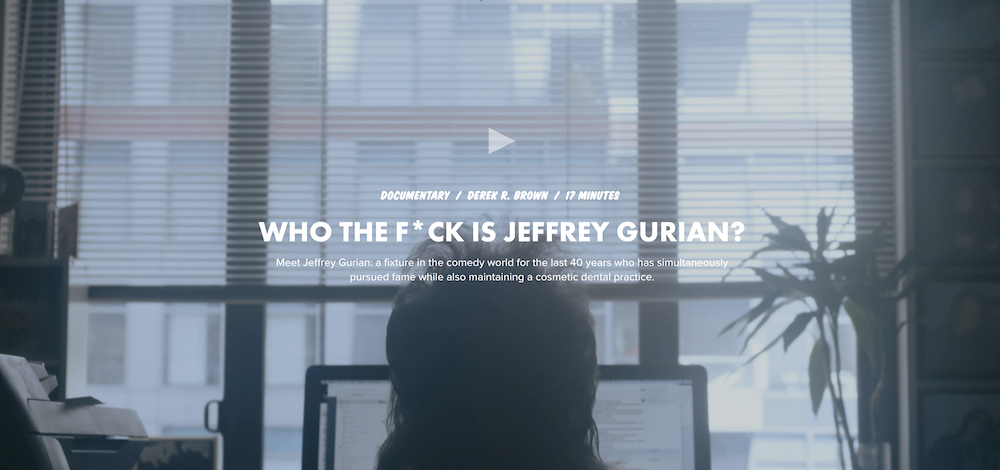 Directed by Derek R. Brown
"Meet Jeffrey Gurian: a fixture in the comedy world for the last 40 years who has simultaneously pursued fame while also maintaining a cosmetic dental practice."
---
FUND THIS PROJECT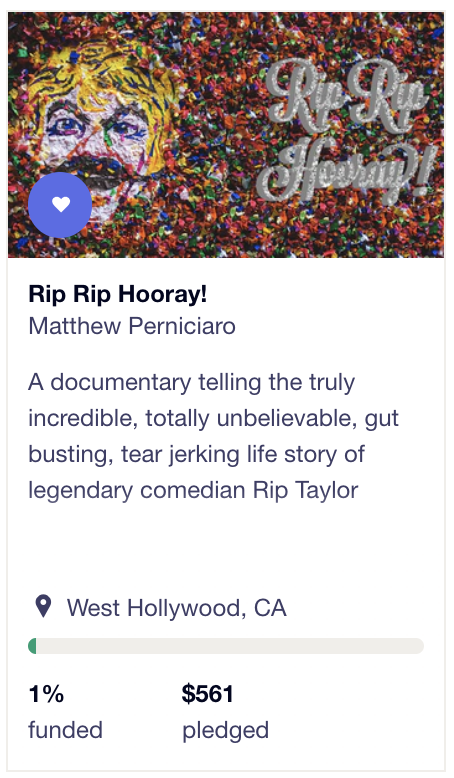 Crowdfunding has become an integral means of raising capital for documentary filmmakers around the globe. Each week we feature a promising new project that needs your help to cross that critical crowdfunding finish line.
This week's project:
Rip Rip Hooray
Directed By
Matthew Perniciaro
Funding Goal: $30,000