Monday Memo: Street Protests, Christo RIP, Hot Docs & More
June 10, 2020
This week, I am a bit speechless. Watching the documentary footage of George Floyd's murder by Minneapolis police, the subsequent protests that have erupted across the country, the violence against and illegal arrest of press by law enforcement (see Katy Bryon's thread on Twitter for a rundown of known incidents), and the general lack of positive and effective political response is all infuriating, overwhelming and exhausting. Three blocks from where I live, police in SWAT gear faced off against angry protesters and the windows of small businesses across the street from my wife's bakery were smashed in. Folks are mad. We have a right to be. Speak out, but be safe. Be good to each other – that's what we all really want in the first place.
There is plenty of news outside of the aforementioned, including the announcement of the Documentary Impact Producer Relief Fund, guesses on when Americans will feel comfortable going out to the movies again, a look at the newly launched service HBO Max, some previews of this year's online edition of Hot Docs, and a ton of other good stuff. Until next week.
– Jordan M. Smith
---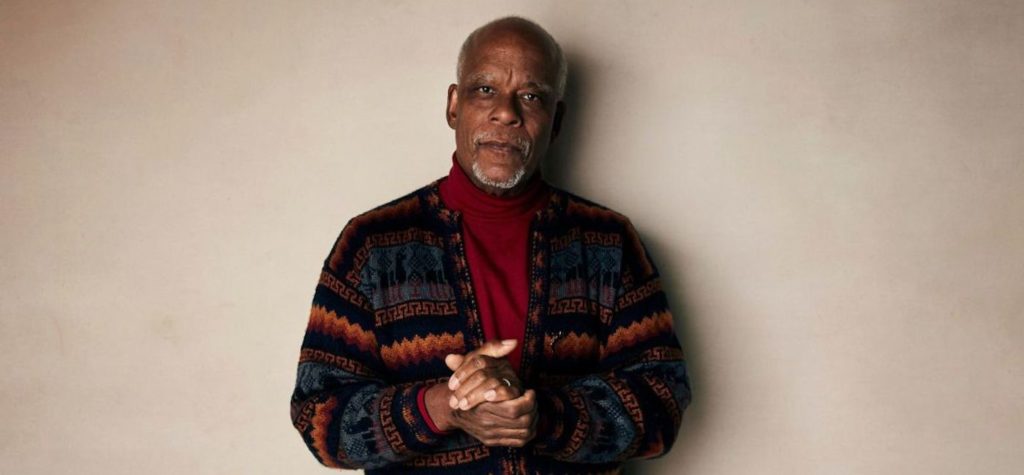 George Floyd Protests: Black Filmmakers Need to Tell This Story, Says Documentarian Stanley Nelson
Eric Kohn spoke with documentarian Stanley Nelson at IndieWire: "Stanley Nelson has been making documentaries about the African American experience for 30 years, with sobering historical overviews ranging from THE MURDER OF EMMETT TILL to FREEDOM RIDERS and THE BLACK PANTHERS: VANGUARD OF THE REVOLUTION. Still, the 68-year-old filmmaker and co-founder of Harlem-based Firelight Media has been reticent to jump into the protests that have followed the murder of George Floyd in Minneapolis, Minn. by white police officer Derek Chauvin. However, when reached by phone over the weekend, Nelson was in a car with his adult children, leaving the calm of Cape Cod for New York City: The kids demanded to be a part of the rallies. 'I'm driving my kids back to New York against my own wishes,' he said, 'but they are insistent that they feel like they have to get out there, march, demonstrate.' Nelson has closely followed coverage of the Floyd protests, and shared his thoughts with IndieWire on why he believes black filmmakers must be the ones to capture this story. He also discussed his frustrations with the media and the historical connections he has uncovered through his own work."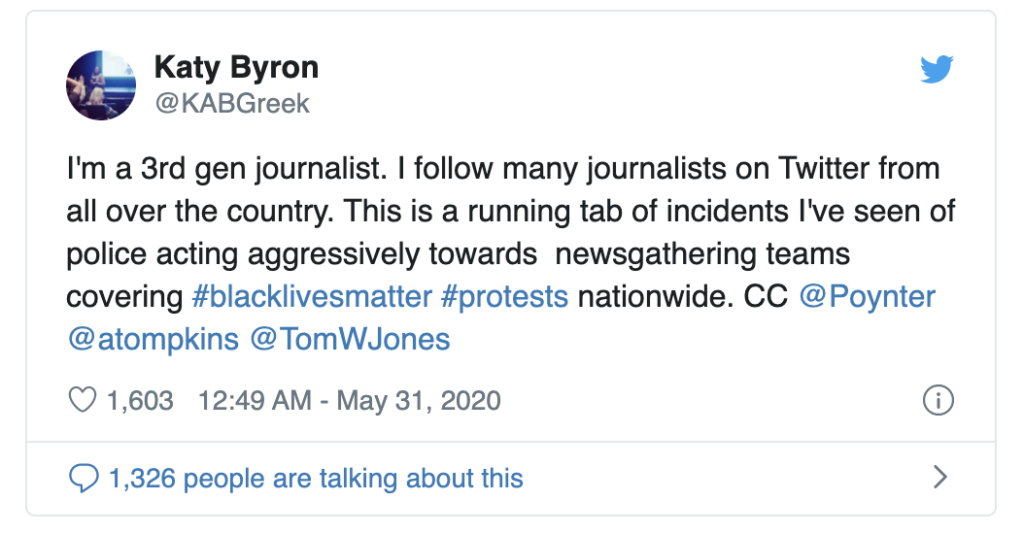 How the Press is Covering the Death of George Floyd
Jon Allsop of Columbia Journalism Review has been tracking how the press have been covering the news of George Floyd's murder by Minneapolis police and the unrest that has errupted across the nation in its wake: "Floyd's death became national news hours after his arrest, when a distressing video, documenting his abuse, circulated on social media. It's a tragically common trajectory. Recently, CJR's Alexandria Neason reflected on the deaths of Ahmaud Arbery, a Black man who was shot while out for a run in Brunswick, Georgia, and Breonna Taylor, an emergency medical technician in Louisville, Kentucky, who was killed by police officers who stormed into her home. Video (belatedly) emerged of Arbery's death, but not of Taylor's; Arbery got more play in the press. In virtually every instance of violence against Black Americans, Neason wrote, 'the stories that received the most attention were those that came with a sensational, horrible video.' Writing for The New Yorker yesterday, in response to the death of Floyd, Jelani Cobb weighed the dilemma these videos pose. 'They are the macabre documentary of current events,' he wrote, 'but the question remains about whether they do more to humanize or to objectify the unwilling figures at the center of their narratives.'"
---
HEADLINES
Christo, Artist Who Wrapped and Festooned on an Epic Scale, Dies at 84
In The New York Times, William Grimes wrote an obituary of the artist and subject of multiple documentaries by the Maysles brothers and Andrey Paounov's 2018 DOC NYC alum WALKING ON WATER: "Christo, the Bulgarian-born conceptual artist who turned to epic-scale environmental works in the late 1960s, stringing a giant curtain across a mountain pass in Colorado, wrapping the Pont Neuf in Paris and the Reichstag in Berlin and zigzagging thousands of saffron-curtained gates throughout Central Park, died on Sunday at his home in New York City. He was 84. His death was announced on his official Facebook page. No cause was specified. Christo — he used only his first name — was an artistic Pied Piper. His grand projects, often decades in the making and all of them temporary, required the cooperation of dozens, sometimes hundreds, of landowners, government officials, judges, environmental groups, local residents, engineers and workers, many of whom had little interest in art and a deep reluctance to see their lives and their surroundings disrupted by an eccentric visionary speaking in only semi-comprehensible English. Again and again, Christo prevailed, through persistence, charm and a childlike belief that eventually everyone would see things the way he did. At his side, throughout, was his wife, Jeanne-Claude, who, like her husband, used only her first name. In the mid-1990s she began sharing equal billing with him on all their projects, formalizing what the couple insisted had been their practice all along. She died in 2009."
The Documentary Impact Producer Relief Fund
Announced on the fund's website: "The Documentary Impact Producer Relief Fund will provide grants of up to $4,000 to help alleviate the acute hardships faced by freelance impact producers working anywhere in the world in this time of economic uncertainty. Freelance and sole-proprietor impact producers, especially those from under resourced and underrepresented groups, are uniquely affected by the COVID-19 pandemic which has exacerbated the spectrum of historic inequalities they face. While emergency relief resources alone cannot address long-term career stability, the intent of this fund is to ensure impact producers, who we believe are vital to the documentary ecosystem, remain financially stable enough to continue this important work. The Documentary Impact Producer Relief Fund and application process has been designed by the Global Impact Producers facilitators: Beadie Finzi (UK); Emily Wanja (Kenya); Jamie Dobie (US); Jess Search (UK); Molly Murphy (US); Sonya Childress (US); Vanessa Cuervo Forero (Colombia). The fund is being administered by Doc Society with support from Perspective Fund. As a group we are committed to equity, inclusion and respect in the development and administration of the fund. We have sought advice and best practices from colleagues in the delivery of the Relief Fund but if you have suggestions about how we could improve our process, please let us know. Fund opening June 3, 2020."
What will make Americans feel comfortable going out to the movies again?
Bilge Ebiri takes some guesses over at Vulture: "In the autumn of 1918, as the second wave of the deadly influenza epidemic that had been rampaging across the world reached the U.S., people started staying away from movie theaters. Soon, as more people got sick, local authorities would order them shuttered. In many cases, theater owners would assent to the closure with what one Boston trade organization at the time called 'cheerful compliance.' Within a few weeks, though, as the epidemic's urgency waned, owners began to get restive. They were losing money and wanted to get back to selling tickets. A few managers were arrested for defying shutdown orders. Gradually, compromises began to emerge: Sometimes theaters were able to get by with alternate-row seating or by making masks available for patrons…Of course, nobody sheltering in place in 1918 had the option of sitting at home and streaming on the sofa. Movie houses were the only place to see movies, and movies were still pretty new and among the few entertainment options available to people. ('I didn't half way begin to realize what it would mean to have no movies — until we had none,' wrote one columnist; he tried to remember what he used to do for fun before movies came along, and 'couldn't think of a thing but pitching horseshoes.') Today, even before the coronavirus pandemic closed the cinemas, big changes were under way in the industry. The traditional procession of movies through a sacrosanct 'theatrical window' — when you have to get off the sofa and go to the multiplex and buy a ticket to see it — has been under pressure from the rise of vertically integrated streaming giants trying to rush their films onto new platforms. In the wake of this pandemic, are movie theaters, having long since lost their essential place in our culture, going to become relics of the past?
Film Festival Distribution in the Age of COVID-19
The Film Collaborative's series of online discussions on film distribution continued: "If this week officially marked the beginning of Phase Two (a.k.a 'The New Normal'), it feels like we got off to a rough start, amiright? To discuss, we've officially launched Part 6 of the A Way of Life In Peril blog series now! We're thrilled to feature a full complement of savvy indie distribution experts this time, including Brian Newman of Sub-Genre, Annie Roney and Cristine Platt Dewey of ro*co films, Tim Horsburgh of Kartemquin Films, Orly Ravid of The Film Collaborative, and me, Jeffrey Winter…as we hash out the what we mean by the 'new normal' of virtual film festivals, digital exhibition, and the seemingly dangerous pitfalls that lay ahead."
Lockdown lessons: 13 UK Film Industry Leaders on Coping with COVID
Isabel Stevens and Trevor Johnston spoke film industry folks from around the UK for Sight & Sound, including Curzon Community Cinema CEO Susannah Shaw, who added: "All our efforts will be needed to stay positive and keep this cinema afloat. We can rely on our experience – this cinema has survived both wars, the Spanish Flu, the advent of VHS and DVD and even Netflix. Every time the demise of cinema is forecast, our experience shows that with ingenuity and a desire to diversify to keep our audiences interested, we can continue to pull them in. I am confident that, unless this virus flares up again, we can make it through, and by May next year we'll be seeing numbers grow. Any cinema that only has one screen to depend on has to be prepared to duck and dive and grab opportunities. I think the most vulnerable are either end of the spectrum – the huge multiplexes and the smaller independents. Cineworld has high levels of debt and others have been suffering from dwindling audiences. I have seen two small independents close down this year, before the pandemic. The art of survival has to be based on the celebration of the shared experience."
Addie Morfoot covered the launch of HBO Max for Documentary Magazine: "This year approximately 20 nonfiction one-off and series will make their debut on HBO Max. Alex Gibney, Morgan Neville, Kirby Dick and Amy Ziering are just a few veteran documentary filmmakers working with the streamer. From Gibney's Jigsaw Productions, GENERATION HUSTLE is a CNN Original 10-part doc series about the lengths young people will go for fame, fortune and power. Neville's doc about the late chef, writer and TV host Anthony Bourdain will first be released in theaters by Focus Features, depending on the state of the pandemic, and will then simultaneously air on CNN and stream on HBO Max. Dick and Ziering's ON THE RECORD marks the first festival film acquired by the streamer. About various women who have accused music mogul Russell Simmons of rape and harassment, the doc premiered at Sundance 2020 after becoming the subject of controversy when Oprah Winfrey decided to remove herself as the film's executive producer, thus leaving ON THE RECORD, which was supposed to premiere on Apple TV+, without a distributor."
Film Critic James Harvey Dead at 90
Phillip Lopate composed a loving memoriam to the playwright, essayist and critic at IndieWire: "Though his actual first name was Howard, and he signed his books 'James Harvey,' in the 20-plus years of our friendship I always knew him as Jim. In our household, my wife, daughter and I also had a nickname for him, 'The Owl,' because of the night hours he kept. I am a morning person, and sometimes the difference created tension between us, if, say, we were having dinner after a film and it was going on 10:30 and I could barely keep my eyes open. I would stand up to signal I was done and ready to leave while he was still nursing his espresso, just getting started, and he would get a wounded look in his eyes and let me know he thought I was being rude. It's true, I can be abrupt, and he was the opposite, apt to make a more gradual, mannerly leave-taking. We were both great walkers, he even more than I, but being such a passionate lover of animals he would stop to pet every dog whose path we crossed and chat with the owner, which irritated me.  Each had little habits or eccentricities we had to forgive in the other, like an old married couple. Such is the nature of enduring friendship…With the passing of that whole generation of older film critics — Pauline Kael, Andrew Sarris, Manny Farber, Richard Schickel, Stanley Cavell, and now Jim Harvey — we have lost an incalculably valuable, rich grasp of cinematic tradition. I mean something like when Kael pointed out in her barbed critique of THE GRADUATE that there is nothing new about the sexual mésalliance of a younger man and an older woman, it goes back to the silent era, or when Schickel wrote an unsurpassed biography of D.W. Griffith. I remember as a young man in my 20s, hero-worshipping Godard, when I read with incredulous shock Manny Farber discussing the (to him, younger) Jean-Luc as though he were still a work in progress and needed to mature. I now think he was right."
---
DOC BOOKS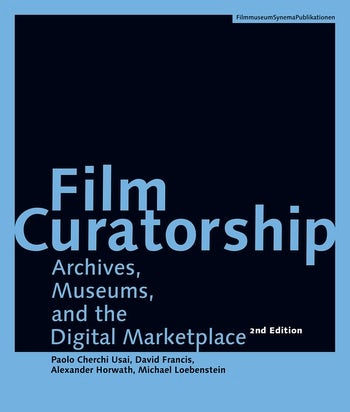 Film Curatorship: Archives, Museums, and the Digital Marketplace, second edition
By Paolo Cherchi Usai, David Francis, Alexander Horwath, and Michael Loebenstein
"What are the major issues and challenges that film archives, cinémathèques, and film museums are bound to face in the digital age and at a time when there is an expectation of access on demand? What is curatorship, and what does it imply in the context of film preservation and presentation? Is there a concept of 'cinema event' that transcends the idea of film as 'content' or 'art' in the era of information? Film Curatorship is an experiment: a collective text, a montage of dialogues, conversations, and exchanges among four professionals representing three generations of film archivists and curators. It calls for an open philosophical and ethical debate on fundamental questions the profession must come to terms with in the twenty-first century. The second edition features a new preface by the authors."
---
ON THE FESTIVAL CIRCUIT
Welcome to the New World of Festivals
In Peter Broderick's latest distribution bulletin the industry veteran examined how festival's have adapted during the COVID19 pandemic: "The Old World of Film Festivals is on hold and a New World is dawning. The pandemic has made traditional, physical festivals too dangerous. While most festivals have been postponed or canceled, some are going virtual, blazing trails others will follow. This New World offers unprecedented opportunities and major challenges. It is beginning with purely virtual festivals, which will be followed by hybrid festivals combining virtual and physical dimensions once it is safe to gather again. While some festivals will remain in the Old World, steadfastly refusing to modify their physical model, most festivals will eventually take advantage of new virtual opportunities and emigrate to the New World as hybrid festivals. Since the Venice Film Festival was launched in 1932, the physical film festival has changed very little. Films are screened for audiences in one city for a few days or weeks once a year. As physical film festivals have multiplied, some combination of tradition, standard industry windows of distribution, inertia, and an 'if it ain't broke, don't fix it' attitude has maintained the basic model for almost 90 years. Suddenly this March it was no longer possible to continue physical film festivals, and festivals were confronted with daunting challenges."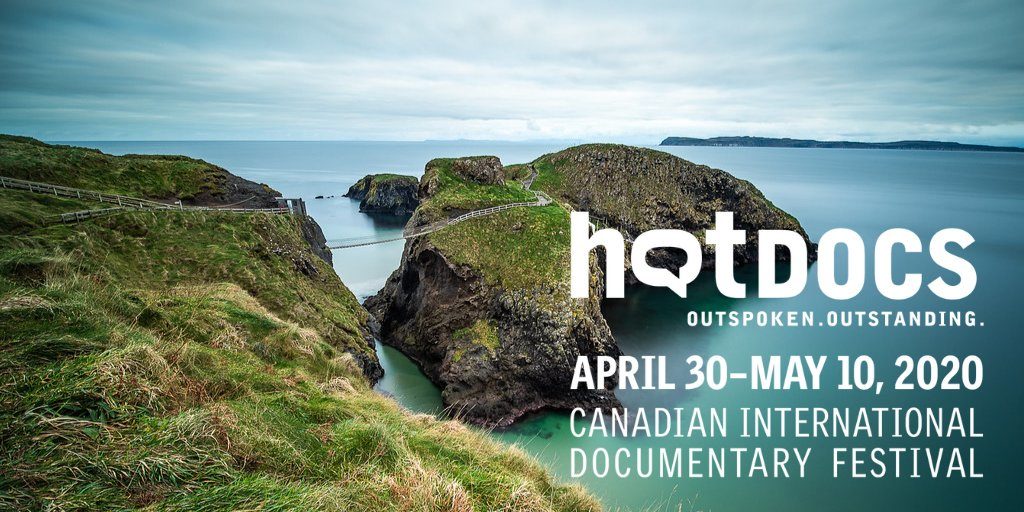 Hot Docs 2020: 10 of the Most Exciting Films in This Year's Lineup
Kate Erbland, Eric Kohn, and David Ehrlich run down their favorites for IndieWire: "Like so many of its festival brethren, this year's Hot Docs Festival has pivoted into online-only spaces, turning its (initially postponed) 2020 edition into an entirely virtual affair. But while the beloved documentary festival won't have the usual physical gathering, this year's full lineup is a robust one, with over 140 films and online events. Those titles include both world premieres unique to Hot Docs, along with some of the year's best new docs getting another platform. The festival has preserved one aspect of its existence in that not everyone will be able to access this year's lineup: The program can only be streamed by audiences in Hot Docs' native province of Ontario (through individual tickets and package deals) right here. For everyone else, we've noted other festivals and venues where these Hot Docs selections will be playing in the coming weeks. Here are 10 Hot Docs selections to get excited about right now; here's hoping they'll all find life beyond the festival."
Hot Docs 2020: Doc-Makers Discuss the Newly Virtual Programs
Lauren Wissot spoke with doc helmers for Filmmaker Magazine: "Hot Docs was one of the first of the Spring, 2020 film festivals to forge ahead through the pandemic chaos and reemerge on the online side as a more streamlined event. North America's largest doc fest took the hybrid approach of postponing public screenings while providing a Hot Docs at Home streaming option to those social distancing in Canada. It also transferred its conference and market to the digital realm. Hot Docs also expanded its industry running dates to a whopping full month (April 30-May 31) of online accessibility, uploading everything from the 'Why Art Matters in a Time of Crisis' keynote address by Kenyan filmmaker Sam Soko (director of the Sundance-premiering doc Softie), to live streamed panel discussions like 'Surviving and Thriving in the Age of COVID,' to micro-meetings and 'Close Up With…' sessions. Add to this the Hot Docs Hangouts (informal Zoom networking events) and a significant number of the Hot Docs 2020 official selections available for guests to stream through The Doc Shop, and one could almost forget that sheltering in place was supposed to be a trying thing. And business did indeed get done, including hundreds of one-on-one pitch meetings during Hot Docs Deal Maker and the Distribution Rendezvous. But beyond the impressive quantity, what quality was found through these laptop connections and transactions? To find out the answer to this question and more, Filmmaker reached out to a handful of Hot Docs participating movers and shakers and doc-makers to give us the clear-eyed scoop."
Tribeca Film Institute Suspends Operations, Enacts Small Round of Layoffs
In an exclusive at Variety, Marc Malkin and Matt Donnelly broke the news: "The Tribeca Film Institute has suspended operations and enacted a small wave of layoffs amid ongoing coronavirus havoc, insiders familiar with the decision told Variety. TFI is a non-profit devoted to funding and education aspiring filmmakers, serving as an educational outfit alongside the annual Tribeca Film Festival. Fewer than 10 people were laid off as a result, one insider said, while the remainder of the institute's staff have been placed in other jobs at parent company Tribeca Enterprises. A representative for the institute did not immediately return Variety's request for comment. Word was handed down on Monday via a memo from institute board co-chairs Robert De Niro, Jane Rosenthal and Scott Rechler. Portions of the memo were posted on social media. The trio reminded staff that the Tribeca Film Festival was born from the ashes of 9/11, and needed to be an operation that nimbly addresses urgent need in the community — primarily through financial aid, the memo said."
CINEOLA Launches Latinx Online Film Festival 
Announced via press release: "Available online June 6-12, 2020 (US only) – CINEOLA is a platform for Latin American stories, connecting audiences with diverse representations of Latinoamérica on film. Co-presented by the Bay Area Video Coalition, the festival will be available online across the US on Seed&Spark. Proceeds will benefit local San Francisco venues The Roxie and Artists' Television Access, as well as CARECEN SF, a non-profit supporting Latino, immigrant, and under-resourced families in the San Francisco Bay Area. The program includes two blocks of documentary short films showcasing filmmakers from across Latin America, representing a variety of realities from Mexico, Colombia, Ecuador, Honduras, Cuba, Venezuela and Brazil. The festival will host two live filmmaker Q&As, featuring guest moderators film writer Carlos Aguilar and Bay Area filmmaker Colin Trevorrow ('Jurassic World'). Tickets are available now at https://www.seedandspark.com/festivals/cineola/"
WELCOME TO CHECHNYA Wins at Thessaloniki Doc Festival
Announced via press release: "With 82,686 free tickets and 167 sold out screenings, the online 22nd Thessaloniki Documentary Festival successfully completed its virtual version on May 28, 2020. The shocking documentary WELCOME TO CHECHNYA by David France that won the Golden Alexander Feature Length International Competition award in the online 22nd TDF becomes automatically eligible for the Best Feature Documentary Oscar®. The film records the detentions and tortures of the LGBTQUIA+ community in Chechnya. The Academy of Motion Picture Arts and Sciences gives the opportunity to the films that win the first award in the leading documentary festivals -among them the Thessaloniki Documentary Festival- to automatically become eligible for Oscar consideration in the Documentary Feature category. The 22nd TDF concludes a cycle of actions that took place under extremely difficult circumstances. We want to thank the audience, the sponsors and the film professionals for their touching and valuable support. For the last two months you have stood by us, and embraced our actions, aiming to keep us company during these unprecedented times"
DocsBarcelona's Market Sees Its Number of Participants Triple
Alfonso Rivera reported on DocsBarcelona 2020 for Cineuropa: "The 23rd Barcelona International Documentary Film Festival, which is being held from 19-31 May and whose programme is available to watch on the Filmin platform, has seen a dramatic increase in the number of people taking part in its industry sidebar this year: there have been three times the number of participants, with 52% more financiers compared to previous editions, all going online in search of projects. The standout firms among them were Netflix, HBO, Disney, Al Jazeera, Arte, Movistar+ and NHK (Japan). The 55 financiers from 22 countries were able to get to know first hand 57 projects hailing from 24 different territories."
Telluride Film Festival Still Happening, Adds Extra Day as Safety Precaution
Marc Malkin reported for Variety on the festival's email update: "The Telluride Film Festival is still on. The 47th edition of the prestigious fest will kick off on Thursday, Sept. 3, a day earlier than the usual first Friday of the month. 'We're contacting you today to let you know we're hard at work to provide a safe and joyous environment that will include an extra day to allow more space within and between screenings, along with all of the necessary safety tweaks and adjustments you've become very familiar with, regardless of where you call home,' said a festival email sent to the media. The festival has traditionally been one of the key festivals for launching a film's awards campaign. Renée Zellweger began her road to her second Oscar with the world premiere of JUDY at last year's installment of the Telluride festival. FORD V. FERRARI and THE TWO POPES also had world premieres at the festival before becoming contenders. Known for its more casual atmosphere — there are no red carpets or photo lines at the premieres — the fest attracts about 5,000 people. The program typically includes about 20 films. Telluride's official announcement comes on the heels of the news that Venice is moving forwards with its annual plans from Sept. 2-12."
---
MISCELLANEOUS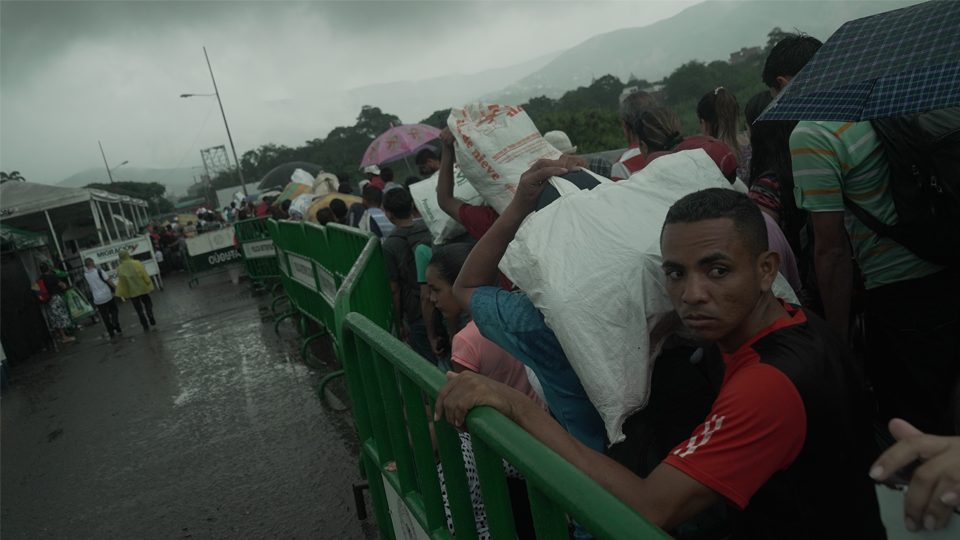 Andrew Berends Film Fellowship Announces Inaugural Fellowship Winners
Announced via press release: "In these challenging times The Andrew Berends Film Fellowship is pleased to announce the winners of its inaugural Fellowship. A total of $20,000, personal mentorships with leading filmmakers Gary Hustwit, David Sampliner, and Gretchen Hildebran, and other opportunities for career and project advancement are presented to: Braulio Jatar and Anaïs Michel for their moving depiction of Venezuelan refugees trying to rebuild their lives in CÙCUTA (working title); Angelos Rallis for his heart-rending portrait of an orphaned girl in Bangladesh searching for her birth father in MIGHTY AFRIN (working title); Tom Laffay for his stirring work about the identity and spirituality of the Siona indigenous people in Colombia in TIGRE ELÉCTRICO (working title). The Fellowship Board is proud to support these brave and ambitious filmmakers, to help them move their projects forward in a time of much uncertainty, and to see Andrew Berends' legacy embodied in their work. Additional information about the Fellows and their films can be found on the following pages."
Independent Filmmaker Project Announces 2020 IFP Week To Go Virtual
Announced via press release: "Today, the Independent Filmmaker Project (IFP) announced that the 2020 edition of IFP Week will take place virtually.  Due to the current COVID-19 pandemic the organization will adapt this year's event, utilizing digital platforms to adapt and facilitate IFP's renowned Project Forum, conferences, panels and workshops, as well as community experiences for creators, industry members and audiences. IFP Week will take place Sunday, September 20th – Friday, September 25th, 2020. The virtual 2020 IFP Week will include IFP's Project Forum, which supports both emerging and established artists by providing creative and business opportunities to groundbreaking storytellers working in a wide variety of formats.  It is the only international co-production market for narrative fiction and non-fiction features and series in the U.S. The goal of the forum is to facilitate career-spanning relationships with distributors, financiers, production companies, festival programmers, sales and talent agents, collaborators, among others for all artists participating.  In addition, IFP Week will also virtually present a multi-day conference of panels and workshops open to the public on a range of topics impacting the film and episodic industries as well as screenings, Q&As, and community focused experiences."
Westdoc Online Explores THE PAINTER AND THE THIEF with Morgan Neville, Benjamin Rees
Announced at Realscreen: "Realscreen is partnering with filmmaker and executive producer Chuck Braverman and his Westdoc Online video series, to bring his interviews with acclaimed documentarians and non-fiction content industry figures to its readership. The latest episode explores the acclaimed doc The Painter and the Thief directed by Benjamin Ree and executive produced by Academy Award-winning filmmaker Morgan Neville. The film follows the unique relationship between artist Barbora Kysilkova and Karl-Bertil Nordland, one of the thieves who stole two of her paintings from an art gallery in Oslo, as it unfolds over the span of several years. Distributed in North America by Neon, the film has just begun its theatrical run in the U.S. Three years in the making, the project first made the festival rounds via IDFA in Amsterdam and went on to claim the special jury award for world cinema documentary at Sundance."
Australian Screen Sector Task Force Release COVID-Safe Guidelines 
Announced via press release: "COVID-19 has presented a novel and unprecedented health and safety challenge to all industries and workplaces. There has been global disruption to industries, as governments have imposed restrictions under biosecurity, public health and emergency management laws in an effort to prevent outbreaks of COVID-19. The strict limitations which have been imposed on the number of people who may be present in indoor and outdoor gatherings, physical distancing requirements and disruptions to the supply chain, have resulted in many screen productions coming to a halt…These Guidelines have been developed by an Australian Screen Sector Task Force and are intended to provide support and assistance to all practitioners (from screen producers to individual workers) in the Australian screen production industry in returning and recommencing productions in order to eliminate and minimise the risks associated with exposure of personnel to COVID-19 while working on a production."
---
NEW RELEASES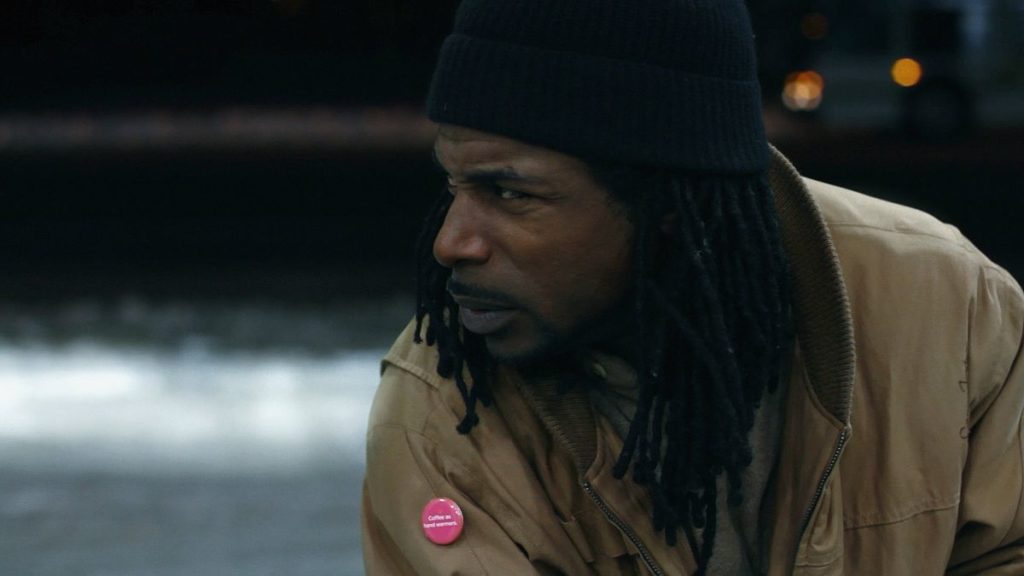 STREET FIGHTING MEN
Glenn Kenny at

The New York Times
JEFFREY EPSTEIN: FILTHY RICH
Lili Loofbourow at Slate

Sophie Gilbert at The Atlantic

Daniel Fienberg at The Hollywood Reporter
ON THE RECORD
Addie Morfoot at Documentary Magazine

Angelica Jade Bastién at Vulture

Doreen St. Félix at The New Yorker
---
DOC NYC ALUMNI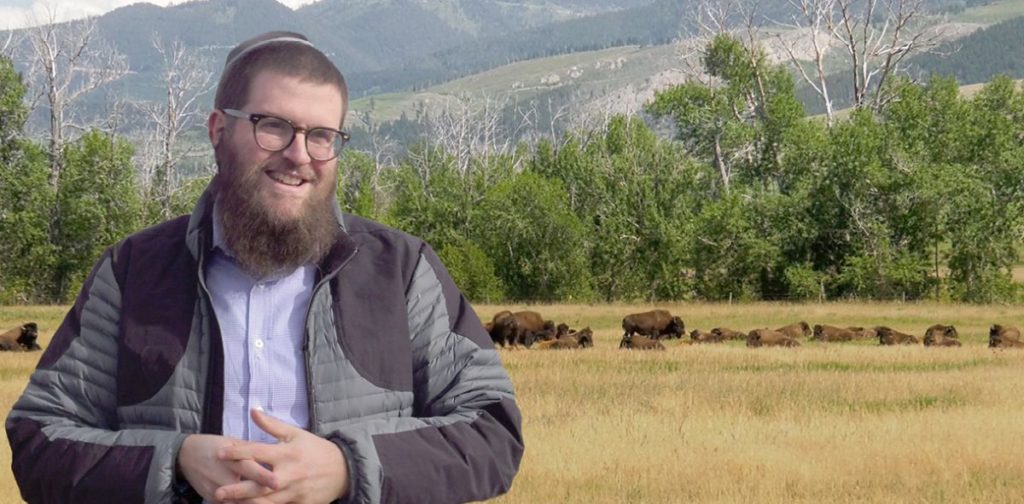 Gerald Peary & Amy Geller's THE RABBI GOES WEST
2019 DOC NYC American Perspectives
Is having a special 12-day online screening until June 4th via Vimeo on Demand.
D.W. Young's THE BOOKSELLERS
DOC NYC PRO – Only In New York
Will be released on VOD services on June 5th.
Rachel Leah Jones and Philippe Bellaïche's ADVOCATE
2019 DOC NYC Winner's Circle
Will be released on DVD/VOD via Film Movement on June 9th.
Maya Newell's IN MY BLOOD IT RUNS
2019 DOC NYC International Perspective
Will be released via virtual cinemas on June 12th.
Joy E. Reed and Dan Hunt's LITTLE MISS WESTIE
2018 DOC NYC Modern Family
Will receive its primetime premiere via America ReFramed on June 16th.
Rob Garver's WHAT SHE SAID: THE ART OF PAULINE KAEL
2018 DOC NYC Behind The Scenes
Will be released on Blu-ray/DVD via Juno Films on June 16th\.
---
FEATURED STREAMING DOC SHORT
Directed by Bentley Brown
"Working underground before the legalization of cinema in Saudi Arabia, a team of mostly women makes its first feature film, their accounts woven into a singular narration. In the spirit of first films, a filmmaker documents the production with his video camera from childhood."
---
FUND THIS PROJECT
Crowdfunding has become an integral means of raising capital for documentary filmmakers around the globe. Each week we feature a promising new project that needs your help to cross that critical crowdfunding finish line.
This week's project:
Directed by Joerg Steineck
Funding Goal: $42,199