Monday Memo: DOC NYC Documentary New Leaders, IDA, Gotham & Grierson Awards, Festival Circuit Rundown
November 16, 2020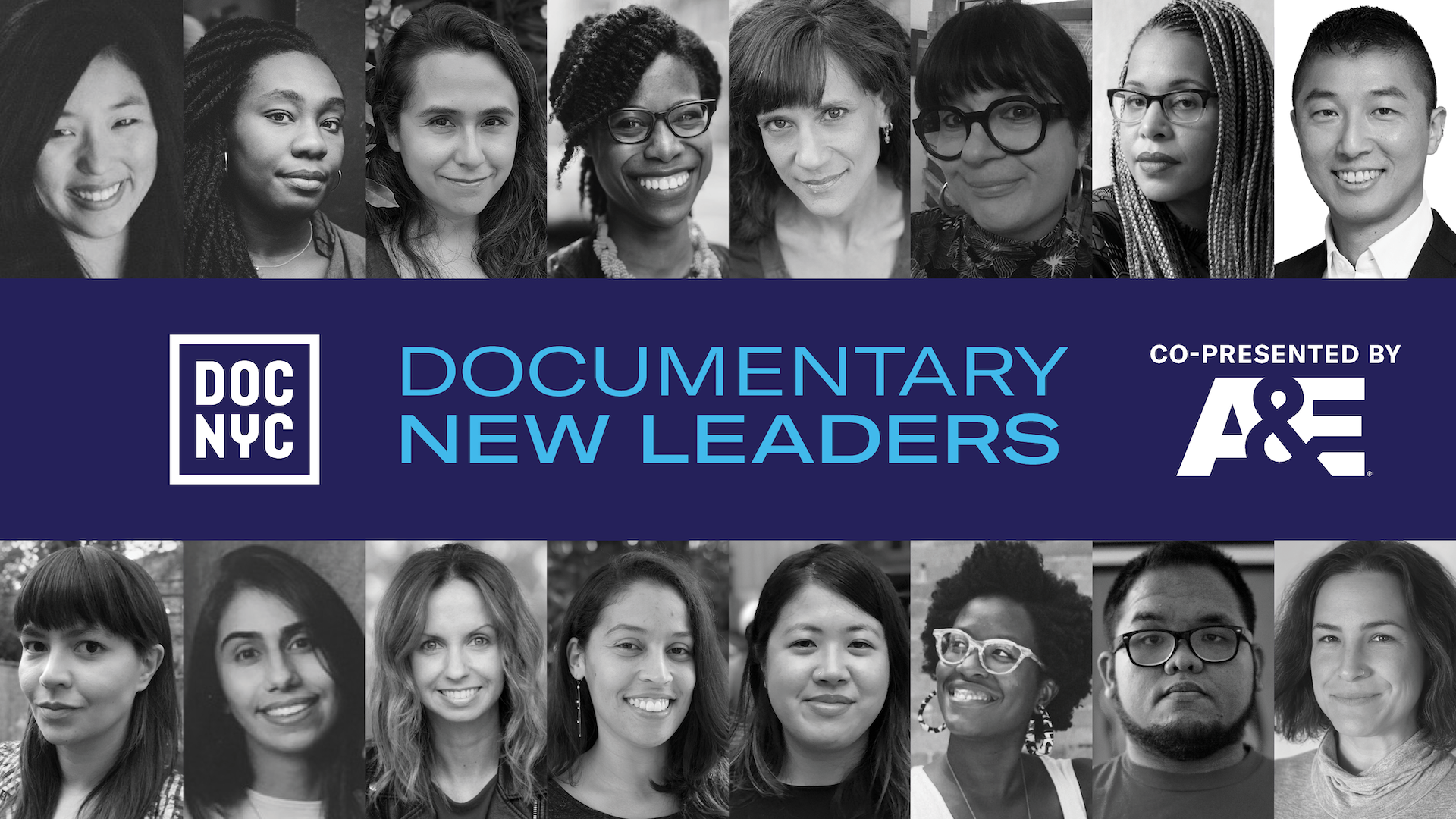 I hope that, like me, you've been lavishing in the wealth of docs on offer from this year's edition of DOC NYC (which continues through Thursday this week)! Today the festival announces its inaugural list of Documentary New Leaders (see below), while Filmmaker Magazine and others shared some of their favorites of the fest thus far. Also in this week's memo: IDA Award Honorees, Gotham Award Nominees, Grierson Award winners, a whole host of festival circuit news, and more! Things are looking sketchy out there, so stay at home, catch up on doc news and enjoy the remainder of DOC NYC!
– Jordan M. Smith
---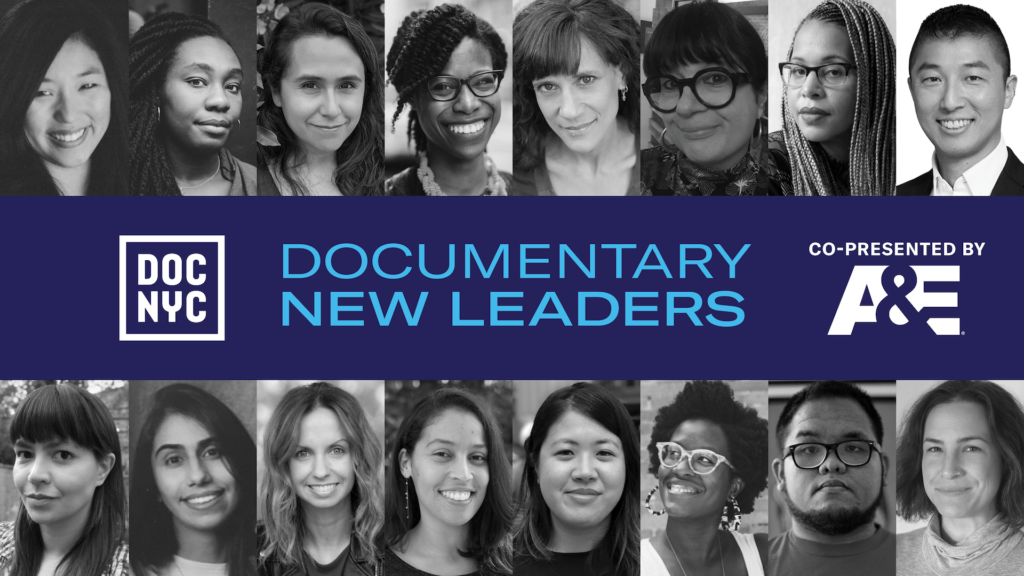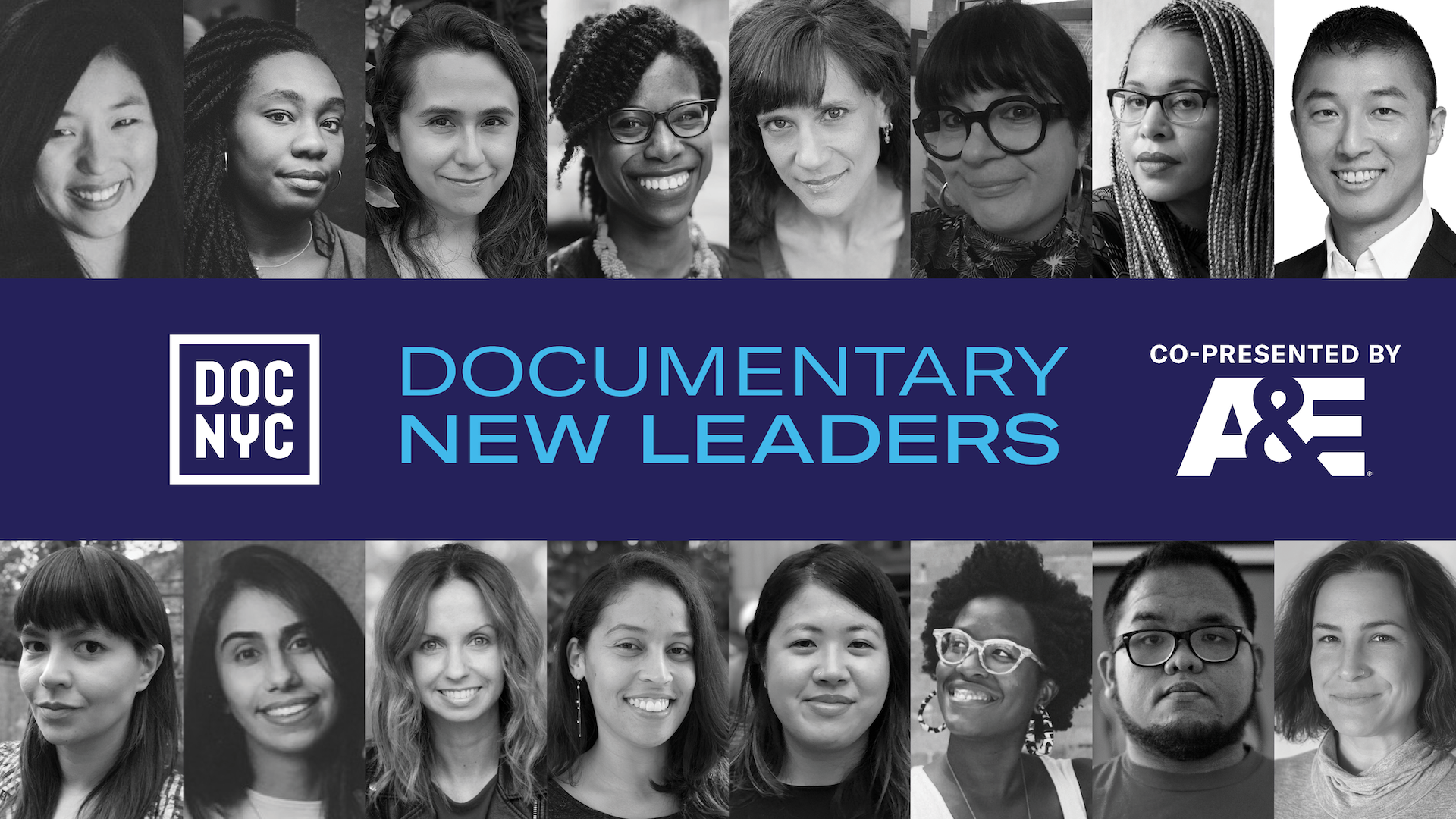 HEADLINES
DOC NYC Announces Inaugural List of Documentary New Leaders
DOC NYC announced its inaugural list of Documentary New Leaders, a new initiative to honor individuals whose efforts and fresh thinking on distribution, sales, festivals, and marketing bring greater inclusion and equity to the field. The initiative is co-presented by A&E. The selection process began with an open call for submissions. Nearly 100 candidates were reviewed by a six-person selection committee comprised of key members of the festival's programming, industry and operations teams. Over the next year, the New Leaders program will host monthly gatherings for the honorees, offering a forum for mentorship, camaraderie, collaboration, and organizing. The list of 16 recipients draws from eight U.S. cities and covers a wide range of experience, from grassroots organizing to non-profit grantmaking to international distribution and beyond. While several honorees are filmmakers, this program highlights their leadership in roles that shape industry practices and culture.
---
Sponsored Post
DOC NYC presents virtual screenings of I AM GRETA through November 19
Conversation with Nathan Grossman moderated by Thom Powers to follow
Click Here for Tickets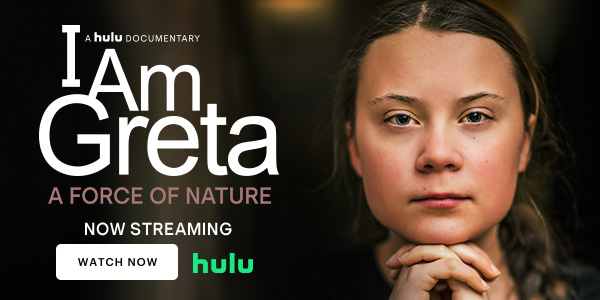 ---
IDA Announces 36th Annual IDA Documentary Awards Honorees
Announced via press release: "The International Documentary Association (IDA) has announced the 36th Annual IDA Documentary Awards honorary awards recipients. The shortlists for Best Feature and Best Short categories were released in late October. The nominees for all categories will be revealed on Tuesday, November 24. The 2020 Awards will be presented in a digital ceremony in January 2021. This year's IDA Documentary Awards honorees are: Primetime Emmy®-winning and Academy Award®-nominated filmmaker Sam Pollard (MLK/FBI, Four Little Girls, When the Levees Broke: A Requiem in Four Acts) with the Career Achievement Award; Filmmaker Garrett Bradley (Time) with the Emerging Documentary Filmmaker Award; Emmy® and Peabody Award-winning, Academy Award®-nominated Producer Regina K. Scully with the Amicus Award; Firelight Media, which produces documentary films, supports emerging filmmakers of color and cultivates audiences for their work, with the Pioneer Award; Courage Under Fire Award goes to David France and the film team behind Welcome to Chechnya and activists David Isteev (The Russian LGBT Network) and Olga Baranova (Moscow Community Center for LGBT+ Initiatives); Journalist Maria Ressa and the Filipino news network Rappler with the Truth to Power Award featured in A Thousand Cuts by Ramona S. Diaz"
Nominations Announced for 30th IFP Gotham Awards
Announced via press release: "The Independent Filmmaker Project (IFP), the nation's premier member organization of independent storytellers, announced today the nominees for the 30th Annual IFP Gotham Awards. Eleven competitive awards will be presented to independent features and series. The IFP Gotham Awards is one of the leading awards for independent film and signals the kick-off to the film awards season. As the first major awards ceremony of the season, the IFP Gotham Awards provide critical early recognition and media attention to worthy independent films. The awards are also unique for their ability to assist in catapulting award recipients prominently into national awards season attention…Forty-one films and series received nominations this year. Nominees are selected by committees of film critics, journalists, festival programmers, and film curators. Separate juries of writers, directors, actors, producers, editors and others directly involved in making films will determine the final IFP Gotham Award recipients. The IFP Gotham Awards ceremony will be held on Monday, January 11th."
2020 Grierson Documentary Award Winners Revealed
Daniele Alcinii reported the award winners: "James Lebrecht and Nicole Newnham's Crip Camp, Rachel Harvie's Suicidal: In Our Own Words and Rob Coldstream's three-part docuseries Jade: The Reality Star Who Changed Britain are among the winners of the Grierson Trust's 48th annual British Documentary Awards. The Grierson Awards celebrate the best in documentary filmmaking and were this yearwere presented on YouTube and hosted by comedian and actor Sara Pascoe. UK pubcasters BBC and Channel 4 took four of the 14 prizes available, with commercial broadcaster ITV, Netflix and Channel 5 picking up one win apiece. The remaining three winners were made up of festival and theatrical screenings. Taking home the hardware in the Best Single Documentary – International category was Lebrecht and Newnham's Netflix film Crip Camp (pictured), which tells the story of a 1970s ramshackle summer camp for disabled teenagers. The 106-minute film was also highly commended in the Best Historical Documentary category."
---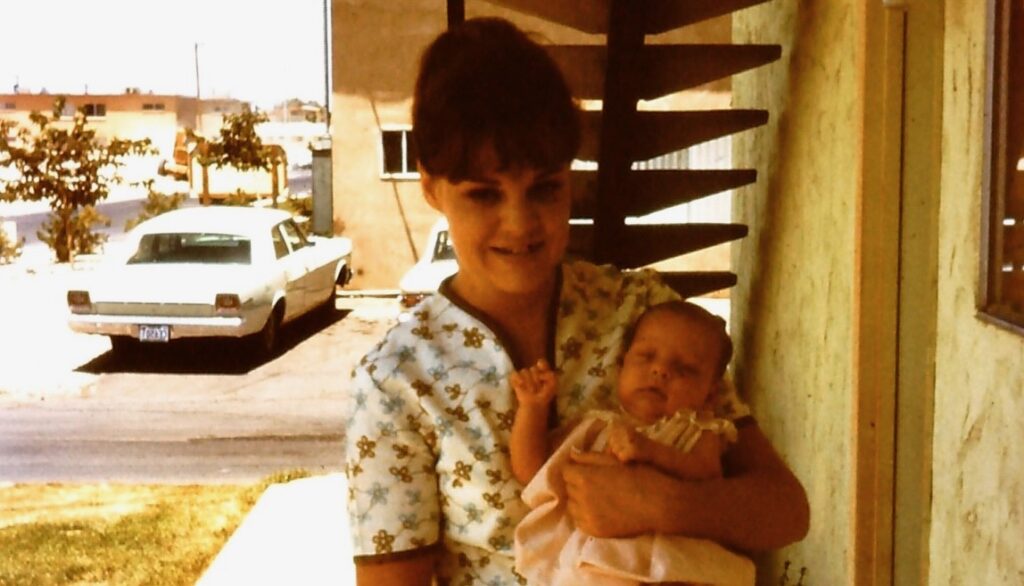 TOP COVERAGE OF DOC NYC
From Filmmaker Magazine: Five WTF Must-Sees at the 2020 DOC NYC Festival
Lauren Wissot shares some recommendations in Filmmaker Magazine: "If there's one thing we can all agree on in these polarized times it's that 2020 will inevitably go down in history as one WTF year. And since I generally tend to adore batshit insane films — and especially batshit insane cinematic nonfiction — I was pleased to discover a wealth of WTF treasure buried inside this year's (a bit overwhelming at 108 features and 92 shorts!) virtual DOC NYC lineup, which begins today. So in honor of this global topsy-turvy moment, here's just a handful of my favorite gems that, humbly and with little fanfare, screwed with my mind in all sorts of exciting and unanticipated ways."
From Indiewire: 11 Must-See New Documentaries You Can Stream at Home This Week
Picks include A La Calle, A Cops and Robbers Story, Derek DelGaudio's In & Of Itself, Dope is Death, Duty Free, 40 Years a Prisoner, Francesco, Jacinta, Moments Like This Never Last, and Wojnarowicz. Eric Kohn singled out theThe Meaning of Hitler for a full review: "Time has a tendency to flatten history's darkest chapters, reducing panic and persecution to footnotes and caricature. So it goes with Adolf Hitler, whose outsized image as a cartoon villain often obscures the horrifying endurance of Nazi ideology today. "The Meaning of Hitler" sets the record straight. A bracing blend of historical inquiry and cinematic soul-searching, directors Petra Epperlein and Michael Tucker's eerie and insightful essay film burrows into the nexus of Hitler's mythology in a remarkable attempt to determine whether it makes more sense to understand its resilience or tune it out."
From CBS News: 15 recommended highlights
Picks include: 76 Days, 9/11 Kids, Big vs Small, Blue Code of Silence, Duty Free, Jacinta, The Jump, Lessons of Love, The Meaning of Hitler, Moments Like This Never Last, Neither Confirm Nor Deny, 'Til Kingdom Come, Tiny Tim: King for a Day, and The Viewing Booth. Correspondent David Morgan writes on the film Ronnie's: "There is joy from the first downbeat on the soundtrack of this vibrant portrait of British tenor sax player Ronnie Scott, who co-founded the pre-eminent jazz club in London that bore his name. Opening in the late 1950s, it became a stage for legions of jazz stars, including scores of American bebop artists. But Scott's life off-stage was sadly darker, with mental health issues, a botched medical procedure, and financial constraints that squelched the bliss he experienced from playing jazz. Archive footage, interviews and performances by the likes of Dizzy Gillespie, Buddy Rich, Oscar Peterson, Sonny Rollins, Chet Baker and Ella Fitzgerald bring London's Soho and the jazz scene of the '50s, '60s and '70s to vivid, poignant life."
From Forbes: Best Films About Artists
Picks include Bare, Crock of Gold: A Few Rounds with Shane MacGowan, Crutch, Kenny Scharf: When Worlds Collide, No Ordinary Man, Ronnie's, and Wojnarowicz. Contributor Nadja Sayej writes about Zappa: "Directed by Alex Winter, the actor known for starring in Bill and Ted's Excellent Adventure, this film follows the iconic musician Frank Zappa, who defied all musical categories. A mishmash of free jazz, experimental, comedy, classical and spoken word, he was a pioneer at pushing the boundaries in contemporary music (much like Sun Ra). Zappa set up his own record label, reclaiming his freedom from corporate record labels, and doing whatever he wanted. Winter has dug deep into the Zappa film and TV archive to pull together a comprehensive story of a musician we should never forget. It isn't all old footage, however. There are iconic interviews with his family, including his wife Gail Zappa, who passed away in 2015, and his fellow bandmates, like Steve Vai, who truly understood his vision. The magic is in the editing."
From Criterion Cast: Ten Films to see at DOC NYC 2020
Picks include: El Father Plays Himself, 9/11 Kids, Red Heaven, 76 Days, American Rapstar, Ronnie's, Down a Dark Stairwell, Universe, and Finding Yingying. Contributor Joshua Brunsting writes on Two Gods: "And speaking of the one of a kind films playing this year's festival, the best of the bunch might be the latest film from director Zeshawn Ali. Entitled Two Gods, the film introduces viewers to a casket maker in Newark, NJ, and the two young men who spend their time training under his guidance. At once a relatively straight forward experiential documentary, Two Gods becomes singular not only in its subject matter but through its form, with Ali breathing a brooding, almost dream-like atmosphere into the film through his use of black and white photography. Pairing that with a film that's as interested in the growth of is characters as it is their relationship to the notion of death as percieved through the Muslim faith. A film about life, death and more specifically one's faith when faced with those two ideas, Two Gods is a beautiful, deeply empathetic piece of storytelling that takes a ground-level look at our relationship with the biggest ideas in our lives. A masterpiece just waiting to be discovered."
From Pop Matters: Best Picks for the DOC NYC Film Festival 2020
Picks include: 9 to 5: The Story of a Movement; 76 Days; Blue Code of Silence; Collective; Crazy, Not Insane; Finding Yingying; Hamtramck, USA; Influence; Kings of Capitol Hill, The Meaning of Hitler; MLK/FBI; My Psychedelic Love Story; Summerwar; and Television Event. Contributor Chris Barsanti writes that "Finding Yingying is a true-crime story with an unusual amount of heart. Yingying Zhang was a Chinese student who had only been attending the University of Illinois at Urbana-Champaign for several weeks when she went missing. Interspersed with snippets from her diary, the documentary shows her family's determined attempts to find out what happened. Shi pieces together the fragmented story with confidence, letting the family's wrenching agony fill the space left by YingYing's disappearance until the final section begins to deliver answers. This film is evocative of both the sting of cultural dislocation and the eerie ease with which lives can vanish in wide open American spaces."
---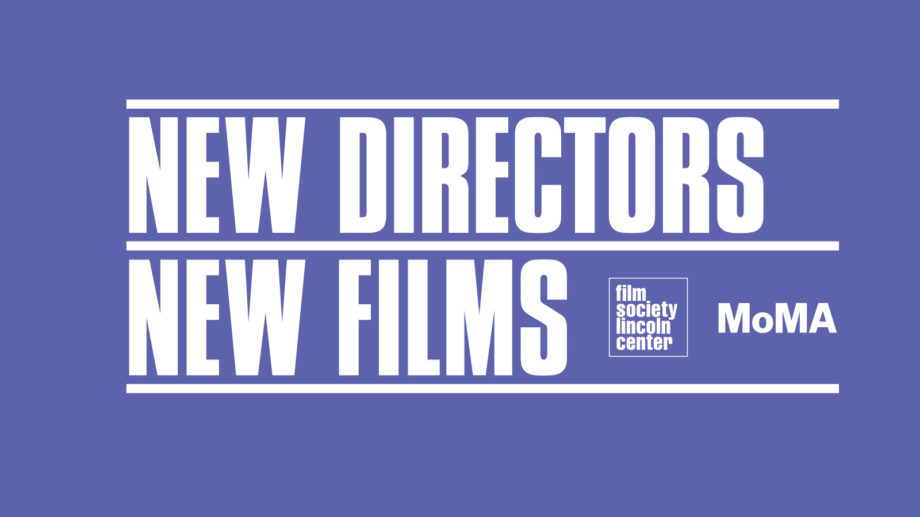 ON THE FESTIVAL CIRCUIT
New Directors/New Films Rescheduled for December 9-20
Announced via press release: "Film at Lincoln Center and The Museum of Modern Art announce the return of the 49th annual New Directors/New Films (ND/NF), rescheduled from March for December 9-20. Throughout its rich, nearly half-century history, the festival has celebrated filmmakers who represent the present and anticipate the future of cinema, and whose daring work pushes the envelope in unexpected ways. This year's festival will introduce 24 features and 10 shorts virtually to audiences nationwide, with films scheduled over the course of 12 days and screening exclusively in the FLC Virtual Cinema. La Frances Hui, Curator of Film at The Museum of Modern Art and 2020 New Directors/New Films Co-Chair, expands upon this year's ND/NF delay: 'The year 2020 has been one of tremendous upheaval and loss. The COVID-19 pandemic has darkened our theaters—for now—but we are more in touch and in love with cinema than ever before. We are excited to take our festival virtual and celebrate this class of new directors who embody the innovative and nimble spirit essential for reinvigoration.'"
Torino Film Festival Announces Its Online Program
Vittoria Scarpa reported at Cineuropa: "A selection consisting of 133 films, including 64 feature films, 52 world premieres and 16 international premieres, a jury populated entirely by women and a specific focus on emerging talent (with 29 debut works jostling among the feature films): these are the defining features of the 38th Torino Film Festival, the first to be directed by Stefano Francia di Celle and also the first (and hopefully the last) to unfold entirely online between 20 and 28 November, courtesy of Covid, via the online streaming platform MyMovies."
Extended International Film Festival Rotterdam Edition Announced
Announced via press release: "Our 50th-anniversary edition will take place in an extended format in 2021. We will celebrate the festival in two parts – 1 to 7 February and 2 to 6 June – connected by a series of events in between. IFFR 2021 will be a hybrid festival that adapts to the current crisis and continues to offer an exciting programme for local and (inter)national audiences, as well as industry professionals. In light of the current Covid-19 situation in the Netherlands and the continuing global health crisis, we made the decision to reimagine and expand our 50th edition. The festival will comprise two distinct parts, to be presented first in February and then June, and will be connected by a series of physical and online events in between. We will work with this hybrid model throughout, to ensure the possibility of safe, socially distanced gatherings or the full festival experience for those unable or deciding not to travel to Rotterdam."
At What (not) To Doc, Basil Tsiokos previews this year's offerings: "Montreal's well-regarded nonfiction event takes a creative approach to presenting its online lineup, highlighting a different collection of thematic sections in each of its three weeks, including a total of approx 50 feature docs – a sampling noted below."
7 Films to See at Art of the Real 2020
Joshua Brunsting shared some recommendations at CriterionCast: "Now in its seventh edition, Film At Lincoln Center's annual festival of nonfiction and hybrid filmmaking, The Art Of The Real, is finally set to return after being delayed due to the ongoing COVID-19 pandemic. Now scheduled for November 13-26, the festival is now going entirely online, yet the quality hasn't taken a hit despite the delay. Bringing together the latest and greatest in films that attempt to change what we cinephiles see as "the cinema of the real," this series is routinely one of the most interesting festivals running. And to help you make your way through the lineup, here are seven of the best films that Art of the Real 2020 has to offer."

Getting Real '20 Documentary Conference: An Attendee Reflects
Reveca Torres reflected in on the IDA blog: "When I think about going to a conference, I imagine arriving at a nice hotel downtown in a trendy city. I've traveled a couple hours to get there and packed my suitcase with business-casual clothing that will look good but will be comfortable enough to withstand the too-hot or too-cold hotel ballrooms or meeting rooms. There will be continental breakfasts and carefully planned-out lunches where you can meet other attendees and exchange business cards. Not in 2020! I attended my first conference in yoga pants and a t-shirt with snacks and a coffee mug on my desk, a cat and dog, and stretch breaks whenever I wanted. Part of my program as a 2020 Documentary Magazine Editorial Fellow was to attend the Getting Real '20 conference, cover some of the sessions, network and learn from others."
Hot Docs Awards CA$300K in Grants to 18 Films
Jillian Morgan covered the story at Realscreen: "Hot Docs has awarded 18 film projects with over CA$300,000 (US$229,743) from four different funds. Seven Canadian music documentary projects will receive a total of $127,500 in the first round of funding from the new Hot Docs-Slaight Family Fund, established in the spring of 2020. Selected from 97 applications, four of the films are from Ontario, two are from British Columbia and one is from Quebec. Projects to receive development funds include Sam Pollard's Fight The Power; Stephen Dunn's I Never Follow The Rules; and Sean O'Neill's Untitled Mary Margaret O'Hara Project."
---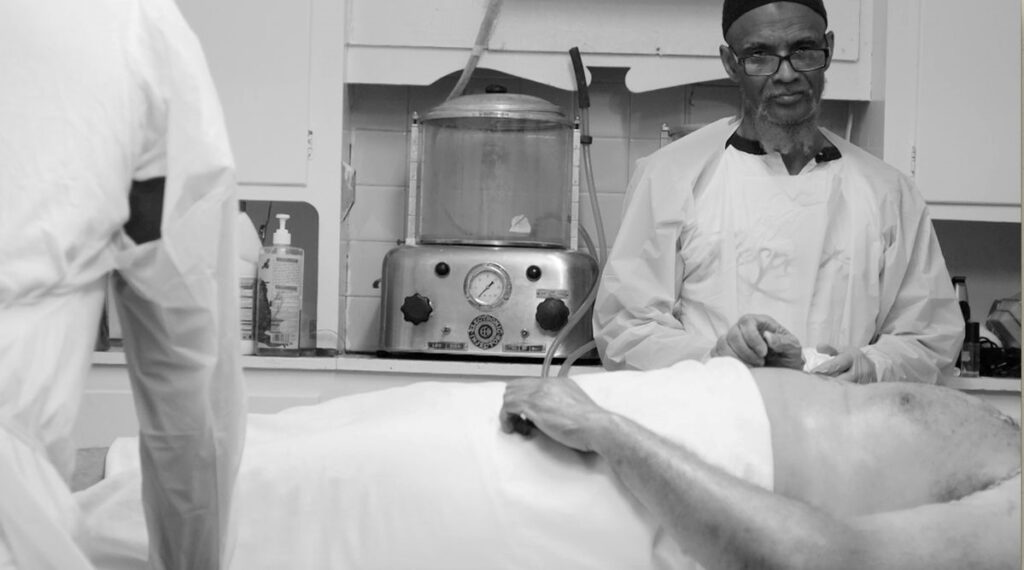 MISCELLANEOUS
The Feedback: Zeshawn Ali's 'Two Gods'
Tom White interviewed the filmmaker at Documentary Magazine: "Director Zeshawn Ali and producer Aman Ali premiered their first feature-length documentary Two Gods at Hot Docs in June in the midst of a global pandemic and a swath of uprisings for racial justice. The film takes you to Newark, New Jersey, where Hanif, a Muslim casket-maker and ritual body-washer, finds purpose and spiritual grounding in his work. He transforms that purpose into mentoring younger men in the community, specifically his son, as well as two other charges, Naz and Furquan. Together they learn from each other about life and life's lessons and what the future may hold. Two Gods screened as a work-in-progress at IDA's DocuClub NY in March 2019. We caught up with Zeshawn Ali via email as he and Aman Ali were readying themselves for screenings at DOC NYC (November 11-19) and New Orleans Film Festival (November 6-22), and Zeshawn shared insights about the beauty of black-and-white cinematography, the collaborative process with his protagonists, and the filmmakers' experience on the digital festival circuit."
Andrew Berends Film Fellowship Now Accepting Applications
Announced via press release: "We are now accepting applications for the second year of the Andrew Berends Film Fellowship…Submissions will be accepted until Jan 5, 2021. Andrew Berends was a courageous and talented filmmaker who sought out stories in places which the mainstream media ignored. He shone a light on communities, people, and children facing unimaginable hardships. He traveled, shot, edited, and promoted his work with intense fervor and dedication. The Andrew Berends Film Fellowship was born out of the desire of Andy's family, friends, and colleagues to keep his memory alive and active in the world of documentary where he himself thrived. The mission of this fellowship is to support emerging filmmakers from all walks of life that embody Andy's spirit and determination, with a focus on sharing unheard stories. We hope that the Fellowship experience will help Fellows make a shift in their careers to the next level of success and artistic fulfillment."

---
NEW RELEASES
Fireball: Visitors from Darker Worlds
Available via Apple+
Daniel Oberhaus at Wired
– Fireball Is Werner Herzog's Ode to Space Rocks
Dustin Nelson at Thrillist
– Werner Herzog Goes Globetrotting for Meteorites in His New Apple TV+ Doc Fireball
Glenn Kenny at The New York Times
– Fireball: Visitors From Darker Worlds Review: It's Raining Mysteries
Available via Hulu
David Marchese at The New York Times
– Greta Thunberg Hears Your Excuses. She Is Not Impressed.
Alissa Wilkinson at Vox
– I Am Greta is an intimate, vulnerable documentary about the teen behind the headlines
Christopher Campbell at Nonfics
– I Am Greta Presents the Political Pageantry of a Young Climate Change Activist
Transhood
Available via HBO
Jude Dry at IndieWire
– Transhood Review: Tender Documentary About Trans Kids Tugs the Heartstrings
Kyle Turner at The New York Times
– Transhood Review: Five Years Pass as Transgender Kids Grow Up
Robyn Bahr at The Hollywood Reporter
– Transhood: TV Review
The Reagans
Available via Showtime
Mike Hale at The New York Times
– The Reagans Review: Making America Great Again, Round 1
Charles Bramesco at The Guardian
– 'They created a false image': how the Reagans fooled America
Inkoo Kang at The Hollywood Reporter
– The Reagans: TV Review
Coded Bias
Available via Virtual Cinemas
Sidney Fussell at Wired
– This Film Examines the Biases in the Code That Runs Our Lives
KC Ifeanyi at Fast Company
– The Coded Bias documentary is An Inconvenient Truth for Big Tech algorithms
Nick Allen at RogerEbert.com
– Reviews: Coded Bias
Murder on Middle Beach
Available via HBO
Nick Schager at The Daily Beast
– A Connecticut Mom Was Slaughtered. Everyone Was a Suspect
Danielle Turchiano at Variety
– Murder on Middle Beach Filmmaker Madison Hamburg Opens Up About Investigating His Mother's Death for HBO Docuseries
Katie Rife at A.V. Club
– Tragedy doesn't hit much closer to home than in Murder On Middle Beach
---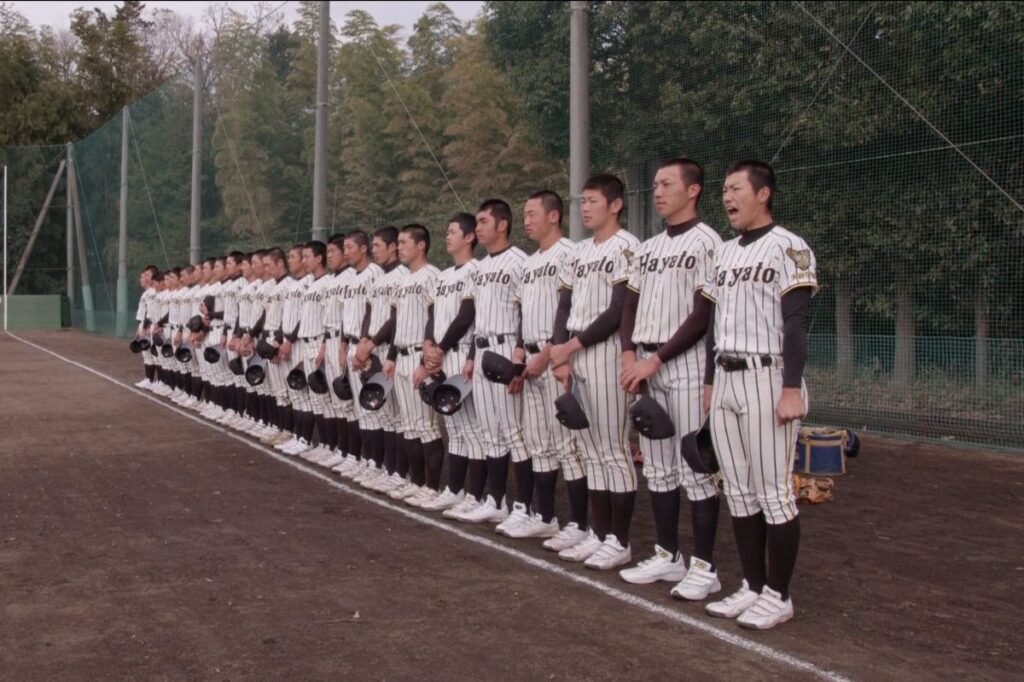 DOC NYC ALUMNI
Deborah Shaffer & Rachel Reichman's Queen of Hearts: Audrey Flack
2019 DOC NYC Art + Design
Will be released via virtual cinemas tomorrow.

Scott Barber & Adam Sweeney's The Orange Years: The Nickelodeon Story
2018 DOC NYC Behind The Scenes
Will be released on Blu-ray & DVD via Gravitas Ventures on November 17th.

Ema Ryan Yamazaki's Koshien: Japan's Field of Dreams
2019 DOC NYC International Perspectives
Will be released via virtual cinemas on November 20th.

Hunter Robert Baker & Jordan Fein's The Blessing
2018 DOC NYC American Perspectives
Will be broadcast on The WORLD Channel on November 24th.

Scott Crawford's Creem: America's Only Rock 'n' Roll Magazine
2019 DOC NYC Sonic Cinema
Will be released on DVD via Greenwich Entertainment on November 24th.

Adam Bolt's Human Nature
2019 DOC NYC Investigations
Will be released on DVD via PBS on December 1st.
---
FEATURED STREAMING DOC SHORT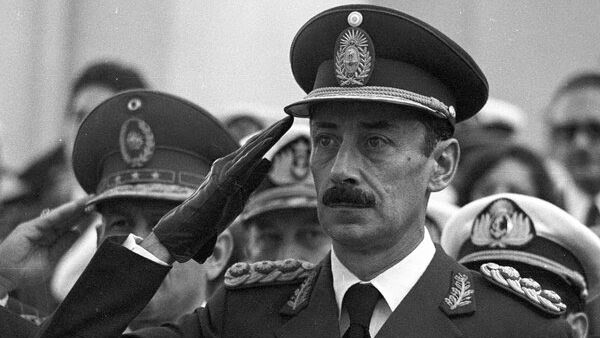 Directed by Sean Mattison
"What to do when your neighbors have carried out crimes against humanity."
---
FUND THIS PROJECT
Crowdfunding has become an integral means of raising capital for documentary filmmakers around the globe. Each week we feature a promising new project that needs your help to cross that critical crowdfunding finish line.
This week's project:
Did I Choose My Trauma?
Directed by Yemi Penn
Goal: $109,053