Monday Memo: Justine Nagan to Exit AmDoc, Nanfu Wang Awarded MacArthur 'Genius' Grant, AFI Fest & DOK Leipzig Lineups Unveiled
October 12, 2020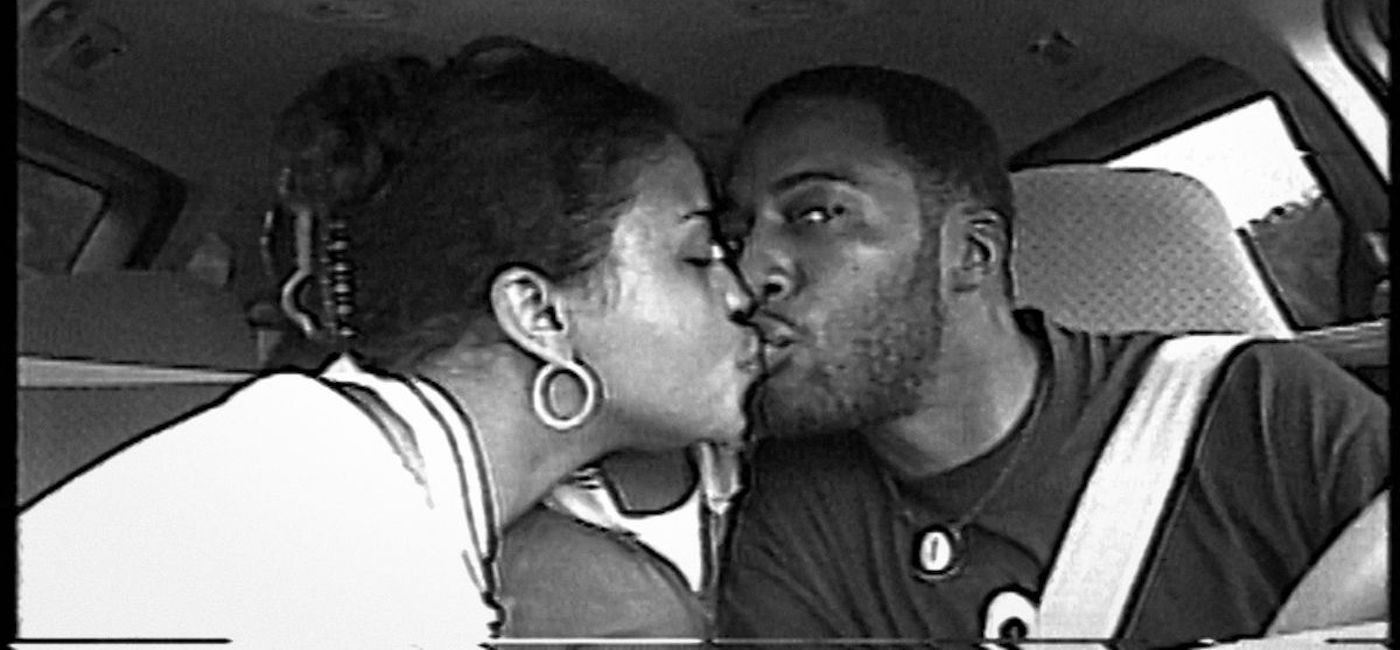 With the announcement that Justine Nagan will be leaving her post as Executive Director of American Documentary, there will be some big shoes to fill come spring of 2021. According to reports, the search for her replacement is already underway. Speaking of future leaders in the documentary field, DOC NYC revealed a its New Leaders initiative. Another person making big moves this week was Nanfu Wang, who was awarded a coveted MacArthur 'Genius' grant for her bold work over the last few years. Plus, PBS is turning 50, UnionDocs published its fourth volume of World Records, AFI Fest and DOK Leipzig both revealed their lineups and Garrett Bradley's deeply moving Time is now out in select theaters (and soon to be on Amazon Prime). I'll be out of town next week, so DOC NYC's Artistic Director Thom Powers will be filling in. Until my return, keep safe.
– Jordan M. Smith
---
HEADLINES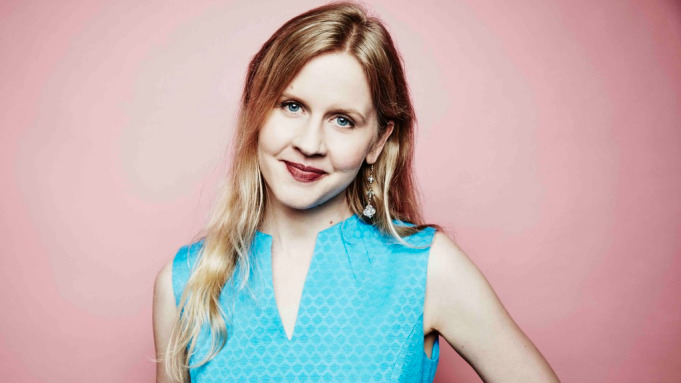 Nellie Andreeva had the exclusive at Deadline: "Justine Nagan is stepping down as the executive director of American Documentary, Inc. She will leave the company in spring 2021. A search is underway for her replacement. Nagan, an Emmy- and Peabody-winning producer, joined AmDoc as executive director in 2015 and has served as an executive producer for PBS' POV, the longest-running independent documentary series on television, and America ReFramed (with World Channel in partnership with WGBH). She oversaw the premieres of nearly 100 projects including POV's first episodic co-production, the docuseries And She Could Be Next, directed by Grace Lee and Marjan Safinia and executive produced by Ava DuVernay; and Minding the Gap, directed by Bing Liu and produced by Diane Quon. Nagan also launched POV Shorts in 2018, one of the first PBS series dedicated to short-form documentaries."
The latest issue of UnionDocs' World Records Journal, now live, asks: "How can Arendt's writings help us rethink the role of documentary in visualizing and producing common worlds? This issue of World Records explores this question, putting Arendt's work into counterpoint with documentary media and cultures."
Sponsored Post
Barry Walsh published an extended tribute to the outlet at Realscreen: "In October of 1970, PBS began broadcasting as a network, with Julia Child's The French Chef as its first series. As the years progressed, more defining series and strands joined the roster, as did a growing number of member stations: 'Masterpiece Theatre' from WGBH in 1971; Bill Moyers' Journal and WNET's 'Great Performances' in 1972; science strand 'NOVA' in 1975; The MacNeil/Lehrer Report in 1976; Carl Sagan's Cosmos in 1980; natural history strand 'Nature' from WNET in 1982; award-winning current affairs strand 'Frontline' from WGBH in 1983; WGBH's 'American Experience', television's most-watched history series, and documentary strand 'P.O.V.' in 1988; and independent doc strand 'Independent Lens' in 1999 are just some of the highlights. Each project would be a jewel in any network's crown — 'Frontline' alone has snared a whopping 89 Emmy awards and 20 Peabody awards."
Announced via press release: "Nanfu Wang is a documentary filmmaker creating intimate character studies that examine the impact of authoritarian governance, corruption, and lack of accountability on the lives of individuals. The MacArthur Fellowship is a $625,000, no-strings-attached grant for individuals who have shown exceptional creativity in their work and the promise to do more."
---
DOC NYC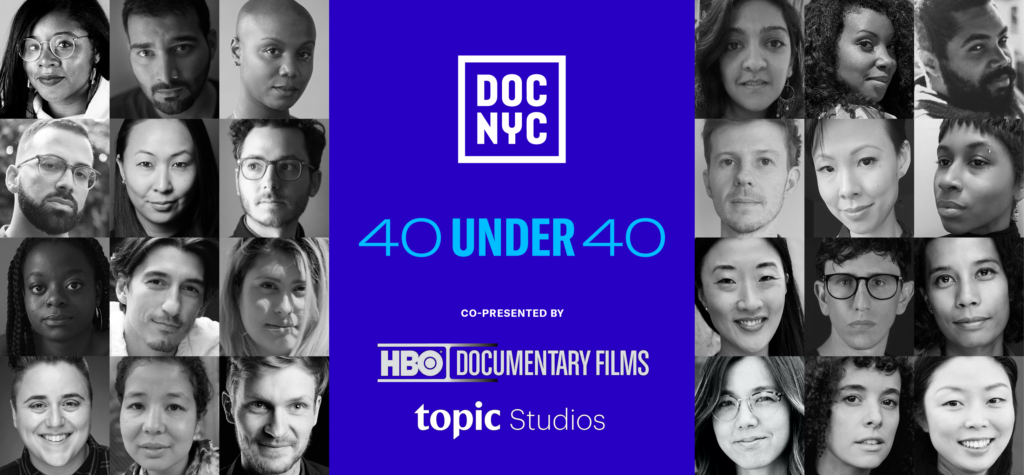 DOC NYC, America's largest documentary festival, announced the honorees for its third annual "40 Under 40" list celebrating young talent. The festival also announced the line-up for its fourth annual "Only In New York" section of work-in-progress documentaries. All the filmmakers selected for "40 Under 40" and "Only In New York" are eligible to participate in one-on-one meetings with documentary funders, agents, distributors, and other industry leaders. They also receive free access to over 35 hours of DOC NYC PRO webinars covering topics such as funding, distribution, and editing. The festival's 11th edition will take place online November 11-19, with public screenings streaming across the US and industry meetings and webinars available around the world.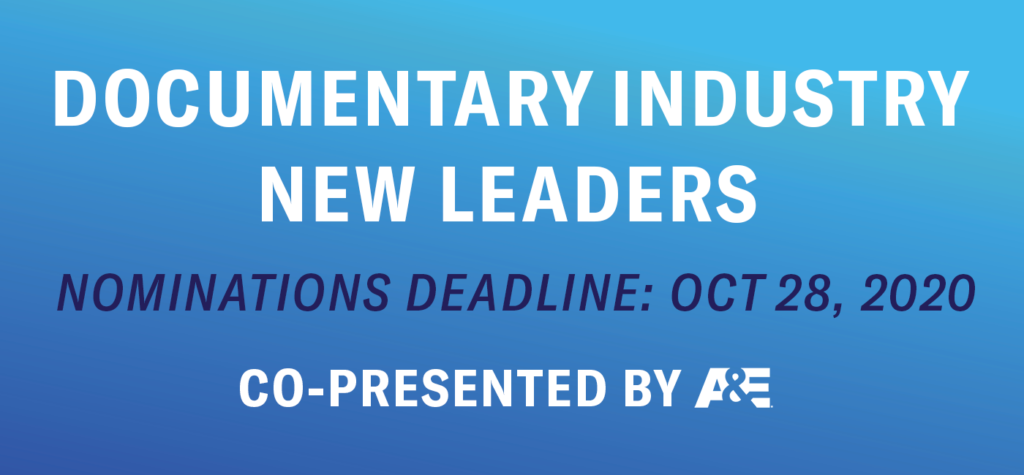 In this new initiative for 2020, DOC NYC will honor 10 figures in the documentary industry whose efforts and fresh thinking on distribution, sales, festivals, and marketing bring greater inclusion and equity to the field. The initiative is co-presented by A&E Network. The honorees will represent a range of work experience. Following an open call for nominations and applications, DOC NYC's senior programming team will review applications and nominations to recognize the accomplishments of rising talents who have created positive change in the documentary industry, as well as their potential for future impact. DOC NYC will announce the 10 New Leaders during the 2020 festival. Over the coming year, the festival will hold intermittent private online gatherings of the New Leaders where they can discuss their challenges, opportunities and hopes for change. During these meetings, DOC NYC will bring in industry mentors to share leadership insights and create sessions for the New Leaders to hold frank conversations. DOC NYC will also create connections between the New Leaders and other sectors of the festival including "40 Under 40" honorees, "Only In New York" works-in-progress and filmmakers in official selection to foster networking. Further perks for the honorees include a complimentary All-Access pass to DOC NYC PRO events happening throughout the year online. When the festival returns to an in person event, the New Leaders class of 2020 will be invited to participate for in-person activities and meetings.
The nominations and applications deadline is 6pm ET on Wednesday, October 28.
---
ON THE FESTIVAL CIRCUIT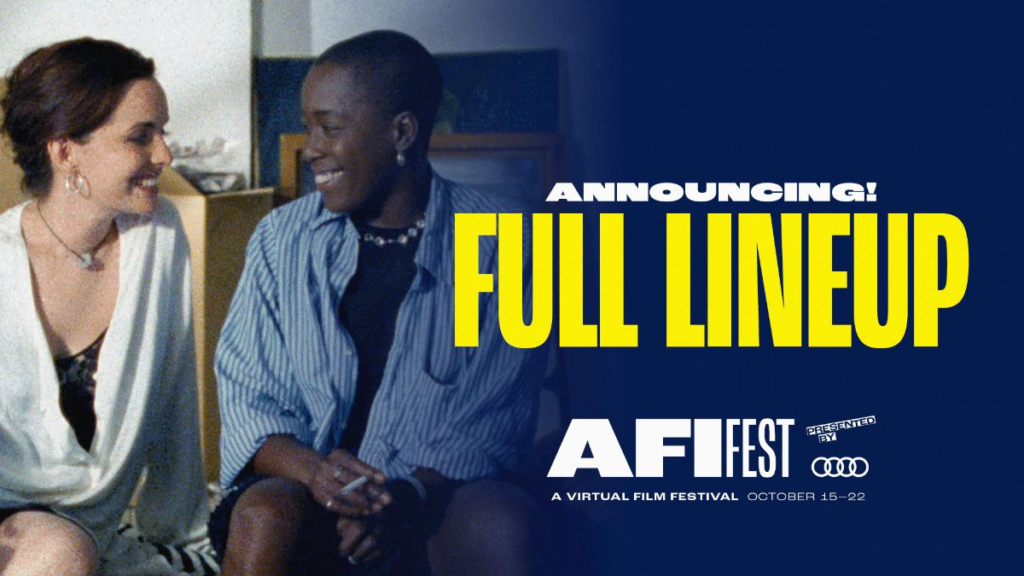 Announced via press release: "AFI is thrilled to announce the full lineup for this year's virtual AFI Fest presented by Audi! The festival features 124 titles – 53% are directed by women, 39% are directed by BIPOC and 17% are directed by LBGTQ+. This year's reimagined virtual festival runs online Oct. 15-22. The newly announced films will play in the World Cinema, New Auteurs, Documentary, Cinema's Legacy, Short Film Competition, Meet the Press Film Festival at AFI FEST and the AFI Conservatory Showcase sections at FEST. The Grand Jury Award winners for Live Action and Animated Short will be eligible for the 2021 Best Live Action Short and Best Animated Short Academy Awards®. Short Film Competition Jurors this year are film critic Carlos Aguilar, filmmaker Sophia Nahli Allison and Film Festival Alliance Executive Director Lela Meadow-Conner."
Will Tizard shared the story at Variety: "The debut of Russian rock 'n' roll saga "Tsoi," based on the life of the iconic rebel singer-songwriter Viktor Tsoi, who died in 1990, has triggered a rights dispute with the performer's heirs over the use of his name and image. The Warsaw Film Festival is scheduled to screen "Tsoi" in its international competition on Oct. 15, but Sophia Mikulinski, who represents the heirs and family of Viktor Tsoi, says a screening would be in 'direct violation of the [copyright] law applicable on the territory of the European Union.' An Oct. 1 letter seen by Variety, addressed to the Warsaw Film Festival from Alexander Tsoi, the rock star's son and heir, demanded that the fest cancel its screening, stating the film was 'created without obtaining legally binding consents to use the name and image of the famous musician.' Warsaw plans to screen the film regardless of the dispute, says fest director Stefan Laudyn. 'Not everyone was always happy with the films we have been showing at the Warsaw Film Festival,' he said."
Announced via press release: "International competitions and Camera Lucida section with world premieres by Ada Ushpiz, Shelly Silver, Boris Gerrets and Thunska Pansittivorakul | Live film talks on all full-length films in the International Competition The films in the International Competitions have been finalised. The same goes for the new Camera Lucida section with unconventional films that are not in competition. This completes the programme of DOK Leipzig. This year the festival will show a total of 150 films and XR works, including 43 world premieres, 11 international, 7 European and 36 German premieres."
Vladan Petkovic spoke with Terhechte for Cineuropa: "I think the decision we made to have the festival in cinemas and at the same time not to invite guests from outside Leipzig was the right decision. When coming from most countries to Germany, you have to quarantine, so it simply wouldn't be feasible. In crafting this concept, it was important for us to connect the online and in-cinema aspects. So we came up with the idea of online screenings of films that happen in parallel with those in cinemas, and the Q&As after the films where visitors in cinemas and online audiences can participate together. Live Q&As will only be held for the films in the feature-length competition. The filmmakers will be present on the screen and will discuss the film with the audience."
---
MISCELLANOUS

Announced via press release: "For the closing months of 2020, DAFilms is happy to present interconnected retrospectives on three of the most significant of all American filmmakers, each a genuine maverick of non-fiction filmmaking both in their own region and across the globe. This is Chasing Independence: Three Pioneers, Three Continents. You can watch the first part, featuring a boutique selection of some of the towering masterpieces of the great Jonas Mekas, already. What connects Lithuanian-born Mekas, who spearheaded a revolution in experimental filmmaking in New York in the 1960s and 1970s at Anthology Film Archives, with Alanis Obomsawin, whose independent documentaries stand among the most pivotal and world-changing in Canadian history? And what joins both of them with the great Luis Ospina, the indisputable king of the Colombian filmmaking movement "Caliwood"? Though their styles vary greatly — intimate and diaristic, bombastic and unclassifiable, unwaveringly committed and politically focused — they each saw their individual works as mere parts of an on-going, even lifetime project. Their cinema pushed at the boundaries of genre and form just as much as their way of making them revolutionised the spaces, institutions, and resources that let other filmmakers follow in their path."
Ben Kenigsberg recommends the work of Frederick Wiseman in The New York Times: "The documentarian Frederick Wiseman is, in any medium, one of the great chroniclers of American institutions: His films have immersed us in hospitals and schools; his travels have brought him to locations as sprawling as the Panama Canal Zone and as compact as an Austin boxing gym. Even at age 90, after more than 50 years of filmmaking, he hasn't run out of subjects: His latest film, the Boston-set "City Hall," opens in virtual cinemas on Oct. 28. Most of his documentaries can be streamed on Kanopy, a service available through some libraries and universities. But for those who don't have that access, this month there is a special opportunity to see his film "Public Housing," first shown in 1997. Anthology Film Archives in New York is streaming it through Nov. 3 as part of a series on housing rights."
Susan Yin shared tips from filmmakers at Documentary Magazine: "Although the documentary form can take shape in reenactment, animation or other mediums, storytelling through participant interviews continues to command the craft. On the last day of Getting Real '20, filmmaker Sonia Kennebeck (National Bird) was joined by fellow talents Chase Joynt (Framing Agnes), Sophia Nahli Allison (A Love Song For Latasha), Esery Mondesir (Una Sola Sangre), and Elan and Jonathan Bogarín (306 Hollywood) to illuminate how trust and personal connection between creators and protagonists are keys to expanding the cinematic voice."
Bessie Rubinstein interviewed Johnson for MUBI's Notebook: "When I spoke to Kirsten Johnson ahead of the release of her documentary Dick Johnson Is Dead, Dick, her father, wasn't. I'm unsure if that's true now; talking to Johnson, I realized that although the film depicts a conscious, mobile Dick Johnson, happy to lend himself to his daughter's camera as a subject, he is not, in the film, the opposite of dead. He's watching his personhood ebb and flow in preparation for death; sometimes he is able to watch it happening, but mostly not. He is at the whim of his dementia, and thus at the whim of the present moment. For Johnson, a documentarian whose films have often been zeitgeist-oriented, the process of "making meaning," as she puts her work as a cinematographer-cum-director, takes on further levels of simultaneity here. Dick Johnson, a career psychiatrist, makes meaning from his daughter's efforts to make meaning, acting in scenes designed to engage him with his own reality rather than just depict it for us."
Pamela B. Rutledge examines the film in Psychology Today: "There are a lot of smart people interviewed in The Social Dilemma. Many were part of the crowd that developed the technology and processes they are currently eschewing. Many of the arguments are solid but incomplete. The research is cherry-picked, correlations are presented as causal, and—my personal peccadillo as a psychologist—the word addiction is used liberally without regard for diagnostic criteria. The film does, however, push a lot of emotional buttons and activate a powerful mental model equating social media use with the stigma of 'mental illness.' By the time you hear all the experts, you lose sight of where the responsibility should lie and what voices might be missing. You're firmly in OMG-land. It's sort of ironic to be psychologically manipulated by a piece of media warning you about the psychological manipulation of other media. Here are some of the ways The Social Dilemma used your brain to get the job done."
Clayton Davis outlined the contenders in Variety: "With the election less than a month away, many films may become contingent on the outcome of Biden versus Trump. "All In: The Fight for Democracy" and "Boys State" are early favorites while "Dick Johnson is Dead" gives a welcoming balance to a devastating subject. Expect many more films to begin to fill this space over the next few weeks."
Alissa Wilkinson made her recommendations at Vox: "Even in the best of years, great nonfiction films seem to have trouble breaking through the noise generated by their buzzier, star-studded fiction cousins. But documentaries come in every flavor and genre. And at a time when reality seems almost too hard to believe, they can have the effect of focusing our attention, by telling us what to look at and reminding us that the world is still out there, heartbreaking and beautiful. The documentary boom of recent years means there are more nonfiction films than ever to pay attention to. And this year, at the (mostly virtual) fall film festivals, they took many forms worth watching. So here are 11 documentaries that premiered on the festival circuit to look out for in the months ahead, and how to watch them."
---
NEW RELEASES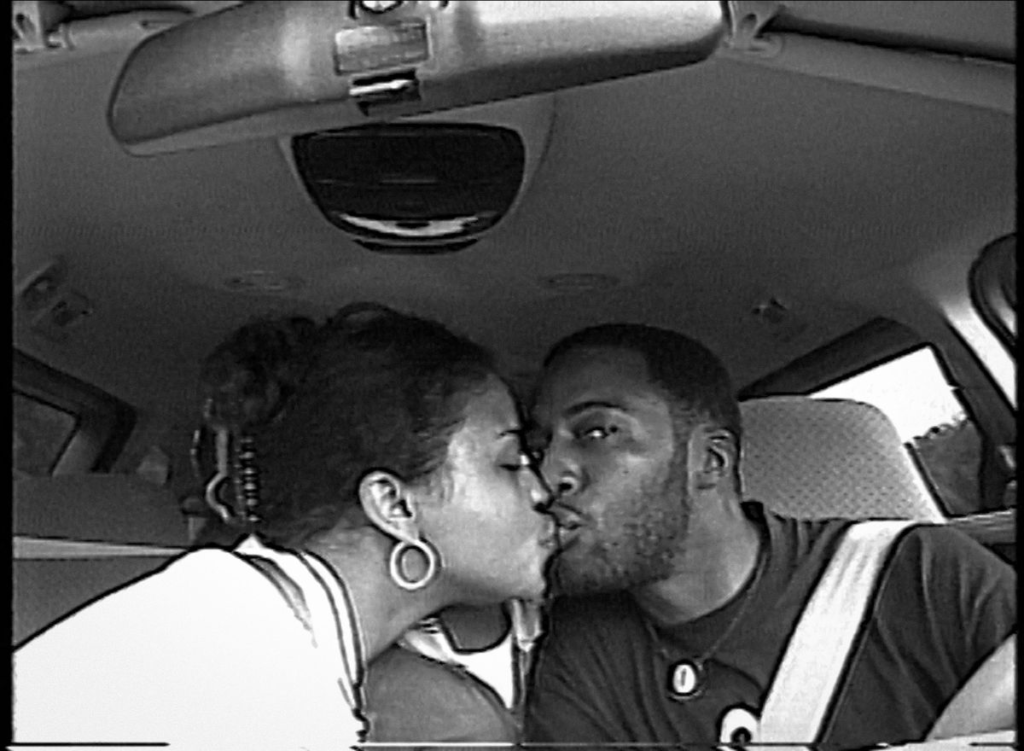 Time
Available in Select Theaters (on Amazon Prime Oct. 23)
Totally Under Control
Available in Select Theaters (on Hulu Oct 20th)
Siempre, Luis
The Comedy Store
Latino Vote: Dispatches from the Battleground
---
DOC NYC ALUMNI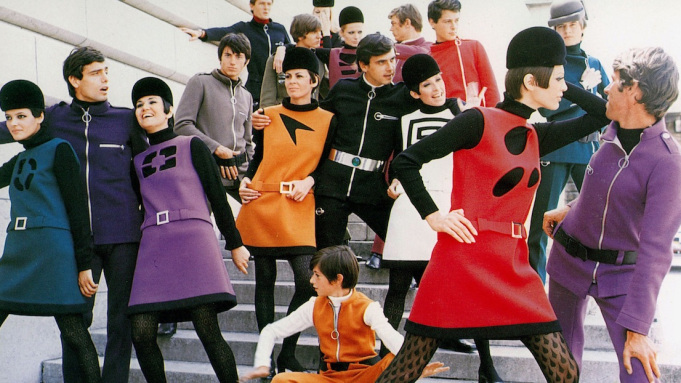 Todd Hughes and P. David Ebersole's House of Cardin 2019 DOC NYC Art + Design Will be released on DVD via Altered Innocence on October 13th.
Melody Gilbert's Silicone Soul
2018 DOC NYC True Love Will be released on DVD via Passion River on October 13th.
Sarah Colt and Josh Gleason's The Disrupted (formerly American Dreams) 2017 DOC NYC Only In New York program Will be released on VOD on October 13th.
Patricio Guzmán's The Cordillera of Dreams
2019 DOC NYC Masters Will be released via OVID.tv on October 16th.
Yung Chang's This Is Not A Movie 2019 DOC NYC Portraits Will be released online via Anthology Film Archives on October 16th.
Yi Chen's First Vote 2019 DOC NYC Only In New York project Will be broadcast on TV via America ReFramed on October 19th.
---
FEATURED STREAMING DOC SHORT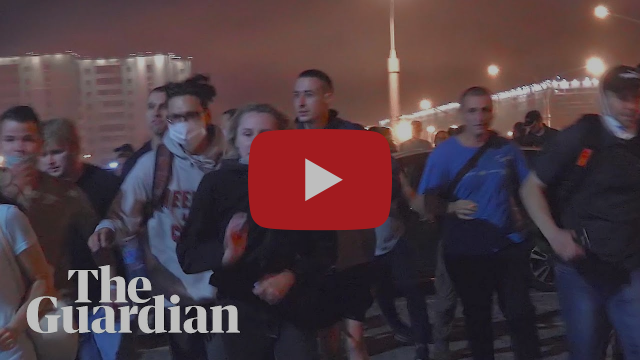 "Mass protests erupted across Belarus following the widely disputed election that put President Alexander Lukashenko back in office for a sixth term. Three Belarusian filmmakers have documented the lives those caught up in the ongoing political strife."
---
FUND THIS PROJECT
Crowdfunding has become an integral means of raising capital for documentary filmmakers around the globe. Each week we feature a promising new project that needs your help to cross that critical crowdfunding finish line. This week's project: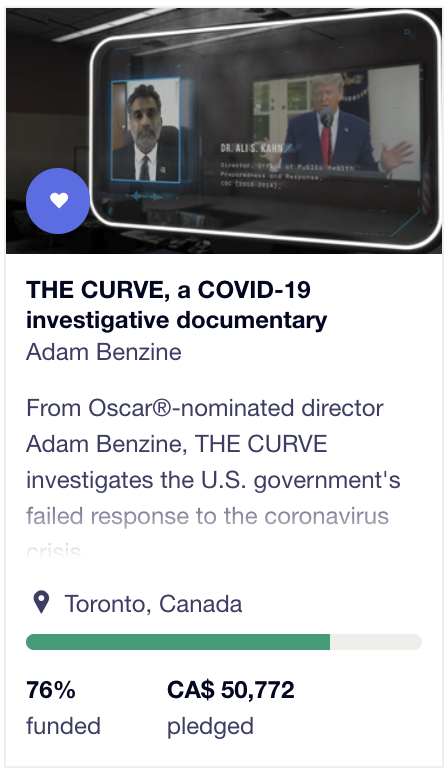 Directed by Adam Benzine
Goal: $50,311