DOC NYC PRO is an 8-day conference, featuring documentary panels and master classes, including an expanded initiative to support works-in-progress with a section called "Only in New York." Running concurrently with DOC NYC, PRO offers more than just panels. Organizations participating in the PRO conference include A&E IndieFilms, Amazon Studios, Discovery, Firelight Media, Ford Foundation | JustFilms, HBO Documentary Films, Impact Partners, Kickstarter, Netflix, Showtime Documentary Films, and more. The PRO conference will take place concurrently with the festival on November 8 – 15. DOC NYC PRO is co-presented by Amazon Studios.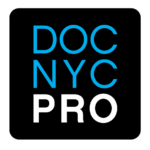 DOC NYC PRO panels are available for selection by these badge holders: ALL ACCESS, DOC NYC PRO Gold Pass, DOC NYC PRO Silver Pass. To buy a pass click here.
FULL DOC NYC PRO PANEL LINEUP BELOW.
Have s specific area of interest? Browse by panel themes at these links:
DOC NYC PRO: THE STATE OF DOCUMENTARY
DOC NYC PRO: FIRST-TIME FILMMAKER
DOC NYC PRO: THE SHORT LIST
DOC NYC PRO: SERIES FOCUS
DOC NYC PRO: MASTERING YOUR CRAFT: EDITING
DOC NYC PRO: SHOWCASES
DOC NYC PRO: MASTERING YOUR CRAFT: CINEMATOGRAPHY
DOC NYC PRO: AMERICAN SNAPSHOTS
DOC NYC PRO: PITCH PERFECT & IF/THEN AMERICAN SHORTS NORTHEAST
DOC NYC PRO: SHORT FORM STYLINGS
DOC NYC PRO: SMART PRODUCING
DOC NYC PRO: POST-PRODUCTION SECRETS
DOC NYC PRO: SHOW ME THE MONEY
DOC NYC PRO: EVERYTHING ARCHIVAL
DOC NYC PRO: MAKE YOUR CAREER
DOC NYC PRO: DOC LAW SCHOOL
DOC NYC PRO is co-presented by Amazon Studios
THURSDAY NOVEMBER 8
THE STATE OF DOCUMENTARY
Filmmakers, distributors and industry executives lead conversations examining the documentary world from artistic, business and financial perspectives and discuss how to succeed in today's landscape.
FIRST-TIME FILMMAKER
Immerse yourself in panel discussions providing specific, in-depth and enlightening studies for emerging documentary filmmakers.
11/08 SCHEDULE
BREAKFAST 9:00AM-10:00AM
MORNING MANIFESTO 10:00AM-10:25AM
Filmmaker Dawn Porter (Bobby Kennedy For President) shares her thoughts on the current state of documentary filmmaking. *Open to all passholders on first-come basis.
A DOC STYLE GUIDE 10:30AM-11:40 AM
Amir Bar-Lev (Long Strange Trip), Shola Lynch (Free Angela and All Political Prisoners), Marilyn Ness (Charm City) and Marina Zenovich (Robin Williams: Come Inside My Mind) go in depth to discuss ways to merge style and content seamlessly.
DIG DEEP: DOC STORYTELLING 10:45AM-11:55AM
Susan Froemke (Rancher, Farmer, Fisherman), Vanessa Gould (Obit.), Nancy Schwartzman (Roll Red Roll) and Marco Williams (Crafting An Echo) discuss building the foundation of exemplary storytelling.
WHO OWNS THE STORY? 12:00PM-1:10PM
Nanfu Wang (I Am Another You), Tracy Droz Tragos (The Smartest Kids in the World), Vanessa Roth (Daughters of Destiny) and others explore the issues of complicated filmmaker/subject relationships and storytelling ownership.
SILVER LININGS (DOC) PLAYBOOK 12:15PM-1:25PM
Elan Bogarin (306 Hollywood), Daniel Patrick Carbone (Phantom Cowboys), Madeleine Sackler (It's A Hard Truth, Ain't It) and others provide tips for taking daunting situations and turning them into cinematic gold.
THE FUTURE OF FUNDING 2:00PM-3:10PM
What is the road map for funding a documentary? Maxyne Franklin (Doc Society), Tracie Holder (Grit), Erika Cohn (The Judge) and others discuss the ins and outs of financing your film, analyzing specific examples from recent films and looking ahead to what's on the horizon.
DISTRIBUTION DEMYSTIFIED 2:15PM-3:25PM
Distributors and executives Jim Browne (Argot Pictures), Max Einhorn (FilmRise), Eric Sloss (Cinetic Media) and Ryan Krivoshey (Grasshopper Film) shed light on the distribution phase of your film's journey and challenges you may face.
BEYOND YOUR CORE AUDIENCE 3:30 PM-4:30 PM
Filmmakers Susan Bedusa (Bisbee '17), Andrew Sherburne (Saving Brinton) and executive Susan Margolin (St. Marks Productions) discuss how to maximize your film's reach.
OPTIMIZING POST-PRODUCTION: A CASE STUDY 3:45PM-4:45PM
The experts at Technicolor PostWorks NY lead an in-depth post-production case study to break down everything you need to know. Co-presented by Technicolor PostWorks NY.
HAPPY HOUR 5:00PM-6:00PM
Co-Presented by Consulate General of Canada, New York
FRIDAY NOVEMBER 9
THE SHORT LIST
Hear a special day of conversations with the filmmakers featured in the DOC NYC Short List section that highlights 15 of the year's standout documentaries.
SERIES FOCUS
Find out what you need to know about how to construct, pitch, develop and create your series idea and delve into the details with a case study of one of 2018's most acclaimed series, Bobby Kennedy For President.
11/09 SCHEDULE
BREAKFAST 9:00AM-10:00AM
MORNING MANIFESTO 10:00AM-10:25AM
Tribeca Film Institute Executive Director Amy Hobby discusses her thoughts on what makes great documentary content. *Open to all passholders on first-come basis.
PORTRAITS 10:30AM-11:40AM
Discussing biographical films with the directors of Pope Francis: A Man of His Word, Quincy, Won't You Be My Neighbor? and Jane Fonda: A Life in Five Acts. Co-presented by Focus Features.
DEVELOPING YOUR SERIES 10:45AM-11:45AM
Show of Force's Maro Chermayeff  and Jeff Dupre (Soundtracks: Songs That Defined History) and others discuss developing documentary ideas into series and why you should consider the format for your next project.
GETTING PERSONAL 12:00PM-1:10PM
Discussing films that rely on a strong bond between director and subject with makers of Minding the Gap, The Sentence, Free Solo and On Her Shoulders. Co-presented by MTV.
CASE STUDY: MAKING A MURDERER 12:15PM-1:25PM
Making a Murderer directors Moira Demos and Laura Ricciardi lead a discussion with their creative and executive teams, going in-depth into the process of crafting their series.
PUSHING BOUNDARIES 2:00PM-3:00PM
Discussing docs that are inventive with the documentary form, featuring the directors of Shirkers, Three Identical Strangers and Hale County This Morning, This Evening. Co-presented by MTV.
SHOULD YOU PITCH IT? 2:15PM-3:15PM
Julie Goldman (Motto Pictures), executives and distributors lead a conversation about what they are looking for in the documentary series market.
GETTING POLITICAL 3:20PM-4:30PM
Discussing films that plunge into the political, featuring the makers of Fahrenheit 11/9, RBG, Reversing Roe and Crime + Punishment. Co-presented by MTV.
CASE STUDY: BOBBY KENNEDY FOR PRESIDENT 3:35PM-4:35PM
Director Dawn Porter, producer Laura Michalchysyn and archival researcher Rich Remsberg reveal the ins and outs of creating the acclaimed Netflix documentary series.
HAPPY HOUR 5:00PM-6:00PM
Co-presented by Focus Features.
SATURDAY NOVEMBER 10
MASTERING YOUR CRAFT: EDITING
The first of two days focusing on the craft of nonfiction filmmaking. Saturday's sessions will break down and delve into all aspects of documentary editing.
SHOWCASES
Hear directly from distributors on the content they are producing and the types of projects they look for, plus a get a glimpse of content they have in their pipelines.
11/10 SCHEDULE
BREAKFAST 9:00AM-10:00AM
MORNING MANIFESTO 10:00AM-10:25AM
Abigail Disney and Fork Films are a major force in funding documentary films. Hear her thoughts on what stories are the most important to tell. *Open to all passholders on first-come basis.
GRAB YOUR AUDIENCE'S ATTENTION 10:30AM-11:40AM
Editors Carla Gutierrez (RBG), Erin Casper (Risk), Bob Eisenhardt (Free Solo) and Katherine Garrison (United Skates of America) tap into techniques for bringing an audience into your film's world and not letting go. Co-presented by the Karen Schmeer Fellowship.
DISCOVERY SHOWCASE 10:45AM-11:55AM
Join the filmmaking team from Taken By The Tiger, including director Ross Kaufman and Discovery's Jon Bardin and Jessica Beatus, as they take an in-depth look at the film and Discovery's Project C.A.T. initiative.
CUT A KILLER TRAILER 12:00PM-1:10PM
Stephen Garrett of Jump Cut Creative and others discuss the nitty gritty of what makes great, visceral trailers and how to craft one that best fits your film.
NEON SHOWCASE 12:15PM-1:15PM
Join executive Dan O'Meara from NEON as he discusses turning Three Identical Strangers into a hit, what NEON looks for in the acquisitions market and how it has quickly established itself as a force in the distribution world.
ANATOMY OF A SCENE 2:00PM-3:10PM
Clay Tweel (Gleason, Out of Omaha), Penelope Falk (Step) Richard Miron (For The Birds) and others break down key moments from their films and discuss how to cut with an eye toward finding the meaning in a scene.
TOPIC STUDIOS SHOWCASE 2:15PM-3:15PM
Topic develops, produces and finances documentaries, feature films, shorts and series for all screens. Hear Topic executives discuss what types of projects they look to develop and partner with and how they go about it.
STORYTELLING IN A POST-TRUTH WORLD 3:30PM-4:30PM
Rabab Haj Yahya (The Feeling of Being Watched), Brian Chang (Narco Cultura) and others share thoughts on crafting story during each stage of a cut and on ensuring that it remains truthful.
NATIONAL GEOGRAPHIC DOCUMENTARY FILMS SHOWCASE: GETTING THE SHOT 3:45PM-4:45PM
For over 130 years, National Geographic has been known for its iconic photography and breathtaking cinematography. Hear from world-renowned filmmaker Jimmy Chin whose vertigo-inducing camerawork is showcased in the new film Free Solo, along with a panel of other cinematographers to find out how they "get the shot."
HAPPY HOUR 5:00PM-6:00PM
Co-presented by HERFLIX and NYWIFT.
SUNDAY NOVEMBER 11
MASTERING YOUR CRAFT: CINEMATOGRAPHY
In the second of two days focusing on the craft of nonfiction filmmaking, we dive deep into all aspects of documentary cinematography.
AMERICAN SNAPSHOTS
Dive into discussions of prominent themes in the current American discourse, including race, gender, politics, religion and free speech, and how documentary films can offer a window into America in 2018.
11/11 SCHEDULE
BREAKFAST 9:00 AM-10:00 AM
MORNING MANIFESTO 10:00 AM-10:25 AM
Jeff Orlowski's films Chasing Coral and Chasing Ice feature some of the most stunning cinematography in recent years. Hear how he captures such incredible images. *Open to all passholders on first-come basis.
TIGHT SPOTS, DYNAMIC SHOTS 10:30AM-11:30AM
Cinematographers Claudia Raschke (RBG), Erik Shirai (Blowin' Up) and others discuss working against the clock, shooting in challenging environments, and what techniques you can use to get what you need.
JOURNALISM UNDER FIRE 10:45AM-11:45AM
Billy Corben (Screwball), June Cross (Wilhemina's War), Jennifer Deschamps (Inside Lehman Brothers) and Louise Story (Wall St. Journal, The Kleptocrats) lead a discussion on documentary journalism best practices and how filmmakers should, and need to, push back on false claims against their work.
SPECIAL EVENT: OUR GOLDEN AGE OF DOCUMENTARY 12:00 PM-1:15PM
Join industry leaders as they discuss the current state of documentary film distribution, funding, career sustainability, artistry, diversity, impact and more, as well as take audience questions in this special centerpiece panel event. *Held at SVA Theatre 2
MAKE YOUR INTERVIEWS POP 2:00PM-3:10PM
Cinematographers Tom Hurwitz (Studio 54), Ferne Pearlstein (The Last Laugh), Soraya Selene (Half The Picture) and others discuss techniques for creating the best environment to capture captivating subject interviews.
DECADE OF FIRE: ACTIVATION AND ACCOUNTABILITY 2:15PM-3:15PM
Working Films and Ford Foundation present an interactive conversation featuring Decade of Fire co-director Vivian Vazquez and impact producer Julia Steele Allen, CASA director Sheila Garcia and Ford Foundation's Jerry Maldonado to discuss the ecology of partnerships needed to activate a film. Moderated by Working Films c0\0-director Anna Lee. Co-presented by JustFilms | Ford Foundation
THE INVISIBLE CINEMATOGRAPHER PARADOX 3:30-4:30PM
Cinematographer Rudy Valdez (The Sentence), Laela Kilbourn (This Is Home: A Refugee Story), Ryan Scafuro (Phantom Cowboys) and others discuss objectivity and subjectivity in observational filmmaking.
ORDINARY AMERICANS, EXTRAORDINARY SUBJECTS: 3:45PM-4:45PM
Sabrina Schmidt Gordon and others speak about getting to the emotional heart of your subjects and your film.
HAPPY HOUR 5:00PM-6:00PM
Co-presented by Lexus
MONDAY NOVEMBER 12
PITCH PERFECT* & IF/THEN AMERICAN SHORTS NORTHEAST**
Twelve projects give their pitches to industry experts at this special daylong event.
*Pitch Perfect co-presented by A&E IndieFilms
**IF/Then Shorts American Northeast co-presented by Tribeca Film Institute
SHORT FORM STYLINGS
Join conversations focused on how opportunities for short form content have exploded in recent years, and discover what's next for shorts.
11/12 SCHEDULE
BREAKFAST (CINEPOLIS) 9:00AM – 10:00AM
MORNING MANIFESTO (IFC CENTER 1) 10:00AM – 10:25AM
Jannat Gargi – Vulcan Productions' Head of Documentary Films gives her thoughts and advice on how best to pitch your documentary projects. *Open to all passholders on first-come basis.
Case Study With Michele Stephenson and Joe Brewster 10:00AM – 11:10AM
Go in depth with award-winning filmmakers Michele Stephenson and Joe Brewster (American Promise) to discuss crafting exemplary short films.
If/Then Shorts American Northeast 10:30AM – 12:30PM
IF/Then Shorts American Northeast – Six filmmaking teams pitch their short doc projects for completion funding, free post production services (provided by Sim NY), and the opportunity to participate in Tribeca Film Institute's IF/Then distribution initiative. Co-presented by Tribeca Film Institute
The Heart of the Sports Doc 11:30AM – 12:40PM
Darius Clark Monroe (Black 14) and others discuss how their recent short films involving sports reach deep in their pursuit of universal truths.
PITCH PERFECT 1:30 PM – 4:15 PM
Pitch Perfect – Moderator Elise McCave (Kickstarter) lays out the rules and best practices as six filmmaking teams pitch their work-in-progress doc features to a panel of industry experts – representing distributors, producers, sales agents, publicists and more – for valuable feedback. Co-presented by A&E IndieFilms.
The Future is Short 1:45PM – 2:55PM
Filmmakers, including Joanna Natasegara (The White Helmets), Kim Snyder (Newtown) and Farihah Zaman (Remote Area Medical), break down the ins and outs of working in both short and feature forms.
The New Distribution Landscape 3:15PM – 4:25PM
Hear from distributors, including Chloe Gbai of POV Shorts, about what they look for in short films.
HAPPY HOUR 5:00PM – 7:00PM
Co-presented by Tribeca Film Institute
TUESDAY NOVEMBER 13
SMART PRODUCING
Learn how to roll with the punches, address various challenges and be an effective producer in a competitive and complex landscape.
POST-PRODUCTION SECRETS
Engage with a series of panel discussions with artists and industry professionals in the fields of composing, animation, graphics, post-sound and more.
11/13 SCHEDULE
BREAKFAST 9:00AM – 10:00AM
MORNING MANIFESTO 10:00AM – 10:25AM
Jon Reiss is a filmmaker (Bomb It, Bomb It 2), author (Think Outside the Box Office) and a leader in innovative distribution techniques. Join him to hear why filmmakers should be using data in decisions for their films, and how best to do so. *Open to all passholders on first-come basis.
Access is Everything 10:30AM – 11:40AM
Assia Boundaoui (The Feeling of Being Watched), Kimberly Reed (Dark Money) and Caitlin Mae Burke (Obit.) focus on ways you can build trust with documentary subjects and communities.
Post-Sound: What You See is What You Hear 10:45AM – 11:45AM
Post-sound professionals lead you through the steps you need to know to execute the perfect post-sound strategy.
Close Up On Impact Producing 12:00PM – 1:10PM
Director Christopher Quinn (Eating Animals) and Simone Friedman, Head of Philanthropy at Emanuel J. Friedman (EJF) Philanthropies and others discuss effective measures of impact producing and campaigns.
Animation, Graphics & Enhanced Storytelling 12:15PM – 1:25PM
Animators Molly Schwartz (Above and Beyond: NASA's Journey to Tomorrow) and Dana Schechter (Nothing Left Unsaid: Gloria Vanderbilt & Anderson Cooper) and others discuss when you should include an animator in your process and other best practices.
The Art of Immersive 2:00PM – 3:10PM
Dive in with RYOT's Chief Content Officer Hayley Pappas for a discussion on how superior storytelling is at the core of immersive. Co-presented by RYOT
Composers Tell All 2:15PM – 3:15PM
Composers Troy Herion (306 Hollywood) and Wendy Blackstone (Lost in Florence) discuss building themes for your characters and how observations of both image and sound recorded during production can inform the perfect score for your film.
Build A Successful Production Company: Break Thru Films 3:30PM – 4:30PM
Reversing Roe directors Ricki Stern and Annie Sundberg discuss working with production and distribution partners and growing a production company.
Case Study: Prep Your Film For Distribution 3:45PM – 4:45PM
Learn valuable insights into how to prep your film for distribution in this case study from industry experts John Campbell (Buffalo 8), Blair Foster (Jigsaw Productions) and Alysa Nahmias (Unrest) and moderated by Ben Murray of Technicolor PostWorks NY.  Co-presented by Technicolor PostWorks NY
HAPPY HOUR 5:00PM – 6:00PM
WEDNESDAY NOVEMBER 14
SHOW ME THE MONEY
Perhaps the biggest obstacle to realizing your filmmaking vision is funding. DOC NYC PRO spends this day devoted to this fundamental issue, addressing practical skills, sustainability, legal concerns and learning from others experiences.
EVERYTHING ARCHIVAL
Join a day of in depth discussions ranging from the introductory to the expert use of archival materials, including a look at how RBG, one of the year's most successful docs, used archival to great effect.
11/14 SCHEDULE
BREAKFAST 9:00AM – 10:00AM
MORNING MANIFESTO 10:00AM – 10:25AM
Nelson George – The director of A Ballerina's Tale, author and television producer, provides his insights into building a career. *Open to all passholders on first-come basis.
Dissecting Development With Impact Partners 10:30AM – 11:40AM
Join Impact Partners' Dan Cogan (Icarus), Catapult Film Fund's Lisa Chanoff and others as they discuss efforts to establish development funding for documentaries and why this is such a crucial topic.  Co-presented by Impact Partners
Way More Than B-Roll 10:45AM – 11:45AM
Penny Lane (The Pain of Others), Maxim Pozdorovkin (The Truth about Killer Robots) and Anna Garwood (POND5) discuss how the varied use of archival or historic footage and images can imbue deeper meaning and complexity in documentary films. Co-presented by POND5
In-Depth Grant Writing 12:00PM – 1:10PM
Dive into the ins and outs of grant writing with funding specialist Tracie Holder and others to find out what you need to know to have the inside edge.
Archival Success: A Roadmap 12:15PM – 1:25PM
From request to output, archival producers Jim McDonnell (Long Strange Trip: The Untold Story of the Grateful Dead), Prudence Arndt (Jay Myself) and Annie Salsich (The Fourth Estate) give advice on building a framework for all your archival needs.
Creating a Fundraising Sizzler 2:00PM – 3:10PM
Jeremy Workman (The World Before Your Feet) guides attendees through the steps of creating great fundraising sizzle reels.
RBG: A Case Study 2:15PM – 3:15PM
RBG co-directors Julie Cohen and Betsy West join a special panel to discuss building their film through the use of archival material.
Self-Distribution: Case Studies 3:30PM – 4:30PM
Panelists David Averbach (The Film Collaborative), Gary Hustwit (Helvetica), Alysa Nahmias (Unrest) and Jim Tusty (Sky Films Inc.) share advice about getting their own projects out into the world via self-distribution.
The Ethical Archive 3:45 PM – 4:45PM
Anne Alvergue (Love, Gilda), Carol Bash (Freedom Riders), Vanessa Maruskin (The Armor of Light) and Pacho Velez (The Reagan Show) discuss how to navigate the ethics involved in use of archival footage.
HAPPY HOUR 5:00PM – 6:00PM
THURSDAY NOVEMBER 15
MAKE YOUR CAREER
Explore ways to create a lasting, sustainable career in documentary film in this series of conversations with filmmakers and industry veterans.
DOC LAW SCHOOL
Come to law school, with a full day devoted to legal issues and questions about making documentaries today.
11/15 SCHEDULE
BREAKFAST 9:00AM – 10:00AM
MORNING MANIFESTO (CC6) 10:00AM – 10:25AM
Yoruba Richen (The New Black) shares her thoughts on getting films made. *Open to all passholders on first-come basis.
Jumpstarting Sustainability 10:30AM – 11:40AM
Beth Levison (The Trials of Spring), Loira Limbal (Firelight Media, Estilo Hip Hop), Theresa Navarro (POV) and others share how grants are being supplemented by a variety of helpful resources and programs in support of a filmmaker's long-term career.
Withstanding the Assault on Free Speech 10:45AM – 11:45AM
Victoria Cook (FKKS PC) leads a legal panel discussing how documentary filmmakers can cover protests, police actions and other highly-charged situations.  Co-presented by Frankfurt Kurnit Klein & Selz
Realizing Your Film's Potential 12:00PM – 1:10PM
Liza Burnett Fefferman (MTV, VH1 and Logo), Jonathan Bogarin (306 Hollywood) and others discuss what steps you can take to utilize your projects not only monetarily, but also to create your next opportunities.
Fair Use Case Studies 12:15PM – 1:25PM
Lindsay Bowen and Nancy Wolff from CDAS run you through case studies of fair use and what you need to know, focusing on instances of incidental capture and deliberate inclusion in documentary films. Co-presented by Cowan, DeBaets, Abrahams & Sheppard
Are Brands the Studios of the Future? 2:00PM – 3:10PM
Panelists explore how brands and digital media companies will affect the future of film and television financing and distribution.
Dealmaking Insights: Production, Sales and Distribution Agreements, and More 2:15PM – 3:15PM
Legal experts from Fox Rothschild, sales agents and distributors provide insights into what you should know about production agreements including releases, sales and distribution agreements. Co-presented by Fox Rothschild
Case Studies: Making It 3:30PM – 4:30PM
Directors Marshall Curry (Point and Shoot), Judith Helfand (Cooked: Survival By Zip Code), Doug Tirola (National Lampoon: Drunk Stoned Brilliant Dead) and Stephanie Wang-Breal (Blowin' Up) talk about working to achieve success in the industry and the various challenges they face as filmmakers.
Licensing Music & Art 3:45PM – 4:45PM
Attorney and filmmaker Paul Szynol (Small Talk, The Pull, Quiet Hours), Janet Hicks (Artists Rights Society) and others guide you through best practices for navigating the art and music licensing landscapes.
HAPPY HOUR 5:00PM-6:00PM