Monday Memo: Tiger Production Controversy Breaks Out Over Representation, Telluride Cancelled Due to COVID19 & More
July 20, 2020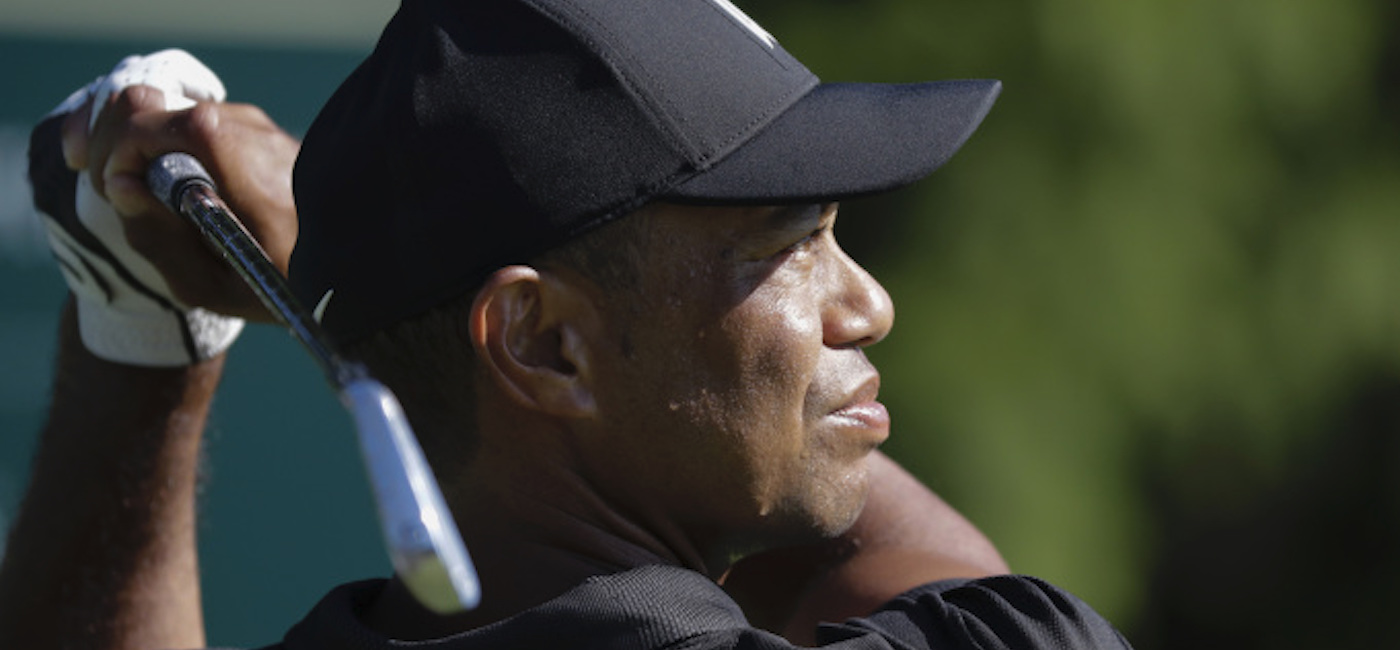 Tiger Woods is once again in the headlines surrounded by controversy, but this time not by his own doing. When HBO announced that a doc series on the famed golf legend would be going into production, a large number of well-known nonfiction filmmakers – Geeta Gandbhir among them – called out the production team, including co-directors Matthew Heineman and Matthew Hamachek, for lack of representation within a project centered around a Black celebrity. Deadline's Tom Grater followed the events as they unfolded.  This week also saw a wide range of festival happenings, from the announcement that IDFA would be setting up a filmmaker support department, to the complete cancellation of Telluride due to the ongoing pandemic. There's a lot to sift through, so dig in—and keep safe.
– Jordan M. Smith
---
HEADLINES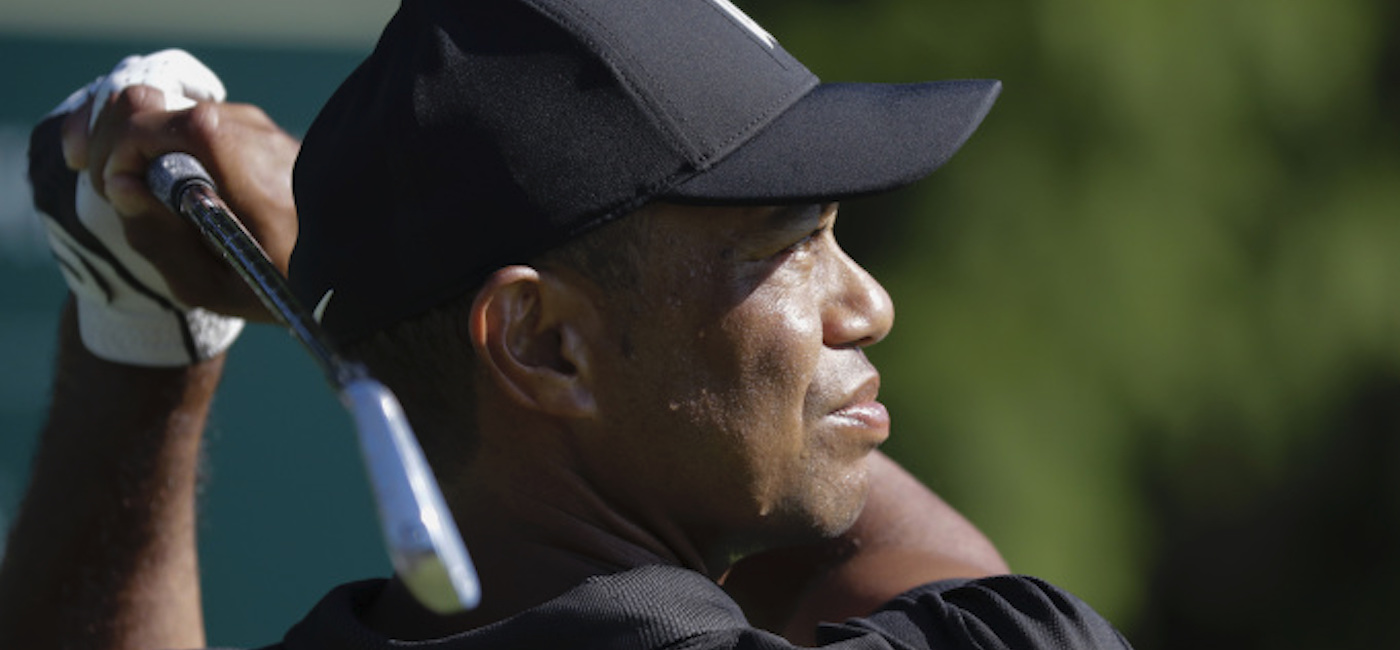 Tom Grater reported on the backlash at Deadline: "The announcement this week that golfing icon Tiger Woods would be the subject of a two-part HBO documentary series has provoked a backlash in the documentary community due to a lack of above-the-line diversity on the project. The Tiger series is being co-helmed by Oscar-nominated City of Ghosts and A Private War filmmaker Matthew Heineman and the Emmy-nominated Matthew Hamachek. The pair previously collaborated on Cartel Land. Alex Gibney is exec producing the doc through his Jigsaw Productions, alongside HBO Sports. Heineman announced the project on his Facebook page July 10, and the post quickly became the stage for a lively debate about the project's lack of Black talent. Geeta Gandbhir, the Emmy-winning doc filmmaker, was first to make the point, writing, 'This is a great project. I said this to Matthew Hamachek as well, and feel compelled to ask you — in the spirit of being anti racist — why did you both, two white men opt to direct this film? I want to make you aware of the asks from the black and brown community – as you have a huge platform, and the whole community needs to grapple with the issue of systemic racism in our community,' she continued. 'Why was there not a director reflective of the community on this project? If there were two of you, couldn't ONE of you have been Black or Asian? Accountability and leadership are needed at this time — you are in a great position to be a positive example.' Gandbhir also noted that producer Sam Pollard was the only Black exec listed above-the-line on the project."
Film scholar Racquel Gates shared her opinion in The New York Times: "The idea that a singular film, or even a collection of films, can serve as a guide to the history of Black oppression is simplistic. In her 1975 speech 'A Humanist View,' Toni Morrison identified the function of racism as one of "distraction," a device that "keeps you explaining, over and over again, your reason for being." Indeed, the very idea that Black film's greatest purpose is to be an educational primer on race in America is a notion that we need to lay to rest. During this reflection on blackness and media, we must focus on the complexity and brilliance of Black film on its own merits. Now more than ever, we should return to Black narratives that decenter whiteness or ignore it altogether, films that connect audiences with the pathos, joy and even treachery of the Black characters and lives they depict, the films that recognize their complex humanity."
Dave McNary broke the story at Variety: "The International Documentary Association has named industry veteran Brenda Robinson as president of its board of directors, the first African American to hold the post. Robinson, who joined IDA's board in 2018, succeeds Kevin Iwashina, whose board term ends in December. Robinson officially begins her role as president immediately. The IDA noted that Robinson has strong family ties to the U.S. civil rights movement and is the niece of Rev. Jesse Jackson. 'I am honored to have the opportunity to contribute in a meaningful way to the continued growth of this organization and to lead us forward in fulfilling our mission of championing storytellers while creating a culture of inclusion,' said Robinson. Robinson is an entertainment attorney who has acted as production counsel and executive producer for numerous documentary and feature film projects as well as scripted and unscripted television programming. She is a partner in Gamechanger Films, an equity fund that finances feature films and television series by women and diverse storytellers."
---
DOC NYC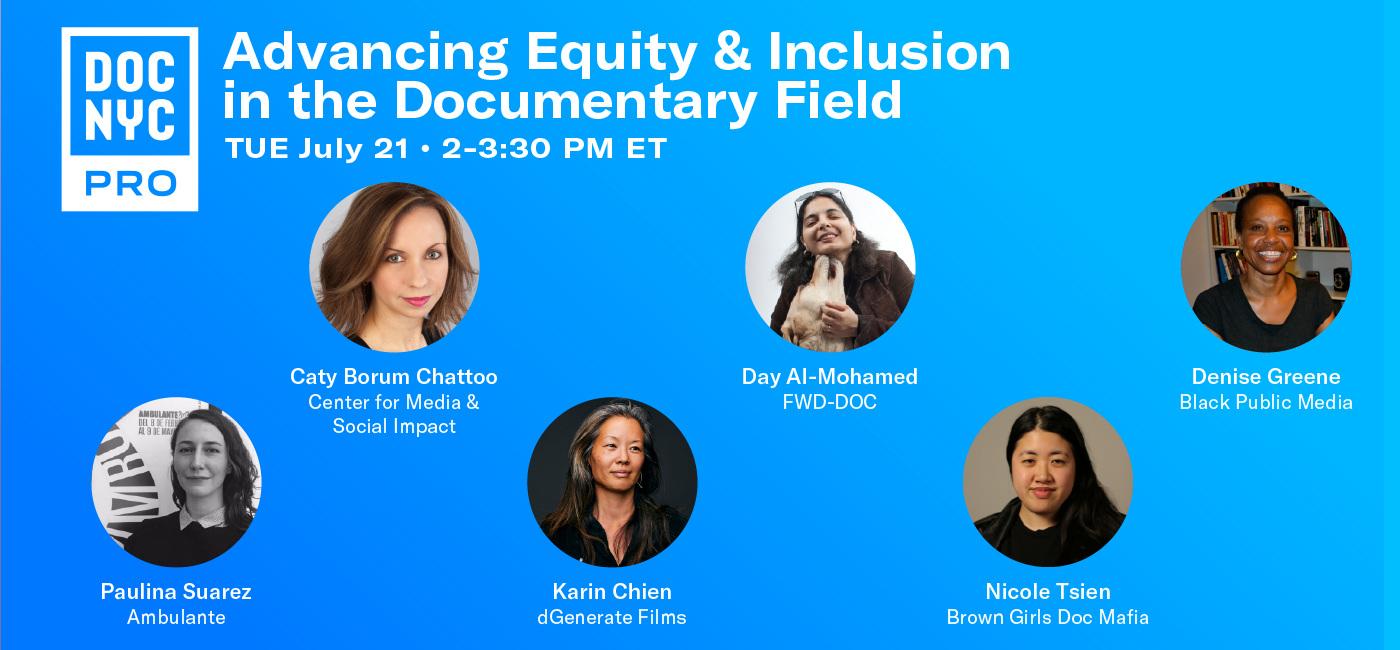 Join DOC NYC PRO for a deep-dive conversation about advancing social equity and inclusion in the documentary field. Guests include Nicole Tsien, board member of Brown Girls Doc Mafia; Denise Greene of Black Public Media; Day Al-Mohamed, independent filmmaker and founding member of FWD-DOC, Karin Chien, independent producer and President of distributor dGenerate Films; Caty Borum Chattoo of The Center for Media & Impact at American University; and Paulina Suarez, Executive Director of Ambulante, Mexico's traveling documentary film festival.
In this 90-minute livestreamed session, we'll explore crucial questions about social equity in the documentary industry: What has the history of exclusion and marginalization looked like, and what progress has been made over the last decade? What is the necessary work ahead of us in dismantling power structures as they exist, and expanding access to resources for underrepresented filmmakers? What role can affinity-based and identity-based filmmaker communities play in effectively advocating for access to funding, distribution and exhibition for their members—and how can allies support that work? How can festivals bring creators and audiences from historically marginalized communities to the center? And what can the field's existing power brokers—including funders, distributors, programmers, and critics—do to insist on and push forward more equitable and inclusive practices at every level?
Tickets are $15; registrants may participate in the live session, and will also receive access to the recorded session and a written transcript after the livestream. Tickets are non-refundable.
All proceeds from this event will go to the NAACP Legal Defense Fund.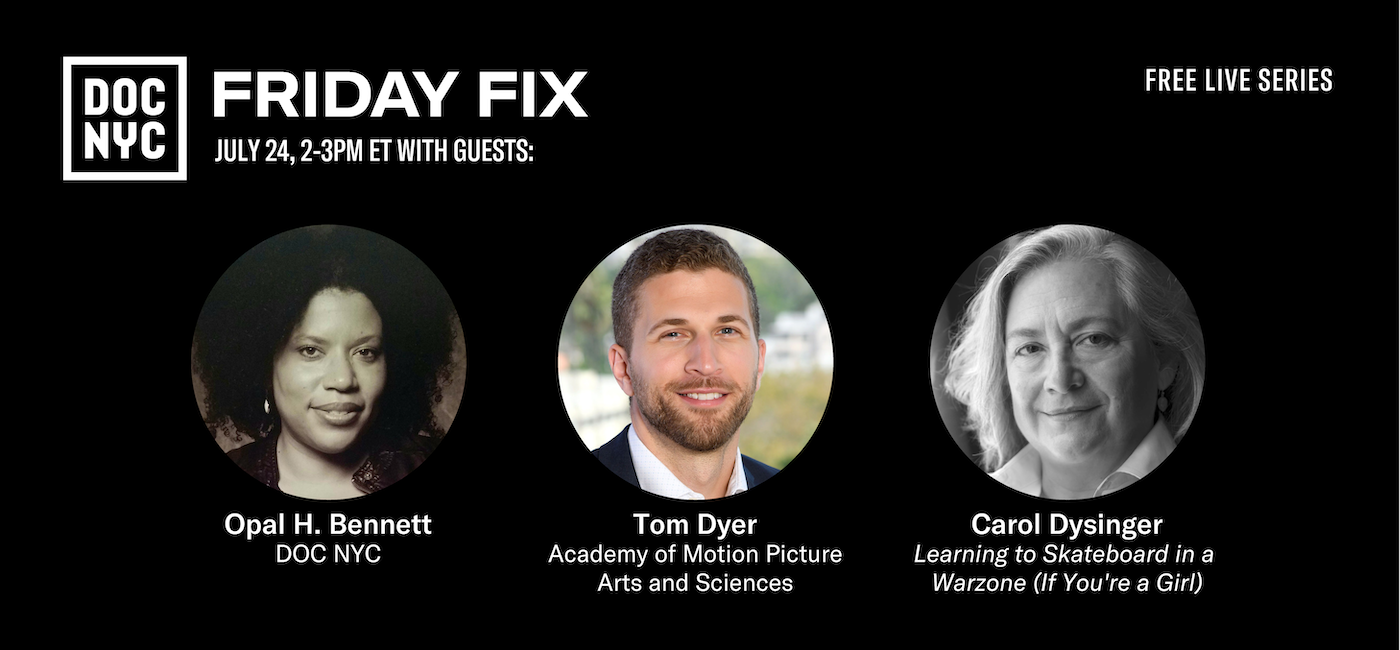 Friday Fix
Friday, July 24, 2-3 pm ET
On Episode 11, 
Tom Oyer
, Associate Director at the 
Academy of Motion Picture Arts and Sciences
, joins us to discuss the body's new rules for the 2020 Oscars in the wake of Covid-19. And filmmaker 
Carol Dysinger
, director of 
Learning to Skateboard in a Warzone (If You're a Girl)
, 2019 Academy Award-winner for Documentary Short, talks about her journey to Oscar gold and shares advice to short filmmakers. Hosted by Opal H. Bennett, DOC NYC shorts programmer and the festival's new Director of Filmmaker Development.
Click here to RSVP
.
---
ON THE FESTIVAL CIRCUIT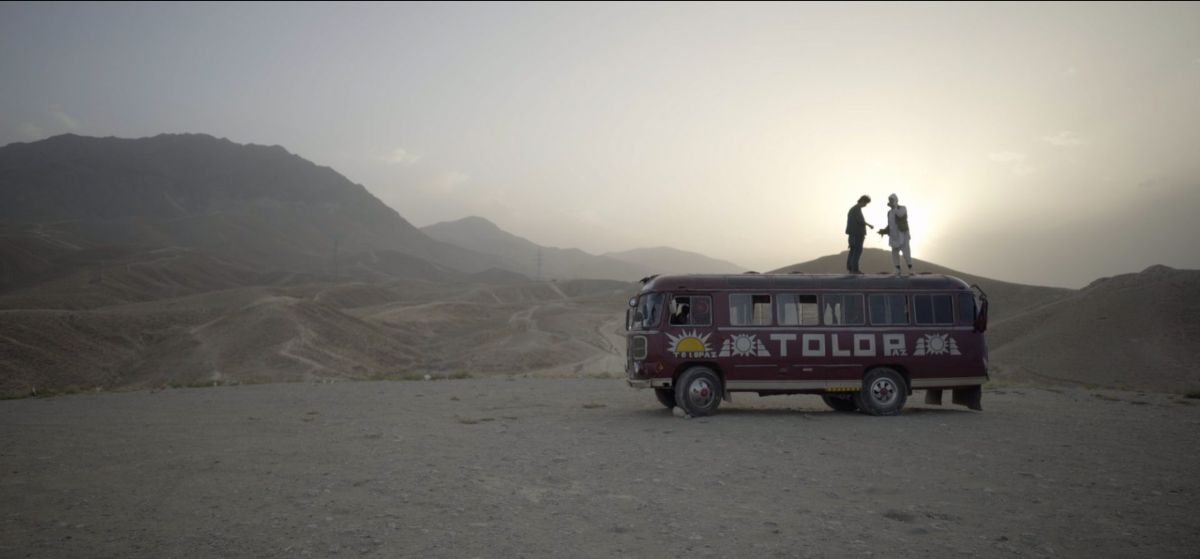 Announced via press release: "As a crucial part of IDFA's year-round activities, a new umbrella department has been created to support filmmakers. Overseen by new deputy director of IDFA, Isabel Arrate Fernandez, the Filmmaker Support Department brings together the IDFA Bertha Fund and IDFA's talent development department, allowing the launch of various filmmaker support schemes in 2020 and in the future. The IDFA Bertha Fund focuses on grants and tailor-made support for filmmakers and projects from Africa, Asia, Latin America, the Middle East, and Eastern Europe. Talent development within IDFA offers a range of activities focusing on talent development and project development, combining a broad offer with a tailor-made approach. In the coming months and beyond, IDFA will strengthen the creative and financial support of filmmakers as one of its three main pillars, along with functioning as a key industry marketplace and sealing its position as the home of documentary film through the premiere festival in Amsterdam and an expanding online collection. Within the new department, the filmmaker is placed front and center, with the aim to diversify the documentary artform and narrative in the broadest sense. Through several key programs, selected filmmakers can participate in different kinds of activities and training initiatives depending on their projects, the stage they are in, and challenges that they are facing."
Announced via press release: "BlackStar Film Festival, the world's premier celebration of Black, Brown, and Indigenous film and video artists, is pleased to announce the full lineup of films for the 2020 program, which will take place August 20-26, 2020. In response to COVID-19, the ninth edition of the festival will be presented entirely online this year. Ticketed attendees will be able to view all the films through a single online portal, which will be available at watch.blackstarfest.org and through apps available for Apple TV and Roku. Tickets are now available on the festival's website here, with day passes starting at $5 and a full festival pass available for $100, which is priced to include a donation to BlackStar. This year's lineup includes more than 80 films, including 24 world premieres and representing over 20 countries."
Nicole Sperling reported the news in The New York Times: "After months of vowing to persevere despite the pandemic, the Telluride Film Festival capitulated Tuesday, announcing the cancellation of this year's event, scheduled for Sept. 3-7 in the tony Colorado enclave. The festival is viewed as a key stop in the run-up to the Oscars: in the past decade, seven best-picture winners, including "The Shape of Water," and "Moonlight," screened early on in the former mining town. 'After months of intense due diligence around physically holding an event, we've come to the heartbreaking but unanimous conclusion to cancel this year's Labor Day celebration of film in Telluride,' organizers said in a statement. 'But with a seemingly unending number of new cases of Covid-19 and the national chaos around it, even the best strategy is threatened by this out-of-control environment.' The organizers, who traditionally keep the festival's lineup secret until the day before it begins, say they will still release their schedule to highlight what they see as 'the best in film this year.'"
Announced via press release: "Film Festivals are the bedrock for showcasing visual stories and providing a community for films and filmmakers. However, with the global pandemic effectively stopping in-person events, challenges abound for film festivals in how to traverse and survive this complex new virtual world. Despite these challenges, some festivals around the country are taking these cultural changes in stride and finding renewed vitality by going online. Join us for a conversation on Tuesday, July 28th with regional & community driven festivals – Black Film Star, New Orleans Film Festival, Cleveland International Film Festival, and Third Horizon Film Festival – as they discuss their decisions to go virtual, how online festivals create more opportunities for filmmakers, and the impact the online format has on the future of these festivals. The conversation will be moderated by Jessie Fairbanks, film curator/programmer and producer based in Chicago whose curatorial practice explores the ever expanding potential of documentary filmmaking. She programs documentaries for DOC NYC, Tribeca Film Festival and Mountain Film. Jessie is also the Director of Programming at Hot Springs Documentary Film Festival, the oldest non-fiction festival in the country." The event will take place Tuesday, July 28th at 7 PM EST. Special DOC NYC discount code for $5 off: FOFDOCNYC
Marc Glassman reported on the virtual edition of the festival for Documentary Magazine: "In this new age of physical distancing and social isolation, computer screens and television monitors have become the focal point for our contact with the world. What we see out there is ominous and tragic, ranging from deadly results of the ongoing pandemic to the rise of racism and a consequent fightback by those who have been the subject of so much hatred for too many years. Everything is in flux, from politics to medicine to culture. Where does that leave a festival like Hot Docs, which wrapped on Sunday, June 7, with a virtual ceremony, in which their Audience Award winner, the Canadian Marineland exposé The Walrus and the Whistleblower, was announced, taking its place among the five recipients of $10,000 (Canadian, aka CAD) each from the Rogers Group of Funds? The event didn't take place with people in an auditorium, of course: it was staged to be seen online, with appropriate speeches by presenters and winners. In fact, it wasn't truly the end of the online festival, with Hot Docs continuing to make many of its curated selections available for viewing until June 24…The accomplishment of Hot Docs 2020 consists in its cool-headed, innovative approach to forging a new identity: an online festival. They've done it brilliantly, streaming over 140 films with 69 virtual Q&As as well as hosting webinars and sessions with the National Film Board of Canada."
Lauren Wissot put the interview together for Hammer to Nail: "Elizabeth Radshaw, Industry Programs Director, and Dorota Lech, Industry Programmer and Hot Docs Forum Producer, were at the forefront of a swift shift to the online realm for all industry activities at this year's Hot Docs. So what better pair to look back and provide a glimpse into what went right, what couldn't be replicated, and what all participating parties might consider when looking forward to the festival future near and far? Which is exactly why I reached out to the veteran industry duo with a handful of questions. (And in return received a variety of surprising responses, like how to avoid Zoom fatigue.)"
Catherine Magnúsdóttir reported on the festival for Grapevine: "IceDocs, one of Iceland's hottest and most unique film festivals, is back for more this year. After celebrating its premiere last summer, the Iceland Documentary Film Festival—IceDocs for short—is back at it again. From July 15th to 19th, head to Akranes to enjoy a number of world-class documentaries, among them pictures about Banksy, a Chinese orphanage in Malawi, and a documentary about NFL star Marshawn Lynch. Along with that, you can expect some high-quality music programs, midnight movie showings, pub quizzes, a town walk, some hiking and even yoga. Special on the roster this year? Online livestreams! Also notable will be a special program dedicated to Icelandic newcomers, a special screening of Óskar Gíslason's 'The Salvation Achievement at Látrabjarg,' and performances by Matthildur, Between Mountains, Sólveig Matthildur, and Will Carruthers from legendary British band Spacemen 3 and many more. One of the co-founders of IceDocs, Ingibjörg Halldórsdóttir, sat down with the Grapevine to discuss what we can expect this year."
Announced via press release: "Catapult Film Fund and True/False Film Fest are presenting the fifth year of Rough Cut Retreat, a workshop that unites filmmakers and mentors in a creative and engaged atmosphere. Due to the global pandemic, this year's retreat has been re-imagined as a 100% virtual experience, dubbed "Assistance from a Distance." This week-long event will approach the online model with a radically innovative spirit – creating a virtual retreat with the same sense of creative community, camaraderie, and constructive criticism for which the RCR has become known. Catapult and True/False are pleased to once again partner with the Chicago Media Project, who share a passion for supporting bold and creative new nonfiction filmmaking."
Announced via press release: "The Full Frame Documentary Film Festival, a program of the Center for Documentary Studies at Duke University, has been selected by the National Endowment for the Arts to receive $50,000 through the Coronavirus Aid, Relief, and Economic Security (CARES) Act. Of the 3,100 applicants from across the country, only 846 organizations received awards. Full Frame would like to congratulate the four other Durham-based award recipients: the American Dance Festival, North Carolina Central University, the North Carolina Folklife Insititute, and the Southern Documentary Fund. Funds will support personnel and facilities costs related to the COVID-19 pandemic and were only available to organizations who had received NEA support during the last four years prior to the outbreak and subsequent shutdown of the arts sector."
---
DOC BOOKS

"This book provides the first comprehensive overview of the global landscape of documentary film festivals. Contributors from across the globe offer in-depth analysis of both internationally renowned and more alternative festivals, including Hot Docs (Canada), Nyon (Switzerland), Yamagata (Japan), DocChina, Full Frame (US), Belgrade (former Yugoslavia), Vikalp (India), and DocsBarcelona (Catalonia, Spain), among others. With a special focus on historical and political developments, this first volume draws a map of documentary festivals operating today, and then looks at their origins and evolution."
"This book provides the first comprehensive overview of the global landscape of documentary film festivals,
looking at its contemporary and future challenges. Contributors from across the globe reflect on howdocumentary has positioned itself within both internationally renowned and more alternative festivals, including IDFA (Netherlands), Cannes IFF (France), Sheffield Doc/Fest (UK), Dockanema (Mozambique), Ismailia (Egypt) and Zinebi (Basque Country, Spain), among others. With a special focus on industrial and curatorial developments,  this second in a two-volume set looks at recent changes occurred in the festival circuit, such as the proliferation of markets and co-production forums, the inclusion of interactive and VR forms within their programs and the irruption of VOD platforms, and analyse how these affect the future of documentary aesthetics and its production/distribution contexts."
Both volumes now available via Palgrave Macmillon.
---
MISCELLANEOUS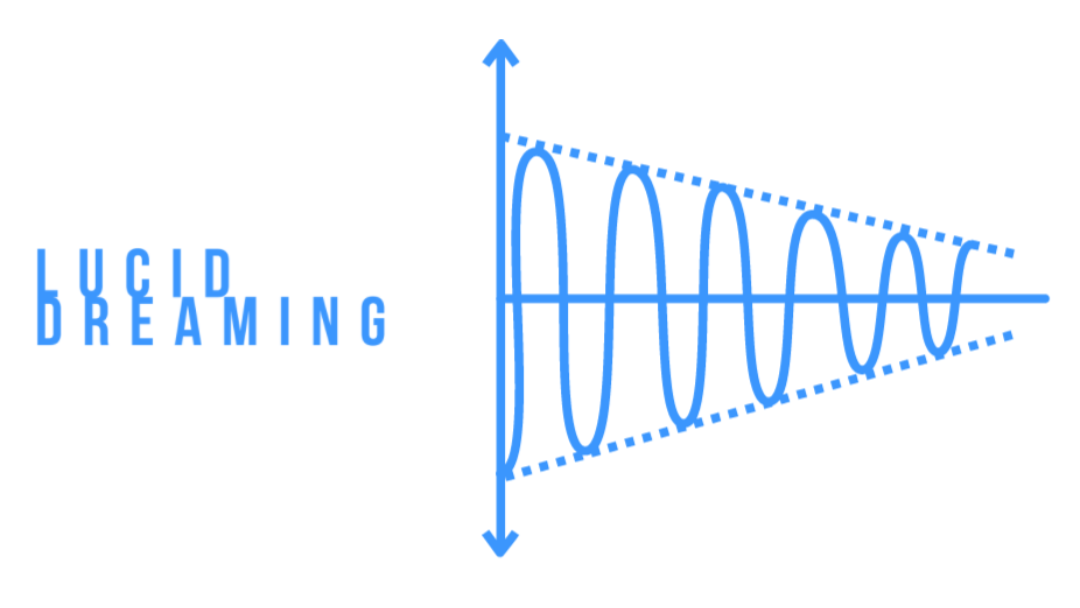 Announced via press release: "In Lucid Dreaming, curator and writer Pamela Cohn interviews a constellation of artistic luminaries working within contemporary contexts of documentary practice and experimental moving image. Together they explore artistic inspirations, conceptual intent and processes, and the expanding socio-political possibilities of creating personal memoir." The first episode features the filmmaker Penny Lane and future guests will include Kirsten Johnson, Miko Revereza, Shireen Seno, Alexander Nanau, Onyeka Igwe, Ra'anan Alexandrowicz and Srdan Keca. "We are reaching out to you from under the rock of reality like a cochlea octopus."
The Grierson trust shared their newest DocLab trainees, while Kelly Anderson of Realscreen reported on this year's edition: "UK-based documentary filmmaking charity The Grierson Trust has named the 16 new trainees taking part in its DocLab training scheme. With a focus on diversity, the stats for this year's cohorts are 44% are BAME; 44% come from areas described as 'economically deprived;' and 69% are female, 19% are male and 12% are non-binary. In addition, 75% of the cohorts come from areas outside of London, with 15% from Wales and 10% from Scotland, and 50% were in full-time education when they applied. The 8th annual scheme will launch next month with a week-long program of online training sessions. Led by Carol Nahra and industry leaders, the trainees will have the opportunity to learn from documentary experts. Trainees also receive full festival passes for all Sheffield Doc/Fest events before attending November's Grierson Awards, completing their shoot/edit training and undertaking work placements into 2021."
---
NEW RELEASES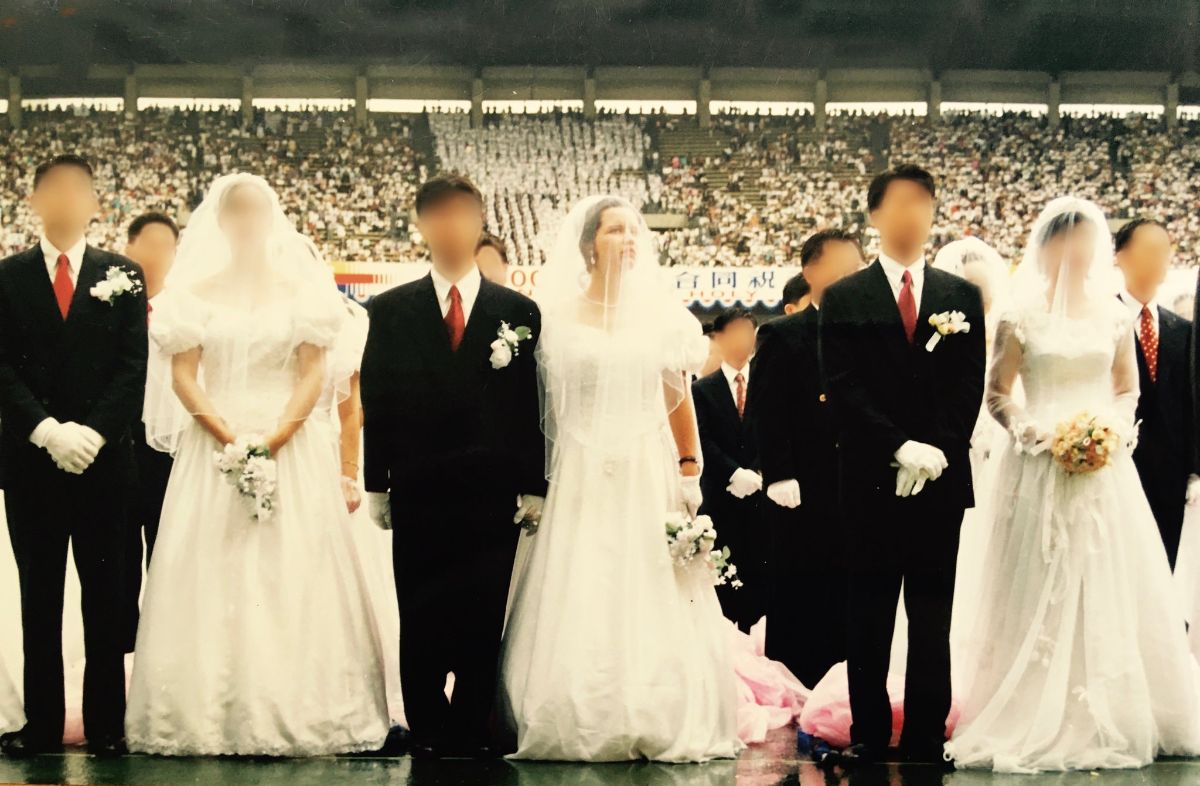 Father Soldier Son
Catrin Einhorn and Leslye Davis at The New York Times

Steve Pond at The Wrap

Pat Mullen at POV Magazine
Showbiz Kids
Sarah Midkiff at Refinery29

Linda Holmes at NPR

Don R. Lewis at Hammer to Nail
Blessed Child
Rachel Montpelier at Women and Hollywood

Ed Gonzalez at Slant

Ben Kenigsberg at The New York Times
We Are Freestyle Love Supreme
David Fear at Rolling Stone

Danielle Turchiano at Variety
Scott Simon & Danny Hensel at NPR
Glenn Kenny at The New York Times

Sheila O'Malley at RogerEbert.com
Mel Valentin at Screen Anarchy
---
DOC NYC ALUMNI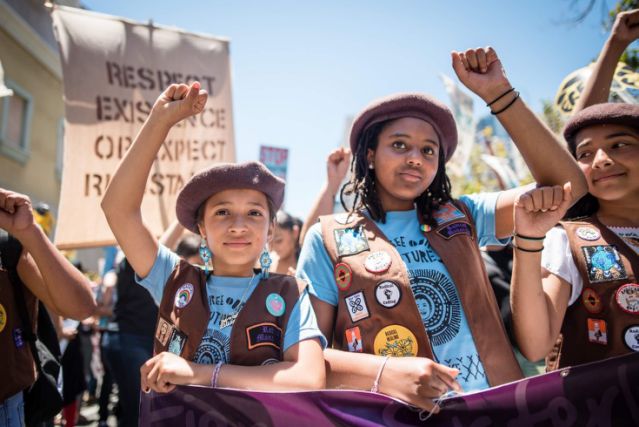 Linda Goldstein Knowlton's We Are The Radical Monarchs
2019 DOC NYC Fight The Power
Will be broadcast on POV tonight.
Charlie Hoxie's The Grand Unified Theory of Howard Bloom
2019 DOC NYC Metropolis
Will be released on VOD services via 1091 tomorrow.
Rachel Leah Jones & Philippe Bellaïche's Advocate
2019 DOC NYC Winner's Circle
Will be broadcast on POV on July 27th.
---
DOC SHORT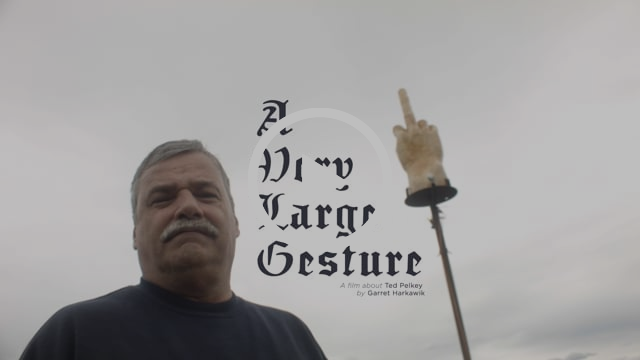 Directed by Garret Harkawik
"Ted Pelkey has been trying to build an 8,000 square-foot garage in his front yard for nearly ten years. His town doesn't seem to want him to, leading Pelkey to channel his frustration in an unusual way."
---
FUND THIS PROJECT
Crowdfunding has become an integral means of raising capital for documentary filmmakers around the globe. Each week we feature a promising new project that needs your help to cross that critical crowdfunding finish line.This week's project:
Directed by Philip Shane
Funding Goal: $200,000