DOC NYC Reveals Lineup for 8-Day PRO Conference
DOC NYC is excited to announce the lineup for its eight-day DOC NYC PRO conference, running November 7-14 concurrent with the festival's public film screenings. The PRO lineup features over 180 speakers including notable filmmakers Feras Fayyad, Lauren Greenfield, Asif Kapadia, Rachel Lears, Jehane Noujaim, Steven Bognar and Roger Ross Williams, who will all appear on panels for the festival's popular Short List Day (Nov. 8).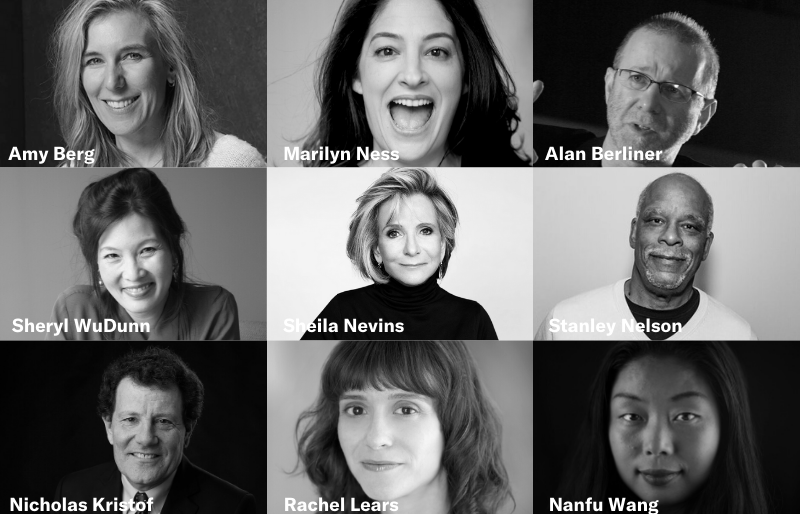 The conference gives a showcase to projects that represent new breakthroughs in documentary artistry, financing and distribution. Among the high-profile speakers are Pulitzer Prize-winning journalists Nicholas Kristof and Sheryl WuDunn on Journalism and Documentary (Nov. 8); Alan Berliner and Carla Gutierrez on Editing (Nov. 9); representatives from Kanopy, NEON, Magnolia Pictures and Participant on Distribution and Audience Impact (Nov. 10); filmmakers of The Brink and Honeyland for Cinematography co-presented by SONY (Nov. 10); directors of The Case Against Adnan Syed and Couples Therapy for a Focus on Documentary Series (Nov. 11); Sheila Nevins, Dan Cogan and Lisa Cortés on Producing (Nov. 12); film teams of The Great Hack and Apollo 11 for Composing and Sound Design (Nov. 12); representatives from Impact Partners and Kickstarter for Funding (Nov. 13); Stanley Nelson, director of Miles Davis: Birth of the Cool and producer Margaret Bodde of Rolling Thunder Revue: A Bob Dylan Story by Martin Scorsese for Working with Archival (Nov. 13); and Murder on the Bayou director Matthew Galkin with top entertainment attorneys covering Legal for Docs (Nov. 14).
Two new themes are being introduced this year. Short List: Shorts Day (Nov. 9) highlights new trends in short-form filmmaking with the 12 filmmakers chosen for the festival's prestigious Short List for Shorts. Podcasts (Nov. 14) focuses on nonfiction audio storytelling, in-depth discussion of the hit show S-Town and series Headlong, and appearances by Kristen Meinzer and Jolenta Greenberg (By the Book). 
Favorite themes returning from past years include First-Time Filmmaker (Nov. 7), delivering crucial insights for newcomers; and Pitch Perfect co-presented by A&E IndieFilms (Nov. 11), which allows attendees to hear top decision-makers give feedback on projects. 
The entire DOC NYC PRO conference is co-presented by Kanopy. Kanopy is a video-streaming platform dedicated to thoughtful and thought-provoking films, accessible to students and library patrons through partnerships with both public and academic libraries around the world.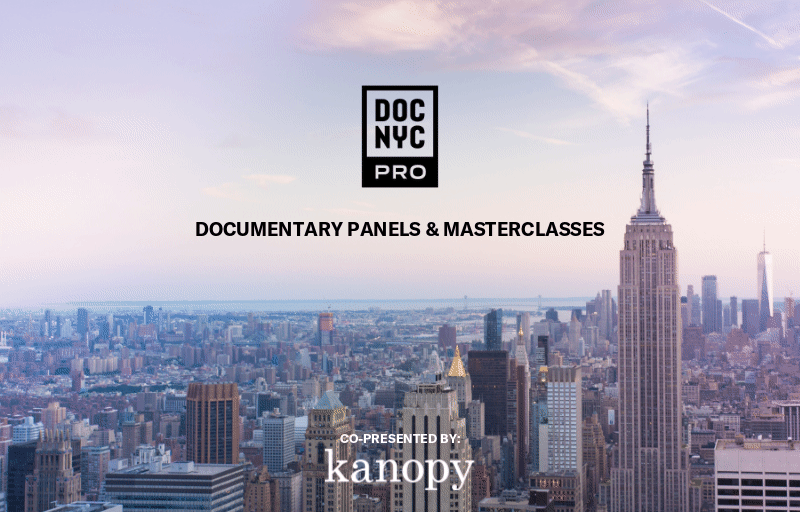 "Every year I learn new things at DOC NYC PRO," said Artistic Director Thom Powers. "It's an unparalleled wellspring of knowledge from the world's leading documentary makers and experts."
New this year, DOC NYC PRO's pass structure has changed to provide a lower-cost point of entry and allow attendees to target their particular interests. Attendees can purchase individual themed PRO Passes for each distinct day-long programming track. Each individual PRO Pass costs $125 and grants access to a full day of talks and panels around a specific theme, plus a Networking Breakfast and Happy Hour. For those who want to attend multiple days, discount packages are available. Get your passes HERE!
"Whatever role you play in the doc community, we have a day for you — Cinematography, Editing, Producing, Funding, Archival Research, Legal work, Sound Design, Podcasting and more," said Director of DOC NYC PRO Amy Jelenko. "It's an invaluable career investment to gain new insights and network with colleagues who can lead to your next job."
The events mainly take place at the Cinépolis Chelsea on West 23rd Street in Manhattan with the Short List: Features program to be held at IFC Center on Sixth Ave. Inside the Cinépolis Chelsea, DOC NYC PRO also hosts a networking Lounge for passholders for all eight days, November 7-14. Each day begins with a Networking Breakfast and concludes with a Happy Hour for passholders, panelists, industry attendees and filmmakers.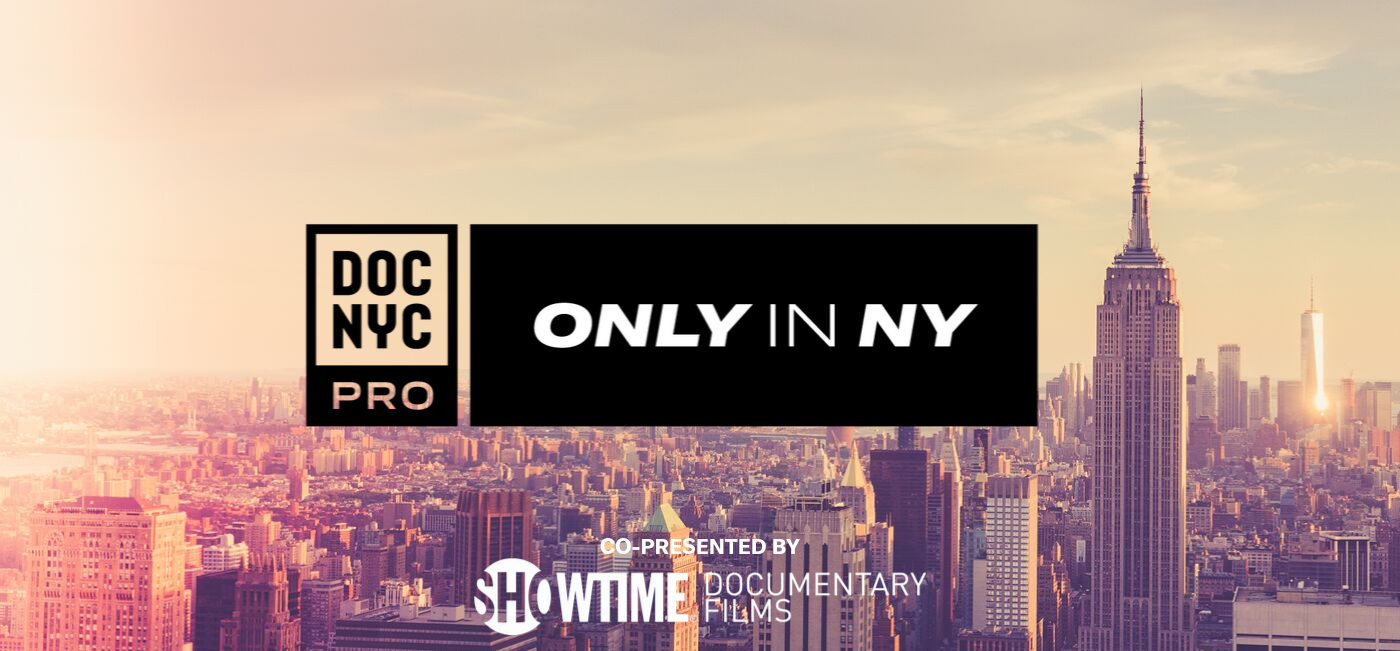 The PRO conference also hosts the Only in New York roundtable meetings, co-presented by SHOWTIME® Documentary Films, for over 40 work-in-progress projects, filmmakers named to DOC NYC's 40 Under 40 list and filmmakers from the festival.
The full DOC NYC PRO lineup is:
THURSDAY, NOVEMBER 7 
Seasoned experts unpack fundamental filmmaking elements of story development, assembling a team, financing and distribution.
Developing Your Story 
How do filmmakers test their story concepts? Panelists: Lauren Haber (Impact Partners), Netsanet Negussie (Catalyst Films) and director Malika Zouhali-Worrall (Thank You for Playing).
Building the Team
How do you retain the best collaborators? Panelists: Barak Goodman (Woodstock), Nick Ravich (Art21) and Rose Vincelli Gustine (SVA MFA Social Documentary).
Funding an Independent Documentary 
Grants, crowd-funding, investments and more. Panelists: Chelsi Bullard (On The Ledge), Leah Warshawski (Big Sonia) and moderator Tracie Holder (Grit).
Distribution Case Study: 306 Hollywood
Filmmaker Jonathan Bogarín describes crafting a specialty distribution and impact campaign with moderator Doug Block (The D-Word).
FRIDAY, NOVEMBER 8
SHORT LIST: FEATURES (Location: IFC Center)
DOC NYC's Short List for Features has a multi-year history of predicting the Oscar winner and nominees. This day of panels brings together the most influential filmmakers of the year for a day of thematic conversations exploring their creativity.
History Lessons
The directors of Apollo 11, Ask Dr. Ruth, Diego Maradona and The Apollo discuss the challenges of telling complicated histories.
Humans and Nature
The directors of The Elephant Queen, Honeyland and The Biggest Little Farm discuss the intricacies of capturing humans and nature.
The Personal Is Political
The directors of One Child Nation, The Edge of Democracy, The Kingmaker and For Sama frame politics in individual lives.
The Art of Observation
The directors of American Factory, The Cave, Knock Down the House and The Great Hack discuss stories unfolding on camera.
Explore the intersection of journalism and documentary with leading practitioners.
Case Study: Murder in the Bayou
Hear lessons from Showtime's investigative series Murder in the Bayou from film team Matthew Galkin and Josh Levine.
Case Study: Paradise Without People & Time Studios
Time Studios plunges into documentary-making with Paradise Without People. Hear from filmmaker Francesca Trianni and photographer Lynsey Addario in discussion with Nathalie Applewhite (Pulitzer Center).
Ethics, Consent, Perspective
We peel back the layers on our beliefs to reveal how they inform our ability to authentically represent people, stories and events in a discussion led by Molly Murphy (Working Films).
Co-presented by JustFilms | Ford Foundation
In-depth with Nicholas Kristof and Sheryl WuDunn on Tightrope: Americans Reaching for Hope
Pulitzer Prize winners Nicholas Kristof and Sheryl WuDunn discuss Tightrope: Americans Reaching for Hope with filmmakers Maro Chermayeff and Joshua Bennett.
SATURDAY, NOVEMBER 9
Last year, DOC NYC created its first Short List: Shorts section. This year, we bring you the first day of panels devoted to conversations with the filmmakers behind these films.
The Golden Age of Short Docs – Short documentaries are flourishing. Hear from representatives of the leading distribution platforms on what they look for.
Shorts: Profiles – We discuss the art of profiling unique individuals in short docs. Panelists are from the films Fire in Paradise, Little Miss Sumo, Song of Parkland and Stay Close.
Shorts: Getting Political – We discuss different way of approaching political topics in short docs. Panelists are from the films In the Absence, Lost and Found, Mack Wrestles and St. Louis Superman.
Shorts: Global Studies – We discuss the challenges of telling local stories to international audiences. Panelists are from the films Ghosts of Sugar Land, Learning How to Skateboard in a Warzone (If You're a Girl), The Nightcrawlers and Tungrus.
Immerse yourself in the expertise of editors working at the top of their field as they discuss creativity and making a career. 
In-depth with Alan Berliner – Acclaimed filmmaker Alan Berliner discusses the monumental editing of his latest film Letter to the Editor using thousands of photographs. 
The Relationship Between Editor and Director – Editors Carla Gutierrez (RBG) and Amy Foote (Hail Satan?) share their experiences collaborating with directors, moderated by Maya Mumma (O.J.: Made in America).
Editing to Develop Characters – Per Kirkegaard (The Cave, The Kingmaker), Alla Kovgan (Cunningham) and Toby Shimin (Ernie & Joe) reveal their tactics in developing characters with Garret Savage (Karen Schmeer Editing Fellowship).
Co-presented by Karen Schmeer Editing Fellowship
Anatomy of a Scene: Knock Down the House – Director Rachel Lears and editor Robin Blotnick guide us through creating key scenes in Knock Down the House.
SUNDAY, NOVEMBER 10
DISTRIBUTION AND AUDIENCE IMPACT
Representatives from leading funders, distributors and outreach coordinators join filmmakers to discuss the latest thinking in audience impact.
How to Execute a Theatrical Hit – NEON executives including Dan O'Meara explain the theatrical release strategies behind Apollo 11, The Biggest Little Farm and Honeyland.
Impact Case Studies: Eating Animals and Roll Red Roll – Reaching an audience and making an impact requires a multi-faceted strategy. Learn what works with Nancy Schwartzman (Roll Red Roll) and Christopher Quinn (Eating Animals).
Co-presented by EJF Philanthropies
Impact Strategy: From Funding to Distribution – Explore opportunities and challenges for integrating an impact campaign with traditional distribution. Panelists: Elise Pearlstein, (Participant), Wendy Cohen (Picture Motion) and Neal Block (Magnolia Pictures).
Co-presented by Participant
Kanopy Shares Its Numbers – Kanopy, the streamer serving a university and library audience of documentary lovers, offers insight into a top-performing doc through a deep dive into audience numbers and a filmmaker interview. 
Co-presented by Kanopy
Documentary cinematography covers many areas from observing human interaction to capturing a stunning landscape. Leading practitioners share their secrets and also reflect on building a career.
Co-presented by Sony.
Building Rapport – Experienced cinematographers discuss navigating intimate, tense and emotional scenes. Panelists: Meg Kettell (This Changes Everything), Alison Klayman (The Brink) and Katy Scoggin (CITIZENFOUR).
Imagery as Character – Filmmakers Samir Ljuma (Honeyland) and Richard Ladkani (Sea of Shadows) discuss how cinematography can capture visuals that are as vital to storytelling as the characters. 
Co-presented by National Geographic Documentary Films
Building Your Career: Cinematography – Nausheen Dadabhuoy (The Town I Live In), Amitabh Joshi (A Little Wisdom) and Jenni Morello (One of Us) share insights on building a cinematography career.
Co-presented by SVA MFA Social Documentary Film
In-depth with Nanfu Wang – Nanfu Wang (Hooligan Sparrow; One Child Nation) shares her experiences as a director/cinematographer working under difficult conditions.
MONDAY, NOVEMBER 11
Eight filmmakers with works -in -progress selected from DOC NYC's Only in New York program pitch to industry decision-makers. We'll start the day with a session on best pitching practices. Then attendees observe the pitches and hear panelist feedback. Industry panelists include representatives from A&E IndieFilms, ESPN Films, Impact Partners, NEON and WNET. Moderated by Elise McCave (Kickstarter). 
Co-presented by A&E IndieFilms
Documentary series are a burgeoning area of nonfiction filmmaking. Gain insights into developing, pitching and production from experts in the field, including a case study of the hit series Couples Therapy.
Developing Your Series – Producers and showrunners including Mira Chang (Soundtracks: Songs that Defined History) discuss what makes developing a series different from a feature.
Case Study: The Case Against Adnan Syed – We go behind the scenes of The Case Against Adnan Syed with director Amy Berg and her team, discussing creative tactics and the issues covered in the series.
Pitching Your Series – What makes a winning pitch for a documentary series? Expert panelists describe how to present your access, creative team, samples and more.
Series Case Study: Couples Therapy – Go inside the hit Showtime series Couples Therapy with film team Elyse Steinberg and Eli Despres.
TUESDAY, NOVEMBER 12
Leading producers de-mystify the role and provide strategies for contributing creatively, negotiating co-productions and creating a robust career.
Creative Producing – Impact Partners' Jenny Raskin leads a conversation about creative producing with veterans Lisa Cortés (The Apollo), Leah Natasha Thomas (America Divided) and Beth Levison (Made in Boise).
Co-presented by Impact Partners
Building a Career
Hear strategies to develop a pipeline of projects and create a career from veteran filmmakers Julie Goldman, Kristi Jacobson and Farihah Zaman.
Co-presented by Writers Guild of America, East
Navigating International Co-productions – Oscar-winning producer Dan Cogan (Story Syndicate) and Laura Michalchyshyn (Good Trouble – The John Lewis Story) share expertise in international co-productions.
Co-presented by the Consulate General of Canada in New York
In-depth with Sheila Nevins
Sheila Nevins shares insights from her legendary reign at HBO Documentary Films and her new role at MTV Documentary Films.
Composing and sound design are as essential as cinematography or editing. Learn how to elevate your film from master craftspeople behind films such as the DOC NYC Short List titles The Great Hack and Apollo 11.
How to Prepare for Post Audio Success 
Plan for creative success and cost efficiency in post-production with Samara Levenstein (The Armstrong Lie) and Coll Anderson (LA 92).
Sound Design Case Study: The Great Hack
We go behind the scenes with producer Pedro Kos and the team for The Great Hack, where sound design was a critical component in telling the story.
How to Score and License Music for Documentaries
Our panelists guide you through the minefield of music licensing and instruct on how to budget.  
Composing Case Study: Apollo 11
Apollo 11 composer Matt Morton and the film team discuss their unique approach to scoring one of  this year's highest performing docs at the box office.
WEDNESDAY, NOVEMBER 13
Funding sources for documentaries have never been more diverse. Gain insights into grants, equity, crowdfunding and production deals.
Funder + Filmmaker Relationships – What are best practices for dealing with grant makers? Panelists: David Weinstein (National Endowment for the Humanities), Jenny Wolfson (Chicken & Egg Pictures) and more, moderated by Tracie Holder (Grit).
Documentaries and Investment: A New Frontier  
What you need to know about taking investments for your film. With Marilyn Ness (Big Mouth Productions), Jenny Raskin (Impact Partners) and more.
Co-presented by the Documentary Producers Alliance
New Insights into Crowdfunding – Elise McCave (Kickstarter) schools us on the latest in crowdfunding techniques for raising money and building a following.
[4th panel to be announced]
Learn from the filmmakers and footage researchers behind some of the year's biggest historical films.
Project Plan for Archival – Experts share recommendations for developing an archival approach at various budget levels.
Archival Storytelling Case Study: Rolling Thunder Revue: A Bob Dylan Story by Martin Scorsese – Producer Margaret Bodde, Executive Producer and Editor David Tedeschi and Joe Beirne (Technicolor Postworks) take us behind the scenes of Martin Scorsese's epic music film.
Co-presented by Technicolor PostWorks New York
Research: Tips from the Experts – Seasoned archive producers share secrets on research techniques, working with archive houses and licensing tips.
Archival Storytelling Case Study: Miles Davis: Birth of the Cool – Director Stanley Nelson explains how archival revelations helped enrich his acclaimed biography of Miles Davis. 
THURSDAY, NOVEMBER 14
How can documentary makers apply their skills to the burgeoning field of podcasting? Our experts discuss both storytelling and the practical mechanics of launching a series.
Telling Your Nonfiction Story with Audio – Filmmakers-turned-podcasters Andrew Jenks (What Really Happened) and Zak Levitt (Root of Evil) discuss crossing from visual to audio. 
Case Study: Headlong – Dan Taberski, creator of the podcast series Headlong from Topic, discusses his addictive series, including Missing Richard Simmons and Running From Cops.
"So You Want To Start A Podcast?" – Get the inside scoop from Kristen Meinzer (author, So You Want to Start a Podcast), Jolenta Greenberg (co-host, By The Book) and Jenny Barish (Director of Business Development, Stitcher).
In-depth with Brian Reed on S-Town – Brian Reed's S-Town is a podcast blockbuster, surpassing download records. He breaks down the show in a conversation with Pure Nonfiction host Thom Powers. 
Many of the top lawyers specializing in documentary discuss tips and tricks to avoid potential pitfalls.
Securing Clearances and Third Party Rights for Distribution Agreements – The legal minds from Cowan, DeBaets, Abrahams & Sheppard LLP, including Nancy E. Wolff (Partner) and Mikaela Gross (associate), unpack issues with clearances, including Fair Use.  
Co-presented by Cowan, DeBaets, Abrahams & Sheppard LLP
Documentary Filmmaking Risks, Insurance and What it All Means if You Actually Get Sued – How does Errors & Omissions (E&O) insurance work if you are sued? Lawyer and filmmaker Marc Simon (Fox Rothschild LLP) leads a discussion with Alan Friedman (Fox Rothschild), director Lofty Nathan and Laird Criner (Film Emporium, Partner, Entertainment Insurance Division) on risk, protection and how filmmakers can respond to lawsuits.
Co-presented by Fox Rothschild LLP
Documentary Filmmaking in a Global World – Victoria Cook, Melissa Georges, Andrew Unberg (Frankfurt Kurnit Klein & Selz) and others explain major changes in international law around privacy and the "right to be forgotten." They discuss international considerations when negotiating financing and broadcaster agreements.
Co-presented by Frankfurt Kurnit Klein & Selz
True Crime: Understanding Your Rights, Gaining Access, Protecting Your Footage – Get educated on defamation and privacy claims, Freedom of Information requests and protecting your film. Panelists include Matthew Galkin (Murder in the Bayou) and Nicole Page (Reavis Page Jump LLP).
Co-presented by Reavis Page Jump LLP